Good morning, everybody. I hope you attack today with the same urgency that the Ohio State women's hoops team attacked Kent State.
4 score 15 or more, 5 in double figures!
Buckeyes in Game No. 2 win vs. Kent State

postgame coverage at https://t.co/OdykwHfrEi pic.twitter.com/xCBq18Y9sv

— Ohio State WBB (@OhioStateWBB) December 2, 2020
Word of the Day: Stalwart.
 PRAISING PETE. Outside of Damon Arnette, I'm not sure I can ever recall an Ohio State player catching more unmerited hate from Buckeye fans than Pete Werner.
All the man has done in his three years as a starter is be the most versatile player on the defense every damn game and y'all have been trying to get him benched since 2018.
But it's all good. The people who need to know how good he is are very aware – and have been for years.
Who's your favorite prospect who probably won't be picked on Day 1?

McShay: A few jump out to me, but if I had to name one, it's Ohio State linebacker Pete Werner. I love his game. He has the length and recognition skills to match up in coverage, he can be disruptive as a pass-rusher when turned loose and he closes so quick as a run-stopper
So far this season, he's leading the team in tackles, tackles for a loss and might straight-up be the teams best defensive back when he's in coverage.
Do yourself a favor and appreciate him these next five games.
 SEEDLESS WATERMELON AT A 4TH OF JULY PARTY. It looks like men's hoops ain't waiting around for that one-time transfer exception.
Sources: The basketball oversight committee expected to recommend that the NCAA allow ALL transfers to get waiver to play this season. This would be proposed to the D-1 Council which next meets on Dec. 16. There is a chance it could be voted on prior to the 16th.

LONG OVERDUE

— Jeff Goodman (@GoodmanHoops) December 3, 2020
Even if this was just a one-time thing, it makes all the sense in the world.
What the hell would be the point of making a kid sit out a season that isn't counting towards anyone's eligibility anyway? Also, why wouldn't you want teams to be able to use their entire rosters to help combat cancelations due to positive COVID-19 tests?
This is such the clear and logical thing to do that it's an indictment on the NCAA that it took this long to push this plan through.
 THE MOST WONDERFUL TIME OF THE YEAR. It seems the Urban Meyer to Texas rumors won't be going away anytime soon, so my official stance is that I'm just going to enjoy the hell out of any and all rumors I can consume. Because there's no way this isn't going to be hilarious.
I mean, behold:
Apparently the raging debate on Inside Texas right now is whether Urban Meyer taped a Fox hit at Horseshoe Bay, a resort near Austin. pic.twitter.com/Db8OfWddAt

— Zach Barnett (@zach_barnett) December 3, 2020
Urban meyer is coming to Austin according to sources lol #hookem pic.twitter.com/iPLJnUmgNV

— GoldCoastVlogs (@GoldCoastVlogs) December 3, 2020
Urban Meyer ALERT!!
Private Plane Landing in ATX!
Flight Num: JL512
Status: scheduled
Arriving at: Dec 03 8:15:00 PM 2020
Origin: Sarasota (SRQ)

#TexasFootball #HookEM #ThisIsTexas

— Bergstrom Coach Tracker (@Berg_Tracker) December 3, 2020
If I'm being honest, there's always a part of me that doesn't want to see Meyer take that job, because of what it would mean to Ohio State in terms of both recruiting and key staff departures.
But then I saw this incredible coaching staff "wish list" from a Texas board, and it switched.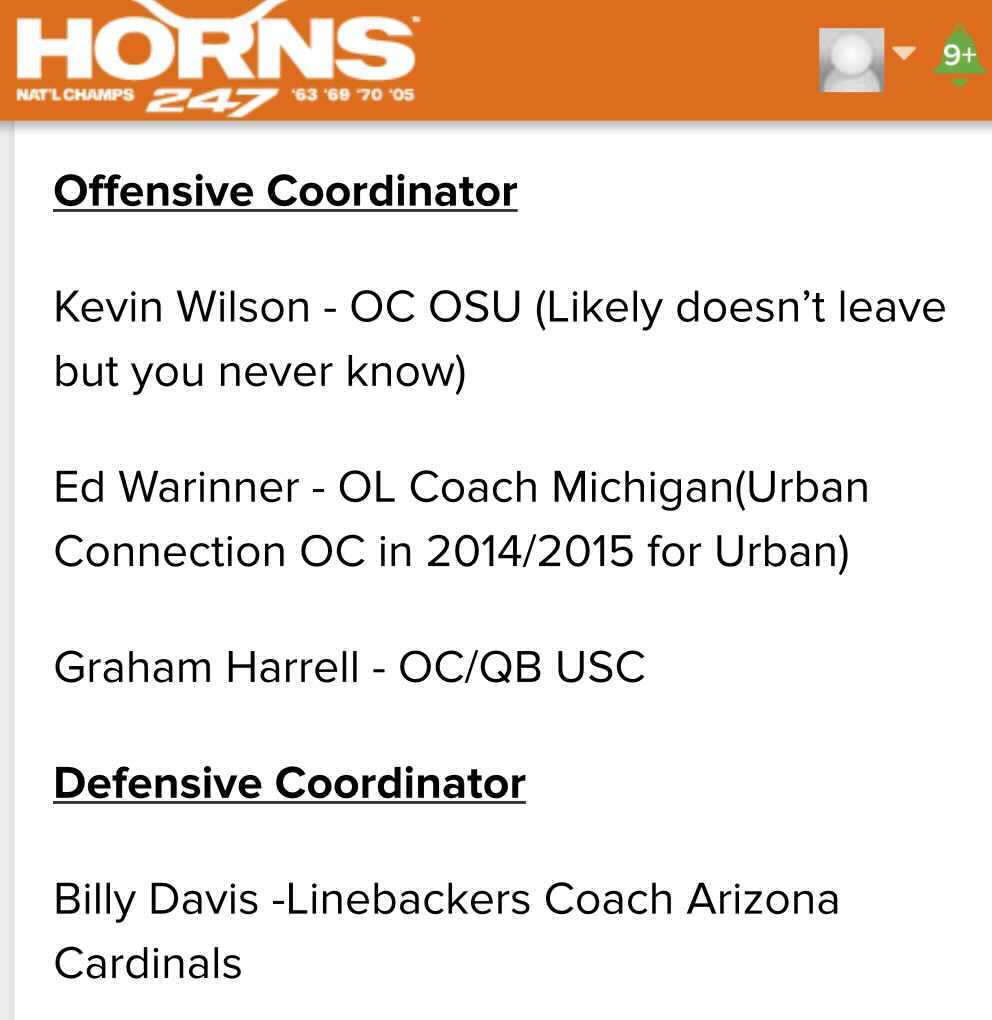 Texas – please do this. Please. You could probably lure Alex Grinch away from Oklahoma too, for the right price.
 SECOND TIME'S A CHARM? You probably don't have to reach all that far back into your memory chamber to remember former Ohio State safety commit Jaiden Woodbey.
Well, he's back on the market.
Thank you Florida State pic.twitter.com/rtZNcaq1Q6

— THOR (@JaidenWoodbey) December 2, 2020
I personally have no idea if Ohio State is even interested in Woodbey, but after seeing Indiana smart bomb the secondary the last time the Buckeyes took the field, I can tell you that *I* am interested in Woodbey.
 SONG OF THE DAY. "Ex-Miss" by New Found Glory.
 NOT STICKING TO SPORTS. A Russian man confesses to killing more than 25 women... The most-viewed gifs of 2020... While renovating a house in San Francisco, a couple discovered a diary, hidden away for more than a century... Park rangers grapple with a tide of human waste... When Italian futurists tried to ban pasta in Italy... The extremists knocking on doors and claiming people's homes...