We didn't even make it out of the weekend before getting the best Ohio State vs. Penn State game-related Tweet.
A battle between two coaches who had to apologize today for scoring a TD late in regulation. https://t.co/n2UH5tCrEr

— Matt Fortuna (@Matt_Fortuna) October 25, 2020
Losing a game because you accidentally scored a touchdown in the game's final two minutes is some extremely Michigan energy.
If that's the direction your program is trending, prayers up, Penn State. But hey, at least then you won't have to pretend to be competitive with Ohio State anymore! 
Word of the Day: Panegyric.
 THE BAND PLAYED ON. If you thought Saturday's game and atmosphere felt a little strange while watching from your couch at home, imagine how the students on campus felt on a game day devoid of anything that makes it feel like game day.
But TBDBITL was there to save the day.
The Ohio State University Marching Band (or maybe Marching Banned) was kept from the stadium like almost everyone else. But why were members carrying drums, sousaphones and trumpets down Lane Avenue? Where were they headed? I gave chase, parked at a pizza place, and followed the music.

TBDBITL had broken into three squads, and they were making their way around campus, visiting dorms and playing, bringing football to the Ohio State students who couldn't be in that stadium Saturday. Because at Ohio State, you don't have to bring football to fans to bring football to fans.

The team walk is football. Brutus is football. And The Best Damn Band in the Land? That's certainly football. And here it was. Like most of you, I couldn't go inside Ohio Stadium to see football.

So on a fall Saturday morning in the midst of a pandemic, football came to a sidewalk outside a dorm.
So @TBDBITL broke into three groups and is playing outside dorms before the game to bring a football feel to students pic.twitter.com/yWmVv8DSsh

— Doug Lesmerises (@DougLesmerises) October 24, 2020
That's all kinds of amazing. I humbly request The Incomparable performed on The Oval during pregame.
 PERFORMANCE ART. I'm somewhat sympathetic to AP Poll voters this year because I don't think there's a clear good way to rank teams who've played as many as six games against teams that just started their seasons.
But I can tell you that this poll from Tom Green... this is the wrong way to do it.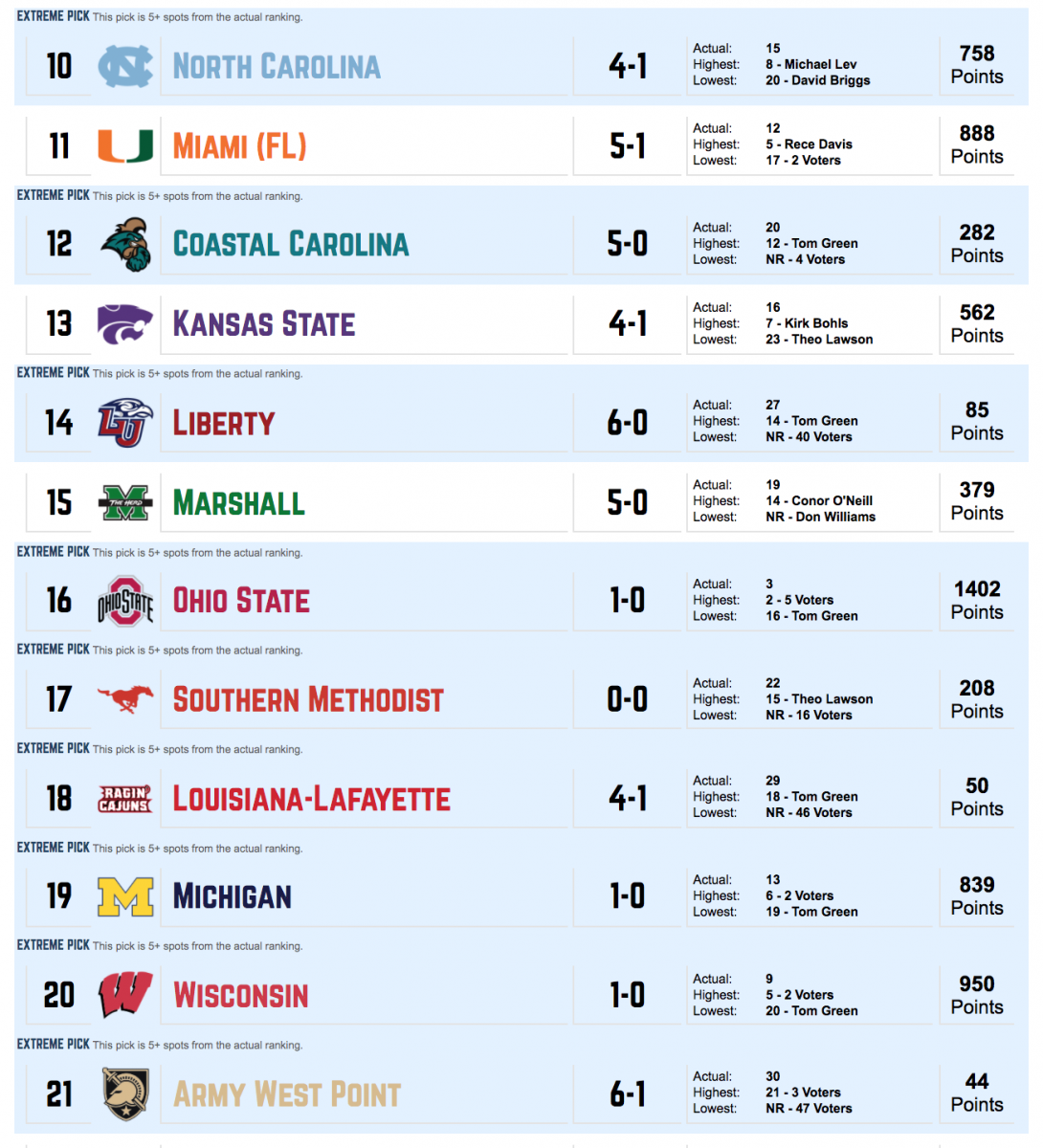 I eagerly await the inevitable Ohio State vs. Liberty College Football Playoff Semifinal. And here I was, worried about Clemson and Alabama all offseason.
 SETTLING FOR SECOND. It seems no matter what he does, Justin Fields cannot escape the shadow of Tate Martell. I mean, the poor guy finished the game 20-for-21 passing and still has to settle for second best.
There are no words. @justnfields | @OhioStateFB pic.twitter.com/SRYDTabamK

— Ohio State on BTN (@OhioStateOnBTN) October 25, 2020
And Fields' lofty touchdown/interception ratio we love to talk about? Tate's never thrown a pick in his entire college career, with a perfect 1-0 touchdown/interception ratio.
Checkmate.
 STUDENT BECOMES THE MASTER. Joey Bosa's now one of the most elite pass rushes in the NFL, but he's not above helping some young guns, just like veteran Tamba Hali did for Bosa back in the day.
Three years after Tamba Hali taught him postgame pass rushing lessons, Joey Bosa paid it forward by giving KLavon Chaisson some tips of his own @jbbigbear @S4CKGURU @Chargers @TambaHali91 pic.twitter.com/ipMYFmtNuP

— The Checkdown (@thecheckdown) October 26, 2020
Realistically, the best advice he could give him is probably "be born into my family," but it's a kind gesture regardless.
 LET'S CHECK IN ON GEORGIA. The Bulldogs were off this week, which meant Georgia fans were free to take in Justin Fields' nearly perfect game against Nebraska free of any distractions.
And almost two years later, they still seem to be handling his departure well!
It's probably out of the question mostly because Georgia didn't hold up its end of the bargain, but I'm still praying for the stars to align to allow Ohio State to play the Dawgs in the College Football Playoff.
Fields smart bombing his former team on college football's biggest state would be nothing short of amazing. Granted, it would also be pretty poetic for Georgia to miss out on the playoffs for a second-straight year due to poor quarterback play despite an otherwise loaded roster.
Do what you need to do, Georgia. But your fun-sized walk-on quarterback somehow backs you into the playoff field, I'm sure Fields would be glad to sign your death certificate.
 NOT STICKING TO SPORTS. A high school dropout finds support on the way from prison to law school... Questions remain about a woman found alive after going missing in Zion National Park... Life inside a Los Angeles mansion full of TikTok influencers... A bot orders $18,752 of McSundaes every 30 minutes to find out if the ice cream machines are working... The surprising power of color to ease quarantine anxiety...