Well. We added a tough week and a wild weekend to an already insane calendar year. I can't say things are going to get better or more normal – whatever that is – anytime soon, but it's a new day, and that's something.
Song of the Day: "Here Comes the Sun" by The Beatles.
Word of the Day: Rapport.
 THE PERCY HARVIN ROLE! Jalin Marshall was the second-highest-rated player in Ohio State's legendary 2013 class and was billed by many (including Urban Meyer), as the next Percy Harvin. But we had to wait a year to see him on the field, and all these years later, he tells us why.
In the mood for a good story?

Well, former @OhioStateFB WR @JalinMarshall has a really good @CoachUrbanMeyer one. pic.twitter.com/8y8RiO8vsi

— Ohio State on BTN (@OhioStateOnBTN) May 30, 2020
To summarize, Urban Meyer told a freshman Jalin Marshall to block Ryan Shazier, Marshall (predictably) got concussed causing him to miss the entire season, then Meyer told him to transfer in front of the entire roster.
Welcome to the team!
I thoroughly appreciate Meyer's motivational tactics – and they've clearly worked for a great number of players, including the most recent Heisman winner – but the more stories I hear like this, the more I totally understand the guys who just didn't really jive with him.
 RIP IN PEACE, MIAMI. Watching ESPN's replay of the 2003 Fiesta Bowl, I had one prominent takeaway: Ohio State broke Miami forever. The Hurricanes have never recovered, and the future ain't looking too bright, either.
'The U' hasn't been the same

The Hurricanes are 96-70 overall and 57-47 in ACC play the past 13 seasons. Every attempt to restore the aura of "The U" has been side-tracked by coaching changes. Shannon, Al Golden, Mark Richt and now Manny Diaz have taken turns at the helm. A scandal involving former booster Nevin Shapiro in 2011 also tugged at the program, resulting in NCAA probation and a two-year self-imposed bowl ban in 2011-12.  

Richt did lead Miami to the ACC championship game in 2017, but the Hurricanes lost 38-3 to Clemson and the coach retired after the following season.  

Diaz's first year ended in a 6-7 record and a 14-0 loss to Louisiana Tech in the Independence Bowl. Miami is banking on new offensive coordinator Rhett Lashlee and transfer quarterback D'Eriq King to reverse the fortunes of a program that is still searching for its first ACC title heading into the 2020 season.  

It's been a different story at Ohio State. 
It's hilarious that both teams faced extremely similar disciplinary actions in the 2011 season and Ohio State went ahead and won a national title three years later while Miami went 6-7 culminating in a riveting loss in the Independence Bowl.
I've never seen a program fall harder or faster than The U, but it's important to remember they didn't just fall – they were pushed.
 WELCOME, COMMISH! The Big Ten picked one HELL of a year to welcome in a new conference commissioner, but all things considered, I think Kevin Warren's been doing a fine job – so fine that more often than not, I forget he's even the new Big Ten Commissioner.
But he's certainly been doing things.
Great conversation with @bigten commissioner @KevinFWarren tonight with SVP pic.twitter.com/eeUnu8KB1G

— Stanford Steve (@StanfordSteve82) May 30, 2020
Welcome to the job! Now, save Big Ten Football from a global pandemic!
That's a mighty tall order to hand a new commissioner, but he genuinely seems to be taking it in stride.
I don't spend my days thinking deeply about the on-job performance of conference execs, nor am I naive enough to think my opinion on the subject matters even a little bit, but unsolicited and unqualified opinions are my brand, so I offer my sincerest approval by the simple fact that the ship is still sailing.
 ITSHAPPENING.GIF. Folks, it looks like there's a plan in the works for the return to football, and it seems like we're all on a realistic timeline
Sources: The NCAA football oversight committee met today. They are heading toward recommending a six-week preseason football camp model for this season. In the next week, theyre going to determine in the granular what that could look like before formally recommending it.

— Pete Thamel (@PeteThamel) May 29, 2020
I will withhold my celebration until we get our god-given holiday where the badly-dressed middle-aged adults photograph the football teens as they move into a hotel. That will truly mark our return to normal.
 BIG THANOS. Public Service Announcement: Our favorite not-so-gentle giant, Dawand Jones, has a new Twitter account with a bio that simply reads "Big Thanos," complete with an avi featuring his extremely large self wearing the infinity gauntlet.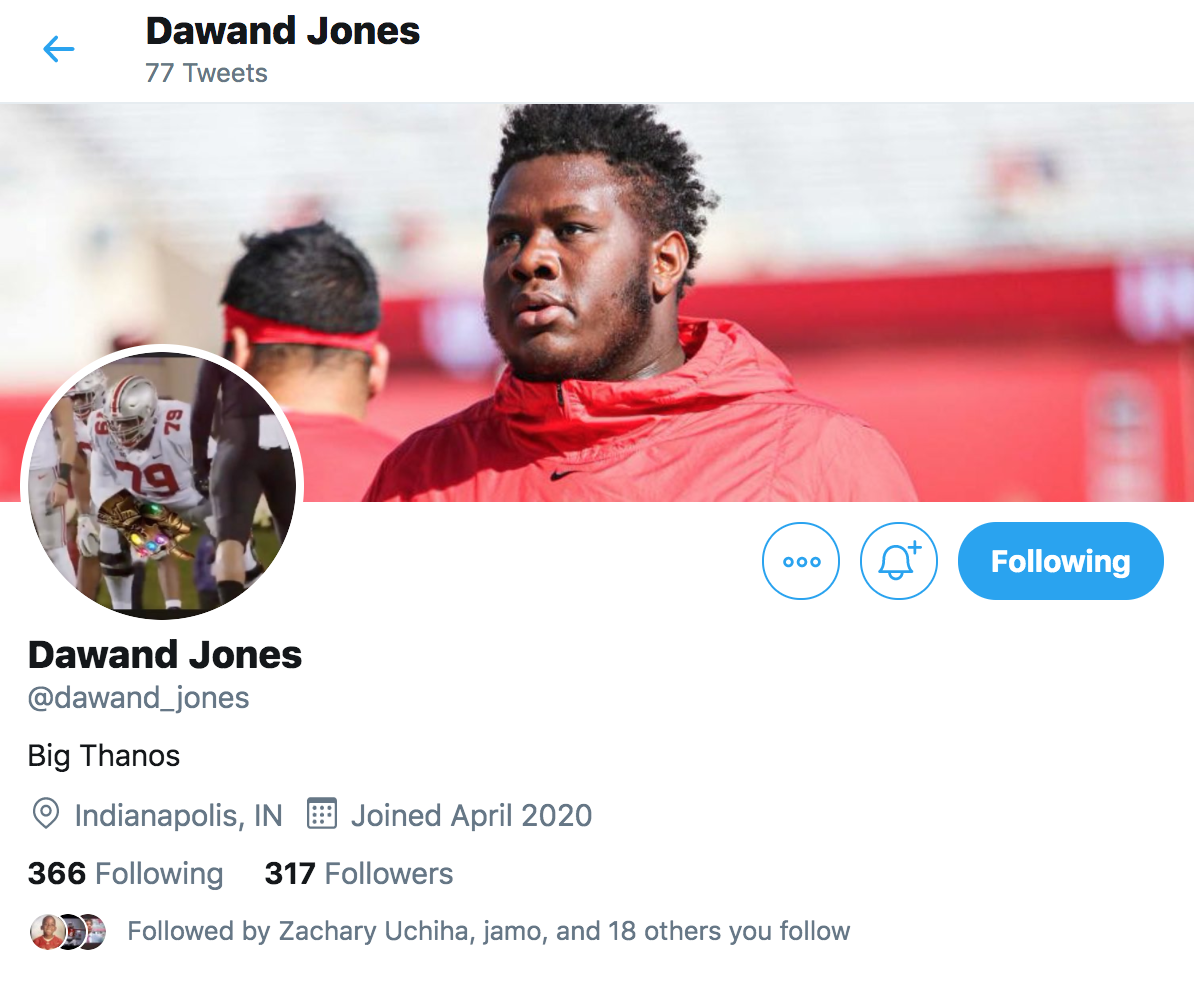 I was unaware that I could love him any more than I already did, but here we are.
 NOT STICKING TO SPORTS. A notorious trailer park mogul just got owned by his tenants... A mom is 'mortified' when her son gets stuck inside of hollow tree during their first park trip after the lockdown... The forgotten suspect, the DNA and the church murders that haunted a detective... A closer look at deepfakes lookalike technology... How Venezuelans make a living playing RuneScape... What Tony Hawk's first skateboard shows about the history of the sport he made famous...