Happy Valentine's Day to all! If you promise not to tell my cat or my dearest fiancée, you may all be my collective valentine.
My soon-to-be significantly better half and I are heading to Asheville, North Carolina for the weekend. If any locals have suggestions of any sort – or simply wish to tell me to stay the hell out of your city – hit up my inbox, DMs or comments.
Additionally, I'd have to resign my post as Ohio State blogger if I didn't offer my warmest of birthday wishes to this legend of legends: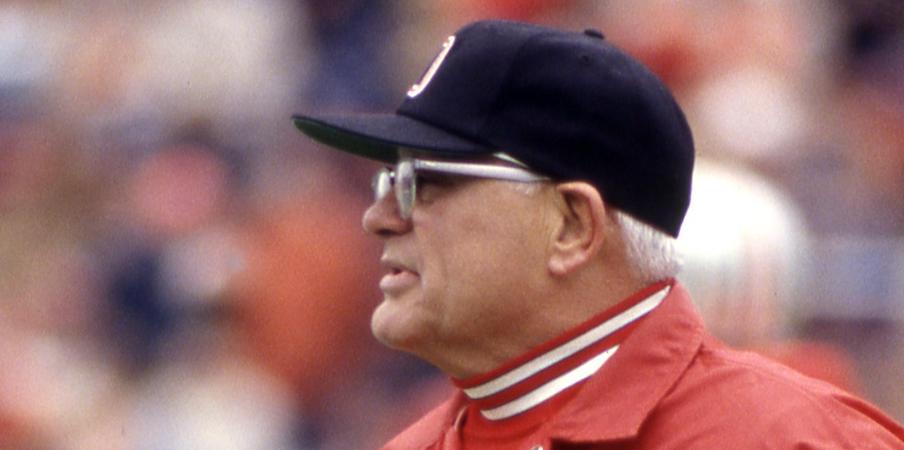 Happy birthday, Woody.
Word of the Day: Protean.
 THE COMPUTERS HAVE SPOKEN. At this time last year, Buckeye fans were ready to fight any number of computers that rated their favorite team rashly low, but it's time to kiss and make up because every predictive formula is going to be in ἔρως love with the Buckeyes heading into next season, beginning with Bill Connelly's SP+ (though Bama's a bit of a homewrecker).
2020 SP+ PROJECTIONS

1. Bama
2. Ohio State
3. Clemson
4. Georgia
5. Penn State

I know! I expected Ohio State to be No. 1, too!

Other surprises: Top-15 USC! Top-20 UNC! Top-25 Nebraska!https://t.co/zRuRZaifSS

— Bill Connelly (@ESPN_BillC) February 13, 2020
For those wondering how Connelly got that list, his preseason rankings are a hearty concoction of returning production, recent recruiting and recent history, weighted in that order.
Here are his words, which are more eloquent than mine (that should go without saying):
1. Returning production. Last week we published my initial returning production rankings for 2020, based on players graduating, leaving for the pros, transferring, etc. Estimating improvement or regression based on these percentages and applying it to last year's SP+ ratings accounts for more than 50% of the overall numbers below.

2. Recent recruiting. After determining how much of last year's team is being brought back, the next step is to determine the caliber of the players who will be filling in the missing returning production. To do that, I use a weighted mix of recent recruiting rankings. They primarily pull from the past two recruiting classes, but I have begun to incorporate older classes as well, to a lesser degree. No matter what the "stars don't matter" crowd will tell you, recruiting rankings are extremely predictive, and these projections are more effective because of them.

3. Recent history. While last year's SP+ ratings are taken into account with the returning production estimates above, I've found that involving previous years' performances as well gives us a nice way of estimating overall program health. It stands to reason that a team that has played well for one year is less likely to duplicate that effort than a team that has been good for years on end (and vice versa), right? Recent history accounts for less than 10% of the overall projections; it is a minor factor, but the projections are better with it than without.
And pretty much every preseason metric – BPI, Playoff Predictor, etc. – uses a lot of the same stuff, so don't expect to find Ohio State outside of the top two or three in any of them.
I have a feeling these aren't going to be making to the WHAC's bulletin board this offseason, but I have no doubts they'll drum up some other #disrespekt to latch onto.
 TONY ALFORD TO COLORADO? Mark Dantonio's abrupt departure from Michigan State gave the 'ole coaching carousel one more spin this offseason, and there's still a small chance it has some ramifications in Buckeyeland.
With Mel Tucker leaving Colorado to coach the Big Ten's green team, Bruce Feldman reports that Tony Alford is a potential candidate to replace him.
One other name to keep in mind, I'm told, is Ohio State running backs coach Tony Alford. He played college ball at Colorado State and graduated from high school in Colorado Springs. He has been a key member of a lot of top teams and has long been regarded as a really good recruiter
It would be tough to blame Alford for going after the job, but in an ideal world, Ohio State certainly wouldn't be trying to replace a running backs coach at spring practice while also trying to break in a new starter.
If this happens, I'm absolutely blaming Dantonio. It would be that warlock's final hex.
 MR. DO IT ALL. Shaun Wade didn't even get a second-round grade from the NFL Draft advisory board, and at the risk of sounding like a dumbass by questioning people who evaluate football players for a living, that's stupid as hell because he should be a top-15 pick.
I'll gladly revisit these respective evaluations in a few years, because I'm going to be correct. I don't understand what scouts are missing about him, but he's by far the most versatile defensive back I've ever seen at Ohio State. And the modern NFL loves versatility.
This look familiar?
When a DB recruits tells you he only plays CB.

Tyrann Mathieu snaps by alignment this year:
* Safety: 406
* Slot CB: 457
* Outside linebacker: 139
* Inside linebacker: 42
* Perimeter CB: 18

The way D is being played is changing! Versatility is key. Can you cover the slot!?

— Coach Ola Adams \\\/// (@CoachOlaAdams) February 13, 2020
That basically describes Shaun Wade. He's played safety, extensively in the slot, has played a form of outside linebacker and is moving out to show the world that he can play man coverage on the outside as well – which he claims is his most natural position. And he's done it all extremely, extremely well.
It's absolutely insane to me that NFL evaluators needed to see more than that before deciding that he's worth even a second-round pick. But sure – I'll gladly take the obvious first-round pick on my favorite college football team for one more season. Thank you!
 CHASE YOUNG – GOOD GUY. It's well established that Chase Young looks like Predator incarnate, but believe it or not he is still human, and a very kind and wholesome human at that.
When a man in his mid 40s cuts in front of your 13yo daughter, and says no, my turn. Chase Young personally apologizes for another mans disrespectful behavior. You have no idea what you taught her that night! Thank you! @youngchase907 pic.twitter.com/HqSiRZmOpK

— Kelley Cobb (@kcobb77) February 13, 2020
Imagine cutting in front of a 13-year-old girl in an autograph line. That waste of human flesh should have to take one full-speed hit from Chase Young as punishment for his jackassery.
 TODAY I LEARNED. I've long chastised colleges for their lack of creativity with their vintage logos, but it turns out I should have actually been tipping the grifter of all grifters who hustled multiple colleges into paying for the same cartoon drawing.
Fun fact: a designer in the early/mid-20th century finessed a bunch of schools and gave them mascot as others that werent in their region of the country. Since there was no Internet, the schools didnt know for years.

Thats why you see so many eerily similar vintage mascots. https://t.co/SqpPVwsgUe

— Homefield (@HomefieldApparl) February 13, 2020
I'm now disappointed nobody took this a step further and wrote five schools the same fight song or something.
 NOT STICKING TO SPORTS. A man offers to pay $25,000 for someone to find him a girlfriend... A woman claims to have been kicked off Tinder for being too attractive... Folks want a woman banned from Italy after she makes "unbelievably disgusting" pasta... The latest in Staten Island's bank robbery spree... Finally, an asteroid is rapidly approaching Earth...