Today, I'm putting my journalism degree to use and heading to the College Football Awards press conference in Atlanta to talk to some college students about the sport they play.
Yes, sometimes they let me go out in public.
Word of the Day: Impetus.
 SURE. I wasn't going to touch this because we are decidedly not in Subjective List Season and I shouldn't be giving them the time of day, especially the bad ones that scream "be angry about me and share me to everyone!"
But. They got me. I'm angry about it and sharing it with everyone.
With its "blue-ribbon panel of 150 media members, administrators and former players and coaches," ESPN put together a top-150 list of the greatest college football coaches of all time.
And folks...
35. Jim Tressel, 229-79-2
Youngstown State (1986-2000; 135-57-2) and Ohio State (2001-10; 94-22)

Tressel won 106 games (12 were later vacated because of NCAA sanctions) in 10 seasons at Ohio State, and his teams played in eight Bowl Championship Series games. He guided the Buckeyes to their first outright national title in 34 years when they finished 14-0 in 2002. Just as importantly, he went 9-1 against Michigan. His teams won 135 games and four Division I-AA national titles at Youngstown State.

...

46. Urban Meyer, 187-32
Bowling Green (2001-02; 17-6), Utah (2003-04; 22-2), Florida (2005-10; 65-15) and Ohio State (2012-18; 83-9)

Meyer's coaching career was cut short by health concerns and his teams were sometimes plagued by off-field problems, but it's hard to deny his success. He won two national titles at Florida in 2006 and '08 and another one at Ohio State in 2014. His teams won seven conference titles with 10 AP top-10 finishes. He won more than 90% of his games at Ohio State, including all seven against rival Michigan. His 187 victories in 17 seasons leading FBS programs are more than any other coach in the same length of time.
My beef with Tressel isn't necessarily where he's ranked – 35 is probably fine? – but that first sentence. Because If you read through, they give nobody else that same treatment. Bobby Bowden? Nope. Lou Holtz? Nah. Shit, even Joe Paterno had the Jerry Sandusky scandal tucked into the end of his section.
And then there's Urban Meyer at 46, again led with that caveat about his career being "plagued." But don't worry, it's "hard to deny his success," so they ranked him 46. You know, behind literally 43 coaches with a lower win percentage.
I could go through every coach and point out how ridiculous it is that they're ranked ahead of Meyer (or Tressel for that matter), but I don't have that kind of energy. All I'll say is that if your ranking method doesn't put Meyer in the top-10 at the very least, it sucks.
I mean, Frank Beamer? Pete Carroll? Vince Dooley? Tom Osborne in the top-five? Thank God Woody is in the top-10 (while still managing to slightly slander him) or I might have set my computer on fire.
 THANK THE PLAYOFF! As much as we like to bitch about playoff seeding and the selection "criteria," it's best to remember that it's still probably better than what we had before.
I mean, under the old system, there's an extremely solid chance that arguably the most dominant Ohio State team of all time would be on the outside looking in as an undefeated team.
Only six years ago, the undefeated Ohio State Buckeyes could have been left out of this national title race. As one of three power conference undefeated teams this season, I think that would have been entirely possible if we were still living in the antiquated BCS era. Just because the Buckeyes are No. 2 in the current playoff rankings doesn't mean they would have been No. 2 in the BCS, which leaned heavily on stubborn, reactionary voters who stuck with teams until they lost.

Ohio State, Clemson and LSU never lost this season.

...

My point in all this (and one I ranted about on Buckeye Talk) is that the four-team playoff is vastly superior to the BCS in one major way that we can never forget -- putting in four teams instead of two. The fifth-best team in the country almost never undeniably deserves a shot at winning it all. The third-best team makes that case all the time, and the BCS denied that chance
That doesn't mean we're not allowed to want the playoff and the selection process fixed, but color me thankful this year. Even if it would have been Clemson left out, it would have been pretty bullshit.
 GET PAID. With Ryan Day making significantly less than Urban Meyer, there's hypothetically quite a bit more money to spend on assistant coaches. And Ohio State is using it.
USA Today released its assistant coach salary database on Tuesday, and Ohio State is currently paying the third-most in the country for its assistants collectively, behind only Clemson and Alabama.
And based on the results, they deserve every cent – and probably more.
The interesting thing is, none of Ohio State's assistants are anywhere near the highest-paid assistants in the country. Greg Mattison is the team's current highest-paid assistant at $1.1 million a year, compared to three guys that make more than $2 million a year – Dave Aranda of LSU ($2.5 million), Brent Venebals of Clemson ($2.2 million) and Mike Elko of Texas A&M ($2.1 million).
Ohio State takes a different approach, paying more than a few coaches well above average. It's the only program with five (!!!) coaches making $900,000 or more – Jeff Hafely ($950,000), Kevin Wilson ($950,000), Mike Yurcich ($950,000) and Larry Johnson ($900,000).
And if they're going to keep them all, they're probably going to have to pony up a bit more cash. And I'll gladly contribute to the GoFundMe if it means keeping Jeff Hafley.
 PLEASE STAY FOREVER. Speaking of Jeff Hafley, he didn't win the Broyles Award yesterday, but his speech is the perfect example of why I want him to stay at Ohio State forever and ever, and have already pledged to him my yet-to-be-born, ultra-athletic son.
I know he won't be here forever and I'm not sure how I'm going to handle it when he finally does leave for greener pastures, I'm just praying we can delay it one more year.
And because there's nothing I like better than being correct online, let it be known, I was on the "pay Jeff Hafley a Brent Venebals salary and keep him forever" train back in July before he even coached his first game at Ohio State. Yes, I am a documented Jeff Hafley hipster.
 WINNERS ONLY. Yeah, yeah. The Ohio State football team is in the College Football Playoff after one of the most dominant regular seasons of all time and the basketball team is on a national championship pace, blasting KenPom top-30 teams by an average of over 30 points.
But did you know that Eleven Warriors sponsors the best damn rec hockey team in Columbus? And their uniforms look fresh as hell, too.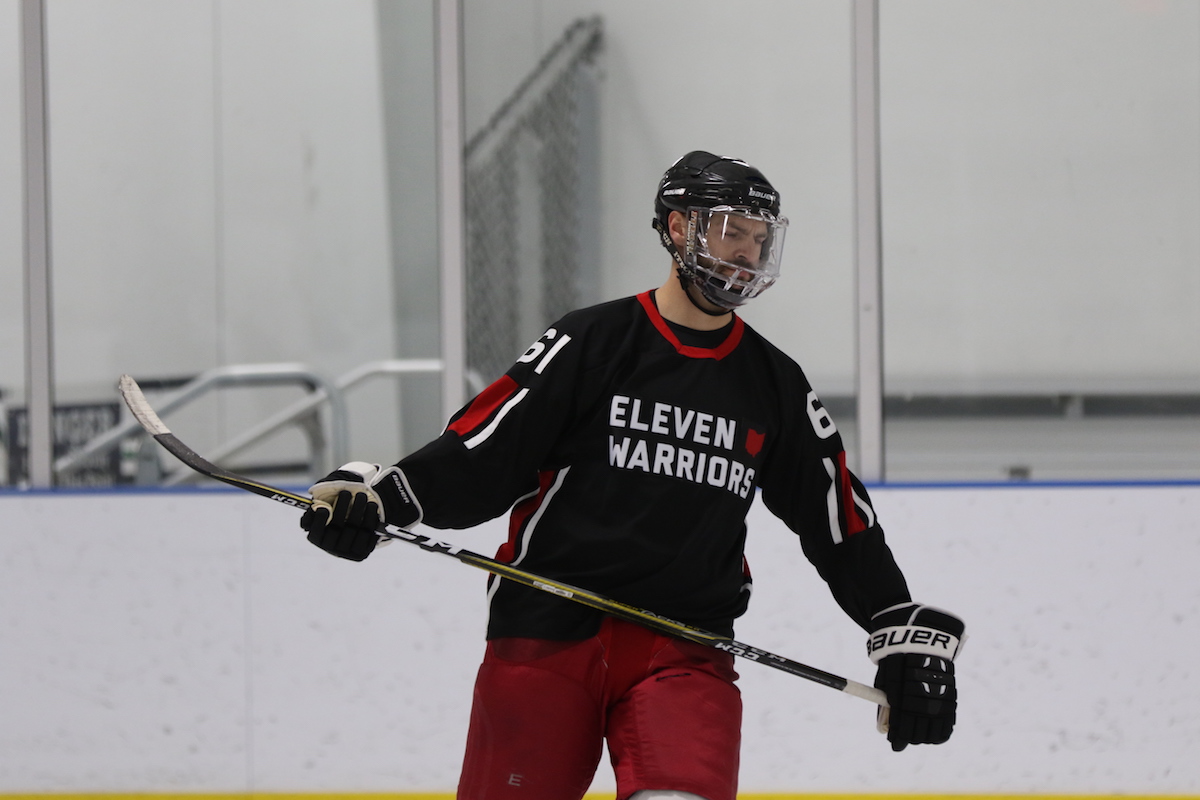 We wouldn't put our name on it if it wasn't the best, so this team is stacked as hell and playing for the championship in the top level of men's hockey in the city.
Get dumped then, Pigeons.
 NOT STICKING TO SPORTS. The unexpected rise of the composting toilet... Her father murdered my mother, then we became friends... The history of George Laurer and the barcode... How a years-long domain name feud ended in a bloody shootout... The bankrupt American brands still thriving in Japan... A Japanese island could become an unsinkable U.S. aircraft carrier... Artists are provoking Nintendo and Disney to sue bots that steal artwork.