Happy Friday, folks. You made it.
ICYMI
Word of the Day: Quiescent.
 THE NEW FIGHT. Urban Meyer's one of the most intense and competitive individuals on the planet, and that competitiveness isn't something he can just switch off.
That's why so many assume he'll get back into coaching at some point, but it's also what's going to make him so damn good at whatever he chooses to do in his retirement.
Doug Lesmerises of Cleveland.com:
"I've been in a fight for 33 years, and now you're not in that fight," Meyer says. "So how do you fulfill that fight? And I feel that every morning. Every morning. 

"It's all about a win and a loss for 33 years. I mean every day was. Not just you're getting ready for a game. No, no, no, no. You're recruiting every day. You're going against Alabama and Clemson every day, The Team Up North every day. Now you're not. That's the number one void, is you're not in a fight."

...

Walking out after his first leadership class in the spring, he called Buchanan within 15 minutes and wanted to know how he could be better. After his first college football studio show for Fox, he asked Brad Zager, the show's executive producer, if they could go to Zager's office and watch film of the show.

"He's competitive," Zager said. "You don't get to be as good as he was on the sidelines without being competitive. I think no matter what he's doing in life he's going to be competitive. And I think right now, he's competitive in wanting to be the best football analyst on television."
Urban Meyer watching film on his television appearance is almost like a caricature of how I imagine him, but I ain't about to argue with the results. Less than three weeks into the season, he's already the best college football analyst I've ever watched.
The whole piece from Doug is a fantastic read on Urban Meyer's retired life, what he's doing, how he's keeping busy, what concerns him, and everything of that nature. There have been a lot of deep dives on Meyer's retirement and his chances of coaching again, but this is really the deepest of dives I've come across.
As for if Meyer will be coaching USC next year, Doug's take is that he doesn't see it happening. Though in full disclosure, Doug also predicted Ohio State to go 9-3 this season.
 STUDENT'S AIN'T COMING. If you're noticing the south stands a bit empty this season, well that's because they are. Ohio State sold more than 6,500 fewer season student ticket packages this season than last season.
From Andy Anders of The Lantern:
Diana Sabau, deputy director of Ohio State Athletics, attributes the decrease to the tickets' change in medium and the lack of a certain game on the schedule.

"[Students] have asked us for probably a year to two years that, 'How can we not wait in line to pick up our tickets when we get back to school?" Sabau said. "I think having a mobile ticket achieved that. I think that, for whatever reason, that combination and not having Michigan at home give us a little bit larger decline."

After selling 28,392 total student ticket packages in 2018, sales have dropped to 21,716 for the 2019 campaign. That's a decline of nearly 24 percent.

...

"[My friends] said that they'd rather tailgate before the game than actually go to the game and I'm kind of with them," (third-year Nick) Signore said. "I have more fun tailgating before the game, and I can just watch it on TV, than actually going to the football game."
It's hilarious that they blame the loss on a shift away from paper tickets and pretend to be totally oblivious ("for whatever reason") about why students liked the paper tickets in the first place.
It's not because folks are nostalgic or want them for their scrapbooks, it's because the paper tickets made it extremely easy to get somebody in who was not an Ohio State student.
Sure, you technically needed a BuckID to get in, and you technically had to pay a premium if you weren't a student, but no usher outside of the south stands ever even checked BuckIDs, and even if they did, they never actually looked at the picture. I got my brother-in-law in a game with my friend Kelsey's BuckID. I have another friend that got in by showing a Wendy's gift card.
With mobile tickets, it ain't so easy to avoid that premium fee (and Ohio State's trying to convince us it was all to convenience the students smh). That makes it harder for students to unload tickets to games they can't or don't want to attend. So I'd imagine many just avoided buying tickets completely as a result.
Here is my friend – an alum who was banking on using a student ticket – reacting to the policy change: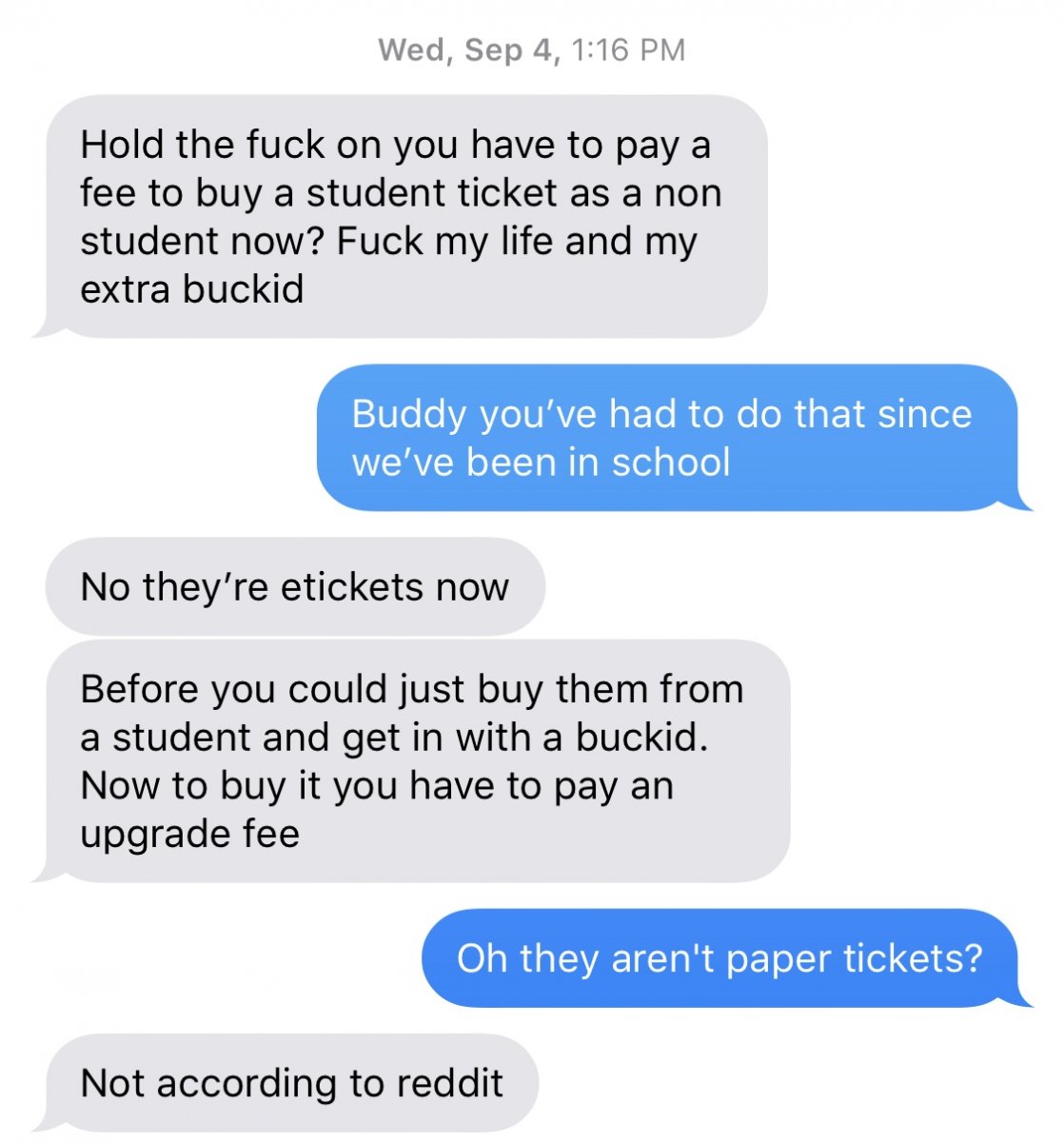 Obviously, they are student tickets, so it makes sense that only students should be using them, but there are going to be side effects when you make a drastic change like that.
So, the paper ticket thing is a little more legit than it seems to some, but also, we can't just pretend it's the whole reason why 6,000 fewer students purchased tickets, because I think our man Chris covered that pretty well:
"I have more fun tailgating before the game, and I can just watch it on TV, than actually going to the football game."
That is the real problem Ohio State's gotta figure out how to solve. Good luck!
 NOW, GET THEM TO STAY! Rest easy, folks. Ohio State isn't the only program struggling to convince #teens to watch its football team. Though Alabama's concern is less about getting students through the gates and more about keeping them there.
From Billy Witz of the New York Times:
Saban, the Alabama football coach, has long been peeved that the student section at Bryant-Denny Stadium empties early. So this season, the university is rewarding students who attend games — and stay until the fourth quarter — with an alluring prize: improved access to tickets to the SEC championship game and to the College Football Playoff semifinals and championship game, which Alabama is trying to reach for the fifth consecutive season.

But to do this, Alabama is taking an extraordinary, Orwellian step: using location-tracking technology from students' phones to see who skips out and who stays.

...

The creator of the app, FanMaker, runs apps for 40 colleges, including Clemson, Louisiana State and Southern California, which typically reward fans with gifts like T-shirts. The app it created for Alabama is the only one that tracks the locations of its students. That Alabama would want it is an example of how even a powerhouse program like the Crimson Tide is not sheltered from college football's decline in attendance, which sank to a 22-year low last season
Dusting off my unused business degree a bit here, but bribing customers to do something they do not want to do, instead of actually working to make it something they do want to do seems bad.
The best part is, The Times did your market research for you!
"Sell beer; that would keep us here," said Harrison Powell, a sophomore engineering major from Naples, Fla.

"Don't schedule cupcakes," said Garrett Foster, a senior management major from Birmingham, referring to Alabama's ritually soft nonconference home schedule, which this year includes Western Carolina, Southern Mississippi and New Mexico State...
For Ohio State's part, I once heard a staffer talk off the record about the empty student section in the fourth quarter of blowouts, and he said the staff is very understanding of the situation.
This quote isn't exact, because it's from memory, but it was something like, "We get it. And when the stadium's empty in the fourth quarter, that means we did our job."
 BASKING IN EMBARRASSMENT. Somehow I missed this from a few days ago, but we have to talk about this work of art from Michigan's social media team.
You'd think an overtime win over a service academy would be something you mention once and move on from as soon as possible. NOPE – Michigan's soaking it all in, like their players that leapt into the stands in celebration.
- Nowhere To Run -

Michigan held Army to their lowest yards per play average since 2015. #GoBlue pic.twitter.com/beK8TJWnW3

— Michigan Football (@UMichFootball) September 10, 2019
Army's a fine football team that won 11 games last year, but the optics of rolling this graphic out against a service academy...
"Eat shit, future defenders of our freedom! We beat your ass in a sport!"
Also, what exactly does it say about your revamped offense that you held a team to its worst offensive showing in four years and you still went to overtime?
I guess this is just the sort of thing that happens when you haven't had anything of note to celebrate in nearly almost a decade. You get a little frisky and gloat about shutting down a service academy that should have beat you.
You hate to see it, really.
 2015 FEELS. I'll always have a soft spot for the 2014 and 2015 Buckeye teams. They won a natty, and that's for sure good, but more than that, they were just really fun. And honestly, they still are.
Dolodale got my nostalgia flowing on a Friday.
 NOT STICKING TO SPORTS. Porn site says it has submitted naming rights bid for the Miami arena... Feral hogs are invading our country from Canada... Google Maps shows a sunken car where a missing man's body was found... The most instagrammable neighborhood in America, before it was cool... The secret history of the most spectacular restaurant in the world...