It's not everyday you get trolled by a candle.
This candle company makes scents inspired by places. This is his Ohio candle. Fuck lmao pic.twitter.com/0UEQAdaEg3

— Anna Sun (@annablankx) June 2, 2019
Also, that's bold as hell coming from a company based in Indiana, of all places. I mean, damn, have you driven through your own state?
ICYMI
Word of the Day: Bovarism.
 NUUUUUUUUUUUGE. Mike Nugent is one of the newest members of Ohio State's athletics hall of fame, and he's got an ultra-conservative sweater-vested legend to thank for that.
From my good pal Marcus Hartman of the Dayton Daily News:
"Luckily I played for a coach who was very satisfied with kicking field goals," the Centerville native said this week while discussing being selected for the Ohio State Athletics Hall of Fame. 

...

That coach he referenced was Jim Tressel, whose legendary conservatism was no doubt burnished by having a kicker as reliable as Nugent early in his 10 years on the sidelines in Columbus. 

Nugent wasn't the only standout kicker Tressel coached at Ohio State, but he was the first. 

"You know what I can't really speak for too many of the other guys, but for me we had a very good personal relationship," Nugent recalled. "Especially on the field, we would always have good talks before the game. After warmups I would have a little meeting with him like, 'Hey, how do you feel each direction? How is the wind looking to you?' So we would break things down."
It's actually hilarious how different the last two Buckeye coaches were.
Never in his entire coaching career did Urban Meyer break things down on the field pregame with his kicker. It never happened. I have no way to ever officially confirm that, but y'all know damn well we don't need to.
As far as Ryan Day, I'd certainly expect an offensive savant like him to be on the aggressive side, but he did just grab a commitment from the top kicker in the country who was hitting 65-yarders in practice as a sophomore, so maybe he's got a little vest in him.
 TALK LESS. Chase Winovich was one of more boisterous players in college football last year, but it sounds like truck stop Fabio will be toning it down a little bit at the next level.
From Jarrett Bell of USA TODAY:
Winovich, you see, was an accomplished-but-mouthy sort at Michigan. He had the audacity to refer to archrival Michigan State as the Wolverines' "little brother" after a victory last fall. A few weeks later, he called a 62-39 thumping from Ohio State "a mirage," drawing the ire of Buckeyes Nation.

...

"I don't know if it's so much the Patriots," Winovich, a third-round defensive end, said after Wednesday's minicamp practice. "I'm a rookie. Being vocal, especially in the media, being a blinking light, is not what I aim to be right now. My goal is to make the 53-man roster and contribute to this team in a positive way."

A cynic might suggest that Winovich underwent a virtual lobotomy upon the orientation in New England, scrubbing him of any trace of bulletin board material.

In other words, put a lid on it, kid.

"I wouldn't say 'put a lid on it,' but you have to be a little more strategic," Winovich, 24, told USA TODAY Sports. "Turn the dial back a little bit. It's just a matter of playing football now. This is professional. This isn't college anymore. And I'm a rookie."
Ah, so 62 points later, now he's interested in just quietly playing football – got it. It's amazing what a proper beatdown will do to someone's psyche.
 TEENS 'KROOTIN TEENS. In 2019, your best recruiters ain't the 40-year-old men inveigling teens into doing football for your team, they're the teens themselves.
And Ohio State's current commits – namely, Gee Scott Jr. – are doing a stellar job evangelizing the Buckeyes to other top targets, and it's already paying off.
From Brandon Huffman of 247 Sports:
"I'm definitely taking credit for Lejond coming back," said Scott.  "I think he made a quick decision with Urban, but he's back now and and he did a good job with Julian coming in.  So the more we can do that, the more we build an environment."

Fleming's commitment last week was also one that Scott was thrilled to see, the fellow elite receiver picking Ohio State over home state Penn State.

"Julian, that's my guy," said Fleming.  "He's a really cool dude and very humble and a great receiver.  It's going to be fun to play with him."

Scott said he stays in near-daily communication with Jack Miller, the four-star quarterback from Arizona who is also an Ohio State commit.

"Jack and I were talking on Instagram Live on Saturday and we talk often," said Scott.  "That's another big name we're excited to bring to Ohio State."
My general stance on group messages of more than three people is that they should be universally banned and anyone that starts one thrown in a Siberian prison with their thumbs cut off, but the ones these teens start are exceptions because they make my favorite football team better.
 TERRY WOOING WASHINGTON. I always said the best part of Terry McLaurin going to the next level was going to be watching another team and fanbase gradually fall in love with all of his Terry McLaurinisms.
It's happening.
From Jordan Dajani of 247 Sports:
"Terry is doing an excellent job," said (Jay) Gruden. "He can do everything. He can block, he can run the vertical routes, he can run the short, intermediate routes, ran an unbelievable double-move today. I've just been very impressed with the total package of Terry, not just his speed — but his toughness, his attention to detail, his ability to finish plays, his ability to block, line up correctly, he's just been outstanding in all phases."

This is exactly why the Redskins wanted McLaurin. There's not many receivers who are happy to do anything on the field other than catch balls.

"He's kind of a Swiss Army knife we call it because he has the skillset to fit in to each position at wideout," Redskins Director of College Scouting Kyle Smith said. "As an X, the guy can roll. I mean, he ran a 4.3 40, he can take the top of off coverage, as a slot receiver, he's got route ability, he's got instincts and toughness. As a Z, he is a point of attack guy because he blocks his butt off and then as you mentioned, the special teams value of this guy is off the charts and then another high, high character guy, one of the best character guys that we did."
Like I've always said, if you can't find a way for Terry McLaurin to help your football team, you're probably not a very good coach. There's very little he can't do. I'm convinced you could put the dude at defensive end and he'd find a way to get to the quarterback.
 POSEY SKILLS CAMP. If you are a youth between grades 5 and 8, you should log off immediately and not read my online words for another 3-5 years, but not before you sign up for DeVier Posey's football skills camp.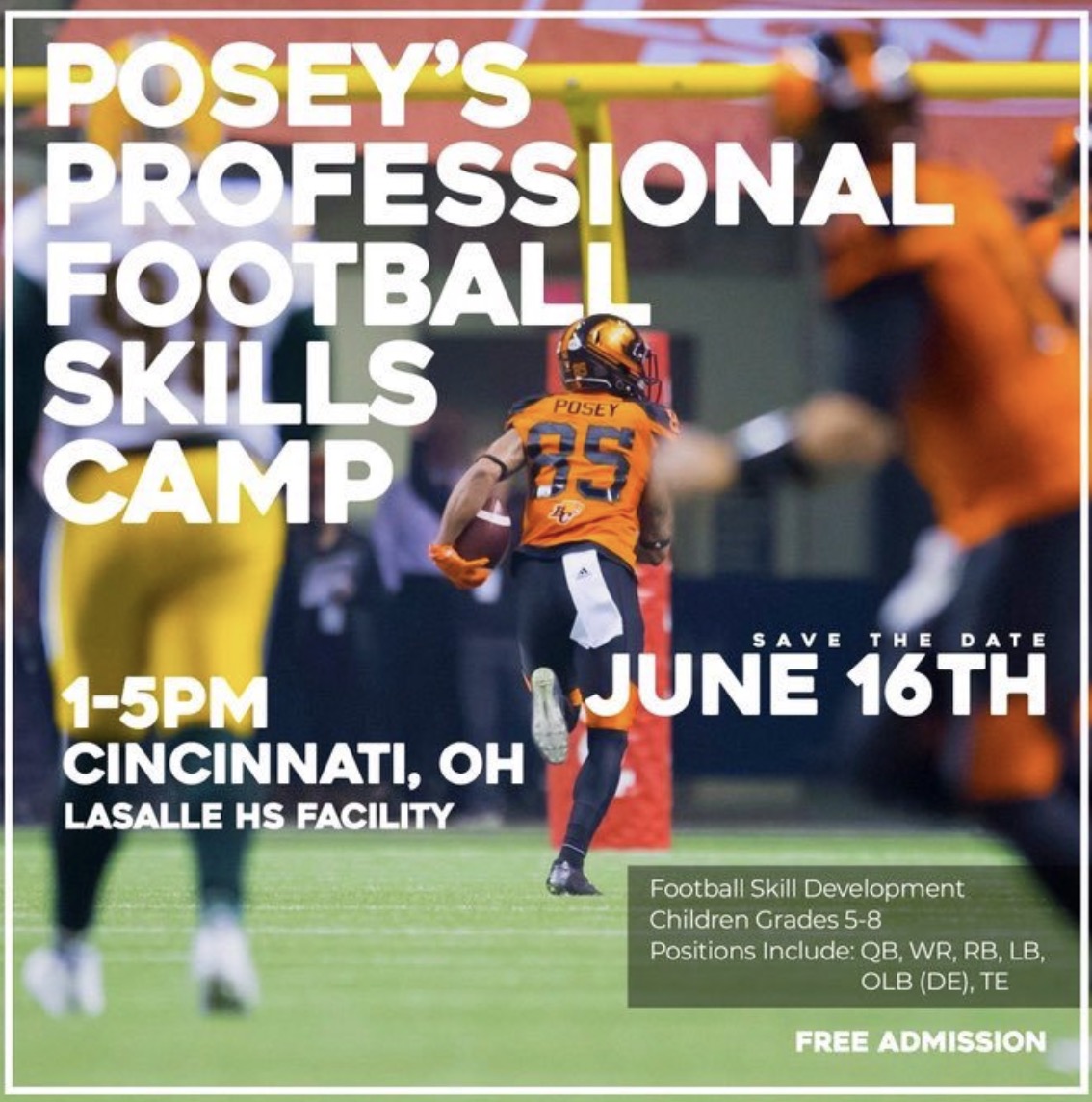 "We all had a football experience as kids that changed how we viewed the game. Learning fundamentals is priceless and I want help share knowledge the way I received it," Posey told Eleven Warriors.
The four-hour camp will take place in Cincinnati on Jun 16 and is completely free. It focuses on basic skill development for some younger aspiring football stars. You can sign your children up here.
 EAT AT ARBY'S. The invention that won World War II... Physicists debate Stephen Hawking's idea that the universe had no beginning... Michelin's ingenious, completely airless new tires ensure you'll never get a flat again... Audacious grifter's elaborate scam of disguising fast race horses to look like slow ones...  How an author's error about the moon created a myth about the D-Day invasion... Why crowded meetings and conference rooms make you so tired... Using a learning disorder diagnosis to cheat on tests...