Over on Earth 2, Ohio State's senior-laden top seed is still dancing.
The tournament's No.1 seed, led by the Big Ten's top recruiting class from four seasons ago - ranked 5th nationally - rolled into the Sweet Sixteen without breaking a sweat. In this parallel universe, they're laser focused on making it back to Washington D.C. to feast on serving trays piled high with Filet O' Fish cartons and tepid adulation. 
Oh, what could have been. Remember this?
The new white chocolate. Jason Williams is spinning in his grave. He's alive, it's an expression.
Mickey Mitchell, brother to Mike "the Abusement Park" Mitchell scored 47 points in his single season (the man-bun scored none) before taking his talents to Tempe, Arizona. He barely played this season for the Sun Devils, who got out of the First Four before being bounced by Buffalo.
JaQuan Lyle hurt his Achilles and didn't play this season for New Mexico. Three hours to the south, A.J. Harris' season with NMSU ended in the first round against Auburn. Daniel Giddens' 1.9 points and boards per game weren't enough to get Bama dancing.
Only Austin Grandstaff is out in the world making it happen and doing us all proud, despite departing from Thad Matta's cubic zirconia era almost as soon as he arrived:
Entire EP recommended. Shout-out to track No. 5 for getting Situational.
As for the guys who arrived in Columbus and inexplicably got the 2018-19 Buckeyes to the Sweet Sixteen's doorstep: You overachieved, to put it mildly. Thank you for your contributions. Now let's get cappin'.
 ICYMI, BECAUSE MONDAY IS ATTENTION-SPAN PURGATORY:
Word of the day: Cat
 HONORING THE GUYS WHO DID IT FOR FREE FREE
Ohio State's proud walk-on tradition used to begin and end with Mark Titus, but Joey Lane has taken up residence in our hearts and minds for several seasons now - and Ohio State's departure from dancing festivities means he's leaving the bench for good.
With love, #TowelGang forever.
pic.twitter.com/mdEQhx7vE0

— Joey Lane (@JoeySmoke14) March 25, 2019
For @JoeySmoke14 its been about more than just the minutes hes played.

Put in Joey. #GoBucks pic.twitter.com/mijjpN9YJ7

— Ohio State Buckeyes (@OhioStAthletics) March 8, 2019
The Walk-On Fraternity made Lane a 1st team All-Walk-On-American back in 2017 so despite celebrating the guys who do it for free free, they're taking his matriculation as hard as Ohio State's shooty hoops loyalists.
Tonight we watched one of our own lace them up on the big stage for the last time. @JoeySmoke14 spent four years working his tail off with a smile on his face. He is everything a walk-on should be and damn, he can wave a towel. Thanks for letting us be a part of the ride, Joey! pic.twitter.com/7In6jJZsjY

— #WalkOnsUnite (@WalkOnFrat) March 25, 2019
My favorite new wrinkle for the Holtmann Buckeyes is the reeeeeeemix of the team singing the final stanza of Buckeye Battle Cry following victories, led by Scoonie Penn at the center of the scrum - and up until now, with Mr. Smoke always conspicuously euphoric and animated in participating in the celebration for wins that were most commonly achieved with his invaluable assistance exclusively from the bench.
OUR HONOR DEFEND #MarchMadness | #Team120 pic.twitter.com/8rggkPgMpn

— Ohio State Hoops (@OhioStateHoops) March 23, 2019
Vaya Con Dios, Mr. Smoke. Thank you for always being the light in the room.
 AREA MAN DESPERATE FOR ATTENTION
Its funny that people talk about the sanctity of college footballs regular season when, in reality, the whole season is pointless and the sport sucks.

— Brendan Quinn (@BFQuinn) December 30, 2018
A point-by-point takedown of a take this bad gives the take unearned credibility, and this rusted-out Tacoma flatbed filled with full diapers soaked in kerosene reappeared on Twitter during the second-round games over the weekend.
College football is good. College basketball is good. There are bad elements to literally everything in life, including seemingly flawless items like donuts (it turns out they're bad for you? Still trying to confirm)
 THE HASKINS-MAMBA CONNECTION
Everyone knows arm strength, footwork, cognitive ability under duress and physical speed are all massively overrated. It's leadership skill that converts amateurs into professionals above all else - and Dwayne Haskins has it.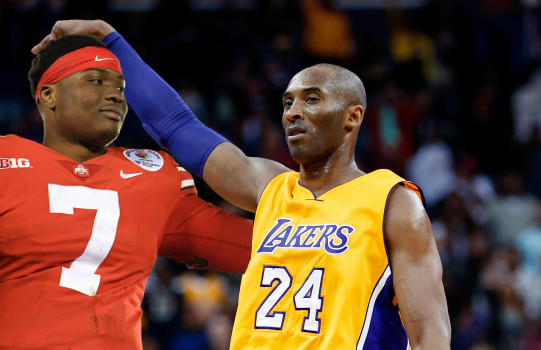 From Out-R-Inn enthusiast and Ohio State graduate Albert Breer:
I mentioned to (Urban) Meyer how I'd heard Haskins actually studied leadership, and the ex-Ohio State boss was all over it. "I'm a big Kobe Bryant fan, and I told him—go watch Kobe Bryant," Meyer said. "Kobe Bryant, I used him quite often in our leadership training. He leads on the court. He was one of those guys on the court that demands so much of his teammates. And you go to the Michael Jordans and the Tom Bradys. I've witnessed Tom Brady at practice, and his greatest leadership skills aren't necessarily in a game, it's the fact that he's holding everyone accountable....And I noticed that from Dwayne as he continued through the season."

...

"His start to finish, and really from midseason to the end, he still took a giant step as far as leadership, as far as toughness, as far as his gamesmanship," Meyer said. "So I am somewhat surprised, and obviously very happy for him."
All Dwayne needs now is a number 8 jersey and a Sprite contract to give this parallel legs. And Shaq. And Robert Horry. And a teenage wife he meets on the set of his own rap video. I might be forgetting a few things, but this is the list for now.
 THE SLOW ROAD FROM THOUSANDAIRE* TO MILLIONAIRE 
We're another day closer to the 2019 NFL Draft, which for the first time in history is going to feature Ohio State Bu- *finger in ear* ah I'm told Ohio State Buckeyes have been a reliable fixture in this event for decades now.
That won't change next month. The latest jockeying, from Matt Miller at Bleacher Report:
The Pick: EDGE Nick Bosa, Ohio State

If Kyler Murray is drafted No. 1 overall then the happiest team in the NFL will be the San Francisco 49ers. Simply because Ohio State's edge-rusher Nick Bosa will be on the board.

...

The Pick: QB Dwayne Haskins, Ohio State

This might take a trade up in the draft for the Giants if it becomes a league-wide belief that they want Dwayne Haskins. In this mock draft that doesn't have trades, the Giants are able to sit at No. 6 overall and still get their guy.
TL;DR Bosa 2nd (49ers) Haskins 6th (Giants) Campbell 66th (Steelers) Dre'Mont 69th (nice, Jags) Sheffield 90th (Cowboys) Weber 92nd (Chiefs) – for now. Wait five minutes and check back.
 C.J. EXITS THE BUILDING 
That's 1,000-point scorer C.J. Jackson to you, me and the Nuthouse:
So thankful for an incredible journey. Ohio State you mean the world to me and i cant thank you enough. Made memories that will last a life time. pic.twitter.com/f3hhUPafz7

— Cj (@C_Jack13) March 25, 2019
Thank you for your service, C.J.. As with Wellses on the football team decades ago, Bosas fairly recently and Wessons on the court right now, we will have another C.J. in your place next season. This does not diminish your C.J.-ness; it only enhances it.
PROGRAMMING NOTE: Kevin is on vacation all week. You'll have someone else covering the morning coffee read tomorrow and throughout the week.
 AW HELL YOU'RE NOT READY TO WORK YET
The word that shows up the most frequently on America's wikipedia page...Job Listing: Watch all 20 Marvel movies back-to-back; make $1000...Officer Mahoney isn't wrong...Cleveland's largest urban farm...the eight best movies coming out as soon as March Madness ends.