To fear death, you'd have to have something to lose, and this Buckeye team is long, long past that point.
This season has felt lost approximately 17 times since November. There were multiple times I thought the absolute ceiling was an NIT berth and wished for a "simulate season" button to push.
At this point, they're playing with house money in a Tournament they wouldn't even sniff with a similar resume any other season. As far as I'm concerned, it was mission accomplished as soon as their name came up in the bracket.
This, this is just bonus.
But that doesn't mean the Bucks don't want to be here. I don't know what's going to happen today, but I do know the Buckeyes have already clinched "successful season," given the circumstances
ICYMI
Word of the Day: Simpatico.
Programming note: I will be in Orlando with my extremely real and definitely not fake girlfriend next week, beginning on Monday. In my place, I have appointed five judges tasked with maintaining the kingdom. Be every bit as uncivil to them as you are to me.
 BITTER TO THE END. If you thought deep-seeded referee grudges were reserved for M teams that dropped out of relevance about two decades ago, let me introduce you to the fine folks of Ames, Iowa.
See, the Iowa State people, including barely head coach Fred Hoiberg, are still very upset over a completely fine call that's gone either way thousands of times because it not only cost them the game, it cost them the next one as well.
From Travis Hines' oral history of that 2013 game, from the Ames Tribune:
Bubu Palo, ISU guard: Will makes a great drive, goes baseline and we all think it's about to be an and-one to push our lead further. To potentially be up three or four with a minute-and-a-half left completely changes the outcome of the game.

Chris Babb, ISU guard: That might have been a home-court advantage call they got.

Will Clyburn, ISU guard: I don't know if he was there, if he was set, if he got under me. I'm not sure. It's the call the ref made. We've got to live with it.*

Georges Niang, ISU forward: We all know that was ridiculous.

Chris Babb, ISU guard: That horrible call shifted the whole momentum of the game.

...

Fred Hoiberg, ISU head coach: Absolutely got hosed by a bad call in the second round against Ohio State. A terrible call at the very end or I think we would have made it to the Final Four. We had a great team that I thought was really gelling at the right time.
Yes, the call with almost two minutes to play that didn't even cost you the lead in the game absolutely ruined everything. There was nothing else you could have done at that point. It was over.
It's not like you fouled Aaron Craft the very next possession, or turned the ball over the possession after that, or failed to grab a crucial defensive rebound the possession after that, or gave up a relatively uncontested game-winning shot the possession after that.
Buddy, you didn't lose because of charge call, you lost because your team shit its pants when it mattered most. And if your team absolutely crumbles when it's leading in an NCAA Tournament game inside of two minutes and a possession-determining call doesn't go their way, what on Earth makes you so confident they were winning the next one?
 KALEB WESSON, GAME CHANGER. Kaleb Wesson is without doubt the most important player on Ohio State's roster. I think we learned that when the Buckeyes struggled to score 20 points in a half without him.
Really, he's vital to the team regardless of how well he's playing. He just has to be on the court. But when he's feeling it, he can dominate a game.
Which sleepers have a guy that can take over a game?@TheAndyKatz's Top 10 players on double-digit seeds:
1. Ja Morant
2. Amir Coffey
3. Myles Powell
4. Kaleb Wesson
5. Max Hazzard
6. Jordan Ford
7. Jordan Bohannon
8. B.J. Stith
9. Terrell Brown
10. Vasa Pusica pic.twitter.com/qFOd2SkJTF

— NCAA March Madness (@marchmadness) March 21, 2019
They're gonna need him today because he might be the only distinct advantage Ohio State has at really any position. If the Bucks can get him going and play an inside-out game, this might be interesting.
The biggest thing is, he's just gotta stay on the court, which means staying out of foul trouble.
 ALRIGHT, SURE. Yesterday evening, my roommate just casually informed me that the official MLB Twitter account had photoshopped Bryce Harper into an Ohio State basketball uniform, as if that was a completely normal thing to happen.
But after some quick investigation, he was indeed correct. That was definitely a thing that they did. And it's... something.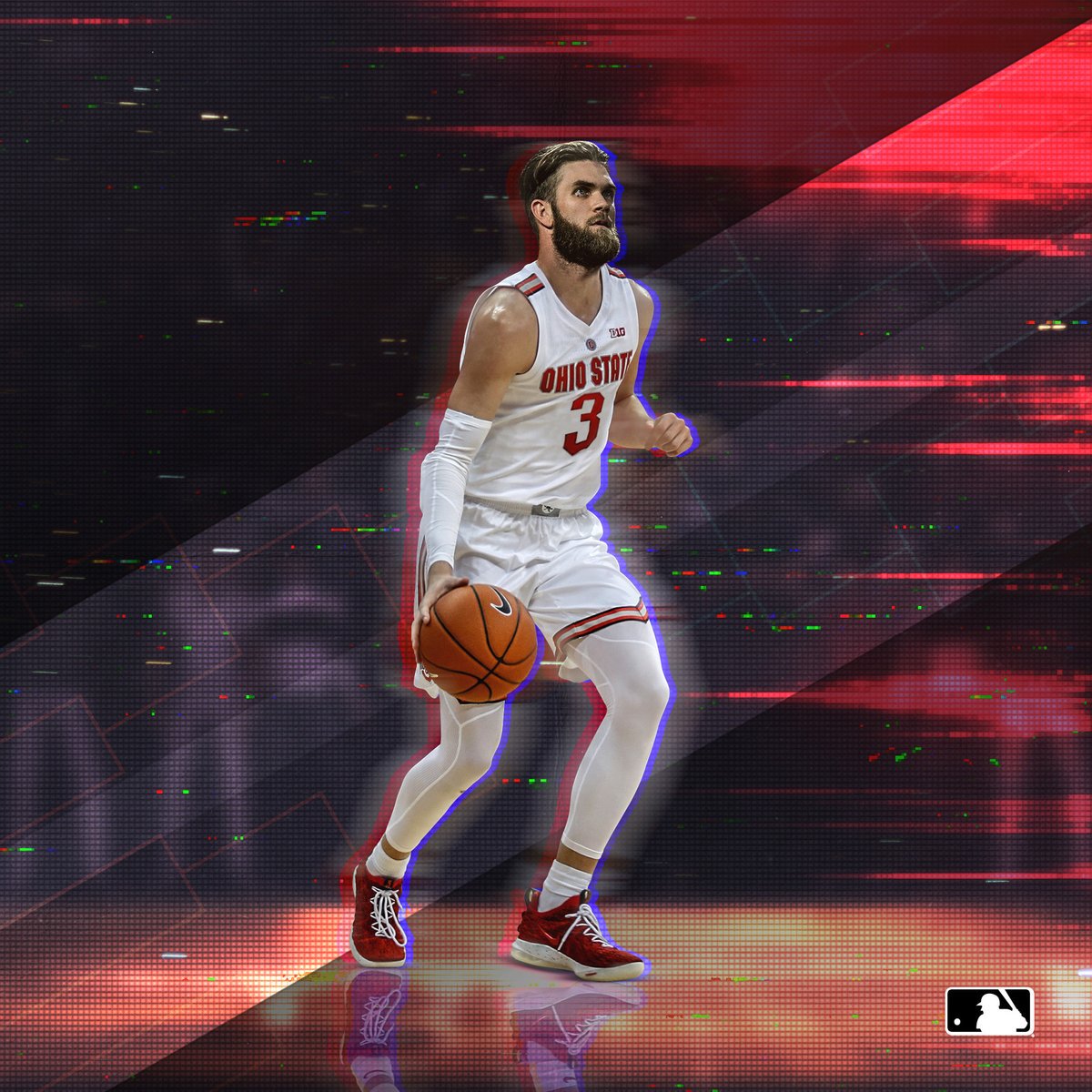 I'm going to be honest, I don't really know the proper way to respond. I have very few positive or negative reactions to this, but rather just a very strong neutral bewilderment.
I think it's probably fine and harmless, I guess. It's obviously a "hey, me too!" attempt by MLB to use March Madness as an attention grabber for their own sport, I'm just not entirely sure this is the correct way to go about that.
The counter argument is that they got me to blog about it on an Ohio State website. So I guess that's winning, somehow.
 BLESSINGS FROM GRITTY. I publicly endorse exactly four mascots: the anthropomorphic nut we all love to know, the minimum wage pizza rat, the mustache ball, and Gritty.
When one of those four publicly endorses another, things start to get a little magical. And I'm pleased to say that Gritty has spoken:
Getcha, getcha, getcha, getcha head in the game. #MarchMadness pic.twitter.com/VTD4ce6Dtb

— Gritty (@GrittyNHL) March 20, 2019
Worth noting, Gritty has never in his life missed a Final Four prediction, so book those travel plans, y'all.
 UNLEASH HIM. I'm well aware this is the very important basketball day, but I can't help but share this delightful bit of goodness to start the weekend.
Ohio State running backs coach Tony Alford on Demario McCall, who is with the running backs this spring after previously spending time with the H-backs: Demarios going to play a lot of football this year.

— Dan Hope (@Dan_Hope) March 21, 2019
Crazy that Vegas is pumping Justin Fields' Heisman odds when the real 2019 Heisman Trophy Winner is on the same roster.
 LINK LOCKER. Gucci is selling sneakers that purposely look dirty for nearly $900... Man accused of poaching Venus flytraps faces 73 felonies... What will happen when machines write songs just as well as your favorite musician?... Indiana teachers shot with plastic pellets during active shooter training... A guy travels to an unexplored Chernobyl zone and meets a 92-year-old woman living there alone with her son... The quest to acquire the oldest, most expensive book on the planet... The punishing ecstasy of being a reddit moderator... The secret business of shipping priceless artworks...