Some things happened!
ICYMI
Word of the Day: Pooh-bah
 GET DUMPED THEN, SPARTY. I know it's been busy few hours in football news, but the Basketbucks are doing some things today.
One of our first introductions to how absolutely awesome Chris Holtmann is came almost exactly a year ago when the Buckeyes thumped No. 1 Michigan State.
Folks, it's Sparty dumping time again!
The games we live for #Team120 | #PackTheSchott pic.twitter.com/4SUEMRsnoj

— Ohio State Hoops (@OhioStateHoops) January 5, 2019
The Buckeyes will do the deed at noon. Be ready.
 SPRING IS GOING TO BE WILD. I officially cannot wait for Ohio State's spring game in a few months.
The Buckeyes just brought in the highest-rated player in program history to follow the most prolific passer in program history, and he's approved by the former highest-rated player in program history.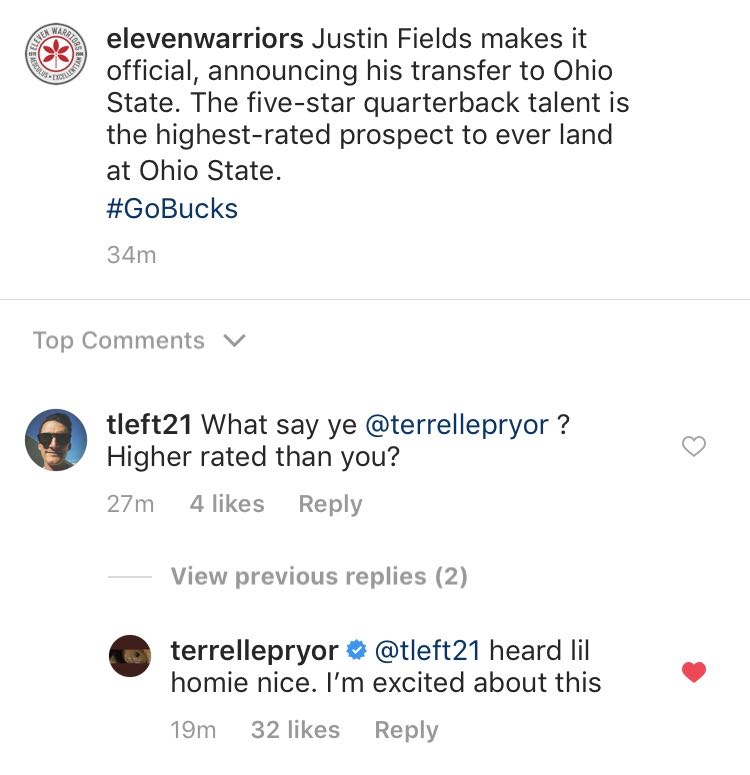 But we all know Tate Martell ain't going out without a fight, so one way or another the next few months are going to be downright fascinating.
#QBGeddon was insane, but it was pretty quiet. Something tells me this one ain't going to be that way.
 "TELL THEM TO RECRUIT ME HARD" So apparently five-star cornerback Dwight McGlothern Jr. has just discovered why he wasn't receiving much love from Ohio State.
No wonder he didnt recruit me hard to come to OSU , Can anyone tell them to recruit me hard ? https://t.co/6jZOwPQui0

— Dwight McGlothern jr (@DMcglothern2) January 5, 2019
The hilarious thing is, this isn't a two or three-star prospect hoping for a roster spot to materialize, he's the No. 34 player in the country.
I feel like five-star prospects shouldn't have to ask to be recruited, but it worked!
From Tony Gerdeman of TheOzone.Net:
Not long after that tweet, McGlothern received a phone call from Ohio State receivers coach Brian Hartline.

"He hit me up. I just got off the phone with him," McGlothern told The-Ozone.

Once former OSU cornerbacks coach Kerry Coombs left for the NFL following the 2017 season, McGlothern said that Ohio State went a little quiet in terms of recruiting him.

"Everything like switched after he left," McGlothern said. "It's been hard. I've been talking to [OSU recruiting director] Mark Pantoni some."

...

"He was saying that there was a lot of stuff to [why OSU dropped off]," McGlothern explained. "If you're interested then they are interested. They don't like to chase. We're going to see from here how it goes."
If he ends up at Ohio State, this will be one of my all-time favorite Buckeye recruiting stories.
 MORE LIKED TWEETS! My favorite thing about this offseason is learning about Ryan Day's potential coaching decisions based on the "likes" from other coaches around the country.
And it looks like we've got another one!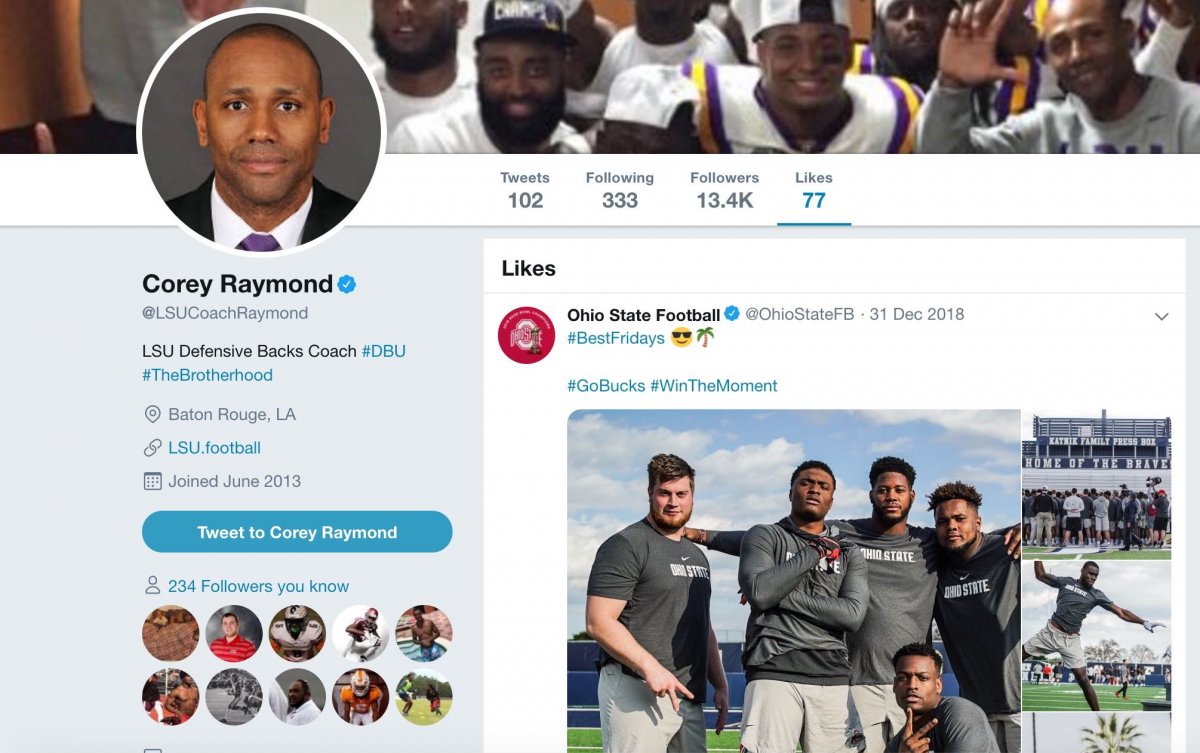 He wouldn't even need to change hashtags!
Raymond eventually unliked the Tweet, after the following Tweet from my pal Tony Gerdeman, (which was retweeted by Jeffrey Okudah).
I don't know why LSU's DB coach is liking an Ohio State Football tweet, so don't ask me...

— Tony Gerdeman (@TonyGerdeman) January 4, 2019
No, I also do not know why he liked the Tweet, but Raymond's name did come up last season before Ohio State hired Taver Johnson as Kerry Coombs replacement, so this wouldn't really out of the blue.
 BEST DAMN 3-YEAR-OLD IN THE LAND. Folks, we have ourselves a future TBDBITL member.
All 3-year old Sebastien wanted for Christmas was a @TBDBITL uniform. For New Years, he got an even better gift - meeting the band! pic.twitter.com/2tpLVwxeFg

— Ohio State on BTN (@OhioStateOnBTN) January 4, 2019
Sebastien looks like he could perform the incomparable tomorrow.
 LINK LOCKER. Why do so many accomplished chefs call Popeyes their favorite fried chicken?... Embracing Apple's boring future... The population of wild monkeys in central Florida with deadly herpes virus is on verge of doubling... I was a doctor addicted to pills and so were my patients... An auto-immune disease could explain the Salem witch trials...