*hops out of sewer* Ah yes, it's my favorite Monday of the year. The one where we table the golf and pro wrestling discourse for another year.
People tell me dumping on popular things doesn't make me an interesting person. I tell them disagreeing with me doesn't make them interesting, ether.
"Shut up and let people enjoy things?" Please. I enjoy badgering people for bad tastes while also possessing a menagerie of my own. I will never quit.
ICYMI:
Word of the Day: Perdition.
 WHERE URBZ MISSES JTB. I'm not sure one man has platonically loved another man like Urban Meyer does Tim Tebow. However, Meyer's relationship with Barrett might be a close second.
Meyer loved Barrett because he requires leadership from his quarterbacks. Barrett filled that role almost as soon as medics revived his team after a shellacking at the hands of Virginia Tech in 2014.
Now that Barrett is chasing NFL dreams, a void has emerged in his wake.
From cleveland.com:
Whatever Barrett did and didn't do against opponents on gameday, on the practice field he got the offense ready to go as one of the best practice players that Meyer has ever seen. A quarterback like that helps the whole offense prepare and allows a coach to feel good walking off the practice field.

There's been less of that this spring.

"I've had those great quarterbacks that they're great practice players and they raise the level of play around them," Meyer said this week. "I call them palms up guys. They're not the guys that look at the coach like this, they just keep the group going. It's the most unique position in all the sport. Very strong opinion about that, where everybody's looking at you. If you're (looking around confused), then you have an offense that's doing that."
If a leader hasn't emerged by spring, I'd figure that favors the fortunes of Joe Burrow. He doesn't have the arm of Haskins, but he fits the profile of a traditional Meyer quarterback. And we already know Meyer doesn't need a quarterback with a golden arm to win football games.
That's not to say Haskins isn't a leader. But if he hasn't locked down the starting position, the fault won't lie with his arm.
 GET DUMPED THEN, PENN STATE. The Worldwide Leader crunched college football numbers and labeled Ohio State as the No. 4 team entering the 2018 season (behind Clemson, Alabama, and Georgia but ahead of Notre Dame).
Their oracles say Ohio State will be favored to win every game in 2018, except the one that occurs in Happy Valley.
From espn.com (via thespun.com):
The Football Power Index (FPI) is a measure of team strength that is meant to be the best predictor of a team's performance going forward for the rest of the season. FPI represents how many points above or below average a team is. Projected results are based on 10,000 simulations of the rest of the season using FPI, results to date, and the remaining schedule. Ratings and projections update daily.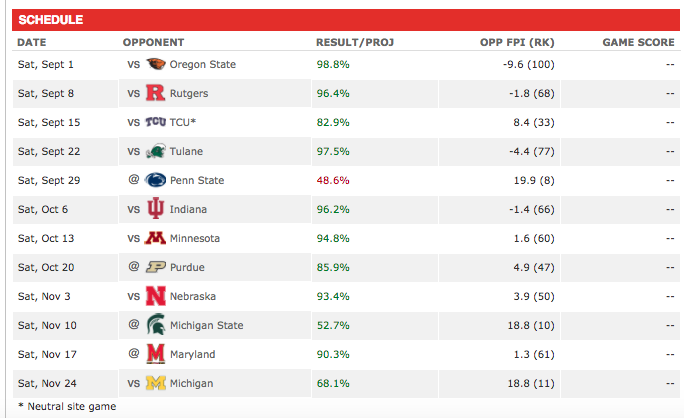 Looks about right to me, although I'd rate the Buckeyes at 99% chance of beating the Wolverines.
I am not looking forward to the trip to Happy Valley. I hate everything about that place. It's joke that in 2018 a team playing a critical role in lining Penn State's coffers has to have a walkthrough in a hotel parking lot.
My pick for the trap game is Purdue. West Lafayette is another den of blood magic, and like Happy Valley is as regal as a McDonald's parking lot in Tuscaloosa at 2:20 a.m. on a Tuesday.
 TOO LONG, DIDN'T WATCH. Amazon, in its quest to profit on every aspect of America life, paid Michigan $2.25 million to produce a behind-the-scenes documentary of the 2017 season. Jim Harbaugh rewarded the investment with four losses and a trip to the Outback, which it also lost.
I haven't watched the series and won't. Once you've seen one behind-the-scenes sports documentary you've seen them all, and I won't watch them unless they involve my beloved teams.
Thanks to Ramzy, whom you all are already following on Twitter, we now have the entire series distilled into the good parts, which involve Ohio State and Dwayne Haskins trampling the Wolverines into the mud.
I watched and can endorse all of All or Nothing: The Michigan Wolverines on Amazon Prime, especially the penultimate episode (7) of Season One titled Bury the Naysayers. This brief thread will contain some vines from the Ohio State game portion of that episode.

— Ramzy Nasrallah (@ramzy) April 9, 2018
this first clip is called Fudge. pic.twitter.com/pfATagGzIX

— Ramzy Nasrallah (@ramzy) April 9, 2018
this second one is infuriating for all Michigan fans and like 31% of Ohio State fans; youre better off skipping to the next one pic.twitter.com/xwgVJ38KGN

— Ramzy Nasrallah (@ramzy) April 9, 2018
third clip: foreshadowing pic.twitter.com/bbUFaDFqBA

— Ramzy Nasrallah (@ramzy) April 9, 2018
clip no.5: Dangit. pic.twitter.com/aW9APIraXw

— Ramzy Nasrallah (@ramzy) April 9, 2018
clip no.6: ...Quality Backup. pic.twitter.com/bps02cngcM

— Ramzy Nasrallah (@ramzy) April 9, 2018
clip no.7: [theme music from Friends] The One Where Ohio State Disguised its Coverage. pic.twitter.com/EEAE7nOppA

— Ramzy Nasrallah (@ramzy) April 9, 2018
Last clip: Fin. Entire series recommended: Ultra HD/cinematography is . If youve been to an Ohio State practice youll also marvel at how dialed down and flat Michigans seem by comparison (not necessarily a critique; you dont need house music and screaming to be good) pic.twitter.com/WmTqGBD4bP

— Ramzy Nasrallah (@ramzy) April 9, 2018
It bemuses me that Michigan players and coaches weren't familiar with Ohio State's backup.
As soon as Wilton Speight went down with injury, my lizard brain conjured a scouting report on backup John O'Korn:
STRENGTHS: MORE MOBILITY THAN A CORPSE. NOT SMALL.

WEAKNESSES: EVERTYING ELSE HAVING TO DO WITH COMPETENT QUARTERBACK PLAY
This is what Michigan coaches and players deserve for apparently not making the Skull Session apart of their morning bowel movement rituals.
 E. GORDON GEE: STILL BALLING. West Virginia president Gordon Gee recently gave an interview in which he reflected upon his poaching of Ohio State doctors by noting the offers didn't come at the end of an Army bazooka.
Maybe not. But that's only because Gordon Gee doesn't need a bazooka to do things like bringing Panera to West Virginia..
From dispatch.com:
"Yeah, we needed to have one," the 74-year-old former Ohio State University president said plainly during a recent interview with The Dispatch.

So he called Ohio-based Covelli Enterprises, Panera's largest franchisee, and asked about building one of the popular fast-casual restaurants in Morgantown, Gee said.

By March 2014, a two-story Taj Mahal of pastries, salads, soups and sandwiches stood on the edge of WVU's campus. A Covelli news release at the time called the new Morgantown Panera Bread the "crown jewel" of its West Virginia locations.
Dave Zirin once called Gee "the dark heart of higher education." He may have actually be on to something instead of engaging in wild hyperbole—not that I'd know anything about that.
I'm not sure Panera is Hell. I'd believe it was the waiting room, though.
I only go there under duress, and every time I spend what seems like 40 minutes surrounded by preening hipsters while waiting for an underpaid and understaffed kitchen to produce a shitty, overpriced panini.
 SPARTY SIGNS TOLEDO TWO-SPORT STAR. Toledo three-star wide receiver Jase Bowen yesterday committed to Michigan State, where he will also play baseball.
From toledoblade.com:
Bowen, 17, verbally committed to a football scholarship offer from Michigan State on Saturday before the Spartans' spring game. The clincher in his decision was that MSU will allow Bowen to also play baseball for the Spartans.

"I always wanted to go to college for free and play both sports, and Michigan State gave me that opportunity," Bowen said. "It's obviously a dream come true.

"Also, Michigan State just treated me so well. I always felt like family there, and I'm big on that. I want to go somewhere where I'm loved, and this was a good fit for me."
Can already envision cussing this kid for the crime of catching a pass in the seam against Ohio State.
 THOSE WMDs. From 2000: Crimetown USA — How Youngstown fell in love with the mob... The fight to end addiction moves to an Ohio courtroom... The resurrection of Johnny Cash... Turn your bluetooth off when you're not using it... The drugging of the American boy.