If you live in Columbus and don't eat at Block's Deli every day, my only question is ... why!? I grabbed 15 bagels on Saturday. I should have grabbed 150.
ICYMI:
Word of the Day: Piffle.
 FIVE-STAR SPECIAL TEAMS ACE. Most five-star recruits don't arrive on campus thirsting to play special teams. Unless they're a thoroughbred like J.K. Dobbins, playing special teams is the only way for most freshmen to see the field.
Take five-star cornerback Jeffrey Okudah. He could have gone to a number of schools and started immediately. Instead he chose Ohio State, where he'll have to grind his way up the totem pole.
He's developed a hunger for special teams play, and is eager to show his skills in front of his home-state crowd in Arlington.
From Tim May of The Columbus Dispatch:
"It's going to be hard to contain all that energy," Okudah said. "But I would also look at it as a great opportunity to exert that energy on somebody else."

That's what he did down the stretch this season. Considered the No. 1 cornerback prospect in the country when he became part of Ohio State's 2017 recruiting class, he learned to channel that talent into kick coverage when it became clear he wasn't going to start at cornerback in year one.

"At first coming from high school I didn't realize how serious special teams were," Okudah said. "Then when I started watching film I saw Gareon Conley had to do it, I saw Denzel (Ward) had to do it, playing the same position I'm playing."
Okudah has excelled on special teams, which bodes well for the Buckeyes considering Denzel Ward is all but declared. There will be plenty of snaps to go around next year, and Okudah could leap Damon Arnette and Kendall Sheffield (assuming neither go pro) for the top spot next year.
 FAST WAY TO LOSE CASH. A consensus of sportsbooks lists Ohio State (-7) vs. USC right now, which sounds 'bout right to me.
Apparently, however, the money trail says otherwise. According to Bovada, 56% of the money bet on the Cotton Bowl has been on USC (+7). 
I wouldn't touch this game with $5, so I understand bettors taking the points in a game that could be a shootout.
 STALWART JAMARCO. I love the word "stalwart."
adjective — loyal, reliable, and hardworking.
noun — a loyal, reliable, and hardworking supporter or participant in an organization or team.
Loyal. Reliable. Hardworking. There are perhaps no better words to describe the venerable career of Jamarco Jones, who waited patiently behind Taylor Decker before cementing his own legacy.
From profootballfocus.com: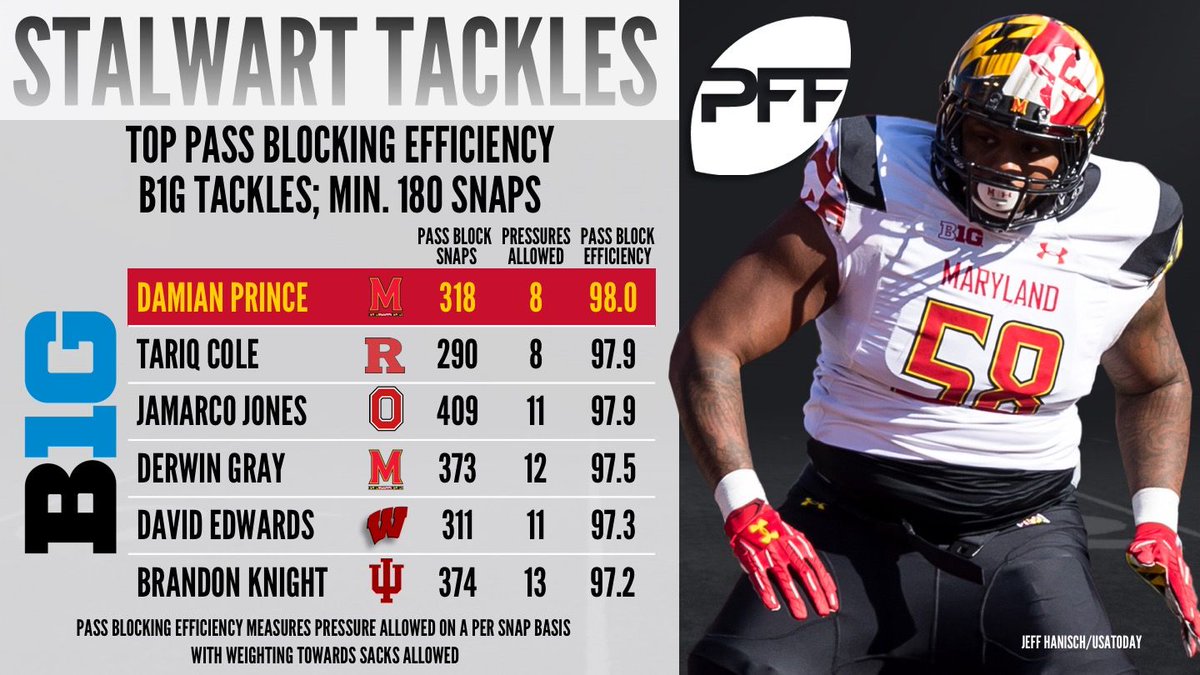 Seems like just yesterday we were skressed about Jamarco Jones taking a February visit to Michigan State. Thankfully Mark Dantonio and East Lansing couldn't close the deal. Jones has been one of my favorite players of the Urban Meyer era.
 MAYFIELD LOOKING FOR INTEL. I'm old enough to remember Troy Smith winning the Heisman, hitting the buffet circuit, and then looking like a guy who regularly ate at buffets against Florida.
So I was under the impression all end-of-season award circuit hobnobbing was bad juju. But according to Baker Mayfield, it's high time for intelligence gathering.
From espn.com:
"We're all gathering intel, man," Mayfield confessed last Thursday morning, as the 27 nominees for that night's College Football Awards gathered in a meeting room at the College Football Hall of Fame. When the soon-to-be Heisman winner arrived for a morning media Q&A session, he and Oklahoma teammate Orlando Brown made a beeline for Quenton Nelson, immediately peppering the Notre Dame offensive lineman with questions. Why? Because back in Week 2 the Irish faced off against Georgia. And guess who Oklahoma plays in the College Football Playoff semifinals on New Year's Day?

"Every guy in here, they have looked and seen who has already played against who," Mayfield explained. "We've all already watched film of the team we're playing in our games, but nothing beats real game experience. So, if you really watch this week you'll see guys grabbing other guys and asking for tips on their next opponent."
Big props to any player that glad hands with Mayfield, nods knowingly, and then sells him a load of horseshit.
 THE BYESMAN Let historians tell it, and the Heisman ceremony used to be a big deal. But then along came big bad Twitter and other instant-information platforms that ripped apart the last shreds of society. 
Apparently nobody cares to watch the presentation anymore.
Per @AustinKarp: The Heisman Trophy presentation on ESPN drew a 1.5 overnight rating, the lowest-rating in history and down 12% from last year (which was then the least-viewed Heisman show in history). '

— Richard Deitsch (@richarddeitsch) December 11, 2017
The Heisman has a real problem on its hands. Half the audience has vanished in just five years. https://t.co/ooLhApJpEx

— Stewart Mandel (@slmandel) December 12, 2017
Nobody wants to sit through an hour bloated with commercials for a 30-second reveal. Hopefully this trend continues until they're forced to put it in Facebook Live, where it already should be.
 THOSE WMDs. Don't curse or blow kisses at this judge... On Sullivant Avenue, a cycle of heroin and prostitution... The NSA's fear of psychic nukes... 2017 hater's guide to the Williams-Sonoma catalogue... As wild fires rage, Southern California booksellers struggle to remain open.