German history flows throughout Ohio, which means ample Oktoberfests across this great state. But only one rules them all.
And despite what you may have heard, the crown doesn't belong to Cincinnati. It belongs to the humble village of Minster, with its glorious Oktoberfest kicking off today and ending Sunday.
If you've never been, well, you're missing out on a premiere festival in the state. I hope you don't make that mistake. I'll be heading up the minute the workday ends. I have waited 365 days to make my return, and couldn't be happier about it.
Secondary shoutout to Piqua (home of the finest water in Ohio) tonight as it hosts undefeated Sidney. The Yellow Jackets boast Isaiah Bowser, a three-star 2018 Northwestern running back commit who has compiled 1538 total yards and 17 touchdowns in five games.
The good thing is Piqua owns Sidney. We walk around with the deed in our back pocket.
ICYMI:
Word of the Day: Puckish.
 UNCONCERNED SCHIANO. Urban Meyer ranted earlier this week about Ohio State's "unacceptable" three pass interference calls against UNLV. It was the latest in a long string of criticisms this year for the secondary, which hasn't performed to the standard expected of a Greg Schiano-coached unit.
Schiano, for his part, remains unconcerned about the penalties. 
From dispatch.com:
Meyer was hesitant to be too definitive because he spends more of his time with the offense and defers to Schiano. The coordinator's view, after studying the plays in question, was more forgiving.

"I know people are a little bit in a hysteria about the pass interference," [Schiano] said. "I'm not. You just keep playing. You play your way through it. It's kind of like a batter, when you're just not hitting the ball and you're flying out instead of hitting into the power alley."

When it comes to defending the pass, the Buckeyes are like a slugger willing to accept strikeouts as a tradeoff. Ohio State prides itself on playing press, man-to-man defense with physical play against receivers. But it comes with risk, especially with inexperienced players.
I'd rather have a learning experience like that come against UNLV than Penn State or Michigan, where even one could prove fatal. Thankfully Rutgers is on a similar level, so it will prove to be valuable learning experience for a young secondary on Saturday night.
 WE'RE TALKING FLIPPING BOTTLES. Drue Chrisman joined Ohio State as the No. 1 punting prospect in the country. Recruiting services failed to mention he's the No. 1 bottle flipper in the country as well.
Water bottle flipping isn't dead pic.twitter.com/zraTNiiOll

— Drue Chrisman (@DChrisman91) July 7, 2017
Chrisman said earlier this month that during the season he's focused on flipping the field, not bottles. But it's pretty clear he thinks about flipping bottles a lot.
From ballcontroloffense.com:
But yeah, [bottle flipping] kind of become my hobby. Everyone's got their own thing, some people like to play video games, 2K, whatever it is…I just like to flip bottles in my free time. I enjoy it, and I really don't think it'll ever get old. Any time you see someone throw a bottle and they get it to land upright, your reaction is usually, 'oh, that's pretty cool', so it's good.

So now that the world's seen your videos and the world has definitely seen Lebron failing at doing the same thing courtside at MSG, what kind of tips would you have for him?

What kind of tips would I give Lebron? *laughs* Well, I'm sure he's a far greater athlete than I am, and I'm sure he spends at least a little more time shooting a basketball than I do flipping a water bottle. So I'd probably just tell him to keep practicing, gotta go through a little bit of trial and error.

Shoot, I mean I've probably been doing it for a little over a year now, and I just love making videos. I always do trick shots. I would do trick shots in high school with holds and stuff. So anytime I have a good idea for a video, I'll put a lot of time into it and that one (above) took place over the span of a couple months, so I don't think Lebron has that kind of time.
He's apparently going to attempt to enter the Guinness Book of World Records with bottle flips per minute. 
I wish him the best in that endeavor... as long as he continues slaying opponents with devastating punts. (The nice thing about punters is they stick around for four years, too.)
 FINE DINING IN JERSEY. Ohio State fans will invade High Point Solutions Stadium (what a garbage name for an amateur athletic arena) this Saturday night.
I don't even want to think about the amount of food they'll digest, but if you're traveling, consider eating at a local diner. Apparently they offer fine Jersey fare.
From ozone.net:
My best dining tip? You can't go wrong stopping in a New Jersey diner to grab a bite to eat. The state boasts more than 500 of them, and every single one features a menu slightly thicker than a medium-sized city's Yellow Pages, a mildly-disinterested wait staff, and will bring out your food so quickly that you will wonder if it was teleported there. It is always advisable to ask your server for recommendations, because there is a very good chance they will tell you if it's best to steer clear of a certain menu item.

Before ordering your beverages, check whether they have Egg Creams. This mixture of seltzer, milk and syrup (generally chocolate) contains neither egg nor cream. It's one of my favorite treats! It was popularized in New York's Jewish delis, but can often be found on the New Jersey side of the Arthur Kill as well.
If somebody served me a mixture of seltzer, milk, and syrup, I'd think they were trying to poison me. New Jersey sounds awful. Hit the Waffle House instead.
Oh wait, there are no Waffle Houses in New Jersey. What a joke. 
 PUT IT IN MY VEINS. I couldn't care less about college basketball recruiting, and yet I can't stop reading about the FBI corruption probe into it. I love nothing more than white collar workers attempting to crime. It always ends with hysterical results.
From espn.com's deep dive into the scandal:
[Merl Code, an Adidas employee,] who was Clemson's point guard from 1993 to 1997 and who previously worked as the director of rival Nike's elite youth basketball program, explained why Adidas was paying the player.

"You guys are being introduced to ... how stuff happens with kids and getting into particular schools," Code said during the call. "So this is kind of one of those instances where we needed to step up and help one of our flagship schools in [Louisville], you know, secure a five-star caliber kid. Obviously, that helps, you know, our potential business."

Code further explained that by funneling the payments to players' families through third parties, Adidas "was not engaging in a monetary relationship with an amateur athlete. We're engaging in a monetary relationship with a business manager, and whatever he decides to do with it, that's between him and the family. ... We can't get involved directly in those kinds of situations and scenarios."
Sounds like classic criminal logic used to justify said crime. Unfortunately for them, the FBI disagreed with the legality. 
Also, remember when Rick Pitino's lawyer claimed allegations against Louisville shocked his client? You might be surprised to learn he lied.
CBS Sports identified Pitino as "Coach-2" in federal documents, and it's not a great look for the championship coach.
From espn.com:
Because two Adidas employees involved in the scheme were having difficulty getting the money, they wanted to funnel the payments through Augustine's AAU program, which was sponsored by Adidas. According to FBI documents, at one point during the conversation in the hotel room, Augustine allegedly said, "No one swings a bigger [expletive] than [Coach-2] at [Adidas]" and added "all [Coach-2] has to do is pick up the phone and call somebody [and say], 'These are my guys; they're taking care of us.'"

According to the sealed complaint against Gatto, Adidas employee Merl Code, Dawkins, Augustine and financial adviser Munish Sood, Coach-2 also had two phone conversations with Gatto on May 27 and a third call on June 1. The FBI did not have a wiretap on Gatto's phone, so what they talked about is not known.

"On or about June 3, 2017, [Bowen] officially committed to [Louisville] in return for the commitment by Gatto and [Adidas] to pay $100,000 for his family," the FBI complaint says.
Louisville is going to be lucky to have a basketball, let alone a basketball program when the dust settles. It couldn't have happened to slimier people, either!
 MIRROR LAKE PROGRESSION. The lake Ohio State students love to know doesn't look like alumni would remember it. The renovations are ongoing, and progress is starting to be made.
From news.osu.edu: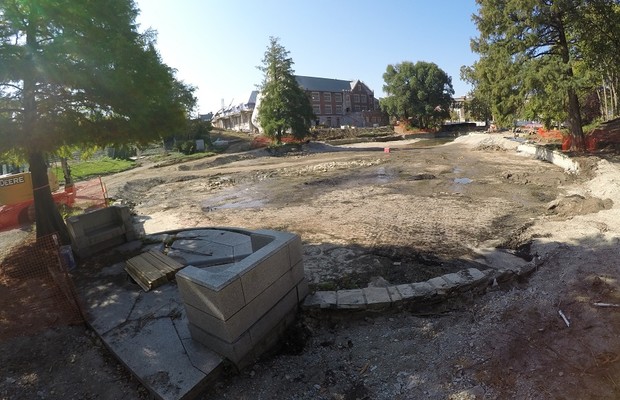 Construction cones and chain link fences may obscure some of the view of the historic Mirror Lake District , but the pace of progress is moving fast at the iconic setting on The Ohio State University campus.

"Most of the major demolition work is done. The next piece is to get the utilities in place. That includes sewer and electricity," said University Landscape Architect Steve Volkmann.

Construction crews working on Mirror Lake have removed most of the concrete and stone liner that formed the base of the lake. Landscaping has been pared back and walkways have been cleared. The new design calls for a more natural and sustainable setting.
Can't wait to see the finished results, even though I'll miss the grotto. Should be an improvement all around.
 THOSE WMDs. #Teen drunk on FourLoko leads police on 100 mph chase... High school team takes oxy before game, forfeits entire season... History of Sears predicts everything Amazon is doing... Ric Flair reveals insane drinking habits... If I played youth football, will I have CTE?