This Skull Session is dedicated to every collegiate and adult beginning spring break today. The goal is to have fun without ruining your student government career by pushing over two Harleys in a crunken haze.
From The Miami Herald:
The University of Florida's student body president-elect was jailed early Tuesday after police said he drunkenly pushed over two Harley-Davidson motorcycles that were parked in Key West.

William Smith Meyers, 22, a UF food and resource economics senior and currently the Student Senate president, told police people did not know how to ride bicycles in Key West and made no sense due to being very drunk, according to the arresting officer. Meyers said he just wanted to go home.

Meyers, who goes by Smith Meyers on campus, "was so intoxicated that he did not even recall coming down to Key West for spring break vacation," Officer Nicholas Galbo wrote.
Ah, a story as old as time: Non-local Man steps out for drinks with his friends and wakes up in a jail cell. At least it's only Harley oil and not human blood on his hands. 
ICYMI:
Word of the Day: Charlatan.
 THE PRICE OF EDUCATION. Billy Price could've gone pro. Instead, the right guard came back for a final ride in which he'll switch to center like Pat Elflein before him.
The man who fills that spot is one of the most intriguing battles of camp. Demetrius Knox, Matthew Burrell, Branden Bowen, and Malcolm Pridgeon are all names to watch. Five-star OG Wyatt "Wavy Dub" Davis arrives this summer. 
It's a stiff competition. Knox and Burrell are two guys many fans expected to meaningly contribute by now. 
Price spoke this week on off-the-field roadblocks encountered by the 2015 class, which Urban Meyer called out again earlier this week.
From 11W's Kevin Harrish, whom you should follow on Twitter:
"Any college student that comes to Ohio State has a lot of temptations and a lot of influences around them. And our guys, the 2015 class in particular, it's not necessarily calling them out but making sure they're accountable for what they're doing. If you want to mess up on campus, it's going to be known.

"You are a student-athlete and any student athlete here at Ohio State has that publicity factor. You have to have a good support system around you. I wasn't into the whole high street scene and doing the extracurricular activities — that really didn't help my purpose. So those kind of guys… We've had those conversations.

Particularly, Matt Burrell. You know, I told him 'You gotta close your circle and tighten your circle down because people want to hurt you, people want to take you down. People want to see you mess up and put you on the frontline news. Especially here. Especially here.' So I think those conversations… I've told him and  Matt's done an excellent job, he's cleaned up. You're here now and where do you want to be? So that's where you have to align your goals."
Ray Rice told the football team on Wednesday the social social media era is the "scariest era known to man." I don't know about that. The middle ages when Vikings reaved and people died at, like, 12, would have been a lot scarier than teens tweeting.
Rice's point, however, makes sense in that I'd much prefer to be an athlete in the 1970s ... in everything except salary and medical care... than the era when everyone carries a video camera in their pocket.
Price also dropped a bit of news. Joshua Alabi, a 2015 three-star defensive tackle prospect out of Cass Tech, is playing with the offensive line this spring. Apparently he's been tearing it up at left tackle.
From Eric Seger, whom you should follow on Twitter:
 "Josh Alabi's killing it right now. We switched him over to the offensive line from defense. Kid's just going. He's playing hard."
I don't know whether to be excited about this or perturbed the coaches are asking defensive linemen to have a go on offense. Probably a mixture of both. It's not like they're hurting for bodies on the defensive line. Can't say the same about their offensive counterparts.
Either way, would be sweet to see a Cass Tech product crack the depth chart. The Buckeyes need a solid option if Jamarco Jones ever, Warren G. Harding forbidding, suffers an injury.
 NEW KICKS. Arizona State poached Ohio State "Quality Control, Kicking" assistant Brian Knorr last week and installed him as its new special teams coach.
Meyer plugged the vacancy with Adam Scheier:
HUMBLED and HONORED to join the football staff at The OHIO STATE University. Looking forward to this unbelievable OPPORTUNITY. #gobucks

— Adam Scheier (@CoachScheier) March 9, 2017
Who is Adam Scheier? Good question. He was Bowling Green's interim coach for the Falcons' 2013 Little Caesars Pizza Bowl loss to a Paul Chryst-coached Pitt. For the last three years, he coached Wake Forest special teams. However, the Demon Deacons made a change in January.
From bloggersodear.com:
Dave Clawson announced on Tuesday, "Adam has been a hard-working and loyal member of our staff, not just here at Wake Forest but also at Bowling Green. He is a man with great character and integrity. This was a mutually-agreed upon decision as Adam contemplates his future. I am grateful for his contributions to Wake Forest football."

This is a bit of a surprise given how long Scheier has been on the coaching staff, especially given the 35th ranked special teams according to FootballStudyHall.com. Place kicker Mike Weaver garnered First Team All-Acc Honors, while Dom Maggio was recognized by ESPN as a Freshman All-American.
Works for me. Let's hope Scheier's hiring ends the special teams gaffes that have reared their grotesque heads over the first five Meyer seasons.
 STAY SMOKIN', BOBBY. Bobby Knight is 76-years-old and out here openly wishing death on his enemies. 
Via Jim Weber:
On one hand, I respect carrying a grudge over decades. On the other, I hope when I'm 76 I'm not bearing that much hate. It seems exhausting.
 A TEXAS LEGEND AND TONY ROMO. Dontre Wilson is still hoping to catch on with an NFL team. Maybe ol' Tony Romo can put in a good word for the famous DeSoto, Texas, running back with whatever team signs the fragile veteran quarterback.
From Dontre Wilson's Instagram: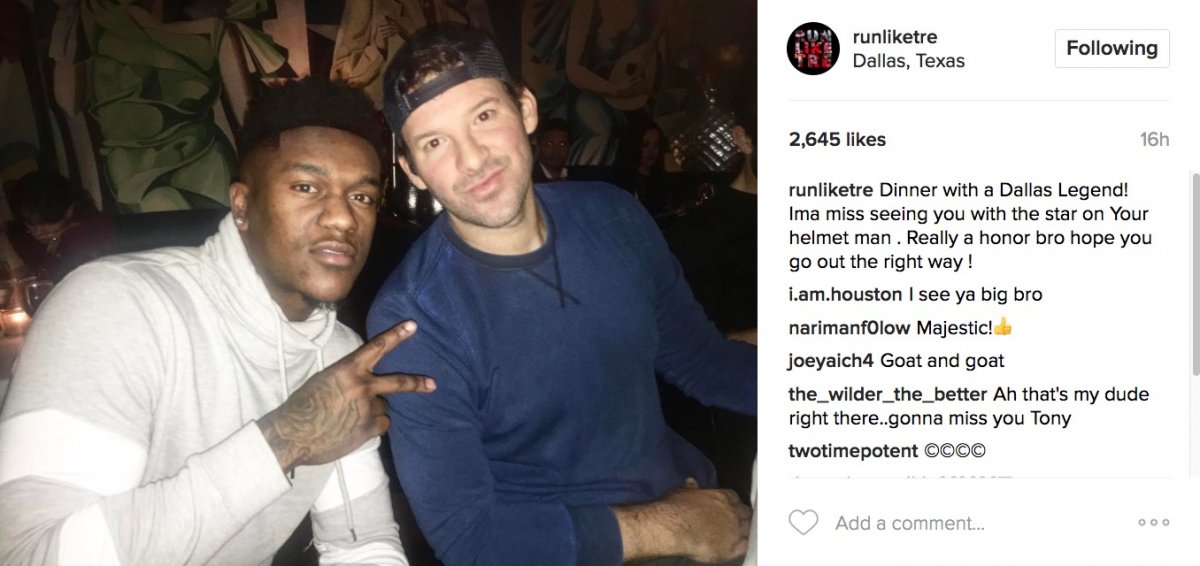 I've also got $5 saying Romo is lightweight saucy in that picture. (Not that there's anything wrong with that.)
 SAY IT AIN'T SO URBAN. Urban Meyer loves talking to the media. As evidence, look how disappointed he is to learn he wasn't slated to speak to assembled "scribes" on Thursday.
From Colin Hass-Hill of The Lantern:
A close second was watching how happy Urban Meyer was when he confirmed he didn't have to talk to any media pic.twitter.com/g9LIDV26Wo

— Colin Hass-Hill (@chasshill) March 9, 2017

Don't worry, Urbz, I'll try to make the next practice.
 THOSE WMDs. The Top 10 definitive 1990s wrestling theme songs... West Virginia county sues drug distributors over opioid crisis... The Lost Girls of Panama: The full story... Manchester's cold war... The untold story of Magic Leap, the world's most secretive startup.