Shortly after noon yesterday, in the midst of getting grilled by a hostile press curious to know why a clearly concussed Shane Morris was put back into Saturday's game against Minnesota, Michigan head coach Brady Hoke promised a statement from the school's "medical department."
Hoke said, to his knowledge, Morris had never been diagnosed with a concussion – going so far as to say the quarterback would have been able to practice with the team on Sunday if not for an ankle injury.
Nearly 12 hours later – at 12:52 a.m. Tuesday morning to be precise – the school finally released a statement, but it wasn't from the program's medical staff. It was from athletic director Dave Brandon and it hung Hoke out to dry.
You see, Morris – as anyone that watched the play could clearly tell – did suffer a concussion:
Following the game, a comprehensive concussion evaluation was completed and Shane has been evaluated twice since the game. As of Sunday, Shane was diagnosed with a probable, mild concussion, and a high ankle sprain. 
Brandon went with the corporate standby "lack of communication" when addressing the "situation" and that "the systems we had in place were inadequate to handle this unique and complex situation properly."
Really? An injury at the highest level of college football is a "unique and complex situation" now?
And then, there's this:
From the field level and without the benefit of replays, medical and coaching staffs did not see the hit.
Let's check in with Michigan Twitter:
Hoke was marched into a no-win situation Monday morning at that podium, unprepared, unsupported, and left to stand there taking bullets

— Nick Baumgardner (@nickbaumgardner) September 30, 2014
This was a day-long fistfight over whether and how Michigan would admit they played a concussed player.

— mgoblog (@mgoblog) September 30, 2014
Embarrassed as an alum about how this all has been handled. Just a damn shame.

— Steve Lorenz (@TremendousUM) September 30, 2014
ICYMI: @sully330 @umichtrack, John Elliott @umichfootball & Traci Conrad @umichsoftball to be inducted in #umich HOH http://t.co/3LgU2auu8c

— Dave Brandon (@DaveBrandonAD) September 30, 2014
Fucking clownshow.

— Ace Anbender (@AceAnbender) September 30, 2014
But back to Hoke getting thrown under the bus – Brandon admits that Morris was diagnosed with the "probable, mild concussion" on Sunday, but the head coach doesn't know about it for his Monday presser? Wow.
Because this wicked earth is rarely that just or cool, I doubt we're #blessed enough for this to last forever. So, we might as well enjoy it while it lasts, right? 
Brandon and Hoke are on their way to a dumpster, and honestly, Ohio State should think real hard about enshrining them both into Ohio State's Hall of Fame. Ohio State hasn't had this dynamic of a Wolverine-slaying duo since Troy Smith and Ted Ginn Jr. 
I'm not sure I could have done a better job ruining Michigan football if those clowns gave me both job titles. 

ED WARINNER WAS NEVER SHOOK. Ohio State's offensive line is starting to come together. Ed Warinner, who is a candidate for the Kansas vacancy, wants you to know he was never shook.
From Todd Porter of The Canton Repository:
"Are you saying we were searching for answers?" Warinner said. "Because I didn't say that. That's your perception. That's not my perception."

[...]

"Are we a finished product? No. Are we coming along nicely? Yes," Warinner said.
Sounds like Ed Warinner has been reading the grumblings of the We-Want-Video-Game-Results-Every-Game wing of the fanbase. That's a strategy I wouldn't recommend, but I'm not foolish enough to pick a bone with Ed Warinner or his daily regiment.
I hope he sticks around, but it's only a matter of time before somebody poaches him.

OSU BROKE CINCI'S BACK. I generally don't look in the rear view mirror, especially after Ohio State just bulldozed a weaker team, but I got too much joy out of this article not to share.
From Tom Groeschen of Cincinnati.com:
"We got beat up pretty good physically," Tuberville said Monday on the weekly AAC coaches teleconference. "We worked our way back into the game, but we just didn't have enough gas in our gas tank to pull off a win."

[...]

"We have to get a defense," Tuberville said. "We haven't had a defense all year long."
While it amuses me to think Ohio State tombstoned Cincinnati's season in September, I hope the Bearcats don't slide like Northwestern in 2013. If they did, 
And while OSU gave up some big plays on defense (such are the perils of man-to-man), at least the SIlver Bullets didn't surrender 700 yards. (Also, Tubs, take it from a fan of 2013's Ohio State Buckeyes... you don't just "get" a defense in a week.)

NEVER READ THE COMMENTS. Even though trolls and morons still show up (the price of growth), I think Eleven Warriors' commentariat is aces when it comes to policing its own. Outside of Eleven Warriors dot com, however, I go out of my way to avoid comment sections.
I also go out of my way to avoid reading anything about Jameis Winston, but this Al.com headline caught my eye yesterday:
Jameis Winston has 'embarrassed' Hueytown, residents say
I have a weird fascination with people's hometowns, so I wondered how Jameis Winston shamed the proud denizens of Hueytown, Alabama. Let Lars Anderson tell it:
The action is holding the eyes of Pam Miller, 43, whose brother-in-law coached Winston in baseball in Hueytown. "I am furious with Jameis," says Miller, her gaze locked on her son. "I came here and saw him play in high school and he was a special talent. But in high school they allowed him to do whatever he wanted. You could see then that there were problems. So no one here, sadly, is shocked by anything he's done.

"His parents haven't held him accountable, his coaches haven't and the police in Tallahassee haven't. I feel bad for him. I pray for him. Because so many people who are supposed to be leaders are failing Jameis."
Pam Miller out here dropping bombs on Jameis Winston; she was just waiting for the day for somebody to ask her #take on Jameis Winston. (Her story, sadly, could be told in some form in any sport-crazed town.) 
Sitting close to Miller is Gary Jennings, 59, whose son, Bo, played cornerback for the Cincinnati Bengals from 2001 to '02 and is now the head coach of the Hueytown Heat youth soccer team, which is dominating on the field. "Jameis doesn't have any respect for women and it's like he constantly needs attention," he says, while watching his grandson dribble the ball. "He's embarrassed Hueytown. If I were his father, I would have had a serious, serious talk with him a long time ago. I'll still root for him, but I fear for him."
Gary Jennings summed up: "He's a bad human being; there's no reason to think he's going to change, but he can throw a ball or whatever, so I'll still root for a man I fear." Solid take there, Gary.
Let's see what advice an anonymous commenter has for the defending Heisman-winner (via @barryap1):
"Wow, for a guy named after a dead, treasonous racist... these are suprisingly solid rul— Welp. We had a good run there."
Never read the comments outside of Eleven Warriors dot com.

MIKE LEACH KNOWS HOW MAN DIES. Mike Leach understands an important lesson: reporters will be much easier on you if they like you and you give them good copy (and you don't play a concussed quarterback). In three years at Washington State, Leach is 11-19 and 6-14 in Pac-12 play. 
Do you ever hear anybody, outside of Craig "Hooker Holocaust" James, calling for Leach's head? No, because he's dropping copy like this (via @JacobThorpeSR):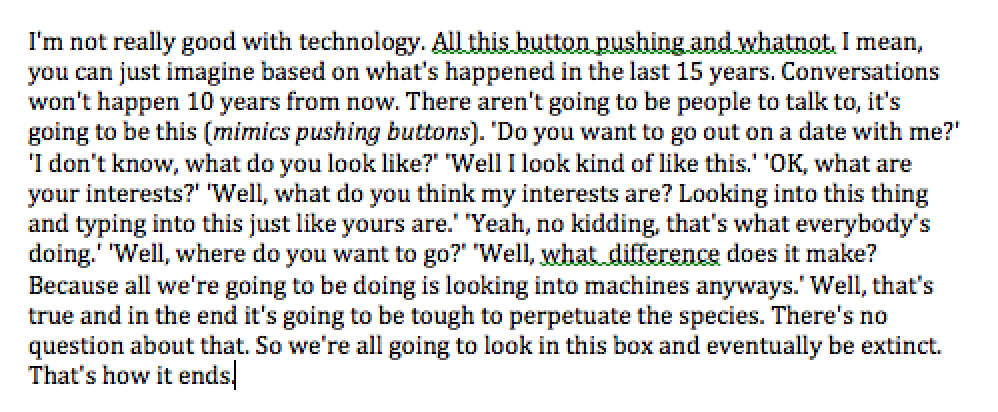 I did not know Mike Leach was a disciple of the Unibomber's, but I suppose that's a jigsaw that makes a frightening amount of sense.
(Leach also had a great quote about the mental side to playing receiver that made me think of some struggles of OSU's young and/or inexperienced receivers.)

GEORGE O'LEARY: ALLEGEDLY A SCUMBAG. I suppose "ya gotta hear both sides," but these are startling allegations. From USA Today's Erik Brady:
Former University of Central Florida defensive coordinator Paul Ferraro accuses UCF football coach George O'Leary of explosive racist remarks in a breach of contract lawsuit filed in circuit court on Friday.

The suit alleges that O'Leary used a derogatory word for African-Americans and called the NFL "one big 'Ru-Ru' tribe." The suit also alleges O'Leary once advised coaches to check African-American players "to make sure their gums are blue, because they are bigger, faster and stronger than (African-American players) with red gums."

Grant Heston, UCF's vice president for communications and marketing, told USA TODAY Sports by email Monday evening: "UCF is an inclusive and diverse institution and our investigation shows that these claims are without merit."
I never would've guessed George O'Learly was an Al.com commenter.
Seriously, though: Who do you believe? The guy who was apparently okay with blatantly racist actions until his money got messed up, or the guy with vested interest in the defendant not being a racist, sub-human piece of garbage? Tough to say.
"Weird profession choice for a racist," I thought. But then I remembered all of my teachers who hated kids. That didn't make sense either, but there are people who seem to crave cognitive dissonance. Who has time for that kind of misery? Not me. 

THOSE WMDs. All cats are kings... Detroit radio show caller dropped a little ether on Hoke... It's all fun and games 'til Schlegel pwns you and you're getting a mugshot... HE CAN'T GET OUT OF THE BOWL... Roger Goodell taking advice from Charlie Strong...