Ohio State sophomore wrestler Anthony Echemendia was arrested Tuesday and charged with felonious assault after an altercation with his wife. According to a copy of the arrest warrant obtained by Eleven Warriors, Echemendia "knowingly caused serious physical harm to another ... by means of grabbing her by the neck w/ both hands, depleting her of air, rendering her unconscious."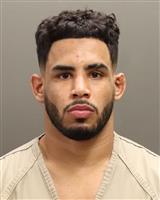 Echemendia is currently awaiting arraignment in the Franklin County Correction Center at Jackson Pike. Bond has not been set.
A warrant was issued for his arrest Monday and he was taken into custody Tuesday. Echemendia's arraignment at the Franklin County Municipal Court is scheduled for 9 a.m. Friday.
The Cuban immigrant became a huge story during his recruitment because of the lengthy saga of his defection and travels through Mexico and across the United States border before becoming a high school sensation in Arizona. He won the prestigious Fargo tournament in both freestyle and Greco-Roman to vault his way into becoming one of the most sought-after recruits of the 2019-20 recruiting cycle.
He committed to Ohio State in the fall of 2019 and joined the Buckeyes in 2020. After COVID-19 scuttled a normal offseason, Echemendia lost the starting role at 141 pounds last season to Dylan D'Emilio, who in turn lost it at this season's wrestle-offs to Jordan Decatur, presumably leaving Echemendia third on the roster at the weight.
An Ohio State spokesperson said the athletic department was "aware of the situation" but declined further comment.