Eight Buckeyes survived the Round of 32 at the NCAA Wrestling Championships in Pittsburgh. Five advanced to Friday's quarterfinals.
TEAM RACE: After Session 2

|   | Team | Points |
| --- | --- | --- |
| 1 | PENN STATE | 33.5 |
| 2 | OHIO STATE | 25.5 |
| 3 | IOWA | 24.0 |
| T4 | MINNESOTA | 20.0 |
| T4 | OKLAHOMA STATE | 20.0 |
Myles Martin, Kollin Moore, Micah Jordan, Joey McKenna and Luke Pletcher won their Round of 16 matches handily Thursday night in PPG Paints Arena. The returning All-Americans have been the backbone of the Buckeye lineup all season long, and they continued to carry the torch for their team on the tournament's first day.
Four members of the quintet won via major decision, while Luke Pletcher advanced on a decision over the No. 12 seed at 133 pounds. None of the five were ever in danger of dropping their bouts, and McKenna and Jordan were within reach of a tech fall when time expired.
Chase Singletary, the redshirt freshman heavyweight, dropped a close decision to the No. 1 seed in his bracket, and Te'Shan Campbell came up a takedown short at 165 pounds. Only Ke-Shawn Hayes was truly out-horsed in Session 2 action, as he dropped a major decision to No. 6 Kaleb Young.
All three Buckeyes will wrestle tomorrow in the consolation bracket, joining Malik Heinselman and Ethan Smith in wrestleback action.
Heinselman won his first consolation match to keep his tournament hopes alive in a match where he scored four takedowns while yielding only escape points to his opponent. Smith, who dropped an overtime decision in his first match, battled back with an 8-6 decision over Dean Sherry of Rider in his first consolation bout.
Major Moves
Four Buckeyes found bonus Friday night, including No. 1 seed Myles Martin at 184 pounds. Martin won his second match handily, putting on a takedown clinic versus Cory Hazel of Lock Haven.
Martin's date with destiny and a shot at a second NCAA Championship proceeded without a hitch after two matches. He'll face Ryan Preisch, the No. 8 seed from Lehigh, in Friday morning's quarterfinal match.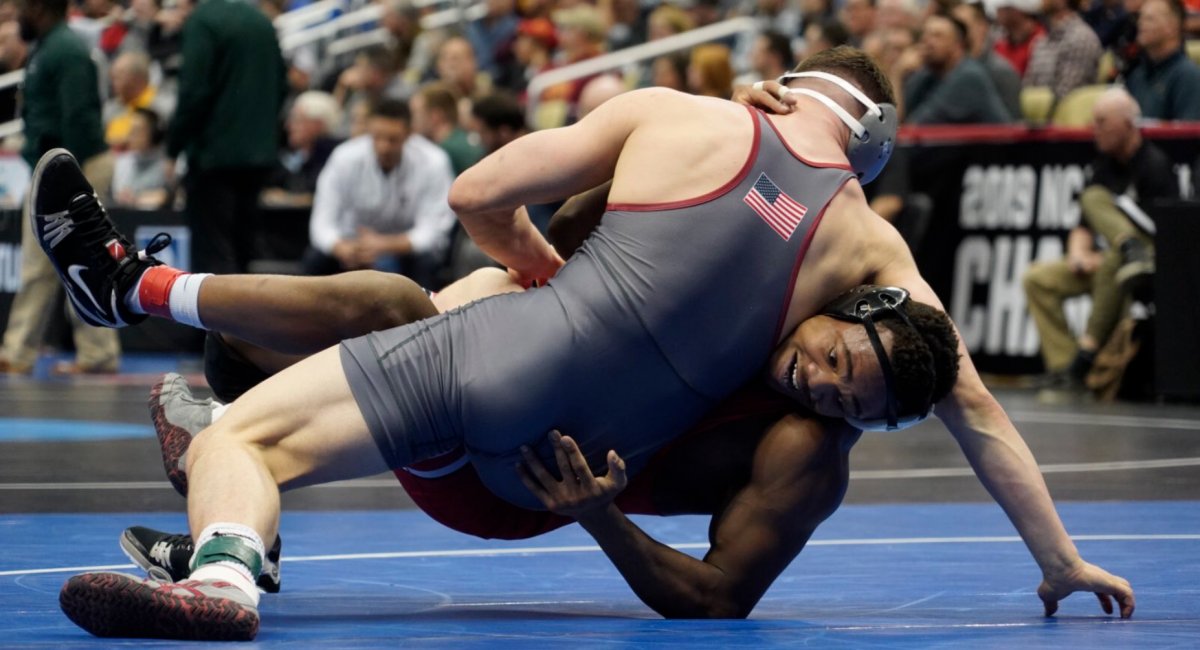 Oh, and in case you missed it, the No. 2 seed at 184 – Penn State's Shakur Rasheed – was upset by No. 15 Chip Ness of North Carolina.
At 197 pounds Kollin Moore did much the same as his training partner, going takedown-to-takedown versus Jake Woodley of Oklahoma. The pride of Norwayne High School had his way with the Sooner, racing out to a commanding lead and never looking back.
He'll face Tom Sleigh of Virginia Tech, the No. 10 seed, in the quarterfinals Friday. Sleigh may be in for a rude awakening after grinding out decisions of 2-1 and 9-8 in Thursday's matches.
Micah "The Mongoose" Jordan couldn't quite pull of the tech fall at 149 pounds, settling for a 17-4 major over Max Thomsen of Northern Iowa. Jordan blew by his first two opponents Thursday, and picked up his 28th career pin in the tournament's opening round.
With that pin, Jordan moved into a tie with Kevin Randleman for No. 10 all-time in the Buckeye record books. He needs two more to match Tommy Rowlands at No. 9, but may have a tough time getting pin No. 29 over Iowa's Pat Lugo in the quarterfinals Friday.
Joey McKenna wants his first NCAA Championship so badly he can taste it. The former Stanford standout is undefeated in conference championship tournaments, but has yet to stand atop the NCAA podium.
His first two matches in Pittsburgh left little to be desired, as he finished shots, added backpoints, and thoroughly dominated his first two opponents. In his Round of 16 match, he doubled down on a preseason victory over Oklahoma State's Kaid Brock, adding a 14-1 major decision to the 11-4 victory he won at the 2018 NWCA All Star Classic.
McKenna will face No. 7 Mitch McKee of Minnesota in the quarters. The two met at the Big Ten Championships in Minneapolis two weeks past, and McKenna won the 8-0 major decision.
Match Results: Round of 16 and Consolation

| Wt | Result | Team Points |
| --- | --- | --- |
| 125 | No. 25 Malik Heinselman, decision over No. 24 Rico Montoya (Northern Colorado), 9-5 | 0.5 (Cons.) |
| 133 | No. 5 Luke Pletcher, decision over No. 12 Montorie Bridges (Wyoming), 5-3 | 1.0 |
| 141 | No. 2 Joey McKenna, major decision over No. 15 Kaid Brock (Oklahoma State), 14-1 | 2.0 |
| 149 | No. 2 Micah Jordan, major decision over No. 15 Max Thomsen (Northern Iowa), 17-4 | 2.0 |
| 157 | No. 6 Kaleb Young (Iowa), major decision over No. 11 Ke-Shawn Hayes, 14-2 | 0.0 |
| 165 | No. 5 Chance Marsteller (Lock Haven), decision over No. 21 Te'Shan Campbell, 4-2 | 0.0 |
| 174 | No. 19 Ethan Smith, decision over No. 30 Dean Sherry (Rider), 8-6 | 0.5 (Cons.) |
| 184 | No. 1 Myles Martin, major decision over No. 16 Corey Hazel (Lock Haven), 16-5 | 2.0 |
| 197 | No. 2 Kollin Moore, major decision over No. 18 Jake Woodley (Oklahoma), 14-4 | 2.0 |
| HWT | No. 1 Derek White (Oklahoma State), decision over No. 16 Chase Singletary, 5-2 | 0.0 |
In the team race, Penn State continues to do Penn State things. While three Nittany Lions lost matches Thursday night – including No. 2 Shakur Rasheed at 184 and No. 10 Roman Bravo-Young at 133 – Cael Sanderson's Band of Merry Marauders managed to extend their lead in the team race.
They now lead the Buckeyes by 7 points after the tournament's first day. To put that in perspective, after the first day of the 2018 NCAA Championships in Cleveland, Ohio State held 36 points and advanced nine wrestlers to the quarters, while Penn State put 28.5 points on the board and advanced seven men to the quarterfinals.
Action at the NCAA Wrestling Championships picks up Friday morning at 11 a.m. Session 3 will consist of the quarterfinals and two rounds of wrestleback action. Broadcast coverage will move back to ESPNU, with streaming of all eight mats available via WatchESPN.