Ohio State finished with a second-consecutive runner-up finish at the NCAA Wrestling Championship last weekend in Cleveland. Kyle Snyder won his third NCAA title at heavyweight, leading roster with a school-record eight All American finishers.
Snyder joined Bo Jordan and Nathan Tomasello as the only trio of four-time All Americans on one roster in NCAA history. The team's final score of 133.5 was the highest score for a second-place team in tournament history, and represented a stunning 23.5-points improvement over last year's runner-up finish.
Even so, it wasn't quite enough to surpass Penn State, a team that has now one seven of the last eight NCAA championships, and that returns three defending national champs to its 2018-2019 roster.
Zain Retherford, the three-time champion at 149 pounds, ended his career on a 93-match winning streak, and after terrorizing the class from the moment Logan Stieber graduated, will no longer suit up as a collegian. The rest of the team's fearsome five – Jason Nolf, Vincenzo Joseph, Mark Hall and Bo Nickal – all return next season, as does 197-pound standout Shakur Rasheed and heavyweight Nick Nevills.
So the team that scored 141.5 points this year and 146.5 last year returns most of its firepower as the prohibitive favorites to add another notch in Cael Sanderson's belt.
Without question, Ohio State is the team to seriously challenged Penn State in recent years, having one three of the past four Big Ten titles and snagging the 2015 NCAA title - only the second time in Sanderson's years as head coach that the Nittany Lions didn't finish at the top of the heap at the national tournament.
The Buckeyes lose 57 points of their 2018 tournament score with Snyder, Jordan and Tomasello exhausting their NCAA eligibility. Jordan likely wrestled his last match at the tournament, and Snyder and Tomasello will both move on to a full-time focus on international freestyle competition.
Where does that leave Tom Ryan's Buckeyes next year? We looked at this question last fall as the Buckeye head coach was stockpiling top recruits in what may be his best recruiting class to date.
Here's what the roster might look like over the next few seasons:
Projected Ohio State Wrestling Lineups

| Weight | Current Roster | 2018-2019 | 2019-2020 | 2020-2021 |
| --- | --- | --- | --- | --- |
| 125 | Nathan Tomasello | Malik Heinselman | Heinselman | Heinselman |
| 133 | Luke Pletcher | Pletcher | Pletcher | Jordan Decatur |
| 141 | Joey McKenna | McKenna | Hayes | Quinn Kinner |
| 149 | Ke-Shawn Hayes | Hayes | Sammy Sasso | Sasso |
| 157 | Micah Jordan | M. Jordan | Jaden Mattox | Mattox |
| 165 | Te'Shan Campbell | Campbell | Rocky Jordan | R. Jordan |
| 174 | Bo Jordan | Kaleb Romero | Romero | Romero |
| 184 | Myles Martin | Martin | Gavin Hoffman | Ethan Smith |
| 197 | Kollin Moore | Moore | Moore | Hoffman |
| HWT | Kyle Snyder | Chase Singletary | Singletary | Singletary |
Of the returning Buckeyes, Hayes, Jordan and Moore have already taken redshirt seasons, so Tom Ryan could ponder if redshirts for guys like McKenna and Martin would give the team a better shot at a title after Penn State graduates the rest of its murderer's row, but it's too reactionary to think that's a likely outcome right now.
Losing Snyder and Tomasello is a huge blow because neither man ever finished worse than third in their NCAA tournament career. Bo Jordan's fifth-place finish this season was his poorest finish, having come in third twice at 165 and finishing as runner-up at 174 last season.
Snyder's replacement is Chase Singletary, the top 220-pound recruit in the country last in the Class of 2016. He redshirted this season, and should be ready to make some noise in the class with three of the top-four finishers in the tournament graduating, including Michigan titan Adam Coon. The Florida native went 88-1 in his final two seasons at New Jersey's famed Blair Academy, and was a two-time Walsh Jesuit Ironman winner.
Kaleb Romero, a four-time Ohio high school state champ from Mechanicsburg, is waiting in the wings at 174. He won 202 matches in his high school career, going 52-0 in his final two seasons and finished his senior season without surrendering a single point to the competition. He led his team to its first-ever state title, and was a first-team All Ohio selection at quarterback, so he's got some leadership experience, too.
Mind The Gap
With a solid game plan for Heavyweight and 175 pounds, and understanding that no one is going to replace Kyle Snyder, the two biggest questions left in my mind are at 125 and 165.
Starting at 125, the most logical option may be starting true freshman Malik Heinselman. The elite lightweight won his third state title a month ago, and like many current Buckeyes, he has some solid freestyle credentials as a two-time Cadet World Team member and is the reigning Junior National champion.
Brakan Mead, who burned his redshirt this season in relief of the injured Tomasello, will compete for the spot, certainly, and he had quite the trial by fire. The question for Ryan and staff will be if they believe Heinselman as a true freshman can advance farther in the tournament than would Mead, who won just 40% of his matches this season.
At 165, Pitt transfer Te'Shan Campbell looked like the answer the team needed, ripping off 14 wins in his first 16 matches as a Buckeye in what many consider to be the toughest class in the country, and certainly the deepest class in the Big Ten.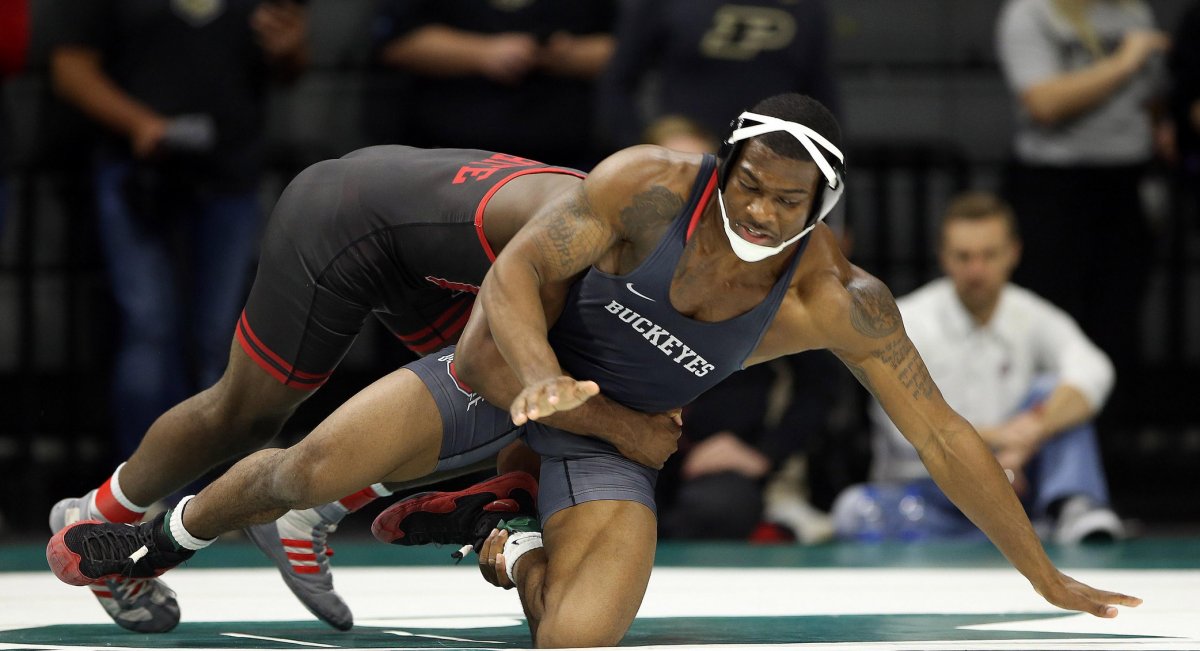 Campbell lost 10 of his last 15 matches, however, and added just 1.5 points to the team tally in Cleveland. In fairness to the former ACC champ, all but one of those losses were to top-10 opponents, but it's not a stretch to say that 165 was a hole in the lineup for the Buckeyes when it mattered most this season.
One alternative is to consider wrestling Rocky Jordan as a true freshman.
One side note before we talk about Jordan: Cody Burcher will be a senior, and has been the ultimate team player during his career; he qualified for the NCAA tournament last season after finishing eight at the Big Ten tournament, but added zero points to the team score after losing his first pair of matches.
Jordan, meanwhile, won his third Ohio high school state title two weekends ago, capping a senior season in which he earned Outstanding Wrestler honors at a number of prestigious tournaments, including the Ironman. While wrestling two true freshman might not be ideal, it's not completely out of the question to think that Jordan could challenge Campbell for the spot on the roster.
Over the weekend, a fan noted their excitement for Jordan's arrival on the roster, and Tom Ryan shared his philosophy on redshirting.
We will wrestle our best team as long as it makes sense for the TEAM and student-athlete. Thanks for the support.

— Thomas Ryan (@Buckeye158) March 18, 2018
And two true freshman won NCAA titles in Cleveland, including Iowa phenom Spencer Lee at 125. So while it may not be ideal, for the right wrestler it could be just what the doctor ordered.