From the first practice of the season, Ohio State was surprisingly open about it's ultimate goal for the 2017-2018 season: Win a national title.
With seven returning All Americans on the roster, including three previous NCAA champions, one of whom is the best pound-for-pound wrestler on the planet, it wasn't hard to understand that the expectations were as high as they could get.
What made the openness about chasing a title so surprising is that Ohio State only has one NCAA title in program history, and the defending national champion Penn State Nittany Lions, winners of six of the past seven, return five defending title-winners.
The Buckeyes are winners of three of the past four Big Ten Championships, including the 2018 conference crown, earned two weekends past in East Lansing, Mich. Ohio State went on to win the NCAA title in 2015, but not only came in second to Penn State at the 2017 NCAA Tournament in St. Louis, but did so by a stunning 36.5-point margin.
This weekend will be different, according to World No. 1.
"Penn State won it last year and wrestled really well. Five champions and all of them are returning. So obviously they have the firepower to compete at a really high level," senior heavyweight and two-time defending champion Kyle Snyder said.

"But I would say that we are the favorite," he continued. "I think just looking at the seeds, looking at our performance from last week, if everyone competes at the best of their ability, the best that they can, then I think it's our tournament to win, our tournament to lose."
Snyder is known for his confidence, but not given to hyperbole. He calls it as he sees it, and he believes his team is built to win titles, and peaking at just the right time.
Asked if he agreed with his champion's assessment of the team's chances, head coach Tom Ryan said that Snyder had the pulse of the team, and that they felt great about their chances.
"When you look at the last competition that occurred, the Big Tens, if we can wrestle like that and our guys can compete to that level, we certainly have a shot," Ryan said. "So I don't guarantee anything other than I believe my team is ready. I like where they are physically and mentally. They care about each other, and we're ready to wrestle."
Snyder put things in perspective with his summary of what's on the line in Cleveland over the three days of the tournament.
"This is the greatest team race there ever has been in the history of the NCAA," he said. "I truly believe that. I thought it was going to be that way in the season, and it's played out that way."
His coach concurred, saying that whichever team comes in second, "will be the best second-place team to ever wrestle in the national tournament."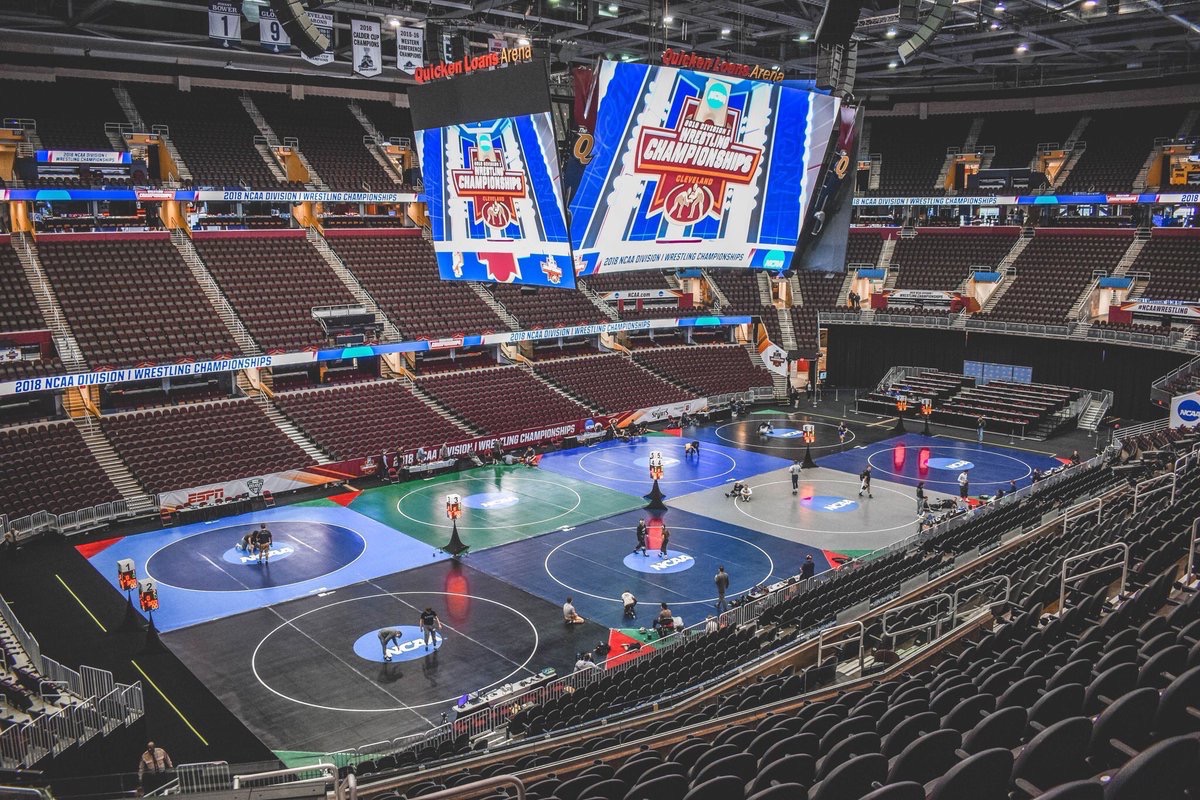 Buckeye Breakdown
Ohio State is chasing history in Cleveland. Seniors Snyder, Bo Jordan and Nathan Tomasello have an opportunity to be the only trio to ever finish their careers as four-time All Americans.
In addition, the Buckeyes have a shot to become only the second team in history to finish with 10 All Americans, a feat accomplished by the 2002 Minnesota Golden Gophers, a team many consider to be the greatest of all time.
The most important piece of history, of course, is the program's second-ever NCAA Championship. This year's seniors were freshmen on the 2015 squad that won the school's first title, with Tomasello winning the NCAA championship at 125 pounds, Snyder finishing as national runner-up at 197 pounds, and Jordan coming in third at 165.
They're all title contenders in their final tournament, and would like to bookend exceptional careers with one more team trophy.
No. 2 Nathan Tomasello - 125 pounds
After winning his fourth Big Ten title, becoming only the 15th man in history to win four such championships, Tomasello earned the No. 2 seed in the NCAA tournament. The 125-pound class is one of the most exciting in the tournament, so winning his second NCAA title will be no easy task.
NaTo entered the season as the consensus favorite to win it all, but an October knee injury and subsequent surgery shelved the would-be champion for the first 12 weeks of the season.
He returned to action like a man on a mission, tech falling Minnesota star Ethan "The Backpack" Lizak with ease in his first dual back. A shocking loss to Iowa phenom Spencer Lee showed a crack in Tomasello's armor, however, and showed that the young guns of the Big Ten - especially Lee and Rutgers standout Nick Suriano - had the talent necessary to keep pace with the standard-bearer of the class.
Tomasello should cruise through his first two matches, against Gabe Townsell of Stanford in the opening round, and most likely against Ryan Millhof of Arizona State in the Round of 16. He'll have a decent challenge in the quarterfinals prior to the expected rubber match in the semifinals with Spencer Lee.
Tomasello fell to an Iowa Hawkeye in each of the past two NCAA semifinals, so he'll be battling that unpleasant bit of history, as well as wrestling for the third time an outstanding freshman who not only beat him the first time they met this season, but who also held him to a 2-1 decision in the Big Ten tournament.
Presuming he answers that bell, he'll be on to his second NCAA final, facing either Suriano or No. 1 seed Darian Cruz of Lehigh, the defending national champion.
No. 3 Luke Pletcher - 133 pounds
Pletcher is something of an enigma to Ohio State fans. For much of the season, he seemed like was going to win every match he wrestled, but do so by only one or two points.
Narrow decisions seem to be his specialty, and although he's only lost two matches all season and comes into the tournament as a No. 3 seed, most national analysts seem to ignore the possibility of Pletcher winning the tournament.
Even if he doesn't finish on top of the podium, Ohio State not only needs him to wrestle in a match Saturday, they would like to see him wrestle above his season-long trendline and score some bonus points in the early rounds of the tournament.
His first big test comes Friday morning, when he should face returning All-American and EIWA champ Scotty Parker of Lehigh, the No. 6 seed in the tournament. If he passes that test, then it's a likely rematch with Stevan Micic of Michigan, the man who handed Pletcher his most recent loss, in the Big Ten finals.
Pletcher defeated Micic at the Cliff Keen Las Vegas Invitational in November, so he knows how to defeat the No. 2-seeded Wolverine, but Micic looked impressive in East Lansing.
South Dakota State's Seth Gross is the favorite to win the class, but he'll face a tough opponent in either Pletcher or Micic.
No. 4 Joey McKenna - 141 pounds
Joey McKenna and the late Rodney Dangerfield have something in common - neither gets much respect. Despite winning the Big Ten title without yielding a single point to his opponents, he enters the NCAA tournament as the No. 4 seed, and is largely an afterthought in many analysts' tournament previews.
To some extent, that has something to do with the fact that the Big Ten wasn't terribly deep at 141 this season, which means that McKenna wrestled very few ranked opponents, and lost to one of those in Minnesota's Tommy Thorn.
That January loss was his only blemish on the season, and he's since earned victories over highly-respected opponent Kevin Jack of N.C. State, and Penn State freshman Nick Lee. He finished third in the tournament as a freshman but did not place last year, giving prognosticators an opening to see him as a possible early upset.
His most likely path to the title is a quarterfinal rematch with Jack, and then a semifinal matchup with No. 1 seed Bryce Meredith of Wyoming. Meredith beat McKenna by a takedown in the 2016 semifinals, but McKenna won the rematch at the Cliff Keen, setting up the third possible rubber match in as many weight classes for the Buckeyes.
No. 5 Ke-Shawn Hayes - 149 pounds
Poor Ke-Shawn Hayes once again finds himself in the same side of a bracket as Zain Retherford. The good news, this time, is that he won't face the reigning Hodge Trophy winner until the semifinals.
To get to his third match with Retherford this season, Hayes will again wrestle Michigan's Malik Amine in the opening round, and a likely quarterfinal rematch with North Carolina's Troy Heilmann, the man who handed him his first loss of the season back at the Cliff Keen tournament.
There is no question that Hayes is one of the most talented wrestlers in the class. He finished the regular season with eight tech falls, good enough for seventh-most in the country among all Division I wrestlers.
It seems highly unlikely that he'll upset Retherford, but a third-place finish seems entirely plausible for the rising star.
No. 7 Micah Jordan - 157 pounds
Micah Jordan dropped to the No. 7 seed at 157 pounds after finishing as the Big Ten runner-up. Hayden Hidlay of N.C. State, who defeated Jordan in Raleigh during the final dual meet of the season, earned the top seed in the class and would be the clear favorite if the class didn't also feature defending champion Jason Nolf of Penn State.
Nolf could be the lynchpin of Penn State's seventh NCAA title under Cael Sanderson, but the team held him out of the latter half of the Big Ten tournament because of a late-season injury. Sanderson said Wednesday that Nolf was "Ready to go," but there remains some question of how the injury might alter his ability to score bonus points.
Jordan will run into No. 2 see Joseph Lavallee of Missouri in the quarterfinals, and then face either Nolf or Michael Kemerer of Iowa in the semis. The bottom half of the 157-pound bracket is loaded for bear, and Jordan will have his work cut out for him to earn a spot in Saturday night's final round.
No. 13 Te'Shan Campbell - 165 pounds
Te'Shan Campbell's first season in Columbus has been like something straight out of Dickens: the best of times, and the worst of times... or, to put it another way, a tale of two seasons.
Through early January, Campbell looked like a title contender, starting the season 14-2, with bonus points in 13 of his victories, including four tech falls and a pin.
The rest of the season was something else entirely. In his final 11 matches, including four at the Big Ten tournament, he went just 3-8, dropping six decisions to ranked opponents (all of one of whom were in the Top 10 at the time of the match), a major decision to then-No. 1 Vincenzo Joseph, and an inexplicable disqualification in a stall-fest against an unranked Michigan State Spartan.
Ohio State needs Campbell to win matches in Cleveland, plain and simple. He earned an automatic qualification to the tournament by winning a pair of matches in a mini-tournament for ninth place at the Big Ten championship, and opens his weekend as the No. 13 seed with a match he should win, and one where he can score some bonus points if his mind is right and he takes shots.
Unfortunately, his second match will be against No. 4 seed Chad Walsh of Rider, an opponent who lost only one match on the season and who could well make his way to the semifinals in what may be the deepest, toughest class in the field.
Ohio State has a slight advantage over Penn State in qualifying 10 wrestlers to the Nittany Lions' nine. If Campbell can wrestle above his seed, Ohio State could be well on its way to a very happy weekend in Cleveland.
No. 6 Bo Jordan - 174 pounds
It is Bo Jordan's last tournament. The three-time All American has been battered and bruised for much of his career, and when he takes off his singlet Saturday, it will likely be his final match as a competitor.
The father of two is one of the most positive men on the team, despite having had one of the most difficult careers of any of his peers. He's battled injuries every year he's wrestled for the Buckeyes, starting with a high-ankle sprain his freshman season, and continuing with a series of pains and problems since.
A November profile by Jeff Helfrich of The Lantern explained what it's been like to wrestle as Bo Jordan the past three years:
Upon returning for his first season of official competition, Jordan tore a ligament in his big toe and continued to wrestle through the end of the season with it. He underwent what he called a "horrible" surgery during the offseason that did not provide relief. Jordan competed through that pain for another season, his redshirt junior campaign.

Another high-ankle injury and minor neck and back injuries occurred for the All-American. Jordan suffers from a recurring tumor formed by a blood clot in his right foot that came back after being cut out from the arch of his foot at age nine. Doctors noticed it again in his heel when he was 22, and he underwent chemotherapy on it this past offseason.

The tumor could technically be removed again, but it will not be removed because it rests near a nerve, and surgery could cause his leg to go numb from the knee down. Chemotherapy has reduced the tumor in size by 50 percent. It causes Jordan pain while barefoot, and as a result, he wears shoes as often as possible.
Imagine, if you will, life as an elite student-athlete, parenting two small children (with wife Ashley, who he frequently credits and praises as his main supporter), while battling recovery from multiple surgeries and undergoing chemo for a non-cancerous tumor that you can't cut out because it might cause irreparable nerve damage.
How can you not root for Bo Jordan this weekend, in his final tournament?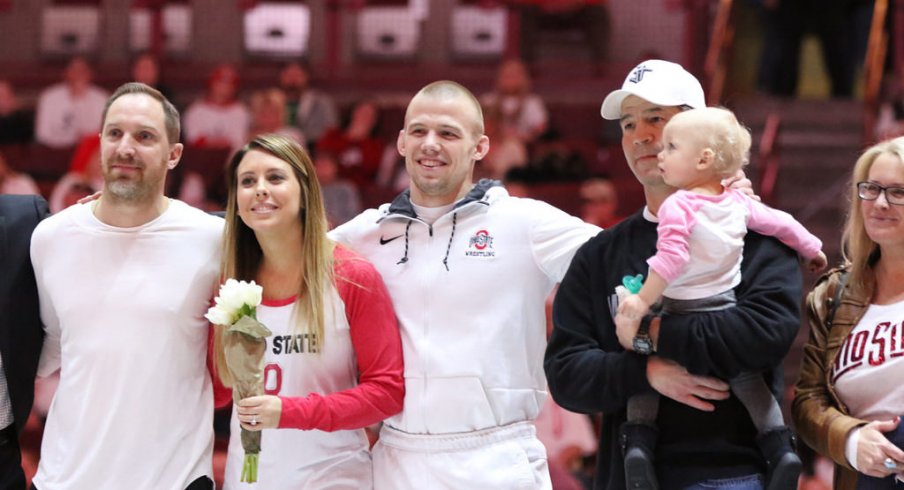 Jordan shows little interest in competing after this tournament is through, but lights up when he talks about the prospect of coaching, noting that he'd very much like to join Tom Ryan's staff, to continue learning the ropes from one of the best in the business.
Although he's never finished lower than third at the NCAA tournament, his best finish was coming up short to nemesis Mark Hall of Penn State in last year's final. Hall comes into the tournament as the No. 2 seed, and would face Jordan in the semifinals this year if Jordan can get past No. 3 seed Daniel Lewis in the quarters.
Jordan beat Lewis twice in 2016, so I expect him to square up against Hall one last time Friday night.
No. 2 Myles Martin - 184 pounds
Martin is the second of Ohio State's former NCAA champions, having won the 174-pound title in 2016 before finishing fifth at 184 last year. Like Bo Jordan, to win a title this year he'll have to go through an arch-rival from Penn State, Bo Nickal, who, like teammate Hall, is the defending national champion.
The race all season long has been No. 1 Nickal and No. 2 Martin, and it should come down to the pair again in Saturday's final match. Martin, like Nickal, is expected to pour on the bonus points in the early rounds, as he finished the season with nine tech falls and a 75% bonus rate.
Martin's biggest challenge en route to the finals, at least historically, could be a quarterfinal match with Emory Parker of Illinois, the wrestler who put him into the consolation bracket at last year's tournament. Martin isn't the same wrestler he was last year, of course, having grown into the class with another year of experience and training, and with only a single blemish on his resume this year - a loss to Nickal during the dual meet in Happy Valley.
No. 1 Kollin Moore - 197 pounds
Kollin Moore opened the season as the favorite to win the NCAA title, and he opens the tournament as the top seed. That is not to say, however, that this is a victory lap for the sophomore standout.
Moore dropped two of his three final matches of the regular season, and won three consecutive matches in East Lansing without scoring any bonus points. He is still the favorite to win it all in Cleveland, but it's no longer seen as a foregone conclusion.
To get to the final match, he'll have to beat Oklahoma State's Preston Weigel, a highly-regarded competitor, and then avenge his loss to N.C. State's Michael Macchiavello, the No. 4 seed who defeated Moore in a 7-5 decision in Raleigh.
In the semifinals he'll face either Jared Haught of Virginia Tech, someone Moore has pinned more than once in his career, or No. 2 seed Ben Darmstadt of Cornell, a wrestler who won 30 matches this season against a single loss, and who many thought should have been the tournament's No. 1 seed.
No. 1 Kyle Snyder - 285 pounds
Captain America has one last tournament as a collegian before focusing full time on his goal of becoming the best freestyle wrestler in the history of the sport. Barring the zombie apocalypse of Cleveland falling into the Lake, he'll be wrestling in his fourth-consecutive NCAA final and aiming for his third championship.
To do it, he'll once again face Michigan's titanic heavyweight Adam Coon, the only man in three years to beat Snyder in collegiate competition.
Coon managed the seemingly impossible on his home mat in Ann Arbor, but Snyder won the rematch for the Big Ten title, besting Coon in the fourth overtime period by setting an ankle pick and lifting the massive Wolverine not only to his feet, but then to the mat for the decisive, toe-tap-in-bounds takedown.
The field in Cleveland is Snyder, Coon, and then everyone else. They'll face one another again in Sunday's final, and Snyder is licking his chops for the opportunity to go out on a high note.
"He's so big that I have to be a little more efficient with my hand fighting, finish my attacks better, pick and choose a little bit," he explained. "So with that adjustment, I feel really good. I felt good about the second match and I feel even better about the third match if we end up competing against each other. I think that I'll be able to score more than I did and it won't go to overtime. I think I can end it before then."
How it plays out: The Team Race
Ohio State considers itself the favorite. The rest of the country assumes Penn State will be the favorite as long as Cael Sanderson is the head coach in Happy Valley. 
In 10,000 simulated tournaments, FloWrestling predicted Ohio State should come out on top, with an average simulated score of 123 for the Buckeyes to an average simulated score of 112 for the Nittany Lions, and with Ohio State scoring more than 150 points in 10% of simulated tournaments compared to Penn State's 4%.
Flo's Dan Lobdell pencils the Buckeyes in for 140.5 points based on their draw, and sees Penn State coming in 10 points shy of their seventh title of the Sanderson era.
So how does it play out? It'll be a dogfight, without question. Keep an eye on the bonus points each team accumulates Thursday, and if there are any surprise early exits for the Buckeyes, all bets are off.
All six rounds of the tournament will be broadcast via the ESPN family of networks. Action kicks off with the first session Thursday at Noon from Quicken Loans Arena.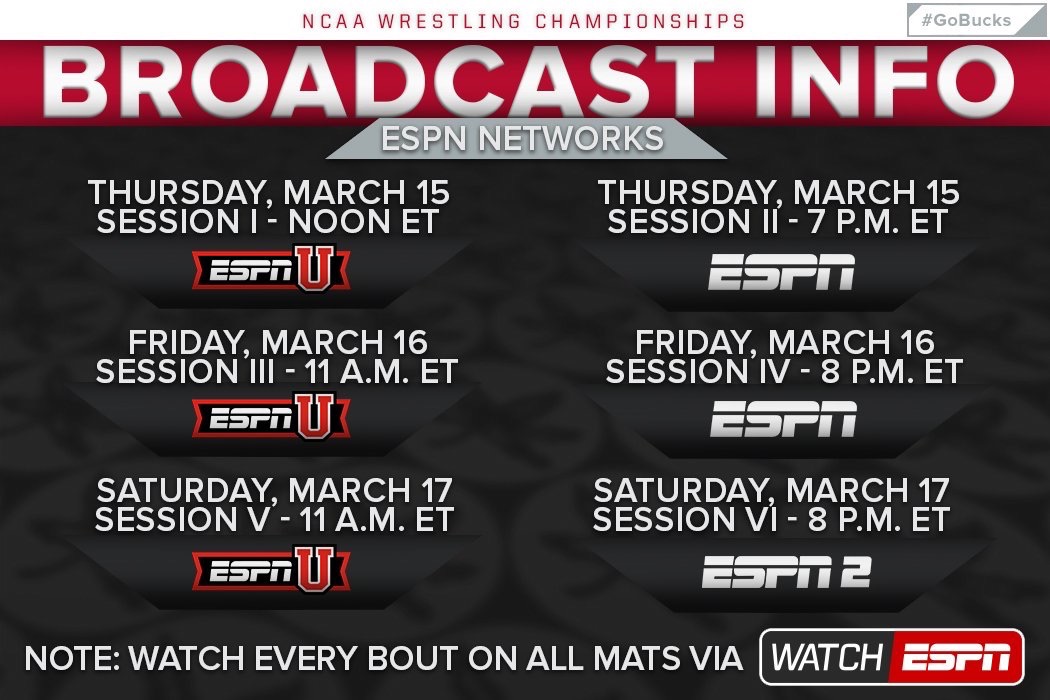 Eleven Warriors will have complete coverage of the Tournament, and you can follow your humble correspondent via Twitter for live updates.