Ohio State rolled seven wrestlers into the Big Ten semifinals Sunday, and four walked out of East Lansing wearing gold. Nine Buckeyes finished in the top 3 of their respective weight classes, and all 10 punched their ticket to the NCAA tournament in Cleveland.
Ohio State won its fifth Big Ten title in school history, and its third in the past four years. Head coach Tom Ryan was named Big Ten Coach of the Year for the third time in four years, and his second Coach of the Year Honor in a row.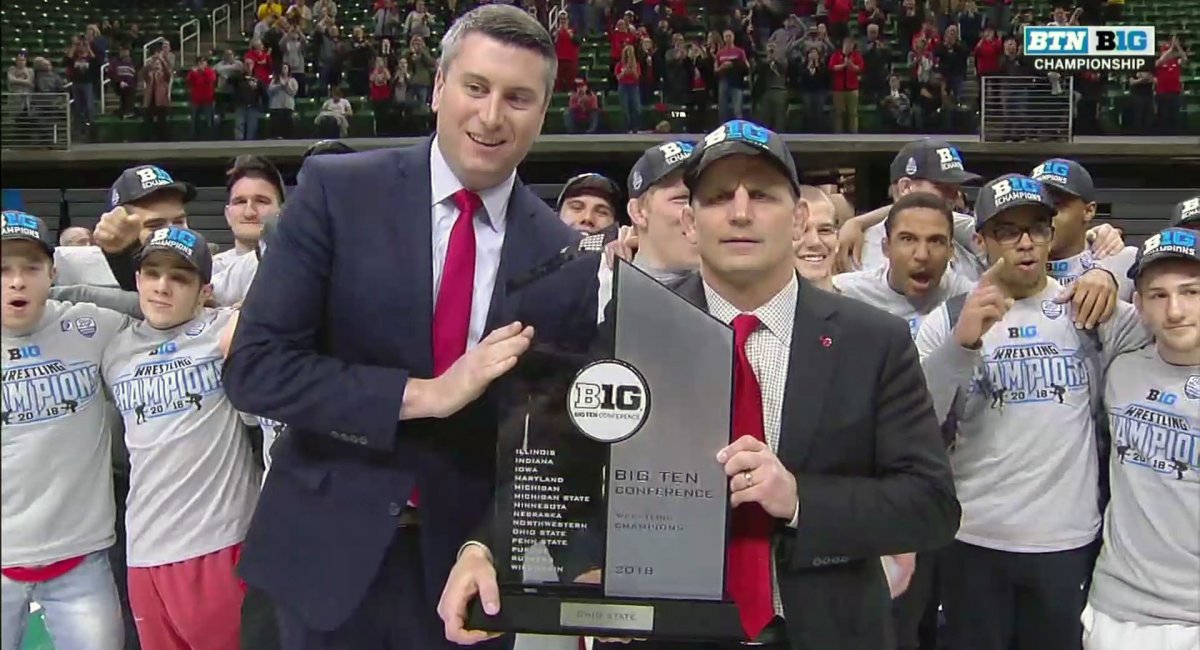 Nathan Tomasello made history, becoming just the 15th wrestler all time to earn four Big Ten titles, and just the second Buckeye to do it, joining four-time Big Ten and NCAA champ Logan Stieber in the record books.
He got the action started for the Buckeyes with his 10-7 decision over Minnesota's Ethan Lizak, writing his name in conference history in the process.
"I'm at a loss for words," Tomasello said after the match. He entered the tournament as the No. 3 seed, having slipped to third in the nation after a loss to Iowa phenom Spencer Lee. He avenged that loss in the semifinal match Saturday night, in a 2-1 decision over a wrestler with three world-level freestyle titles to his credit.
Two matches later, teammate Joey McKenna won his first Big Ten title in dominant fashion. A 6-point move in the first period blew the match wide open, and another 4-point near fall gave the offseason transfer a 10-0 lead at the first break.
Final Team Results

|   | Team | Points |
| --- | --- | --- |
| 1 | OHIO STATE | 164.5 |
| 2 | PENN STATE | 148.0 |
| 3 | MICHIGAN | 118.0 |
| 4 | IOWA | 90.5 |
| 5 | NEBRASKA | 72.5 |
Although the second period saw neither wrestler score, McKenna would tack on another takedown and a riding time point for the 13-0 major decision. With two Pac-12 titles at Stanford to his credit, McKenna became a three-time conference champ and burnished his credentials ahead of the NCAA tournament.
"I'm trying to do as much as I can out there to be a finisher, like Coach [Ryan] preaches," McKenna said after his title-winning match. Speaking of the NCAA tournament in Cleveland, he said, "It's another chance to get on the mat and compete. I'm thinking about how I'm going to get better each day, and build on each performance."
McKenna didn't allow his opponents to score a single point throughout the tournament.
Luke Pletcher, Micah Jordan and Myles Martin each dropped close decisions in regular-season rematches, finishing as conference runners-up. Pletcher and Jordan fell for a second time in as many matches to Stevan Micic and Alec Pantaleo, respectively, giving Michigan the 2-0 lead in finals matches over their rivals.
Martin, in yet another tournament battle with his nemesis Bo Nickal of Penn State, couldn't complete a late-match rally, but in holding Hall to only a decision, he helped seal Ohio State's team title.
GO BUCKS!!! https://t.co/ljH34SsvFk

— Urban Meyer (@OSUCoachMeyer) March 4, 2018
In the consolation round, Ke-Shawn Hayes and Bo Jordan both took care of business, winning third-place matches and adding team placement points that helped extend Ohio State's lead over Penn State. The Nittany Lions medically forfeited defending NCAA champion Jason Nolf late in the day Saturday, and Zain Retherford scored a shockingly low number of bonus points, allowing Ohio State to extend its lead heading into the final three matches.
Although Te'Shan Campbell dropped his first two matches of the tournament, he won his last two, earning 9th place in the tournament, and an automatic qualification for the NCAA tournament. With his wins, all 10 Buckeyes earned automatic bids to Cleveland.
Kollin Moore, at 197, became the fourth Buckeye to win Big Ten gold, earning four takedowns in a decisive victory over Penn State's Shakur Rasheed. Moore lost to Penn State's Anthony Cassar in the dual meet at Happy Valley.
He acknowledged that the end of the season was a little rough, as he lost two of his three final matches heading into postseason action, but he looked every bit the two-time conference champion in the final match of the tournament.
Kyle Snyder, in the final match of the night, had both the tallest task of the day and the most anticipated rematch of the tournament. Facing Adam Coon of Michigan, he faced not only the only college wrestler to beat him during the past three seasons, but also one of the most physically-imposing wrestlers he's ever faced.
"He's really big, and I knew I had to be smart," Snyder said after the match. "When I wrestled him before, I got to his leg, but he was able to get me to the mat. I had to be smart and finish him [this time]."
And finish, he did. After trading escape points during regulation, a scoreless sudden victory, and trading escapes in the second and third overtime periods, Snyder had to score a takedown to win, as Coon held the advantage on criteria due to riding time.
In the fourth and final overtime, he managed an ankle pick, and though Coon tried to squash the effort, Snyder used his brute strength to get Coon up on one leg, and then drove him to the mat for the walk-off takedown the third Big Ten title of his career.
Match Results: Championship Round

| Wt | Result | Placing |
| --- | --- | --- |
| 125 | No. 3 Nathan Tomasello, decision over No. 5 Ethan Lizak (Minnesota), 10-7 | Champion |
| 133 | No. 1 Stevan Micic (Michigan), decision over No. 2 Luke Pletcher, 7-4 | Runner-up |
| 141 | No. 1 Joey McKenna, major decision over No. 3 Michael Carr (Illinois), 13-0 | Champion |
| 149 | No. 5 Ke-Shawn Hayes, decision over No. 4 Colton McCrystal (Nebraska), 7-5 | 3rd Place |
| 157 | No. 3 Alec Pantaleo (Michigan), decision over No. 4 Micah Jordan, 3-1 | Runner-up |
| 165 | No. 9 Te'Shan Campbell, victory by injury default over Bryce Martin (Indiana) | 9th Place |
| 174 | No. 2 Bo Jordan, decision over No. 5 Johnny Sebastian (Northwestern), 9-5 | 3rd Place |
| 184 | No. 1 Bo Nickal (Penn State), decision over No. 2 Myles Martin, 7-4 | Runner-up |
| 197 | No. 1 Kollin Moore, decision over No. 2 Shakur Rasheed (Penn State), 8-4 | Champion |
| HWT | No. 2 Kyle Snyder, decision over No. 1 Adam Coon (Michigan), 4-2 | Champion |
Four Buckeyes won Big Ten titles, three more finished runner up, and only one finished outside of the top three. Ohio State won the team race in decisive fashion, besting Penn State by 16.5 points.
The two teams will face each other again as the prohibitive favorites in the NCAA tournament, March 15-18 in Cleveland. Penn State has won six of the past seven NCAA titles, with Ohio State winning the seventh.