Ultimately, Ohio State named UC Irvine's Dr. Michael Drake as its 15th president. It could have been very, very different though if some in the public had their way.
During the search, OSU trustees announced they were open to suggestions as to who the next president should be. Needless to say, John Q. Public did not disappoint.
Here are some of the highlights:
Nic Cage, American actor. Said an anonymous student, ""This man is a leader, not a follower. His brand of Nouveau Shamanism acting is a testament to this. It is this type of innovation which will usher OSU into a new age." I couldn't agree more. Cage was also lead actor in the greatest motion picture in the history of western civilization: ConAir.
Resurrected Clone of Novice Gail Fawcett, Ohio State's eighth president. This one would have been highly controversial because I'm pretty sure human cloning is illegal in the United States. Still, I'm sure Fawcett would be impressed with the digs at his own center. 
Vladmir Putin, Russian strongman. Ex-KGB and quite militaristic, Putin could have ushered in a new era of discipline among Ohio State's ranks. Unfortunately that would have probably come at the hands of a secret police force and off-the-books beatings. He also bungled the Sochi Olympics. Easy to see why he was passed over by OSU trustees, IMHO.
Arnold Alois Schwarzenegger, Austrian-American actor, politician, businessman, investor and former professional bodybuilder. Four people thought this Arnold was the man to lead Ohio State into the next era. With all the chemicals he's injected into his body over the years, perhaps he would have brought a unique view to his stewardship of Ohio State's budding medical center. I would not have supported his candidacy because the Arnold Classic ruins Columbus' nightlife for a week every year.
Dave Chappelle. Unlike E. Gordon Gee, his off-color jokes would have actually been funny. Ohio State could have done a lot worse.
Jim Tressel, former football coach. Now at Akron and inexplicably not coaching the Cleveland Browns, this would have been a hire to make the haters truly seasick. Jim Tressel and Urban Meyer shuttling recruits around Ohio State's expansive campus? BE STILL MY BEATING HEART.
Archie Griffin, the only two-time Heisman winner. Who the hell said no to Archie?
Urban Frank Meyer, OSU football coach. My guess? He was likely the No. 1 target but was probably too busy to seriously consider the offer. Definitely would have violated the pink contract with his family.
Bill Nye the Science Guy, science guy. Strong candidate. In the end, probably passed over for Michael Drake due to Drake's experience in academia.
Maurice Clarrett, former football player. Another strong candidate, but probably not ready to assume the reins of the largest university in the world. Will more than likely be a lead candidate when Michael Drake retires.
"The Common Man," 97.1 radio personality. No. 
Again, the full list can be found here.
I did not see the trustees' announcement, but if I had, there is only one man in my mind who was fit to succeed E. Gordon Gee's swagger: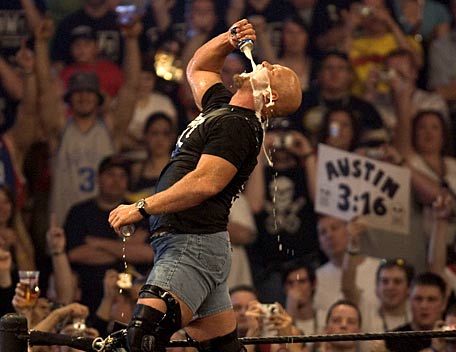 Stone Cold Steve Austin, bad-ass former American wrestler. Oh hell yeah, the Texas Rattlesnake would been an absolute home-run, and undoubtedly led the most legendary introductory press conference ever. 
Imagine: the fourth quarter of a close game against the School Up North. Out of nowhere, the sound of glass shattering hits the PA system, announcing Stone Cold is on the scene. The Texas Rattlesnake would run out, kick Brady Hoke in his flabby gut, deliver an ice-cold Stunner and drink a beer over Hoke's broken body while Dom Tiberi goes ballistic like Jim Ross.
TELL ME THAT WOULDN'T BE THE GREATEST MOMENT IN THE HISTORY OF OHIO STATE AND ALLOW ME TO CALL YOU A LIAR!!!