Everybody knew the offense would be lights-out.
Ohio State just needed to pair it with the okayest defense to get back into the College Football Playoff. Taking chaos out of its special teams would be a bonus; that would make this journey back to normalcy more comfortable.
Three sound units with the talent at hand would create a national title candidate on paper. Reality requires a few more ingredients - namely motivation, momentum and maybe a couple of fortunate bounces. We're all old enough to remember the 2019 Fiesta Bowl.
The 2022 Buckeyes were handed a schedule tailored for both a CFP reunion and at least one Heisman finalist: Marquee opener, Rivalry closer and just enough tests in between for the brand to do the rest of the lifting.
Ohio State seized every gift it has been handed thus far. And now, an optimally-placed bye week right in the middle of the slate. A perfect time for us all to get healthy.
The bye week is a dry week - but we'll still get Situational.
The Thing That Got Worse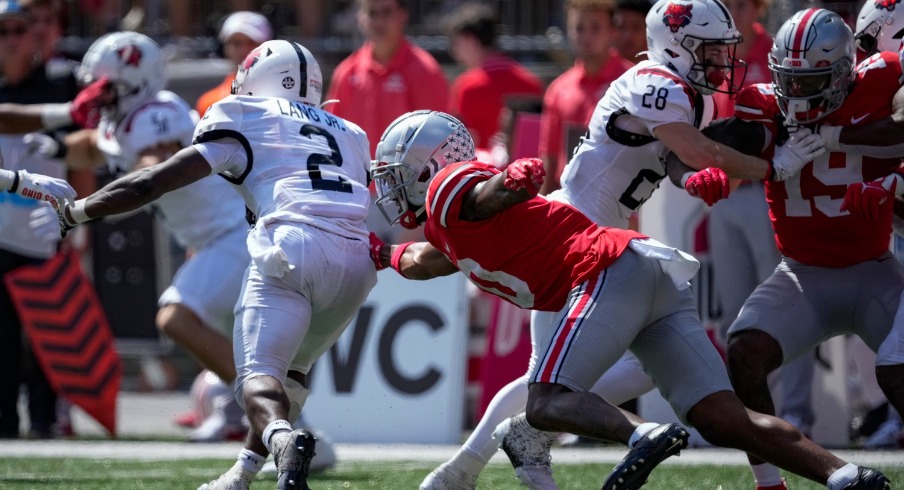 The Buckeyes are a top-3 undefeated team. It's healthy to be realistic and constructive.
Good news, Ohio State's punting is significantly improved over last season, with the caveat that it rarely finds itself punting until garbage time, so Jesse Mirco hasn't been much of a weapon.
Bad news, it's hard to find an FBS special teams unit in 2022 this comprehensively mediocre.
OSU SPECIAL TEAMS | 2021 vs. 2022

| SPECIAL TEAMS METRIC | '21 FBS RANK | '22 HALFWAY | Δ |
| --- | --- | --- | --- |
| KICKOFF RETURNS | No.17 | No.130 | (113) |
| OPPONENT KO RETURNS | No.22 | No.92 | (70) |
| PUNT RETURNS | No.100 | No.91 | 9 |
| OPPONENT PUNT RETURNS | No.39 | No.78 | (39) |
| PUNTING | No.71 | No.29 | 42 |
| OPPONENT PUNTING | No.94 | No.125 | (31) |
| FIELD GOALS | No.2 | No.90 | (88) |
| OPPONENT FIELD GOALS | No.10 | No.111 | (101) |
Utah nearly swung the Rose Bowl outcome on Special Teams, and Ohio State has measurably declined in just about every category of consequence. This is a burgeoning crisis.
If you prefer modern SP+ analytical statistics to the ones tabled above, Ohio State completed the first half of its schedule ranked 111th in Field Goal value, 17th in Punting Efficiency, 84th in Kickoff Efficiency and 115th in both Punt Return and Kick Return efficiency.
It's hard to remember any Ohio State unit that has graded this poorly, and that includes the recent defenses we no longer want or need to talk about anymore. If this special teams liability swings a game in the wrong direction...well, there were signs.
Los Buenos Tipos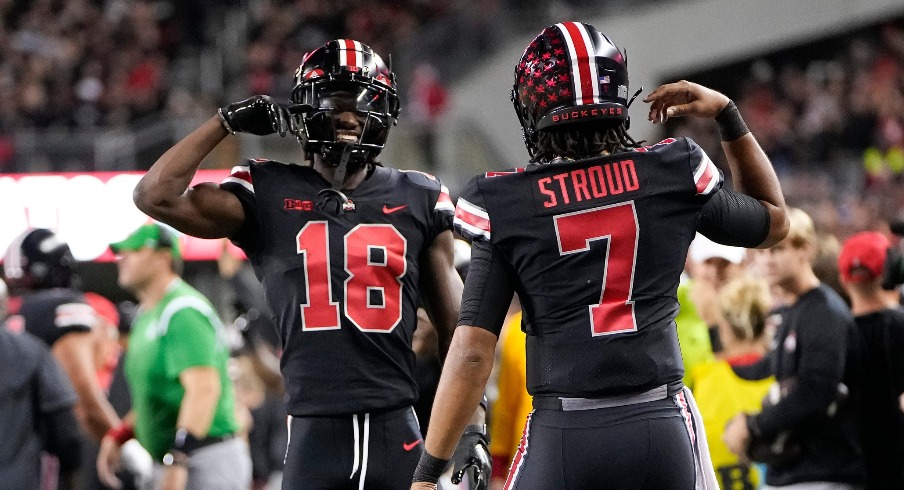 Ohio State has won each of its first six games by double digits. Twenty-four years ago the Buckeyes did that for a whole season! Well, except for the one game they did not win.
That one is the only one anyone remembers from that season anymore, and the 1998 Michigan State disaster serves as one of several eternal reminders the Buckeyes can never beat Sparty's ass too hard. There's simply no such thing.
The reason for bringing up 1998 is the Buckeyes had a cool-under-pressure quarterback named Joe Germaine, who had no trouble finding the third receiver in coverage and getting him the ball with precision, even while being blitzed. His top target was David Boston, a strong route runner and imposing physical mismatch for every defensive back in the country.
If you missed the Germaine-to-Boston experience, just watch C.J. Stroud calmly flipping precision passes to Marvin Harrison Jr. - and that's basically what it was like. Let's keep the 1998 vibes going, since Sparty is no longer a threat to 2022: Emeka Egbuka and Dee Miller are both 6'1" 200 and glide with similar gait.
Before TreVeyon Henderson and Miyan Williams were born, Michael Wiley and Joe Montgomery were giving us a preview of how they would work together. We can stop the parallels there, because the 2022 OSU OL might be the best one I've ever seen through six games - and I was an Ohio State student while Korey Stringer and Orlando Pace were on campus.
This year's defense isn't as strong as the 1998 one, and that's fine - very tall order. The goal was to simply not be the 2021 defense, and it's passing that test just fine.
The Fraidy Cat Parlay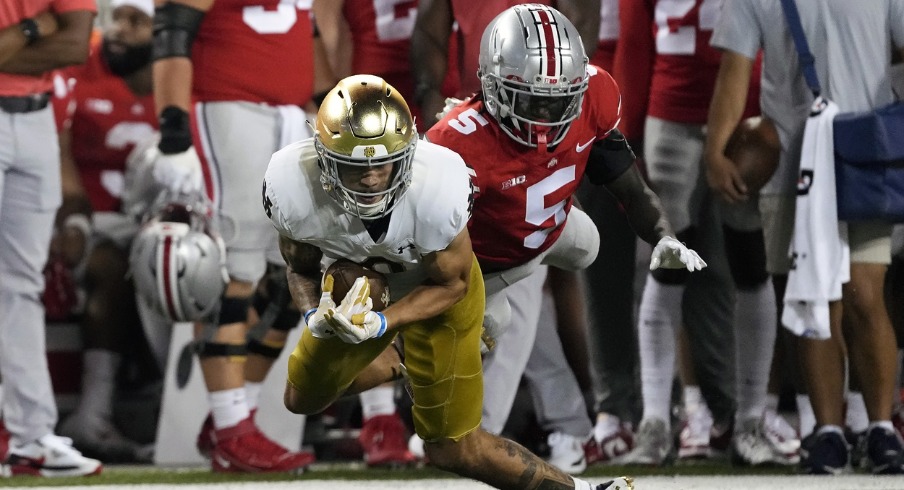 Have you actually thought about what would transpire if a competent offense decided to commit to picking on that dicey Ohio State secondary and was successful?
The top two SP+ offenses the Buckeyes have faced thus far are middling Notre Dame (36) and Michigan State (53), with serious tests from Maryland (16) and Michigan (8) remaining. There's no good year to be short-handed or underwhelming in the defensive backfield, but...there are definitely better years. And this is one.
Let's say any of Ohio State's remaining six opponents decide to pick on the Buckeye secondary, and worst fears realized - they're successful. Their reward for bombing Ohio State's cornerbacks? The Buckeye offense comes back onto the field.
Choosing to give the SP+ No.1 rushing offense, No.4 passing offense, No.1 3rd down offense and No.1 red zone offense more opportunities is definitely a strategy. Through six games, we have seen two methods for dealing with Ryan Day's death machine:
Keep it on the sideline for as long as possible and chew up clock
Challenge it to a shootout, yolo
Notre Dame, Wisconsin and Rutgers all chose to take the air out of the ball to try and shorten the game. Arkansas State, Toledo and Michigan State attempted to score points however and whenever possible. If Ohio State's secondary is exploited by any quarterback or receiving corps, that just means Stroud's unit gets less sideline time.

Which is why a thin and underperforming secondary doesn't concern me as much in 2022 as it would in just about every other year. And let's not diminish the back seven too much; the Buckeyes have the SP+ No.7 pass defense and No.11 passing down success rate.
It's not in complete disrepair. They're losing 50/50 balls and allowing some big plays.
Ohio State's offense could still go off the rails while the defense is bombed off the field, because anything is possible. This nightmare is precisely what happened for a single quarter in 1998 (to an all-NFL secondary!) and it cost the Buckeyes a trip to the first-ever BCS title game
Go ahead, fret over it happening again - that was an era where the team was guaranteed to pucker at some point every season. This era has been defined by rising to the occasion.
So you are free to bet on cornerbacks costing the Buckeyes a game as part of a sum-of-all-fears-everything-goes-sideways scenario. Kids, that's a fraidy cat parlay. I'll take your money.
The Déja Vu
On Saturday in East Lansing the Buckeyes converted a long 3rd down conversion in the 2nd quarter by way of a perfect teardrop pass into a receiver's breadbasket inside the Spartan 30.
Here you go, it's been a few days:
Somehow that play might have slipped off of the Marvin Harrison Jr. highlight reel, since he also scored three touchdowns. But that type of completion, under those circumstances, with that level of hahaha you cannot stop this execution is the type of demoralizer that swings games out of reach for the victimized.
And if this exact type of completion in this precise location in the United States seems eerily familiar to your football-addled brain, there was a good reason. Here you go, it's been a few years:
J.T. Barrett and Devin Smith treated the Michigan State secondary as poorly as Stroud and Harrison did, and they did so with nearly the same teardrop demoralizer right in front of the Sparty sideline.
The similarities between Saturday and that meeting eight years ago are profound.
BOMBING OF EAST LANSING | 2014 VS. 2022

| PLAYER | STAT LINE |
| --- | --- |
| J.T. BARRETT (2014) | 16/26 386 total yards, 5 TDs |
| C.J. Stroud (2022) | 21/26 357 total yards, 6 TDs |
| EZEKIEL ELLIOTT (2014) | 23 carries, 154 yards, 2 TDs |
| TREVEYON HENDERSON (2022) | 19 carries, 118 yards, 1 TD |
| DEVIN SMITH (2014) | 6 recs, 129 yards, 1 TD |
| MARVIN HARRISON JR. (2022) | 7 recs, 131 yards, 3 TDs |
| Michael Thomas (2014) | 3 recs, 91 yards, 1 TD |
| emeka egbuka (2022) | 5 recs, 143 yards, 1TD |
Good omens remain good. In other news, whenever Jaxon Smith-Njigba returns, Harrison's defender will be downgraded to the opponent's second-best cover guy, and Egbuka will have to face their third-best defensive back.
Julian Fleming will get a safety or a converted weakside linebacker. Henderson will still be available in the flat. Cade Stover will graze wherever he chooses. Or defenses could just go zone and bet against Stroud picking it apart. Enjoy those hammy massages, JSN.
THE SPOOKY SEASON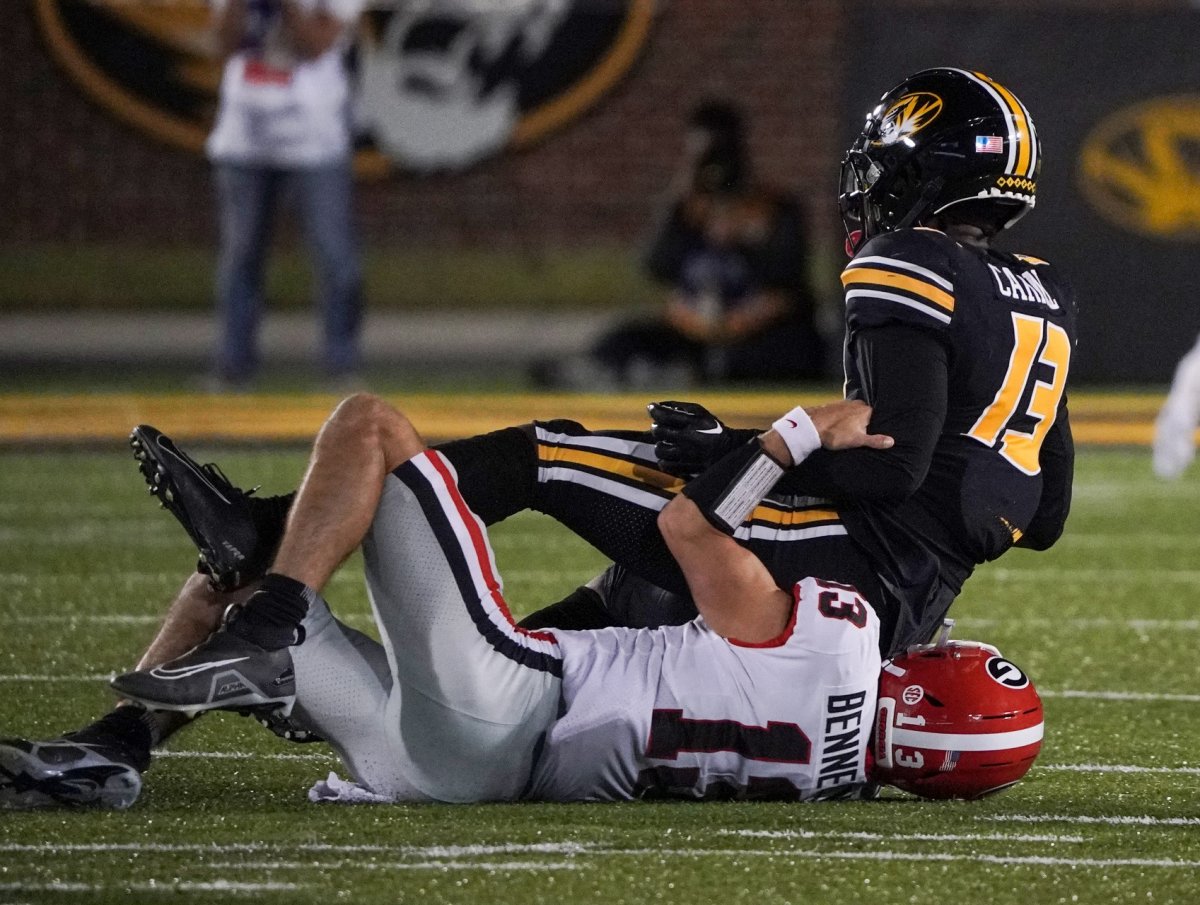 If you've watched the defending CFP champs this season since their dynamic debut against Virginia Tech in Blacksburg Oregon, you've probably whiffed a slight 2015 aroma.
The Georgia Bulldogs are aliens from the top of a loaded roster on down, not unlike what Ohio State rolled out for its 2014 season encore. When teams know they're talented enough to just win by showing up, spooky things tend to happen. College kids, man.
UGA beat SP+ No.111 Kent State 39-22, which is a They Definitely Just Showed Up score. The following week Georgia trailed Missouri for most of the night before escaping 26-22.
The Tigers' defense is No.74 in SP+. That whole team stinks. Georgia scored 26 points.
Prior to kickoff, several Bulldogs were at midfield barking at Missouri players while pointing to their ring fingers - a reminder to the home team of exactly who was gracing them with their presence. They proceed to play them even.
After Georgia sleepwalks its way through Vandy this weekend, it gets a bye and then a four-game stretch against Florida (35) Tennessee (7) at Mississippi State (12) and at Kentucky (16). Just Showing Up probably won't cut it, and Kirby Smart knows it.
Georgia is talented enough to obliterate all of its remaining opponents, which is exactly how you could describe the defending CFP champions at the halfway point of the season seven years ago.
The Photobombers
One of my Sunday morning traditions is going through Garrick Hodge's Saturday photos. A fun game to play while scouring victory rolls is finding Buckeyes in the background and on the periphery celebrating touchdowns before they happen.
Last week Garrick captured Harrison celebrating Egbuka's 69-yard touchdown while he was still about 50 yards short of the goal line. Against Rutgers, it was Paris Johnson Jr. flying down the field behind Miyan Williams still barely in field goal range.
Outside of those shots, Stroud celebrating Henderson's touchdown (above) right after handing him the ball is one of the earliest celebrations you'll ever see. He is still in backfield!
But when your red zone closing rate is trending toward being the best ever, that kind of confidence is understandable. Six games down, six to go. Then, hopefully three more.
Thanks for getting Situational today. Go Bucks, beat Bye.