We find out which Buckeyes aren't playing shortly before you do.
Eleven Warriors quietly receives an injury list from the football program on game days. Our beat guys then bang out a story and schedule it for publication when OSU lifts the confidentiality.
Prior to 2020 it was sent out on Fridays, but the pandemic and virus testing a) made the list much bigger, and b) bumped it to Saturday to buy more time for players to clear protocols. The Saturday part has since been normalized. Over the weekend that story headline looked like this.
Jaxon Smith-Njigba, Cameron Brown, Cameron Martinez Among 14 Buckeyes Unavailable Against Rutgers
It had to be updated with the news TreVeyon Henderson would also be out, and that Emeka Egbuka - who ended up playing - would be a game-time decision. Neither player appeared on the list, so it was slightly shocking, emphasis on slightly. Because this was our injury report headline one week earlier:
Ohio State Will Be Without Jaxon Smith-Njigba, Cameron Brown and Eight Others Against Wisconsin
And then Denzel Burke took the field without wearing pads. Okay.
Burke wasn't originally listed as unavailable, nor was he a game-time decision when the Buckeyes announced their status report at 5 p.m.
That too was slightly surprising. You should now be able to see where this is leading:
Josh Proctor and Tanner McCallister Unavailable for Toledo Game
Anyone remember who didn't play against the Rockets?
Mike Hall, who emerged as a breakout star for the Buckeye defense in the first two games, didn't play a snap despite not even being listed on Ohio State's status report.
The only surprise will be if these surprises stop happening. The Buckeyes do legitimately have a concerning number of injuries, especially in the already-thin secondary - Kourt Williams hasn't appeared in a report yet this season. He's only played 42 snaps, and it has nothing to do with his ability.
However, injury reports are not only unmonitored by the NCAA, they're not required at all. OSU injury report conspiracy theorists are going to love who was behind that decision.
"The ad hoc committee gathered thorough feedback from conference commissioners, athletics administrators, athletic trainers and student-athletes across all three divisions about potential player availability reporting,'' said Ohio State President Michael Drake, who is chairman of the Board of Governors. "The membership has significant concerns about the purpose, parameters, enforcement and effectiveness of a player availability reporting model.''
The Buckeyes use their injury report as an instrument of deception for opponents they're going to beat by 30 is a galaxy-brained theory, only slightly less bonkers than believing Ryan Day dialed up a fake punt up 39 in the 4th quarter against Rutgers last weekend.
If there's an actual reason this keeps happening, maybe it's an investment in safe roster handicapping for future dividends. Day forces his team to play with one hand tied behind its back to build resilience, yeah now you're onto something. Classic load management but with added flair yes, we're pivoting back to sanityville.
It's a long season and the last two have ended in distressingly short-handed fashion. An important thing for anyone with myopic Ohio State tunnel vision to remember is there are things the Buckeyes do that are unique, and there are other things they do that are quite common.
The #Hawkeyes' Week 6 depth chart:

- Terry Roberts not listed despite playing vs. Michigan
- Brody Brecht again listed as starter at WR pic.twitter.com/eYVTFAaWXZ

— John Steppe (@JSteppe1) October 3, 2022
Anything Iowa does cannot be considered innovative or unique. Close the book.
Maybe depth charts and injury reports (and while we're at it, Coaches Poll ballots) are the mundane administrative crap nobody in your office is interested in doing or doing well. Just rest assured our beat guys are equipped with the list and also pay close attention to pregame warmups to see who is and isn't wearing pads. They decide, we report.
OSU hits the road Saturday. Who's going to play? We don't know! Let's get Situational -
OPENER | HORRIBLE BOSSES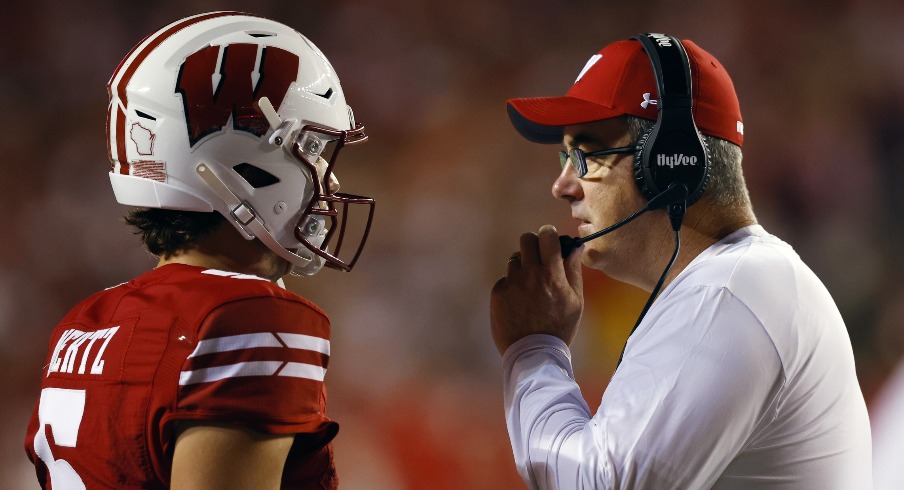 Over the weekend Paul Chryst did his best Earle Bruce impression by earning termination papers from his alma mater despite having an impressive overall coaching record.
His firing took place after his team dropped three games in particularly gruesome fashion, and upon close inspection it's evident his program was falling behind in recruiting, as the UW brand is growing dangerously stale. Badger bosses showed no interest in allowing mold to form.
Which makes Chryst just one fedora short of being Earle in 1987. Here, look at this.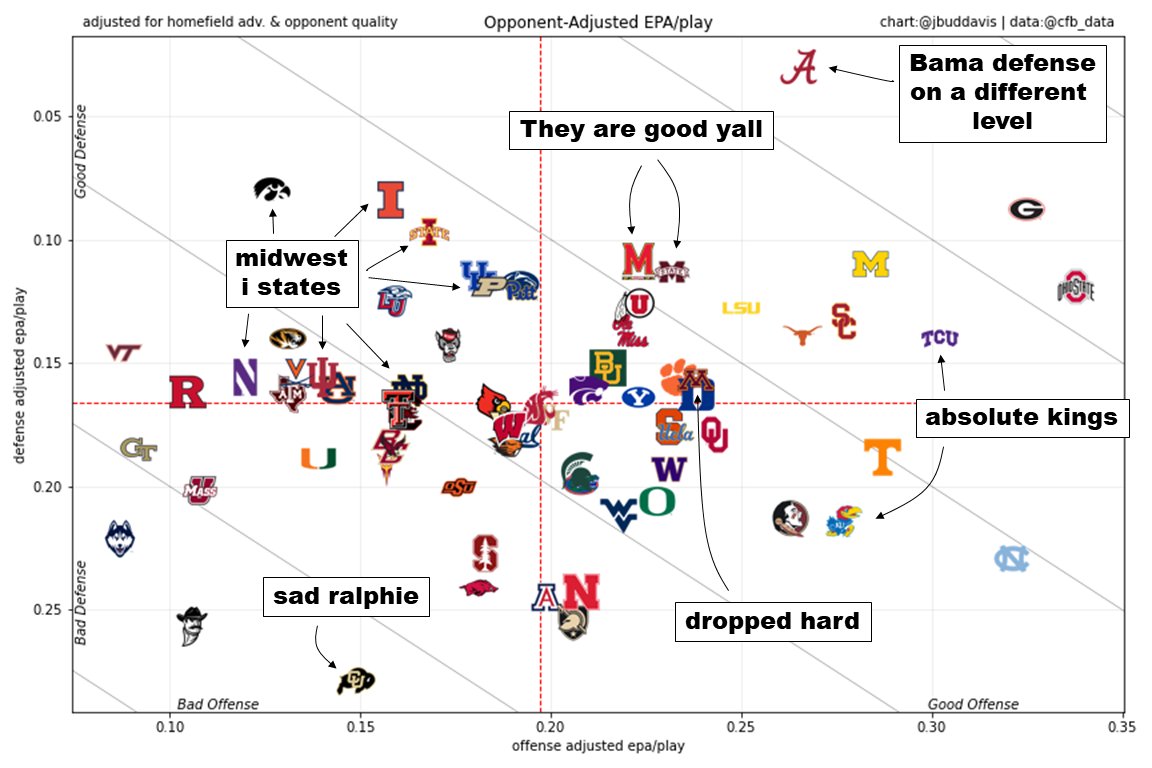 Top right is the Championship Zone, bottom right is the Bet the Over Zone, lop left is the Three and Out Zone, bottom left is the Hooray for Basketball Season Zone.
Wisconsin is tucked in the middle. Any program with its results and ambitions would be embarrassed to have neighbors like the ones near the Badgers. This is what stale looks like.
They do nothing well while not explicitly sucking, either. Wisconsin's program expectation is clinching its division a couple weeks before Thanksgiving, but look at where its B1G West neighbors are living - the separation is gone. They're borrowing milk now. They're being too loud. They're holding Wisconsin to two yards rushing.
This decline isn't lost on UW bosses, all old enough to remember the dark, pre-Alvarez era when football's only flirtation with competence was...regularly upsetting Bruce's Buckeyes.
Their objective is to compete for conference titles for the lowest price. After six seasons of Chryst, that goal was drifting further away. Firing too soon is always healthier than firing too late.
INTERMISSION
The Solo
Miserable people - let's call them haters - have been trying to kill rock music since its inception.
Jim Morrison wrote Rock is Dead in 1969. Ironically, Jim's been dead for over 50 years - but in his absence, rock music has survived innumerable assassination attempts.
Rock is Dead music journalism takes flourished in 1983, driven by the rise of post-punk new wave bangers. These takes infuriated Night Ranger lead singer Jack Blades, whose band was enjoying a successful American tour where they saw a million faces and rocked them all.
Rock didn't seem dead to them! Night Ranger ended up building a song around the haters prematurely burying their line of work.
(You Can Still) Rock in America features a two-man electric guitar solo. Let's answer our two questions.
Are the soloists in this video actually playing the electric guitar?
Brad Gillis begins the solo with a classic 80s rock guitar shred before handing off to Jeff Watson, who pivots to his signature eight-fingered tap. VERDICT: Yes, definitely them.
Does this electric guitar solo slap?
Time has made those 1983 takes look shittier than the ones that preceded it. Your biggest artists that year were Michael Jackson, the Police, Men at Work, Duran Duran, Bob Seger, Eurythmics, Prince, Bonnie Tyler, Toto - we could continue through the entire Billboard 100 and it will continue to be a diverse ecosystem of contemporary music.
Rock is the only genre that coexists with every other one - it's type O in music's blood bank, making it indispensable no matter how much more expensive it is to produce. Be thankful for Rock is Dead takes, they produce gifts like angry, epic, composite guitar solos. VERDICT: Slaps
The Bourbon
There is a bourbon for every situation. Sometimes the spirits and the events overlap, which means that where bourbon is concerned there can be more than one worthy choice.
Major League Baseball playoffs begin this week, so we're heading to Cooperstown for an appropriate bourbon.
Cooperstown Select is nice and youthful, just like the Cleveland Guardians who rode 16 rookies to the AL Central title this season. This bourbon is aged only three years and retails at $69, which is the distillery telling you this is championship juice despite its limited experience.
Abundant New York corn (70%) gives it a sweet start and finish. The remaining 30% of the mash bill is split between oat, rye and barley and if I had to guess it feels like an even split between the three.
Four grain bourbons - especially at just 50 proof - are a lot of fun because you can zero in on trying to gauge what each one brings to the experience without living too dangerously. I picked up cloves and burnt caramel corn up front with Honey Nut Cheerios on the back end (oats!).
Worth the buy if you enjoy playoff baseball with your college football. Go Guards.

CLOSER | SSƎ⅂ꓕNƎ⅂Ǝꓤ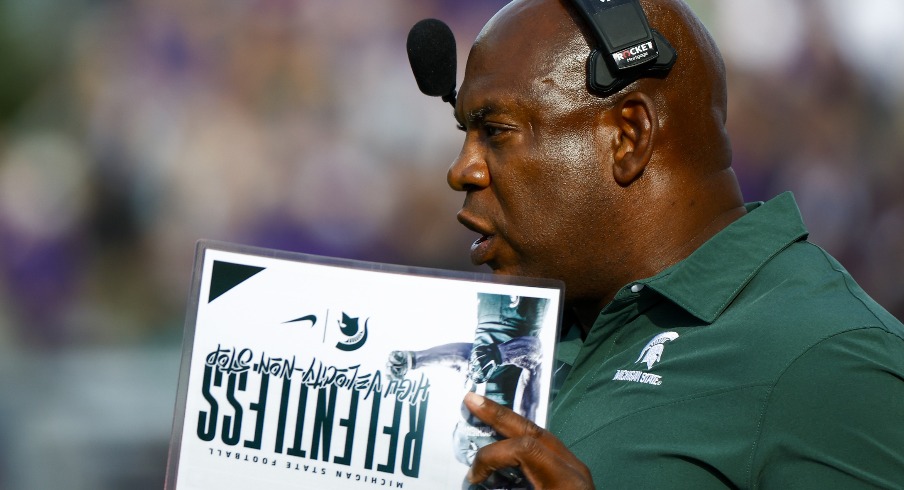 The Buckeyes are generally favored to win all of their games, but every year that expectation gets a little spooky when Michigan State arrives on the schedule because of what doctors refer to as decades of reinforced post-traumatic stress.
Sparty was the Buckeyes' only conference loss back in 1965 and has proceeded to shatter Ohio State championship dreams at a clip of roughly once per decade. It's usually a lethal combination of hubris, weaponized disrespect, one or two bad bounces in the wrong direction and generalized dark sorcery.
No matter your age, you've seen that horror porno at least once. Currently, MSU is trying to lull us into a false sense of security, as the Buckeyes have won the past five meetings by a composite score of 216-38.
And this year's Sparty was ranked no.11 three weeks ago, but bowl eligibility is now a stretch goal.
SPARTY NO, CIRCA 2022 (IN PROGRESS)

| STAT | PER GAME | NAT'L RANK |
| --- | --- | --- |
| DEF EPA PER RUSH | .081 | 89th |
| DEF EPA per PASS | .241 | 115th |
| DEF 3rd/4th down success | 48.65% | 119th |
| SCORING DEFENSE | 22.6 | 54th |
| RUSHING DEFENSE | 136.8 | 62nd |
| TFL | 5.6 | 62nd |
| PASSING DEFENSE | 275 | 115th |
| OPPONENT 3rD DOWN % | 44.16 | 107th |
| OPP 1st DOWNS | 22.6 | 98th |
| OPP 10YD+ PASSING PLAYS | 65 total | 128th |
Did I just cherry-pick defensive statistics? Sure. I drew a large sampling of traditional and modern/analytical defensive statistics which all just happen to suggest Michigan State's defense is what jaded proctologists might call super stinky.
Guilty as charged, I have shaped the #narrative. Feel free to conduct your own research.
Spartan boss Mel Tucker beat Michigan and Northwestern twice, Rutgers, Maryland, Indiana, Nebraska and Penn State on his way to earning a 10-year, $95M contract which he signed last year, just four days after losing by 49 to Ohio State. He's got 9.5 years remaining on the deal; it's still very early.
And fortunately for the Spartans, Chris Olave and Garrett Wilson - who absolutely demolished Sparty in the previous meeting - aren't walking out of the tunnel Saturday afternoon. But unfortunately for Michigan State, its defense will be.
Thanks for getting Situational today. Go Bucks, beat Michigan State.