Who do you think Ohio State's home opener will be in 2122?
Alabama is a sneaky good guess, considering what Tuscaloosa summers will feel like a century from now. Perhaps it will be some other southern team looking to escape Hades for a weekend. Or maybe college football will be past-tense in 2122. Oof, that's dark.
Predicting the Buckeyes and Fighting Irish to open Ohio Stadium's centennial season 100 years ago when they first cut the ribbon on the Horseshoe in 1922 would have been received with delight. Ohio State and Notre Dame had still never met when the giant, new stadium opened.
Thirteen years later that building would host the so-called Game of the Century. Sixty years later when Notre Dame returned to town, Columbus media interviewed several old people who had been in the building back in 1935 when the teams first met.
I remember being both fascinated and alarmed by how effusive the then-elderly Buckeye fans were in romanticizing a game Notre Dame had won despite trailing by two scores in the 4th quarter. I wasn't old enough in 1995 to appreciate that when you reach the twilight of your life, the best feature of your ancient stories is that your squandered youth was still intact.
Those old people didn't love losing a home game to Notre Dame, but they did gush over how big of a deal it was for the Irish to play in Columbus. The Buckeyes played the Wolverines in their respective season finales for the first time ever later that same month, which apparently was the ah-ha moment necessary to make that a tradition.
Michigan has been the last game on the schedule ever since 1935, except for the odd chicken-out under the cover of a global pandemic or a blip like in 1986 when Michigan scheduled Hawai'i the week after The Game.
As for Notre Dame, Saturday will break the all-time tie in Columbus. Let's get Situational!
OPENER | LEGENDS OF THE FALL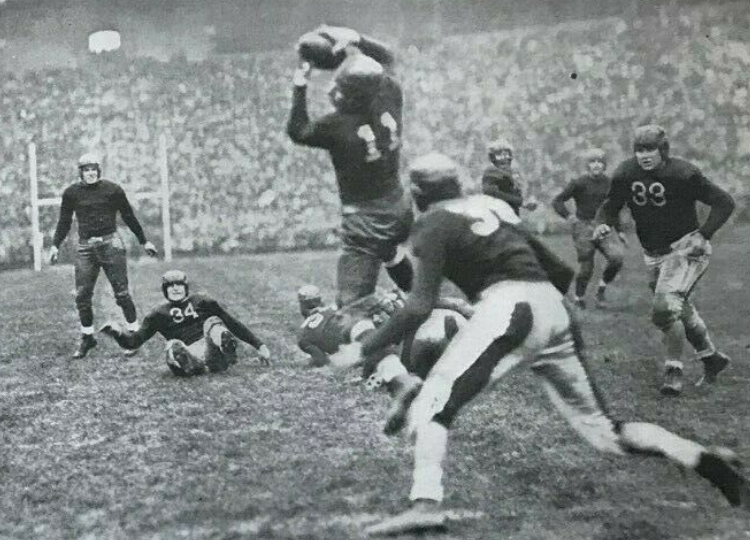 Notre Dame visiting Columbus 87 football seasons ago was as grand an event then as it will be Saturday. The parallels between the Irish coming to town in 1935 and 2022 are eerily similar.
Back in 1935 Grantland Rice was in the building to cover the game, which was attended by numerous dignitaries - this was an era of Ohio State football that claimed American icons like Orville Wright as season ticket holders. This was a significant event in US history.
On Saturday, our blog (a word that didn't exist in 1995, let alone 1935) enters its second decade as a fully-credentialed media outlet, with three Pulitzer-eligible journalists behind the scarlet rope covering the game. Jack Harlow, who himself is a groundbreaking inventor and innovator, will be performing outside of the stadium. This too is a significant event in US history.
In the spirt of self-awareness, I am confident I would have handled the 1935 outcome very poorly. America was only two years removed from Prohibition and The Situational would have still been cycling through antiquated bathtub hooch.
Fighting Irish fans tore down the goal posts in the north end zone without any consequences, because pepper spray wouldn't exist for another 30 years. Photographers were standing right there. Beyond blowing that 4th quarter lead, we blew a monumental meme opportunity.
All we have are artifacts, like the photo above from a British magazine that went out of print in the 1960s. Those guys are all ghosts now. Eventually, we all become paperwork.
Which reminds me:
Buy some of Ariel's art. It will have far more staying power than Notre Dame does on Saturday.
INTERMISSION
The Solo
The only thing Americans can all agree on is that Baywatch was our country's cultural peak.
On the same weekend Kirk Herbstreit carved up Syracuse in the Carrier Dome, the American entertainment experience achieved its zenith with the first episode of Baywatch Season 3. It was the most captivating two-day stretch of television of the decade, if you don't count the LAPD chasing a Ford Bronco through Los Angeles.
In this timeless scene we are introduced to Casey Jean Parker, played by Pamela Anderson. Erika Eleniak - who was robbed that year of the Best Actress Oscar for her performance as Jordan Tate in Under Siege - reprises her nuanced role as Shauni McClain.
CJ makes her Baywatch debut while playing a saxophone. Let's answer our two questions.
Is the soloist in this video actually playing the saxophone?
Anderson was saxophone-fluent as a child, performing solos ranging from basic to scat. She has employed several sax coaches, including sax lord Kenny G. VERDICT: CJ is playing the sax.
Does this saxophone solo slap?
Anderson grew up in Canada, and like everything else of value that Canada has ever produced, she ended up south of the border. Eleniak was edged out by little-known Jodie Foster at the Oscars, while Under Siege lost to obscure art house film The Silence of the Lambs. Everything happens for a reason, and in this case it was for global stability.
Baywatch had helped bring down both the Berlin Wall and the Soviet Union; the geopolitical landscape had no appetite to replace one empire with another. It was America's time on the world stage, and its finest achievement in television and film had to be contained in order for one republic to thrive.
So we should think of CJ's debut as more than an Otis Redding tribute (folks, she's literally playing the saxophone on the dock of the bay). It's the soundtrack of American excellence. VERDICT: Slaps
The Bourbon
There is a bourbon for every situation. Sometimes the spirits and the events overlap, which means that where bourbon is concerned there can be more than one worthy choice.
Speaking of American excellence, if you expected the Notre Dame episode of The Situational to showcase Irish whiskey, gird your pathetic loins for disappointment.
As has been mentioned in this section numerous times, the best whiskey is the stuff you like, and the appropriate whiskey is always situational. Irish whiskey delivers exactly two memories for me.
One, the unfortunately named "Irish car bomb" which involves equal-parts Jameson and Bailey's dropped into a pint of Guinness. It's violently delicious, but is also reminiscent of fish, a food prepared in a deliberate way to make it taste as little like itself as possible. Jameson is only tolerable in this arrangement.
And two, I once committed an amateur mistake at my own party by not paying close attention to my drink, which resulted in picking up the wrong can on the bar and sipping something containing several cigarette butts. It was salty, ashy, warm and hideous. Don't ask me for more details, I still haven't found peace.
A few parties later I sipped a Tullamore Dew and my palate flashed back to the cigarette can incident - the connection was now calcified in my brain. Redbreast, same feeling. The Tyrconnell, gag reflex. Knappogue Castle, urrgh gonna puke. Can't do Irish whiskey. It's, what's the optimal description...
salty, ashy, warm and hideous
That's it. So in lieu of Irish anything this week, let's have a Scotch. Because second in importance to beating Notre Dame senseless on Saturday is being as condescending as possible while doing so.

CLOSER | PARADOX LOST
Let's fondly remember Jim Tressel's 2006 Fiesta Bowl strategy - a shocking departure from traditional Tresselball principles - which was, in his words, to work really hard at not overthrowing the deep ball against the Notre Dame secondary. Relevant screencap above.
Setting aside the fact that overthrowing Ted Ginn is impossible, Ohio State's current receivers will aim for Santonio-Teddy production Saturday night. Back-pedaling between them and video game stats will be a host of seasoned defensive backs and a familiar face.
Cornerback Cam Hart probably could have gotten drafted in April had he left school - he's pretty good. You might remember safety Brandon Joseph from the 2020 B1G championship game as Northwestern's huge PITA who contributed to Justin Fields' worst outing as a Buckeye.
We've reached the end of the promising news for Notre Dame fans.
Opposite Hart will be Clarence Lewis, whom you might remember from watching Notre Dame's bowl game while waiting for the Rose Bowl to start. Lewis was, for lack of a better term, exploited by Oklahoma State. He was the scab they picked and the balls they kicked to lead the Pokes' comeback win over the Irish.
The other safety is grad student DJ Brown, who got on the field last season largely out of necessity. His stats are the byproduct of offenses deliberately moving action in his direction. Let's just say his tackling efficacy would have allowed him to fit right in with the 2021 Ohio State defense.
Stroud should eclipse 350 passing yards on Saturday, which isn't all that audacious of a prediction. He lit up Oregon for 484 and Michigan for 394; big Stroud stats don't always accompany a W. The Buckeyes will have to show balance for that production to matter.
Ohio State will be aiming to take its fifth straight from Notre Dame, a program that generally avoids losing five in a row to anyone. In their way is some unfortunate recent history:
OHIO STATE NON-CON NIGHT BANGERS | PAST 20 YEARS

| YEAR | OPPONENT | RESULT | OSU RECORD | OPP RECORD |
| --- | --- | --- | --- | --- |
| 2003 | NO.17 WASHINGTON | W 28-9 | 11-2 | 6-6 |
| 2005 | NO.2 TEXAS | L 22-25 | 10-2 | 13-0 |
| 2009 | NO.3 USC | L 18-15 | 11-2 | 9-4 |
| 2014 | UR VIRGINIA TECH | L 35-21 | 14-1 | 7-6 |
| 2017 | NO.5 OKLAHOMA | L 31-16 | 12-2 | 12-2 |
We are leaving out last season's Oregon debacle, which took place under the sun. The non-conference night game last season went to Akron; Toledo is getting one too in a couple of weeks - and those don't count toward this trend either. No disrespect intended.
Ohio State's big non-conference night game record in September going back to when the defending national champions hosted Washington nearly two decades ago has been, well, look at it. A Notre Dame win would serve as the capstone for two decades of high-profile nocturnal futility.
Which means if the Buckeyes can pull off a victory on Saturday night, they will be extending one improbable streak while ending another. If they come up short, flip that statement and brace for sadness.
Thanks for getting Situational today. Go Bucks, beat Notre Dame.