Eventually we all become paperwork.
Your birth certificate was typed up shortly after your arrival and still serves as flimsy proof you are you. The fortunate among us get several good decades animating their flesh vessels before checking out. When you expire your body is exchanged for a death certificate.
That paper is the flimsy proof you were you. Two documents from start to finish. Maybe you were conceived during the era of sonograms and there's an aging grainy photo of you somewhere simmering in utero. Technically, a photo - but it counts. Pre-paperwork paperwork.
Everything in between those two pages is your story. Notable anecdotes, like if you scaled the highest mountain or stepped in the wrong pile of excrement. The little hills you cleared are forgotten, even if you want people to remember them. You don't get to write your own obituary, you only get to author it.
Football teams are kind of like that, except they know when they're going to expire as soon as the schedule is made. These days it's12 lives per season; CFB life expectancy used to be only nine-ish back before sonograms were invented. Ohio State's next win - perhaps Saturday in Bloomington! - extends them one additional life in the form of postseason eligibility.
You don't get to write your own obituary, you only get to author it.
Winning the East Division for the fifth straight time would grant them two, with a December Indy trip. Admission into the CFP and winning a semifinal results in three - another trip back to Indy, in January. There is no four. That's it. Death comes for us all.
When it's over, the 2021 Buckeyes - which were conceived as a schedule and roster - will return to being paperwork. As usual, they're mostly winning - but one of the current wins have been anything but the little, soon-to-be-forgotten cleared hills.
On the other side of the ledger, Ohio State stepped in something in early September. We don't know if that's memorable yet. The 2-4 Hoosiers have exactly two outcomes for the Buckeyes' 2021 paperwork: IU could either be the wrong pile or a little hill the Buckeyes clear that slips away.
All the high mountains are still unclimbed. Welcome back, thirsty comrades! Let's get Situational.
OPENING: SUCCESSION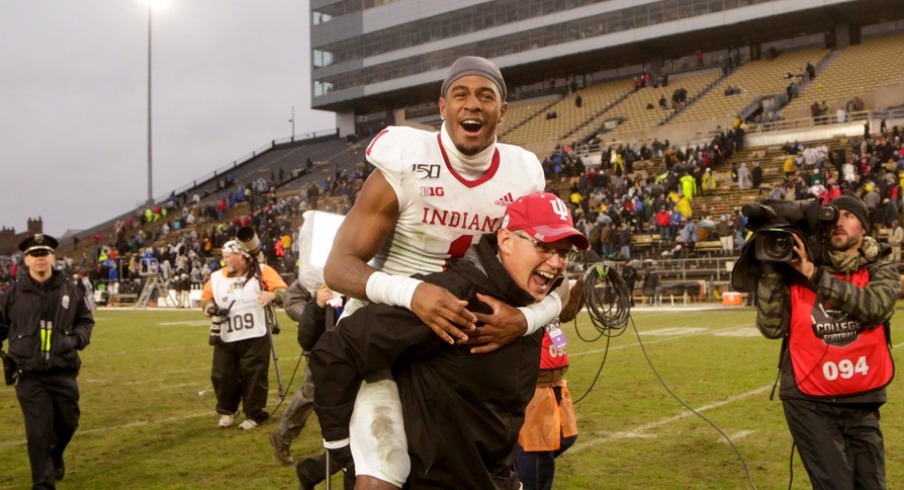 So you thought Indiana football's 28-year trek through the desert concluded in 2020 because of one semi-charmed abbreviated COVID season that followed an eight-win campaign. Sorry, you've seen too many movies.
IU is one of the weakest Power 5 programs in history, for a litany of boring and basketball reasons. Climbing out of football poverty like that requires more than just two modest paychecks. Brief success in Bloomington might make the program stickier with the types of recruits IU needs to gain traction, but it also makes each of its salaried participants flight risks for greener pastures.
You have to manage player and staff matriculation. Getting good is hard. Staying good is harder.
Sustained success at Indiana requires succession planning nobody at IU has pulled off since the peak of the Bill Mallory era, when the Hoosiers' management operating system was the store brand version of what Mallory acquired under Woody Hayes in Columbus.
KEVIN Wilson had IU positioned to scrape its ceiling again, and TOM Allen has been on a .500 trajectory EVER since.
Mallory went 0-11 with mostly late stage Lee Corso's roster and then kept the Hoosiers clear of the Big Ten's lower tier for a solid decade, an amazing feat at IU. He got players, lost coaches and competently replaced them both to keep the Hoosiers scraping their ceiling on a consistent basis.
Currently, Tom Allen is 26-26 after inheriting a program Kevin Wilson had dug out of a deep hole left by Bill Lynch. Lynch had inherited a program the late Terry Hoeppner dug out of a gaping chasm left by the combination of Gerry DiNardo, Cam Cameron (in the conversation for the worst head coach in conference history) and Late Stage Mallory.
Wilson had IU positioned to scrape its ceiling again at the time of his departure. Allen has been on a .500 trajectory since, and now has a roster full of his own players. The Hoosiers' 2019 win total and 2020 success was largely built off weak non-conference scheduling and surviving league opponents on a downswing.
It's still success in Bloomington. But Allen is not exactly stockpiling an arsenal of blue chips.
IU RECRUITING CLASSES UNDER TOM ALLEN

| CLASS | NAT'L RANK | B1G RANK |
| --- | --- | --- |
| 2017 | 62 | 13 |
| 2018 | 50 | 10 |
| 2019 | 36 | 8 |
| 2020 | 58 | 12 |
| 2021 | 54 | 12 |
Indiana's 2022 class is trending to be Allen's best yet, no.26 nationally and no.6 in the B1G, as two consecutively decent seasons appear to be making IU stickier with recruits. But like Michigan's annual September Enthusiasm™ there's quite a ways to go until the pens come out.
One class in the top 50 and none in the top half of a conference over five seasons with transfer portal bandages isn't going to permanently lift IU football out of poverty, despite the long-overdue and significant infrastructure upgrades the university began installing under Hoeppner.
Recruiting is one part of the equation. The other is coaching: IU went 14-7 over the past two* seasons, which raised eyebrows as well as poaching profiles for the assistants involved. Exceeding historically low expectations is a sure way to win B1G COY consideration, or at worst - get a raise and a title promotion somewhere else.
IU lost DC Kane Wommack to South Alabama and RB coach Mike Hart (that Mike Hart) to his alma mater last season. The year before, Fresno State made OC Kalen DeBoer its head coach. Successful assistants survive and advance to greener pastures, and replacing each of them is as critical as landing a class-shaping recruit. It's that important.
Like Ryan Day with quarterbacks, Allen is a defensive-minded coach who is more hands-on with that unit. It has an identity and performs well, independent of talent quality. On the other side of the ball, Allen's current co-OCs are first-timer Nick Sheridan (that Nick Sheridan) and Grant Heard.
both of indiana's offensive coordinators are learning on the job, and it shows.
Sheridan is learning how to be an OC on the job, in the B1G. Coach Heard brought two years of OC experience to Bloomington from Lambuth College, which was literally a church league football program for a school that no longer exists. IU has the 107th-ranked offense in the FBS, running a low-percentage scheme that when it's clicking still looks clunky. Its offensive line in particular is a mess.
Pairing two green OCs together is not quite hiring the best man from your wedding who had never coached college kids before but it's still bad - this is not how you sustain success in a Power 5 conference, either in recruiting or in staffing. Indiana is not safely clear of Square One under Allen, whose charming, folksy pep rally demeanor makes him the coach everybody wants to see getting carried off the field crying good tears at the end of the movie.
And that's the problem in Bloomington. One or two decent seasons - and that's all they were, decent - make for a good movie. But winning consistently isn't a movie. Escaping and staying out of football poverty isn't a movie. It's an re-engineering project that never ends.
INTERMISSION: THE SOLO
The first time I heard Africa was on the radio during a slumber party at Jason Powers' house in 1982. The song's screamy chorus, as my primitive still-learning-English ears heard it was as follows:
IT'S GONNA TAKE A LOT TO DRAG ME AWAYYYYY FROM YOUUUUU

THERE'S NOTHING THAN A HUNDRED MEN ON MARS COULD EVER DOOOOOO
Look, Africa is the greatest song about a lovestruck social worker ever written or recorded. And it came out while E.T. was in theaters, back when televisions were grainy, had two rabbit ears and three channels. Going to movies was a religious experience, especially for an eight-year old kid still trying to grasp what every sixth word meant.
I was obsessed with little aliens and for some reason my soft little brain hitched the plot of E.T. to this song. It still does. Africa features a synthesizer solo. Let's answer our two questions.
Is the soloist in this video actually playing the synth?
This is an extremely synth-heavy banger, and Toto used both a Yamaha GS-1 and CS-80 played by Steve Pocaro to manufacture a safari vibe. But the keys in the video appear to be neither of those models. In some frames, the solo coincides with the music about as well a low budget Kung Fu movie voiceover, but in others the overlap is precise. VERDICT: Confusing and inconclusive.
Does this synth solo slap?
This solo is the sharpest object Toto uses to slide Africa into the ambiguous World Music genre it was trying to achieve from the outset, back when six white guys from North Hollywood were so inspired by UNICEF commercials they decided to make it a song about a thirsty social worker in a place none of them had ever seen for themselves.
And somehow it all worked magnificently. The Africa solo is not only melodic and memorable, but it's fairly easy to learn. Best of all - and I mean this from the bottom of my soft eight-year old heart - no little aliens were harmed. VERDICT: Slaps like Kilimanjaro rising like Olympus above the Serengeti.
THE BOURBON
There is a bourbon for every situation. Sometimes the spirits and the events overlap, which means that where bourbon is concerned there can be more than one worthy choice.
It's been five years since I wrote about how to make a Proper Old Fashioned, the most important cocktail in the whiskey arsenal. Every adult should know how to make one cocktail properly (rum & coke, while delightful, does not count) and everything from the presentation to the payoff in an Old Fashioned is worth the trouble.
But sometimes...you're lazy? My preferred whiskey recipe involves whiskey, a glass and if appropriate, a proper ice cube - but sometimes I just want a cocktail without all the work. Laziness is a situation. Herb & Lou's created a solution.
The Cooper is a bygone era of Ohio State football a blood orange ginger Old Fashioned, but without the work. The kit comes with a dozen Coopers and needs to be stored in your freezer. When it's time for a quick and easy Old Fashioned, pop a cube out of its little house, drop it into some appropriate/cocktailable whiskey (Buffalo Trace is GIF'd here) and then shake it. Eventually it will absorb and you'll have yourself the lowest-effort Old Fashioned imaginable.
The Cooper isn't intended to replace a Proper Old Fashioned. It's just a shortcut for when you want one but can't be bothered.
CLOSING: BACK NINE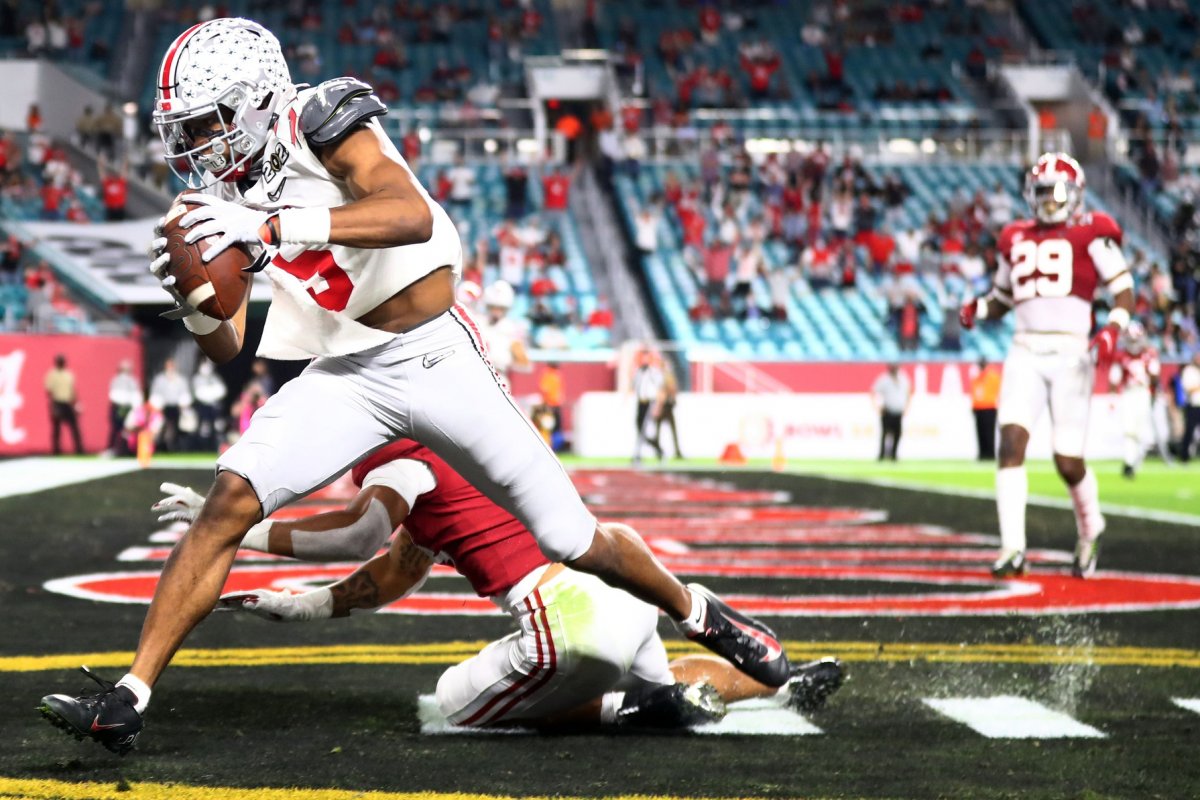 Contrary to what the schedule shows, we haven't reached the halfway point of the season yet.
Last year we held our collective breath every Wednesday and Thursday for a dispatch from the athletic department that usually never came. But three times it did - the Buckeyes lost three fall Saturdays to COVID infections and contract tracing.
This happened once for Ohio State's own outbreak and twice* because of opponents (still not sure what to think of Michigan's spirited practice immediately after it forfeited the Ohio State game). The cancelation left the Buckeyes one contest short of qualifying for the B1G championship game, making that forfeit the closest thing to a win in the series for Jim Harbaugh since he was in undergrad.
Those breathless, bracing Wednesdays and Thursdays are an afterthought this season, but what is still fresh - at least in Bloomington - is the conference's decision just hours after Michigan's forfeit to rescind its hasty August rule, giving the Buckeyes eligibility for the B1G title game despite only participating in five games.
Ohio State would have ceded its ticket to Indiana without that rule change, which was just as hasty as the rule's creation two months earlier. It's best not to think too hard about what Kevin Warren thinks, doesn't think, does and doesn't do - and what he's paid for his services.
In a cruel and cursed twist IU was spared from experiencing, the Hoosiers would have been forced to forfeit their championship game ticket to 3rd place Penn State due to...right, of course...but that doesn't quell the resentment in Bloomington.
Last season's halfway point, as it turned out, was that Indiana game. IlliBuck and Gold Pants were taken off the menu and four games later about 60% of Ohio State's roster was facing the best Alabama team in history for the national title.
If everything goes according to plan this season, the IU game will be the first of the final nine with only two of those matchups featuring unranked opponents. The Hoosiers have been very good at beating themselves so far, clunky offense or otherwise. Defense and effort have not been what plagues them.
In a couple weeks the Buckeyes will board a plane to the Mother of All Trap Games in Lincoln, where what they learn this Saturday about a desperate, inferior and still-talented opponent should pay dividends. Because of how last December was legislated, the team they face in Bloomington will carry bitterness beyond the usual resentment saved for the regional bully.
It's hard to remember a more daunting six-game stretch than what's left on this schedule. If the Buckeyes are able to clear it unscathed, they will be over-prepared for the three that may come in behind it.
Thanks for getting Situational today. Go Bucks. Beat Indiana. Take care of each other.