Ohio State's 2021 season is over. Now we have to bury it.
We'll be dishing about the future right up until the Irish come to town, all while enjoying a pretty good taste in our mouths. In the meantime, some final thoughts as we bury a rosy and stinky 11-2 campaign.
This will get spicy at times. Caute procedere.
1. Hot Take
Ohio State's opt outs propelled the Buckeyes to victory in Pasadena.
Nearly every player who needed to elevate the level of play did so emphatically, especially in the 2nd half. This performance came off the most disastrous 2nd half showing since West Lafayette, 2018. A pivotal, emphatic and invaluable bounce into 2022.
Which makes Notre Dame the second biggest loser coming out of Pasadena. The upcoming edition of the Buckeyes getting its feet wet on a big stage would have been much harder in a tight game with four departing millionaires taking so many big value reps.
2. Weirdest Unit
Don't think, just answer: Ohio State's special teams this season - good or bad?
OSU SPECIAL TEAMS | 2021 SEASON

| SPECIAL TEAMS METRIC | NATIONAL RANKING |
| --- | --- |
| KICKOFF RETURNS | No.17 |
| OPPONENT KO RETURNS | No.22 |
| PUNT RETURNS | No.100 |
| OPPONENT PUNT RETURNS | No.39 |
| PUNTING | No.71 |
| OPPONENT PUNTING | No.94 |
| FIELD GOALS | No.2 |
| OPPONENT FIELD GOALS | No.10 |
The correct answer is yes.
One of Ohio State's best units - kickoff coverage - was somehow atrocious in Pasadena (who knew low, short kickoffs to the guy with four kickoff touchdowns was a bad strategy?) This was a top-10 unit prior to the postseason.
But overall, the Buckeyes were elite. Or terrible. They were both. That seems extremely fixable.
3. Rejuvenation Project
Old timers were apprehensive when Urban Meyer brought his spread offense to our crusty but beloved Three Yards and a Cloud of Dust program. However, his version of spread included a vicious power rushing attack that would have made Woody tingle. Old timers promptly stood down.
Ryan Day's offense? When paired with the current defense (of course we'll be getting to that) it elicits loud, accurate Big XII slurs. And that's largely because while the running backs are terrific, the rushing attack grew stale and became easily diagnosed. Defenses with pulses forced the Buckeyes to win with C.J. Stroud. That usually turned out okay.
Miyan Williams' scored the season's first touchdown by bailing out of the play design entirely - we now know that was foreshadowing. For 2022, we're not talking wholesale upholstery, just tweaks. No one wants to root for a Big XII team. Even the Big XII hates the Big XII.
4. Best game
It would be as negligent to keep Ohio State's ninth Rose Bowl win out of the top spot as it would be to not acknowledge what the Buckeyes did to a very good Michigan State team on Senior Day.
Congratulations to both efforts, they were marvelous.
5. Unifying Fan Base Complaint
We have a very whiney tribe - some of us want Day fired! I've got my complaints, you've got your complaints, but there's one complaint everyone marching under the flag shares, whether they're completely unhinged or fully hinged (the latter Ohio State fan doesn't exist; not sure why I typed it).
It's Ohio State's 2021 defense. You cannot "miss" on two dozen four and five star recruits. That's mathematically impossible; not even the Browns could pull that off. It's the coaching. Help is on the way. This is the second time in four years that unit cost the Buckeyes a playoff bid.
The last time it happened, the following season delivered one of the best defenses ever.
6. Best Newcomer
First let's declare 2021 as the best freshman class of all time for a program that celebrates its super sophomores, which means 2022 is shaping up to be very exciting. This was the closest thing Ohio State has had to a rebuilding year, with a new quarterback along with a whole bunch of questions that got answered.
Second, congratulations to TreVeyon Henderson and Denzel Burke, who both bagged freshman firsts on opposite sides of the ball in the same season. Historic. Phenomenal. Youth.
7. Hotter Take
Hyperbole is the enemy of sanity, and yet I'm pretty sure I just witnessed the worst tackling Ohio State team of my lifetime. Today is my birthday. I'm Max Lomonico years old. My lifetime.
The Buckeyes finished No.89 nationally in allowing big plays, in large part because wrapping up became an optional concept. Good news, the guy coming in to lead the defensive turnaround built the nation's No.16 unit in allowing big plays. You know who just finished first nationally in tackles for loss? The OSU with the brimmed hats. He built that.
And you don't become the nation's best at the latter without wrapping up effectively. I've been watching college football religiously for Josh Proctor years. You've gotta wrap up.
8. Intrusive Thought
The number of times I watched this team and thought, I'm not sure what [position coach] gets paid to do made me question if I was losing my grasp on being rational. The Buckeyes were flawed. They lost to Michigan. They went 11-2. Yeah yeah yeah 11 wins isn't the goal, we agree.
If you prefer joylessness, look out the window or turn on the news. I had to remind myself of that a couple times this season. Usually it doesn't come to that. Can I blame the pandemic for being excessively negative this season? Cool, I'm blaming the pandemic.
Not everything gets a pass/fail grade, but there were long stretches where the performance was on a bullet train to nowhere good. The 2nd half defense in Ann Arbor, for example. That's a pass/fail assessment, forever. I'm comfortable loathing that.
But the 2nd quarter against Tulsa? I should have been better. I'll work on it. Maybe you can too.
9. Worst game
No need to revisit that crime scene. Hopefully the younger generation finally understands that final game of the regular season is so damn important now. God, it feels crusty to even type that.
10. Best Touchdown
Jerron Cage's epic TD against Penn State, sped up to the speed he felt like he was running.
11. Best Resignation
Quinn Ewers left high school early, made a bunch of money, drove a free truck, got a year of instruction at the nation's best program for quarterback instruction and then peaced out.
Mullets are absolutely terrible. You can exhale. We can say that aloud again. It was never untrue.
12. Worst Resignation
Honorable mention to Jack Miller's exit, which followed a Bench, Blotter, Portal cadence out of Columbus to Gainesville for what he hopes becomes The Burrow Ending. He had this category won over K'Vaughan Pope, whose departure was what's known in corporate circles as a CLM, or clem, which of course means Career Limiting Move.
But then Pope was inspired by Marcus Williamson's exit (we'll get to this) and rebooted his goodbye:
You only go to OSU if you want to be:

- highly disrespected by the coaching staff (head coach here & there)
- treated unfairly (young guys playing before seniors)
- looked at as a hoodlum (because your vocal)
- treated as if you are not a high caliber player (because i am)

— KVaughan Pope (@VonP04) January 4, 2022
Pope finished his four-year Ohio State career with eight tackles, or less than half of what Tommy Eichenberg had in the Rose Bowl alone. The opportunity to get on the field in that unit was w i d e o p e n and Pope quit because he couldn't see the field during a 52-point win over Akron.
Linebacker coaching has been an issue for awhile, and Pope was never anything close to being a serviceable linebacker. Both can be true. His rebooted resignation puts him ahead of Miller for the title here. When he rage-quit, it was hard for us to find a decent photo to run with the story. When you've been with a program for four years, that's...an indicator.
IM WINNING

— KVaughan Pope (@VonP04) January 4, 2022
Correct. Congratulations.
12. Hottest Take
In an era of unrestricted free agents, has the postgame Carmen Ohio lost some shine?
Over the 20 years since Jim Tressel installed the tradition we've seen players are gradually less invested in the postgame spectacle following lackluster opponents, but amp it up after big games, especially with favorable outcomes.
This season, even after the Rose Bowl, Carmen was uninspired. Players were talking during the song; some clearly didn't know or remember the words. The tradition is perfect, it just needs to have its tires rotate and oil changed.
Do the guys even know who Freddy Cornell was? When and why he wrote it? How unifying that song might end up being for the rest of their lives?
Ryan Day tends to run tempo when talking about Ohio State traditions - he blows through his words with SEC speed. Words have meaning. Play fast, but slow down when necessary, especially when you're talking about tradition.
This is the last bastion of what separates college from the pros. It's the one worth preserving.
13. Best Catch
Honestly, how. You could ask that same question about everything that happened that afternoon.
14. Detonation
I didn't have a problem with anything Marcus Williamson shared - I believe his experience deserves all of the oxygen it can be given, whether it's at Ohio State, another program or just in American in general. Reader, you're allowed to disagree with my opinion. You're not allowed to violate our commenting policy.
I do think Williamson could have elevated his story through other means, as opposed to an inelegant Twitter thread while watching his teammates play in a bowl game - that didn't lend the right tone to what he was communicating, rather it doused his message in lighter fluid.
Twitter cedes control of every story it carries. Outlets pick up some bits and bam, it's theirs.
His biggest bombshell - the horrendous choice of using Trayvon Martin as the corresponding imagery for a program policy of no hoods took place during his early enrollment period. Ohio State's current head coach was still moving his family from San Francisco to Columbus when that allegedly happened (I have no doubt that it happened).
Which means there's shrapnel flying everywhere, including toward people who were several time zones away. And when that happens, the sound and smell of the detonation can overwhelm an important message that deserved clearer air. And that is what ended up happening.
15. Best Game Synopsis
As good as the Rose Bowl outcome was, the recap might be better.
Film session w/ Coach 30 - Utah Utes #RoseBowl pic.twitter.com/KIhQB1fYA2

— Brenden Clinton (@MrGo30) January 4, 2022
"Look at my toes, pointed."
16. Best Stretch
The Buckeyes beat nine-win Purdue and 11-win Sparty 115-38 in consecutive weeks. They beat explosive Maryland and Supposed to be Good Indiana 120-24 in consecutive weeks. Ohio State hurt for points exactly three times - which in this era means they only scored into the high 20s - and lost twice.
It's a program that needs an average defense to win a title - a refreshed running game is just a bonus. This is a trick category; the best stretch is the one that's still yet to come.
17. Detonation, Cont'd
I would bet my life Urban Meyer has no idea who Marcus Williamson is.
I am equally confident he wouldn't recognize Trayvon Martin in that photo or grasp how disgusting it is to use it as a cautionary tale (the explanation of exactly how this happened and was remedied is here). He's done a lot of things, but that's almost too nuanced for him.
That's not to excuse Meyer - it's his job to know; even using a photo of an anonymous kid would have been a bad idea to send that message. Tone deaf is the more realistic diagnosis than provocatively racist. But it's Urban Meyer, and his reputation has been in varying degrees of flames since long before his time at Ohio State, largely earned.
Williamson wasn't on the field for the majority of his time at Ohio State, which under the previous regime meant the head coach could not pick him out of a lineup. There are many things former players from that era can disagree on, but this aspect is not one of them. With Urban, you are either a star or a stranger.
18. Worst Karma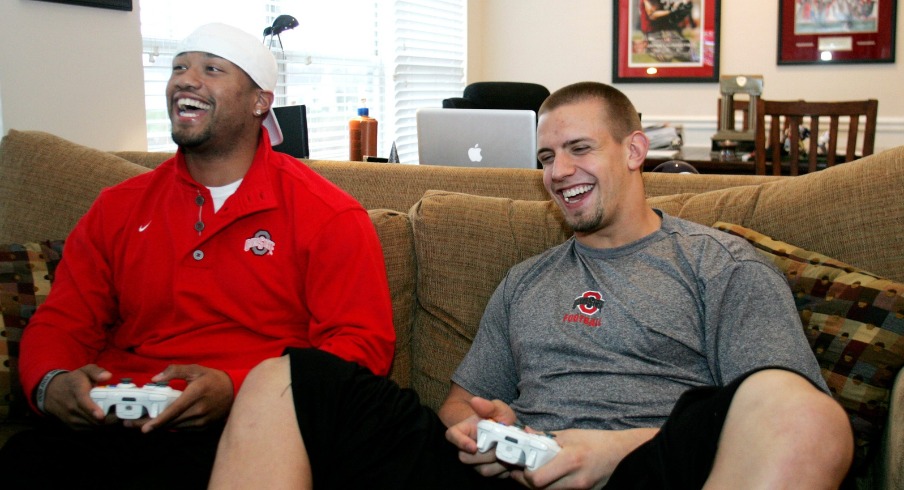 When a three-time consensus All America, eight-year NFL veteran and beloved former player whose jersey is still prominently seen in the stands at home games 13 seasons after his departure wants to be a part of the program you find a way to make it happen.
You get James Laurinaitis involved, while ensuring his presence doesn't rattle the hierarchy or the staff cohesiveness. You get him into the tent because passion and loyalty aren't transient with guys who have trees and plaques in Buckeye Grove.
You get him involved because Ohio State's linebackers are a mess and he's a subject matter expert. You don't let him set up shop with another Ohio State linebacker in South Bend.
It doesn't even matter if Little Animal ends up being a lousy staffer, advisor or whatever trial capacity he could have easily been slotted into. Alabama employs dozens of shadow staffers. If Ohio State has aspirations greater than being the national runners-up, they have to at least mimic that practice. This not only feels like a miss, it feels cursed.
19. Worst Omen
Ohio State has never won a national title the season after winning a bowl game. Ever. Yeah, I know.
20. Nuclear Take
Take a look at the arms and calves on Ohio State's players mid-Urban era, and then look at them now. These teams have the same Strength & Conditioning coach, which is hard to believe. Urban was absolutely obsessed with players looking like weight room aliens.
The number of First Guys Off The Bus has dropped precipitously. I realize this take is blasphemous and my eyes are getting worse with age, but perhaps Postgame Carmen isn't the only tradition that could use a refresher.
I used to think veiny guns on football players was silly, vain and superficial, and then my team started borking backfield tackles by the dozen in every game. My lizard brain can't help but wonder what kind of impact a possibly stale S&C program might have on that.
21. Best Ending
The final points of the season, and the winning points of the Rose Bowl.
Noah Ruggles waved the Utah Utes off the field and out of Southern California like a passive aggressive flight attendant. The Buckeyes allowed 45 points, special teams points, QB sneak points, unconscionably stupid points - and still won the Grandaddy.
And that's how we said goodbye to the 2021 season. There have been many worse endings than this, and only a few better. This one was a lot of fun, and the next one is set up to be special. Only 241 days until that's underway.
Thanks for getting Situational today. Go Bucks. We'll be here throughout the offseason.