Imagine a #RutgersWeek filled with anxiety and hype instead of condescending jokes.
In that universe gaudy point spreads and triple-digit scoring fantasies are a relic from a dark era of Scarlet Knight history. The days of averaging tens of fans at home games are long gone. Packed, scarlet-clad sections of the stadium are cheering for the local team instead of the visiting one.
Alas, in this universe jokes are all we have when The Birthplace™ of College Football - the sport's most cobwebbed uterus - arrives on Ohio State's schedule. Over here antiquated NCAA rules are the only thing that can prevent Chase Young from getting chunks of Rutgers stuck in his teeth.
The 11W STAFF unanimously believes the Buckeyes could STILL BEAT RUTGERS WITH any one of us playing QB.
The staff at Eleven Warriors unanimously believes the Buckeyes could win Saturday with any one of us playing quarterback. We might not cover, but we could win.
If you think that's arrogant, please keep in mind that Ohio State's defense and special teams should outscore the Scarlet Knights on Saturday by themselves. This game shouldn't exist, but thanks to Jim Delany, it does and will take place. So if you're going to the game, please remember to wear red for Stadium Picture Day.
Rutgers - and Indiana - both appreciate your cooperation, always. Let's get Situational!
THE ANNIVERSARY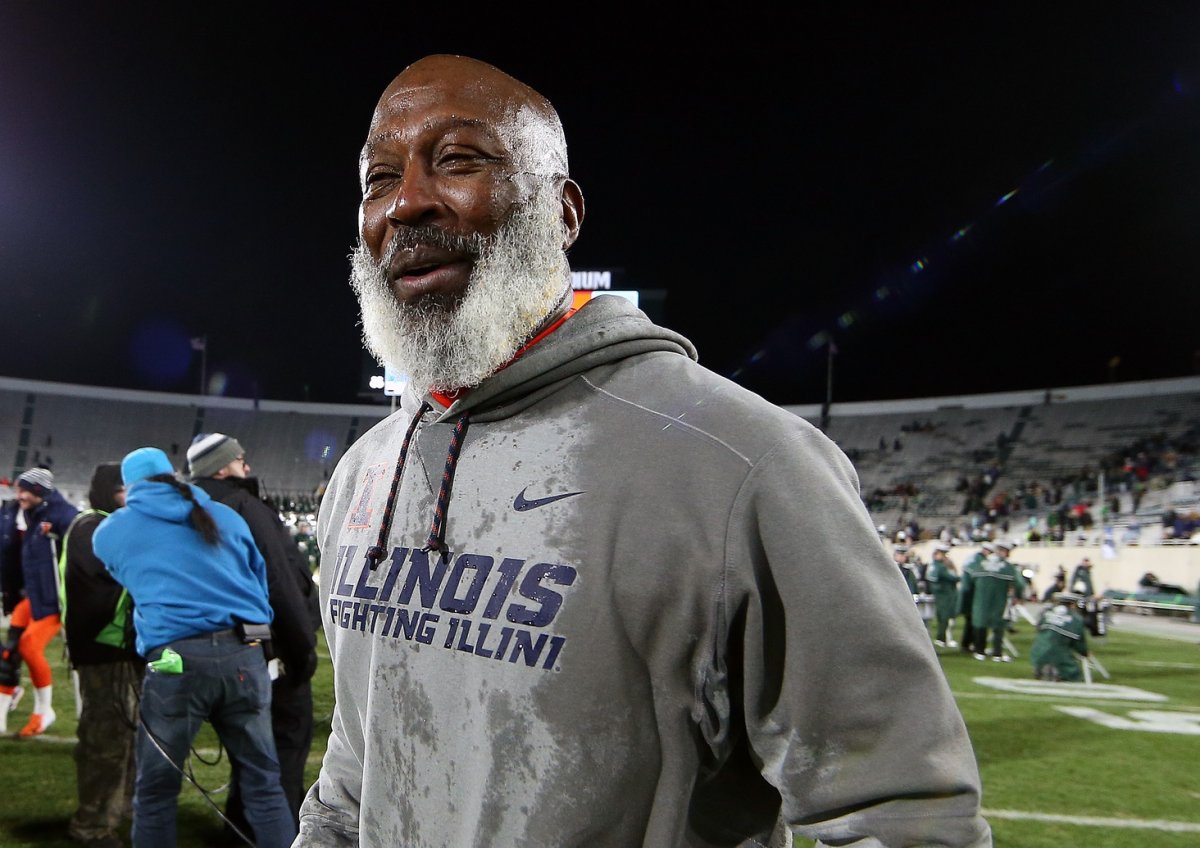 If you haven't heard or noticed the little 150 patches on everyone's jerseys this season, 2019 is college football's sesquicentennial anniversary. This fall tradition dates back to when Rutgers and Princeton played in the first game 150 years ago last week, right down the street from where the Buckeyes will face the Scarlet Knights this Saturday.
A few years prior to college football's conception, the sport of baseball was invented 35 miles away in Hoboken. New Jersey has also given the world valium and air conditioning since then, which almost makes up for Delany giving the Big Ten the gift of Rutgers football. It's bad!
Among the 14 Big Ten teams:
7 are currently ranked: OSU MINN PSU MICH WISC IOWA IND
3 were ranked earlier this year: MSU NEB UMD
1 got a vote this week: ILL
1 won the division last year: NW
1 pulled off last year's upset of the year: PUR
Happy #CFB150 Rutgers

— RedditCFB (@RedditCFB) November 10, 2019
The only shocking part of that tweet is that Maryland was ranked this year. Purdue, which is salvaged from embarrassment here as a result of You Know Why hasn't been ranked in the AP Poll for 12 (!) years.
In other shocking news, the Boilermakers have three wins over the Buckeyes during their AP Poll drought. No program in America has four. So should we take Rutgers lightly? Yes. Let's not get carried away.
THE 1980S SAX SOLO INTERMISSION
We are born into this cruel world naked, cold and helpless. Prior to our expiration dates, we all find ourselves in at least one uncomfortable karaoke situation where neither liquid courage or 8th grade choir memories can save us from public humiliation.
That moment renders us as cold and helpless (slightly less naked, depending on the bar) as we were on Day One. Fortunately, White Wedding exists, allowing anyone who is nervous or tone-deaf to talk and scream through the most primitive lyrics the 1980s had to offer.
But if you've already played the White Wedding card too many times and need a different layup, Never Surrender is available and underutilized. You can make the same contorted Billy Idol face and flamboyant air guitar gestures and - bonus - you can air saxophone your way through the awkward, lyric-less section which will only result in strangers shouting your praises.
Let's answer our two questions.
Is the soloist in this video actually playing the saxophone?
That's Andy Hamilton's music. You might recognize his talented lungs and lips from the works of Duran Duran, Dexy's Midnight Runners, Pet Shop Boys, as part of last week's David Bowie saxophone orgy and George Michael. He's off-camera, but there are things that you guess and things that you know. VERDICT: Yes, it's him.
Does this saxophone solo slap?
Hart plays himself in the video and folks, he's not happy. He's basically Rutgers football. The only people looking upon him fondly are the prostitutes he ignores as he refuses to surrender to the temptation. Then suddenly, Hamilton's sax solo jolts the song from a depression hymn into a triumphant, manic anthem. VERDICT: Slaps like ketamine.
THE BOURBON
There is a bourbon for every situation. Sometimes the spirits and the events overlap, which means that where bourbon is concerned there can be more than one worthy choice.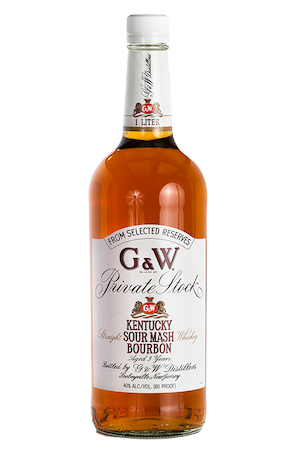 New Jersey may be the birthplace for many indispensable elements of American life, but bourbon isn't one of them. The best whiskey compliment I can give the state I've resided in for the better part of this decade is that outside of Kentucky, it's hard to find a more-stocked pond for bourbon fishing.
If Red from The Shawshank Redemption was a real state instead of a fictitious person, he'd be New Jersey. That said, there are local options, and like tickets to Rutgers football games - they're not expensive or in high demand.
G&W Private Stock has all of the elite exclusivity of a bourbon that retails for $12. Look at the font on the label; you know it's fancy. G&W comes from Laird & Company, known for making Applejack - which is nothing like bourbon - and that should raise your eyebrows. If I had to guess, G&W is the youngest Heaven Hill but white-labeled as G&W Private Stock, which is both sneaky and Jersey as hell.
It is worth the $12. It might be worth $20. It is not worth $25. Think of G&W like a Rutgers football ticket: Is the price worth 30 minutes of watching the understudies from Ohio State's travel roster running three plays in freezing-ish temperatures?
You have a price. We all do.
SAY SOMETHING NICE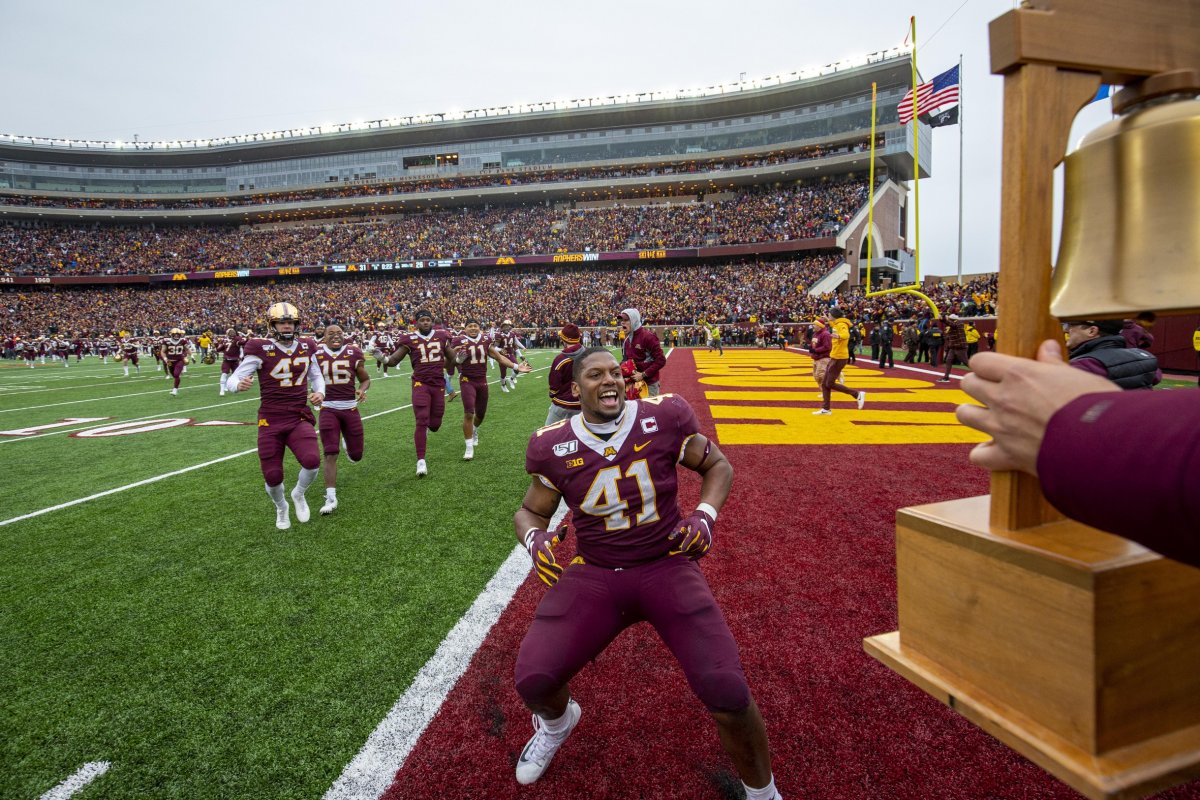 Nebraska, Iowa, Wisconsin, Northwestern and Purdue were all predicted to finish ahead of Minnesota (and Illinois!) in the B1G West at this summer's B1G Media Days.
A little more than three months later, the Gophers are 9-0 for the first time in 115 years.
P.J. Fleck has B1G Coach of the Year all sewn up no matter what Ryan Day's team accomplishes over the next four weeks - and no matter what happens should Ohio State and Minnesota meet in Indianapolis for the conference title game.
It's already a successful season in Minneapolis. Columbus is a slightly different story.
Imagine being picked to finish behind a rival which your program has beaten just about every year you've been alive. Imagine Adrian Martinez being named preseason All Conference QB. Justin Fields has 37 touchdowns, one interception, hasn't faced Rutgers yet and he finishes most games on the bench.
Imagine marinating on this Football Power Index ranking for months - as the two-time defending conference champion - after being left on the CFP's doorstep twice.
Our first Football Power Index ranking of 2019 and @ClemsonFB is in the No. 1 spot pic.twitter.com/evD98i08I1

— ESPN College Football (@ESPNCFB) February 14, 2019
The Gophers are a great story and this sport is built on great stories. The Buckeyes aren't a great story yet. They're still a monster that's been under construction for almost three years. Give it three more weeks. That construction has all been building up to this.
Thank you for getting Situational today. Go Bucks. Beat Rutgers.