One hundred years ago this weekend, Ohio State took down Fielding Yost and the Michigan Wolverines for the first time.
When the 1919 season kicked off, the Buckeyes had been conference champions twice in their history - but they still had never beaten the guys from Ann Arbor.
Chic Harley (the photoshopped ghost looming over the fireworks from the 2019 Michigan State game in the photo above) had led the program to undefeated seasons in 1916 and 1917. The Wolverines weren't on the schedule either time, which, lucky them.
Harley missed the 1918 game serving the country in the first World War, and Michigan won their meeting in Columbus in his absence. He returned to school in 1919, and on October 25th in Ann Arbor Ohio State walked off a football field after playing Michigan as victors - for the first time ever.
Ohio State BEAT MICHIGAN FOR THE FIRST TIME 100 YEARS AGO THIS FRIDAY.
None of the winning Buckeyes received Gold Pants because that custom would not be created for another 15 years. Ohio State entered the game against Michigan on 10/25/19 with an 0-13-2 record in the series. The Buckeyes hold a 51-45-4 advantage since then.
One hundred years and a day later, Ohio State will face Wisconsin in Ohio Stadium, a building that was only constructed after Chic's teams outgrew Ohio Field's meager 20,000 seat capacity. The modern era Buckeyes attract three times that many fans to attend their spring scrimmages - in an off year.

This love affair began a century ago. It's all you and I have ever known. We were born into it.
So happy anniversary, Buckeye Nation. Let's get Situational!
THE WHIFF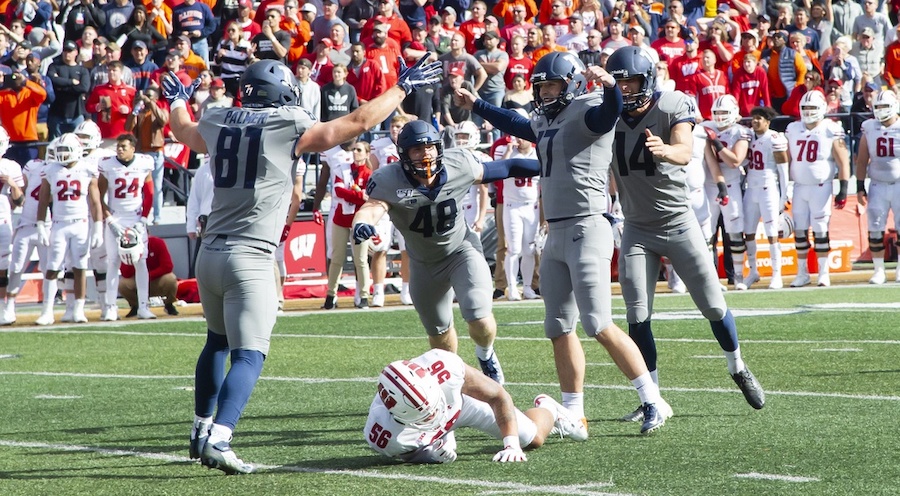 The Wisconsin Badgers traveled to Champaign after enjoying six consecutive pairings with offenses that averaged an SP+ rank of 94th in the country. That's pretty bad. Five of them (in a row!) visited Madison. The comforts of home can create a false sense of security.
By the time their meeting with the Fighting Illini concluded, that SP+ average had jumped to 88th, which is still pretty bad. And they also lost to Illinois, as you've probably heard, a 31-point underdog. This was Wisconsin's worst Vegas setback since 2014, when the Badgers were favored by four against Ohio State in the B1G Championship and proceeded to not cover the spread by 63 points. That was pretty bad the best.
So the Badgers got fat on bad offenses; it happens - that doesn't make them any less formidable of an opponent. They get the Buckeyes next, who currently have two of the top five rushers in the league and the No.1 SP+ rushing attack in the country.
B1G RUSHING LEADERS 10/19/19

| PLAYER | RUSH YDS |
| --- | --- |
| JONATHAN TAYLOR (UW) | 957 |
| JK DOBBINS (OSU) | 947 |
| RODNEY SMITH (MINN) | 786 |
| STEVIE SCOTT (IN) | 553 |
| MASTER TEAGUE III (OSU) | 512 |
| JAVON LEAKE (MD) | 499 |
| ELIJAH COLLINS (MSU) | 492 |
| REGGIE CORBIN (IL) | 479 |
| ZACH CHARBONNET (UM) | 457 |
| ISAIAH PACHECO (RU) | 434 |
The good news for Wisconsin is that the Buckeyes' passing attack isn't the top-ranked unit in the country. It's only 5th. So that average opponent SP+ ranking on the season will jump again following the game this Saturday, further bolstering the Badgers' strength of schedule. That all being said, Ohio State shouldn't allow a setback in Champaign to create a false sense of security. College football has never proven itself to be logical.
THE 1980s SAX SOLO INTERMISSION
If you have ever taken a French class or had a French tutor, you have been immersed in earth's most nasal and finicky language. If you haven't, here's a sample of what you're missing:
PROF: To say hello, vous parlez bonjour

STUDENTS: Bonjour!

PROF: Non. Non. C'est bonjour

STUDENTS: Bonjour

PROF: Non. C'est boh. Boh. Boh. Boh. Boh. Puis, jeeeuuuuuuuuuah. Bonjour.

STUDENTS: bohjeeeeeuuueueeuuah

PROF: Non. Bonjour
This goes on for about a week, until the prof relents and tries to teach a second word, which will also be pronounced well below Francophone standards. Speaking French as a second language to American English with an acceptable accent is like dividing by zero.
Anyway, 32 years ago this week Lost in Emotion hit No.1 on the Billboard Hot 100 singles chart, with a famous French (sic) expression tucked into the refrain: Que será, que será.
The correct expression is que será, será. It means, whatever will be, will be. So Lisa Lisa is saying whatever will be, whatever will be - and does so with the most disrespectful accent possible, which I always assumed was to exact vicious revenge on her snooty high school French prof. Lisa Lisa is a legend and a patriot.
She also pronounces it Kay Sarah Kay Sarah, which if you think about it - is actually two women's names, just like Lisa Lisa, making it one of the most nuanced and meta lyrics in 80s history. The French pronounce it Kay Syrah Syrah but Lost in Emotion isn't really about them, is it. C'est la vie. 
Let's answer our two questions.
Is the soloist in this video actually playing the saxophone?
Our hero is wearing white suspenders with a black t-shirt and has enough Soul Glo drenching his Jheri curl to power the all of the rides at Coney Island for the entire summer. He's also absolutely crushing the sax. VERDICT: Yes.
Does this saxophone solo slap?
Lost in Emotion was engineered for awkward suburban 8th grade dances, with its tepid PG-13 sex appeal and a sax solo built for dancing close, but not too close. Chaperones are on the prowl. VERDICT: Slaps, and is home in time for curfew.
THE BOURBON
There is a bourbon for every situation. Sometimes the spirits and the events overlap, which means that where bourbon is concerned there can be more than one worthy choice.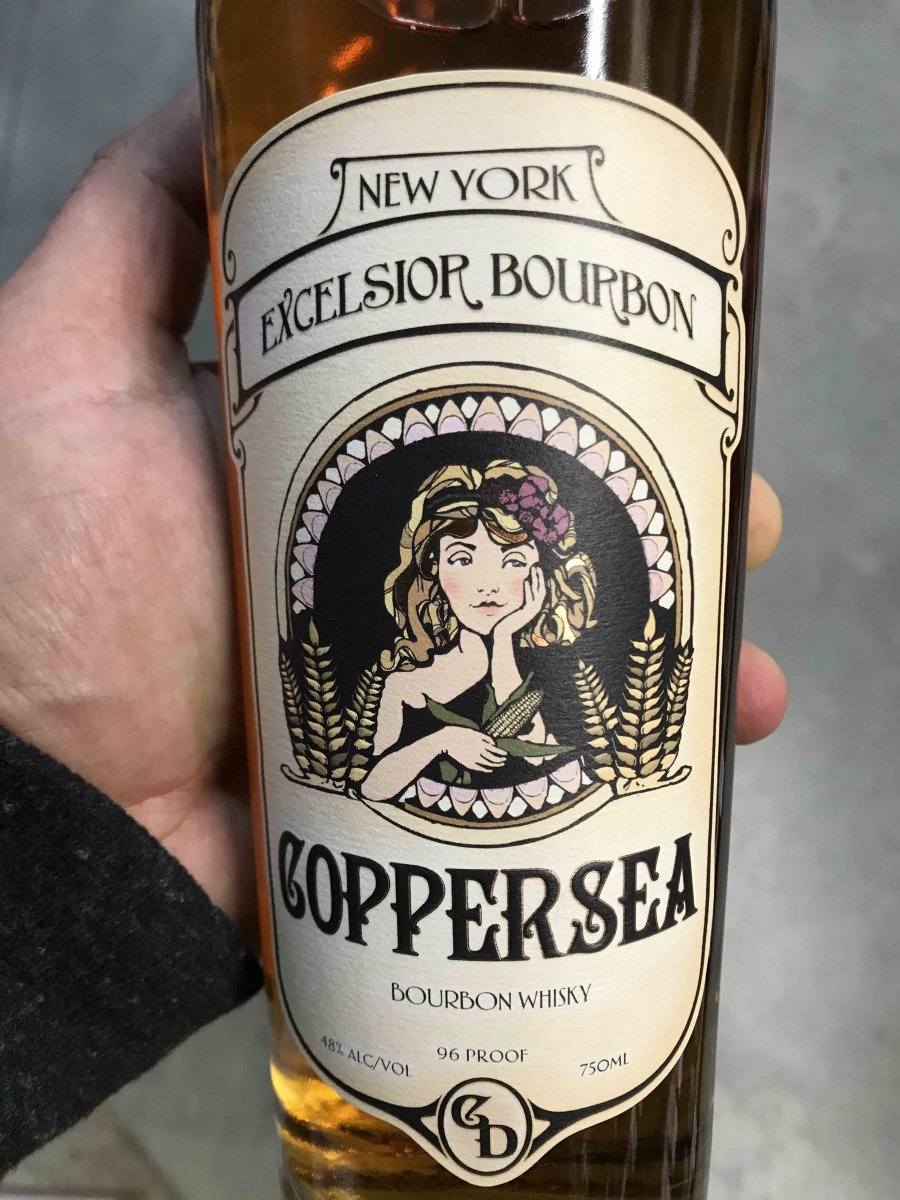 If you're a sucker for hipster-ass storytelling bourbons that drip with authenticity, Coppersea is going to check every one of your boxes. It even mildly participates in the vanity-driven arbitrage that has become a sport of sorts for bourbon hunters: it should retail at just under $80 but the bottle pictured in my hand to the right was being offered at the tasting I recently attended for $120.
The extra $40? That's the upcharge for feeling special. Look what I got.
Coppersea is one of the many worthy New York bourbons on the market, with everything in the bottle - and the barrel itself - being born, bred and distilled in the Empire State, which as we've all known since 2014 is Big Ten Country™. It's a hot one at 60% corn, 30% rye and 10% malted barley - the last of which germinates on one of just five malting floors in the United States (hipster box: check check check check check check). 
It's a very young bourbon, which is evident by grains you can still taste - they haven't spent enough years swimming around in the charred oak to gather the complexity you experience with, say, the six-year olds we discussed in this space earlier in the season. Why go young? Two reasons - 1) variety; it's differentiation in a product class that thrives on it, and 2) shorter aging is less expensive with a quicker time-to-market and less Angel's Share. That's how time works.
Coppersea is a fun, unique experience with an interesting backstory. If you see it at $75, pick it up. You're already special enough.
SAY SOMETHING NICE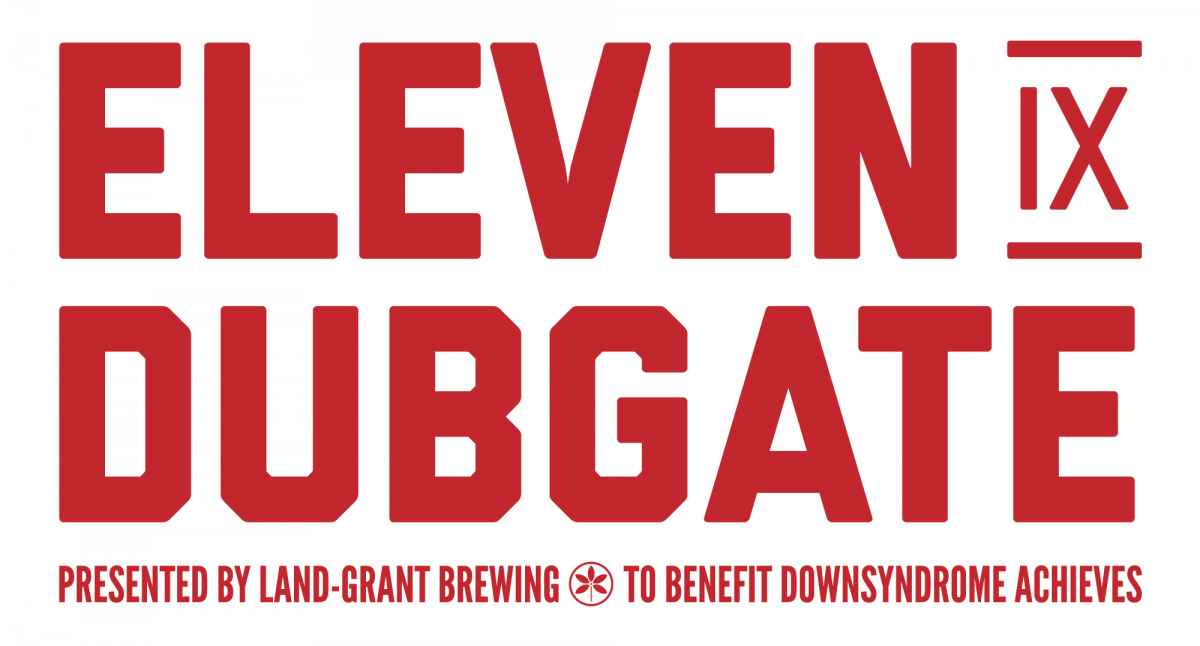 Saturday we're paying forward, as we do with our readers annually.
We're also going to over-consume calories, knock down a bunch of delicious beverages, chat about our favorite football team, create some palpable pregame energy together and likely hear the torrid, romantic backstory behind Kevin's love affair with Arby's.
All of the pertinent details can be found here. If you like any one or all of the following: the Buckeyes, the Badgers, delicious food, soft t-shirts, beer, whiskey, this web site, this web site's patrons, paying forward, having fun while creating tax deductions for yourself - then great news, the Eleven Dubgate was created for you. Hope to see you Saturday!
Thank you for getting Situational today. Go Bucks. Beat Wisconsin.