The Buckeyes are 6-0 for the seventh time this decade.
This is one of nice those things we are allowed to take for granted, since Ohio State clearing the top half of its schedule is about as predictable as San Diego weather. If this time feels oddly familiar, Urban Meyer's first season in Columbus also included Miami-OH, a non-Big Three Florida team and mildly intimidating showdowns with both Michigan State and Nebraska among the first six games.
That year, UCF, Sparty and Corn all reached double-digit wins. The schedule didn't seem like much at the time, but it proved itself upon completion. That could happen again - here are this year's opponents minus their unfortunate meetings with the Buckeyes.
BUCKEYE OPPONENT WATCH 2019

| OPPONENT | W/L | SP+O | SP+D |
| --- | --- | --- | --- |
| FAU | 3-1 | 67 | 85 |
| Cincinnati | 4-0 | 75 | 30 |
| @ Indiana | 3-1 | 27 | 39 |
| Miami | 2-2 | 115 | 105 |
| @ NEbraska | 4-1 | 34 | 52 |
| Michigan State | 4-1 | 56 | 6 |
Top half of the schedule has an impressive 20-6 record away from Ohio State; 20-12 all-in. The back half - which includes two bye weeks and a Rutgers - will bring an elevated degree of difficulty.
BUCKEYE OPPONENT WATCH 2019

| OPPONENT | W/L | SP+O | SP+D |
| --- | --- | --- | --- |
| @ Northwestern | 1-4 | 125 | 8 |
| Wiisconsin | 5-0 | 16 | 4 |
| Maryland | 3-2 | 51 | 34 |
| @ Rutgers | 1-4 | 106 | 70 |
| Penn State | 5-0 | 10 | 16 |
| @ Michigan | 4-1 | 66 | 2 |
Bottom half is 19-11, featuring two tire fire offenses and four PITA defenses. Comparatively, the Buckeyes' O is 5th nationally and the D is 3rd. If these games were played on paper you might be able to make yourself a little more comfortable. Danger always lurks in reality.
Bye weeks are just tiny offseasons tucked into God's season. Let's get Situational!
THE MONSTER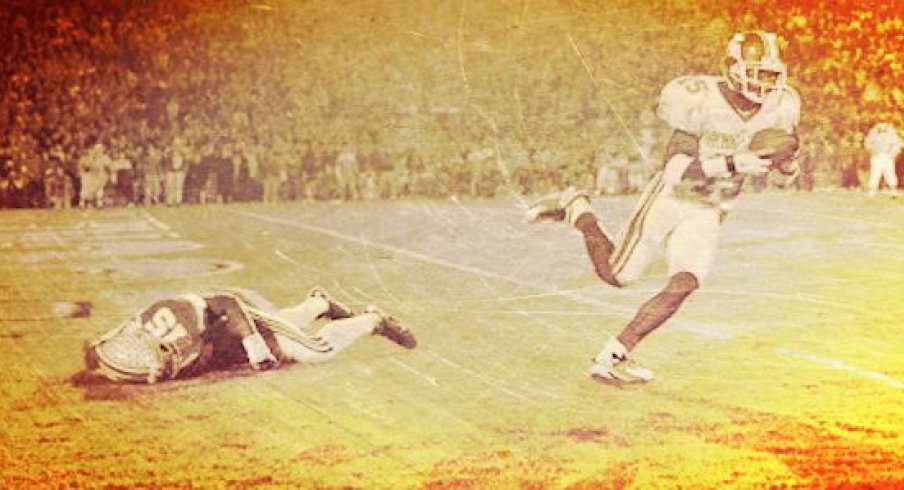 The 1998 season is old enough to drink this year, which means it can now join the rest of us who experienced it at the bar whenever we mourn over how it transpired. Its illegitimate son, the 2015 season, is just getting out of pull-ups.
This 2019 season is shaping up to be Frankenstein's monster; an amalgamation of various memorable campaigns. No one expected that 2015 one to lose, but it putzed around until it finally did. The 2014 one morphed into a powerhouse after Virginia Tech humbled it with a double-eagle front that it only solved after it had lost. On Saturday, Ohio State solved a similar wrench the Sparty defense threw at it - but early in the 2nd quarter instead of the following Tuesday.
Ryan Day's debut path has closely mirrored Urban's from 2012 thus far, albeit without a postseason ban cloud. Our 21-year old 1998 season produced double-digit wins exclusively and led Sparty 24-9 (with the ball! After halftime!) before allowing 19 straight points to end the game. No other team scored over 17 total against Ohio State that season. Bartender, we'll have another.
Can't build a monster without a cautionary tale. Happy birthday, 1998. Please drink responsibly.
THE 1980s SAX SOLO INTERMISSION
To the eternal dismay of male American sportswriters over 60, Bruce Springsteen has never had a No.1 song, and it's important to remind them of that whenever possible. As a male American sportswriter from a younger generation, I will tolerate no Bruce slander - but I grew up in an era where trash talk is revered and thusly appreciate the banter. Bruce is a legend.
Back in 1984 the Boss was instructed to pen an apolitical radio-friendly lead-off single for his upcoming Born in the USA album, which was otherwise an open critique of the American dream. Springsteen - in true artist form - reluctantly and angrily banged out Dancing in the Dark in a single evening.
His label listened to the rough cut, read the lyrics and made only one edit to it. The opening line originally was I get up in the morning. They had Bruce add ~12 hours to his wakeup time, which altered the trajectory and mood of the story. Somehow, Bruce has never had a No.1 song. He has one No.2 one though, and this turned out to be it.
Let's answer our two questions.
Is the soloist in this video actually playing the saxophone?
The late Clarence Clemons does the honors here, while Springsteen inadvertently creates the 1990s sitcom Friends by pulling then-anonymous Courtney Cox onto the stage. Side note - back in the summer of 2011 I pulled up to the DMV to get my first New Jersey drivers license after being relocated from Ohio, and saw the flag outside was flying at half staff.
I went inside, filled out the paperwork and asked about the flag. The lady at the desk solemnly looked at me over her glasses and said, "the Big Man passed away." I thought she meant then-governor Chris Christie. It was Clemons. Christie had ordered all flags to be lowered. Yeah, the Big Man is playing the sax on Dancing in the Dark. He's still playing the sax.
Does this saxophone solo slap?
It feels wrong to dignify this question, but rules are rules. VERDICT: Slaps.
THE BOURBON
There is a bourbon for every situation. Sometimes the spirits and the events overlap, which means that where bourbon is concerned there can be more than one worthy choice.

The Buckeyes will sit at 6-0 for two weeks, taking in some much-needed rest and recovery while preparing for a two-week run at the remaining B1G West opponentry. After that, they'll take another week off to finalize their closing argument for B1G East supremacy.
Six is an interesting number in the whiskey world. Straight bourbon is required to be aged for two years, which is, appropriately, also referred to as young bourbon. Age labeling is required to refer to the youngest bourbon in the blend, so if a 20-year bourbon and a three-year bourbon are combined (I've never heard of this; we're exaggerating a hypothetical) then you'd be drinking a three-year bourbon.
Four years is bourbon's demarkation for being carded, which means any juice four or younger is required to show its age. Bourbons that sit in barrels for longer than four years earn the right to be shrouded in mystery, kind of like how it's impolite to ask a lady her age.
As we've discussed for years, mash bills can be explicit or secretive - we know they're 51% corn; the rest is ambiguous. So the rules around bourbon are clear but also allow for some gamesmanship. Bourbon is a storyteller, and the six-year olds are wise beyond their years.
In 2018 we lost one of the more humble six-year olds in the whiskey world with the passing of Heaven Hill's bonded product which (to my knowledge) was never exported out of its home state of Kentucky. For $20 you could get both a decent bottle of bourbon that played by all of the rules and was comfortable revealing its age - along with some change (!) to spare. The last bottle I bought in Lexington cost $17 off the shelf.
A year ago Heaven Hill announced it would no longer be producing this meager moneymaker, which is kind of a parallel to why you rarely see games like Caribbean Stud in casinos anymore - an activity you can participate in for 12 hours and only be up or down $50. Casinos would rather use that space to make more money, as bargain bourbons occupy valuable real estate and supply chain resources better spent on product with a higher gross profit. 
HHBIB6 was like drinking a lemon poundcake. There was nothing subtle about the citrus, vanilla or buttery taste to it, and it was always a novelty to enjoy something so adequate and yet so damn cheap. I'm forced to speak of it in the past tense, as I exhausted my last remaining supply earlier this year.
Predictably, Heaven Hill didn't leave the hole in its portfolio open for very long. It recently announced that it was releasing HHBIB7, which will cost three times more than its younger, sunsetted predecessor. Bourbon, however caramel or tan it may appear, is actually always green on the inside.
SAY SOMETHING NICE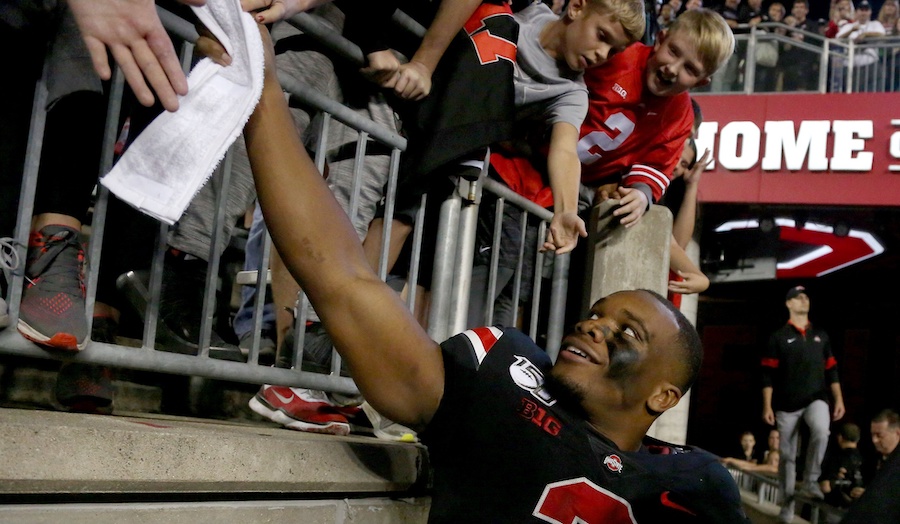 Six games ago I was asked to predict what kind of a season JK Dobbins would have as a junior, which in the Meyer era was known as an NFL contract year for Ohio State's three-year regulars.
Five years ago, Ezekiel Elliott put several hundred exclamation points on his 2014 season. Zeke has his first-ever 200-yard rushing game in the B1G championship, his second in the Sugar Bowl and his third in the inaugural CFP title match. That production over the final three games sharply skewed his yards-per-carry average. We made a shirt celebrating it.
I thought about Zeke when asked that question about JK - and let this be a reminder that cautious optimism is the weakest of sauces:
 I expect (JK) to have a Zeke-type 2014 season, which means the production will be fine and he'll still finish outside of All-B1G 1st team honors behind Jonathan Taylor and Anthony McFarland Jr, the same way Zeke couldn't overcome Tevin Coleman and Melvin Gordon during the Buckeyes' title year.

...

JK only needs to be fine in this offense. If he builds up to a crescendo like Zeke did at the end of 2014, hey cool.
The crescendo arrived juuuuuuuuust a bit earlier than expected.
Here's JK's ground production through six games and three top-40 defenses.
JK DOBBINS RUNNING TOWARD HISTORY

| GAME | ATT | YDS | AVG | TD | LONG | NOTE |
| --- | --- | --- | --- | --- | --- | --- |
| FAU | 21 | 91 | 4.3 | 1 | 17 | Game was over early |
| CINCINNATI | 17 | 141 | 8.3 | 2 | 60 | Game was over early |
| @ INDIANA | 22 | 193 | 8.8 | 1 | 56 | First signature play |
| MIAMI-OH | 8 | 52 | 6.5 | 1 | 26 | Game was over early |
| @ NEBRASKA | 24 | 177 | 7.4 | 0 | 26 | Game was over early |
| MICHIGAN STATE | 24 | 172 | 7.2 | 1 | 67 | Second signature play |
Dobbins gets spelled by Master Teague III, who is averaging almost a full yard less per carry. For those of you doing the math at home, that comes out to 6.3 Yards and a Cloud of Dust when the backups are running things.
Thank you for getting Situational today. Go Bucks. Beat the Bye Week.