Imagine treating Ohio State like any other game on the schedule.
It would be a mystifying strategy for coaches, the only motivational speakers on the circuit who wear whistles around their necks. Consider that for most of their professional lives - during the season, during the offseason, as public figures, as football nerds - they're forced to manufacture synthetic adrenalin and inspiration that moves giant teenagers or entitled fans to care more.
When the schedule gifts you the natural stuff, you don't just take it. You grab it, inhale it and pass it around the locker room and campus until kickoff, because you're going to need every dose of it to produce the story you'll be telling unborn grandchildren about in a few decades. Big games are treasure for coaches.
Ohio State doesn't beg to be treated like a big game. It requires it. Running away from the enormity of facing the Buckeyes is the surest recipe for losing to them, badly. They are not a normal opponent. They have not been a normal opponent for a long time.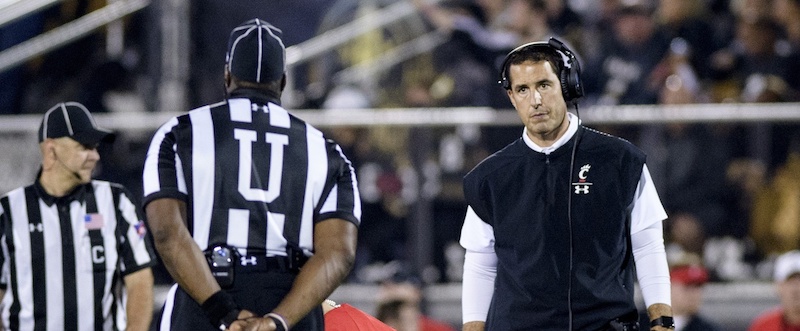 College coaches are tasked with getting maximum results out of an amateur labor force. Have you ever met a teenager who has always been bigger or faster than everyone else? By the time they get the college they're accustomed to constant adulation and not having to try as hard to still be better than most everybody.
Entitlement is the defining non-injury, non-academic reason that can't-miss recruits end up missing, which makes authentic, emotional motivation the most precious resource in college athletics. And yet Luke Fickell went out of his way to blunt the natural adrenalin that coaches earn millions of dollars working tirelessly to artificially manufacture. Nope, we're going to make Ohio State into just another game.
John Cooper inexplicably turned the greatest rivalry in sports into a trap game for Ohio State.
Ohio State is bigger, faster, better and more talented than Cincinnati. No second-shelf program is going to X and O its way around long enough to win, so those teams need a little special sauce to have a shot at the upset. No one respects Fick more than I do but the second I saw him trying to sequester his emotions about returning home I had a flashback to when we were both at Ohio State:
When his college coach used to psyche himself out.
By routinely referring to Michigan as just another game. 
A game he almost always lost.
A game that defined his legacy.
A game he entered with equal or superior talent for at least half of his tenure.
Natural emotions are currency. Big games are a gift. Coop inexplicably turned the greatest rivalry in sports into a trap game, and one of his best and most emotional players - despite coaching under both of Coop's permanent successors - followed Coop's self-defeating emotional strategy heading into last Saturday.
As you saw, it went a lot worse for UC than should have. The Bearcats brought no sauce into the Horseshoe and left humiliated. Indiana isn't doing that, because there isn't a single team that has beaten Ohio State over the past 30 years that did so by treating the Buckeyes as just another game.
Which means unlike the Bearcats, the Hoosiers might have a shot. Let's get Situational.
THE CROSSROADS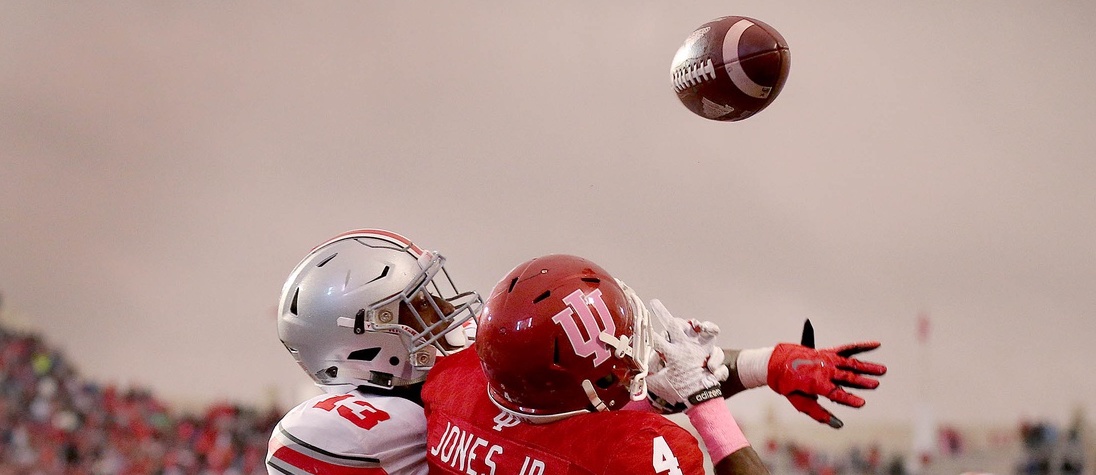 The state of Indiana has been nothing but a basket of emotions. Last ten roadies:
THE HOOSIER STATE IS FULL OF DREAMS AND NIGHTMARES

| YEAR | LOCATION | OPPONENT | RESULT | EMOTIONS? |
| --- | --- | --- | --- | --- |
| 2018 | INDIANAPOLIS | NO.21 NORTHWESTERN | W 45-24 | B1G CHAMPS! |
| 2018 | WEST LAFAYETTE | PURDUE | L 49-20 | ENDED PLAYOFF HOPES |
| 2017 | INDIANAPOLIS | NO.3 WISCONSIN | W 27-21 | B1G CHAMPS! |
| 2017 | BLOOMINGTON | INDIANA | W 49-21 | ESPN COLLEGE GAMEDAY |
| 2015 | BLOOMINGTON | INDIANA | W 34-27 | IU COULD HAVE WON |
| 2014 | INDIANAPOLIS | NO.11 WISCONSIN | W 59-0 | B1G CHAMPS! |
| 2013 | INDIANAPOLIS | NO.10 MICHIGAN STATE | L 34-24 | ENDED BCS TITLE GAME HOPES |
| 2013 | WEST LAFAYETTE | PURDUE | W 56-0 | ENDED LOSING STREAK IN WL |
| 2012 | BLOOMINGTON | INDIANA | W 52-49 | IU COULD HAVE WON |
| 2011 | WEST LAFAYETTE | PURDUE | L 26-23 OT | BEGAN 4-GAME LOSING STREAK |
Ohio State could conceivably be 5-5 or worse in its last ten visits into America's rest stop.
Almost losses still count the same as wins, but emotions and playoff committees are fickle things. If we've learned anything since that 59-0 romp in Indy, it's exceeding expectations while winning more demonstratively than you were expected to is the precious postseason-seeding capital the Buckeyes have consistently failed to accumulate.
Humiliating the Bearcats was a good start. But it needs to be the beginning of a larger trend.
THE 1980s SAX SOLO INTERMISSION
While 1980s music is fondly remembered for being fueled entirely by cocaine its passionate mid-song saxophone appearances, Careless Whisper cut right to the chase by leading off with one. This was the 80s equivalent of skipping the small talk, the awkward dinner, clumsy couch foreplay and sprinting directly toward the bedroom swing.
Let's answer our two questions.
Is the soloist in this video actually playing the saxophone? 
The sax chops here are handled by Steve Gregory, who was also responsible for the sax solo in the middle of the Stones' Honky Tonk Woman. Alas, he doesn't make an appearance - which allows us to focus entirely on the story of a music video that its own producer John Roseman later described as "a fucking disaster." That's good, right? 
Does this saxophone solo slap?
It really doesn't, but it's not Gregory's fault. That said, guilty feet have got no rhythm is a choice lyric worthy of any fortune cookie.
THE BOURBON

There is a bourbon for every situation. Sometimes the spirits and the events overlap, which means that where bourbon is concerned there can be more than one worthy choice.
One of the worst-kept secrets in bourbon is that a whole bunch of the stuff which claims to hail from Kentucky - not a necessary component of authentic bourbon contrary to popular belief, but a marketable one directly because of that - actually has roots in Southern Indiana. 
For you non-geography enthusiasts, Southern Indiana is right over the KY border. It's a short swim across the Ohio River.
Indiana's position in the bourbon supply chain is largely due to MGP, which has carved out a lucrative business by taking on product development obligations from commercial entities (I apologize for that paragraph, but it was necessary). Bourbon only has to be made in America.
Kentucky is in America. Indiana is also in America. Authentic bourbon not only can come from Indiana, a lot of authentic bourbon technically comes from Indiana.
Borden, IN is an hour and a half southeast of where the Buckeyes will be playing on Saturday. It's more in Kentucky's cultural orbit than Indiana's largely because of its proximity to Louisville - but also because it's home to one of the most authentic and affordable single barrels on the market today.
The Starlight Distillery makes a whole bunch of stuff in addition to the juice pictured to the right. Its single barrel mash goes 50s/20s/20s/rounding error | corn/rye/malted barley/wheat, which makes it minimally sweet and maximally hot. One sip and your nose hair will feel like Chase Young is swinging off of it. If not for the scant amount of wheat, you might get sacked.
Speaking of young, Starlight is in the Barely Legal category of bourbons because it spends no more than exactly the amount of aging time required to be considered a bourbon (aged two years, 51% corn, in charred oak, in America). That's what gives it the lighter color you can notice in the neck of the bottle; more time in the charred oak gives bourbon darker characteristics.
So from a tasting experience, it's a little puckered - an ice cube is your friend in helping you taste more of it. Fruity on the front end while blasting out where your tonsils used to be on the finish. Imagine an apricot upside-down cake filled with Cinnamon Altoids. 
If that sounds tasty, build in time for a distillery tour before you head home from Columbus West.
SAY SOMETHING NICE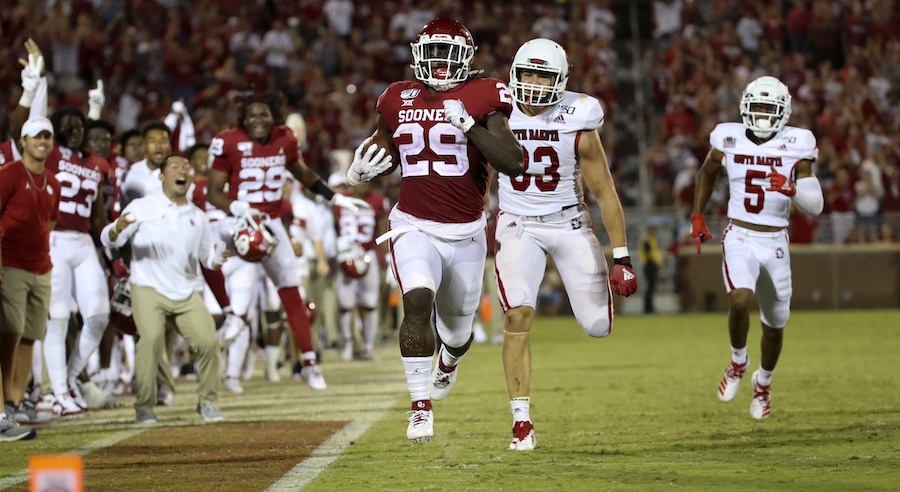 Earlier in the broadcast, we said:
Natural emotions are currency. Big games are a gift. 
Big games are the ones we fantasize about in June in the throes of withdrawal. They're the reason for this season; the rest of it is palatable filler dominated by tailgating and conjecture.
The reason ESPN College Gameday isn't coming to Columbus for the Miami game next weekend is because it rightfully seeks out the big game gift of that week to capture the essence of the sport.
So pour one out for Oklahoma and Clemson fans in their joyless slog to their respective conference championships games.
Currently ranked opponents left on the regular season schedule:

Ohio State 5
Georgia 4
LSU 4
Notre Dame 4
Alabama 3
Utah 3
Oklahoma 1
Clemson 0

— Peter Burns (@PeterBurnsESPN) September 10, 2019
Oklahoma gets a Texas defense (probably twice, again) that just allowed seven trillion passing yards over the weekend to LSU, and that's the only ranked opponent left for half of last year's playoff foursome.
They're both great teams, regardless of whom they're facing. But instead of being gifted with big game anxiety and compensation by way of emotional currency for the next two-and-a-half months, they're just waiting for December to arrive.
An entire college football season will be played without them contributing anything of real value, leave for the Red River Rivalry. Please keep Oklahoma and Clemson fans in your thoughts.
Thank you for getting Situational today. Go Bucks. Beat Indiana.