You remember the last time you saw Lane Kiffin.
It was in New Orleans. January 1, 2015. That was a fun evening.
But let's revisit that one harrowing sequence of events which led to our defining and most recent glimpse of Kiffin, then serving out an image rehabilitation stint as Alabama's offensive coordinator. When it comes to the 2015 Sugar Bowl, we're very good at reliving an 85-yard run in the 4th quarter, as it is one of Ohio State's Forever Plays.
However, this sequence earlier in that quarter...we've put that behind us. Let's go back!
EVERYTHING IS (TEMPORARILY) TERRIBLE: JAN 1, 2015

| TIME | DOWN | SCRIMMAGE | RESULT |
| --- | --- | --- | --- |
| 11:10 4Q | 1ST & 10 | OSU 9 | JONES SACKED BY PETTWAY |
| 10:35 4Q | 2ND & 15 | OSU 4 | ELLIOTT 2-YD RUN |
| 10:05 4Q | 3RD & 13 | OSU 6 | JONES INCOMPLETE PASS TO D. SMITH |
| 10:03 4Q | 4TH & 13 | OSU 6 | DELAY OF GAME - OSU |
| 10:03 4Q | 4TH & 16 | OSU 3 | FALSE START - OSU |
| 10:03 4Q | 4TH & 17 | OSU 2 | JOHNSTON 21-YD PUNT TO OSU 23 |
It's hard to find a sequence in football at any level where the offense was held or lost yardage on six consecutive plays in a single drive, let alone an offense that had players from the 2014 Ohio State offense on it, but here we are and there we were.
Cam's punt from the back of the endzone had some vicious English on it, giving the Crimson Tide a healthy return without having a player touch the ball. The respective special teams units trotted off the field, and Alabama's offense took over on the edge of the red zone down by 7 with all of the momentum in the world.
We last laid eyes on Kiffin on the following play. We haven't seen him since.
Kiffin began celebrating a touchdown that would never arrive, prior to Blake Sims planting his feet. Vonn Bell diagnosed it from jump street and gave the Buckeyes the ball back, deep in their own territory again while preventing Alabama from even getting a field goal out of it.
Here you can see Kiffin prematurely celebrating, behind the best and most unguardable receiver in college football - whom he assigned to be the decoy in this masterpiece playbook entry.
He used Amari Cooper as a decoy in the Sugar Bowl. Speaking of harrowing sequences of events in New Orleans we've tried to forget, that decision was almost as bad as using Beanie Wells as a decoy in the Sugar Bowl (we won't revisit this - not today, not ever).
A year later Kiffin was in Dallas preparing to take on the team Ohio State handed its 2015 destiny season to Michigan State in the CFP semifinal when he took a valid swipe at the Buckeyes' objectively puckered and failing game plan against the Spartans:
Kiffin mentions Michigan St faced Ezekiel Elliott. "Hopefully we give the ball to Derrick more than they did. ... Kidding. That's a joke."

— Stewart Mandel (@slmandel) December 27, 2015
We could have been blessed with a Sugar Bowl rematch in the Cotton Bowl, but instead the Buckeyes were sleepwalkdozing the Fighting Irish in Glendale in the first of three-out-of-four seasons with Ohio State stuck on the playoff doorstep, relegated to the Consolation Bowl.
And Joey Freshwater got the last and still most-recent laugh. Until Saturday arrives.
Kiffin will be back on the wrong sideline for the Buckeyes' home opener, and at risk of prematurely celebrating: his team is going to lose. Who knows if or when we'll see him again after that, and frankly - who cares.
Oh, hello Game Week. Let's get Situational!
THE ALIAS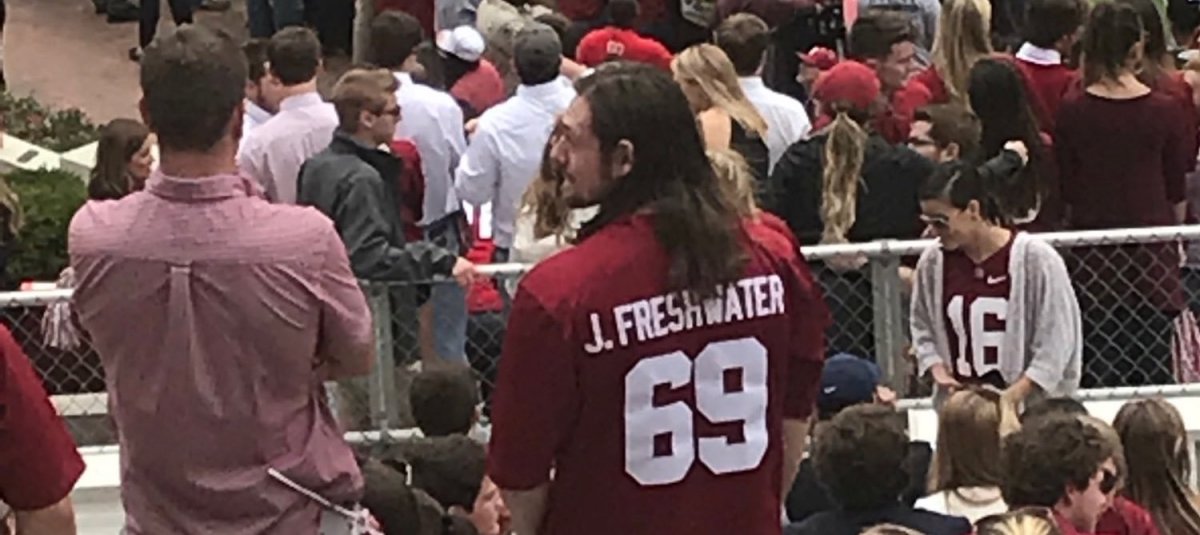 You might not be #online enough to recognize the meaning or purpose of Joey Freshwater appearing in this space with Kiffin coming to town, so here's a brief summary. This is too important for Saturday's game prep to not know. Entire backstory sic'd:
My friend was in a Tuscaloosa bar about 6 moths ago and saw Kiffin there. Kiffins proceeded to hit on one of his friends under the alias "Joey Freshwater". My friend knew it was Kiffin though and called him out on it, but he kept claiming "he gets that a lot". "Freshwater" ended up getting shutdown by the girl (I guess she wasn't in to guys twice her age) and goes to try his luck somewhere else. I have been waiting a long time to tell the legend of "Joey Freshwater" and now seemed like the perfect time since he was found cheating.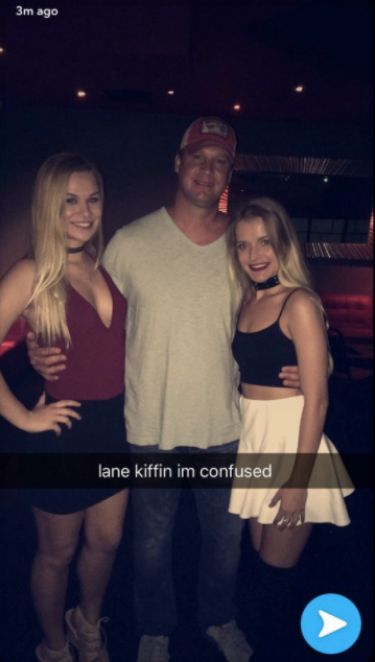 Many years ago I lived in Chicago and had a friend whose bar identity was Johnny Goodspeed. Johnny, usually slurring, would earnestly claim to be a marine biologist at the Shedd Aquarium whose childhood dream was to become a dolphin trainer. It was a reliably engaging story for his audiences, and the fact that half the name was borrowed from an actual Notre Dame football player in a city within Fighting Irish orbit almost made it believable. Johnny retired from the hustle long before his half-namesake did from the NFL.
You can pull a stunt like this when you spend your anonymous days head-down in a cubicle jungle working for a corporate overlord in a city of 8 million inhabitants. But when you're already football-famous in a place like Tuscaloosa, Alabama - the degree of difficulty is much higher.
The Joey Freshwater episode reminded me of the time that current Michigan State Associate Head Coach Dane Fife, then an IU basketball starter, was arrested for using a fake ID in Bloomington, Indiana. That's a town where the locals memorize IU basketball players' birth dates and middle names without being pressured to.
The police officer who arrested Fife for masquerading as someone else had his suspicions aroused when he *checks arrest report* looked at him. Anyway, I don't care if the Joey Freshwater story is real or not. It will always be real to me.
THE 1980s SAX SOLO INTERMISSION
Hall & Oates were are usually the coolest guys in the room. They are not Wearing Sunglasses in a Dark Vacant Room cool, however. That is a rarified coolness designation typically reserved only for blind musicians, and for their dark vacant room guest in this 80s artifact.
In this case both Hall and Oates are tied for the least cool guy in the room because they're sharing it with Charles DeChant, whose nickname the past for five decades has been Mr. Casual. Few nicknames outside of the NBA can compete with Mr. Casual. Raymont Harris (aka Quiet Storm™, aka UltraBack™) is allowed into the conversation. Frank "Chairman of the Board" Sinatra is on this level. So is Betty "Betty White" White. We are in the presence of greatness.
Let's answer our two questions.
Is the soloist in this video actually playing the saxophone? 
Yeah. Chuck is playing the shit out of it. Hall & Oates aren't playing anything, though.
Does this saxophone solo slap?
We are willing prisoners of Mr. Casual's effortless, equilibrium coolness. Yes.
THE BOURBON
There is a bourbon for every situation. Sometimes the spirits and the events overlap, which means that where bourbon is concerned there can be more than one worthy choice.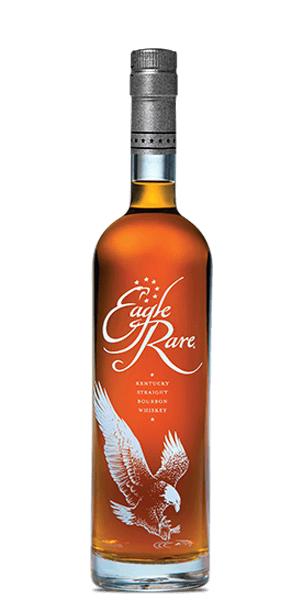 Florida Atlantic is going to leave Ohio Stadium $1.4MM richer, which is Run Up The Score money (conversely, Cincinnati is getting a million less than that next weekend). FAU - which I'm told is pronounced Fow - is located in Boca Raton, near the southern tip of America's tribute to tackiness and grift.
The town's name translates to mouse mouth; a charming homage to the 50 million people who died during the Black Death when fleas hitchhiking on rodents wiped out 60% of the world's population. Fortunately for our visiting friends from Fow this weekend as well as our flea-bitten ancestors from centuries ago...there's a bourbon for that. 
Eagle Rare comes from the Buffalo Trace distillery, and it's one of the best value bourbons on the market in that the retail price, availability and overall experience are all great, great and great. If you cannot find it near you, blame the liquor distribution cartel that has your area on lockdown.
Buffalo Trace is big on mash bill mystery, but it's widely believed that a) BT uses two primary mash bills for all of its bourbons - Mash Bill #1 or Mash Bill #2, and b) Eagle Rare comes from Mash Bill #1. It is a low-rye recipe.
Even if you didn't just read that, putting your face in a glass of Eagle Rare spills that detail very quickly. Rye means heat, and this bourbon has none of it. It's sweet, light and subtle, like a fig tart. Note that we're discussing the 10-year here, and not the BTAC version of Eagle Rare, which, yeah that one is harder to find and lives up to its last name.
We could have avoided the whole bubonic plague if eagles (or Owls, damn it Fow) would have just run the damn ball through Europe. Hindsight is always 20/20, and Eagle Rare is always a sensible choice.
SAY SOMETHING NICE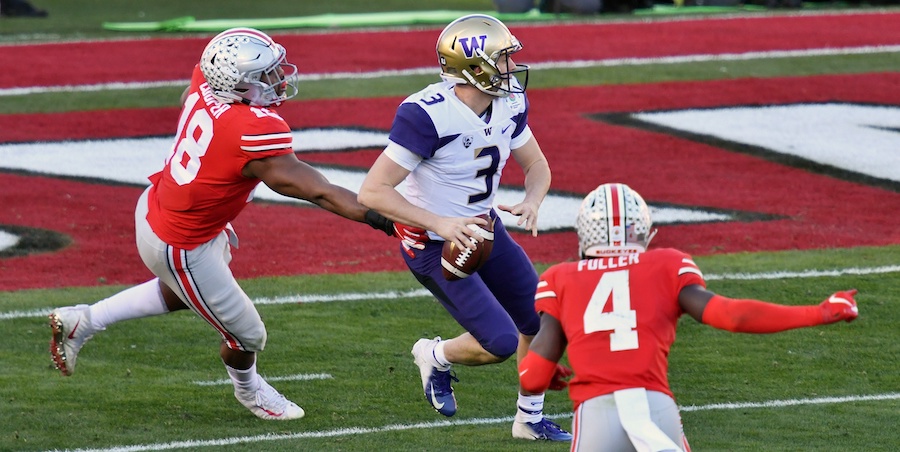 Ohio State's defense looked confused more often in 2018 than it looked confident.
Whenever there's a Buckeye unit that doesn't perform up to our absurd expectations, we dive into an accelerated Kübler-Ross progression straight to the bottom of our feelings, and that's exactly what happened with the unit that couldn't get out of its own way last season:
DENIAL​

There's no way the defense sucks this much

ANGER

​Millions on assistant coaches, a roster filled with blue chips and the defense still sucks this much

BARGAINING

​Haha fortunately Iowa isn't on the schedule this year, we might be okay

DEPRESSION

​Ah right, Purdue is on the schedule this year

ACCEPTANCE

​We went 13-1, won the Big Ten, humiliated Michigan and won the Rose Bowl with a defense that sucks this much
Nine seasoned starters return from that defense, along with the only assistant who required retention. After [NAME REDACTED] rushed for 313 yards against the Buckeyes in 1995, John Cooper made sweeping coaching changes that produced a defense which allowed 9 points a game in 1996 with largely the same personnel.
 If Ohio State's best rush end can avoid a season-ending core muscle injury in 2019, the floor for this unit is Average Pain in the Ass Defense. That's good enough to reach the Final Four.
On the other side of the ball, Dwayne Haskins was a generational passer - and he's now a millionaire somewhere else. Do you know how much more scoring production he brought to the team, compared to 11-year maligned but destined for the College Football Hall of Fame starter J.T. Barrett?
POINTS SCORED IN 2017: 576
POINTS SCORED IN 2018: 593
POINTS ALLOWED IN 2017: 266
POINTS ALLOWED IN 2018: 357
Seventeen points separated Haskins' team from Barrett's. That's a 3rd quarter against Michigan.
Had the defense been average, we would have gotten a few more episodes of the Tate Martell Show against opponents like Indiana and Maryland instead of touchdown ropes to current NFL receivers. When you apply big picture orientation to what the 2019 offense should produce, the drop-off is overstated. When you do the same to the defense, the improvement is understated.
So am I bullish about the 2019 Ohio State Buckeyes? Yeah. Little bit.
Thank you for getting Situational today. Go Bucks. Beat Florida Atlantic.