It's a tradition as old as Urban Meyer coaching the Buckeyes.
Literally, since 2012. Every Ohio State game in Beaver Stadium since then has been designated a Whiteout, a not-secret weapon the Nittany Lions reserve for one opponent each year.
But Penn State's environmental advantage extends beyond its massive and noisy color-coordinated audience. There's no comfortable Blackwell Inn awaiting the Buckeyes in State College on Friday. But there is the Ramada they always, inexplicably, choose for lodging.
Here are some of the Yelp reviews for where your favorite team will sleep prior to the big game:
"go somewhere where the rooms dont smell like weed and disappointment"

"I'd sleep in my car before I'd stay here again"

"I suggest you stay elsewhere."

"If you want clean, do not stay here."

"No climate control in the rooms. Lobby smells like barf and the atrium smells like chlorine. Room is filthy. Bed feels like I'm sleeping on pallets."

My room was soooo loud from outside noise.  
That last review might have come from a grumpy Pat Elflein after Penn State fans gave the 2014 Buckeyes an unsolicited wakeup call with air horns at 4am on game day. In 2016 the team held its walk-throughs in the parking lot amid vomit piles and cigarette butts. These accommodations are bad, but losing to a division rival would be far worse.
Whiteout? That's the only fun part of the trip! Let's get Situational.
THE RUNDOWN: WEEK 4
11. This guy really liked playing Penn State.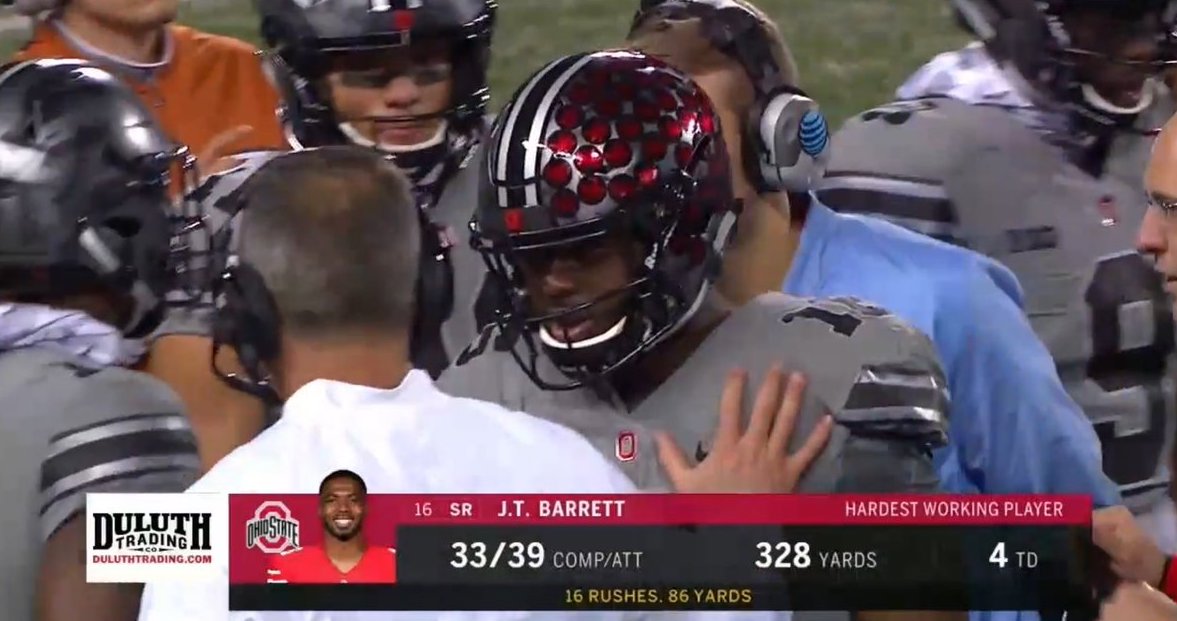 (and Michigan too, but let's focus on the game at hand)
JTBIV vs. PSU: 2014-17

| YEAR | C/A | YARDS | TD/INT | RUSH | TD | W/L |
| --- | --- | --- | --- | --- | --- | --- |
| 2017 | 33/39 | 328 | 4/0 | 95 | 0 | W |
| 2016 | 28/43 | 245 | 1/0 | 26 | 0 | L |
| 2015 | 4/4 | 30 | 2/0 | 102 | 2 | W |
| 2014 | 12/19 | 74 | 2/1 | 75 | 2 | W |
| TOTAL | 77/105 | 677 | 9/1 | 298 | 4 | 3-1 |
Barrett piled up nearly a thousand career yards against just Penn State. He also led a double-overtime win on one leg, had an appearance from the bullpen where he supercharged a sluggish 2015 effort and was the hero of last year's epic comeback. 
Thirteen touchdowns against one team, including a trifecta of game-winners. Barrett was the unquestioned MVP of the three games Ohio State won on his watch. The Nittany Lions have to be relieved that he's gone.
Soooooo...who wants to tell them about Dwayne Haskins?
10. This week in Why is Billy Davis on the Staff comes with a little manufactured consternation over starting linebackers tallying zero (0) tackles against Tulane.
First, Ohio State's top five tacklers last Saturday were all backups, which - if you didn't see the game - is all you need to know about how much reliable data you can collect from that opponent. Second, the Buckeyes kept it plain all afternoon on both sides of the ball. Third, the defense allowed six damn points. Fourth, yes, LB development and game discipline are still a concern but you don't need to add But but but Tulane to the comment box. 
Penn State slot receivers K.J. Hammler and Brandon Polk are being programmed as you read this to find gaps at the expense of a unit that routinely loses track of where it is supposed to be. That's the concern. Tulane? We're not even recapping Tulane this week. Focus.
9. Could Great Moments in Whiteout History actually be an Ohio State keepsake too?
Try to forget about the turnstiled blocking assignments in 2016 that converted a lead-extending field goal into Penn State's winning points. Delete the 2005 game plan where Troy Smith led all players in the game with 19 carries while Santonio Holmes and Ted Ginn were largely ignored. Fortunately, that QB run-oriented/skittish game plan never ever ever happened again, especially under Urban Meyer. Remember, we're deleting this.
What you're left with is Todd Boeckman's finest outing of 2007 (it was an 8pm kick but not officially a "whiteout" because PSU wasted it on a 3-9 Charlie Weis Notre Dame team; whatever, it counts). Before Braxton Miller hit the B button in Blacksburg, his signature dance move was what he pulled of at the goal line in State College in 2012.
And Joey Bosa's walk-off sack in 2014 is among college football's America's greatest moments. Here's to once again being on the right side of GIFable history Saturday night.
8. Fun fact - Haskins does not have a single 4th quarter statistic in Ohio Stadium this year, with three home games under his belt. The only times we've seen him operate late in games was when he willed the team to victories in Arlington and Ann Arbor.
Haskins is one season removed from garbage time assignments, which is a standard role reversal that comes with going from backup to Heisman candidate. The question: Is Ohio State still a championship contender a) in the East Division b) in the B1G c) nationally with Tate Martell at the controls instead? 
It's something to chew on, as the offenses they command are conspicuously dissimilar, and Haskins is operating at an historic pace. Besides, Ohio State has never won the College Football Playoff with a starting QB or the first backup taking snaps. Makes you think.
Also, Martell has never lost a game. Like, ever.
7. Speaking of things that happened prior to this season, it's easy to forget the Buckeyes sent three starting defensive linemen to the NFL draft barely six months ago:
Consider the play above from just 10 months ago and you'll see some familiar faces. Nick Bosa is still unavailable due to the injury he sustained against TCU. Lined up next to him in this Cotton Bowl GIF of current New York Jet Sam Darnold being sacked by current Cincinnati Bengal Sam Hubbard are current Indianapolis Colt Tyquan Lewis and current Minnesota Viking Jalyn Holmes.
None of those guys are playing this Saturday. Life isn't fair.
Jonathan Cooper, Robert Landers, Dre'Mont Jones and Chase Young will probably be the first grouping we see Saturday, and yet - that unit is considered to be the strength of the defense. That's in part because the back seven are green and have been, let's say, shaky.
Jones was the MVP of the TCU game in Bosa's absence. If the Buckeyes are going to beat the Nittany Lions, someone on that side of the ball is going to have to be that kind difference maker - especially with the backfield's susceptibility to big plays - and facing a quarterback whose entire reputation was built on them.
We'll return to this point after halftime.
HALFTIME: THE BOURBON
There is a bourbon for every situation. Sometimes the spirits and the events overlap, which means that where bourbon is concerned there can be more than one worthy choice.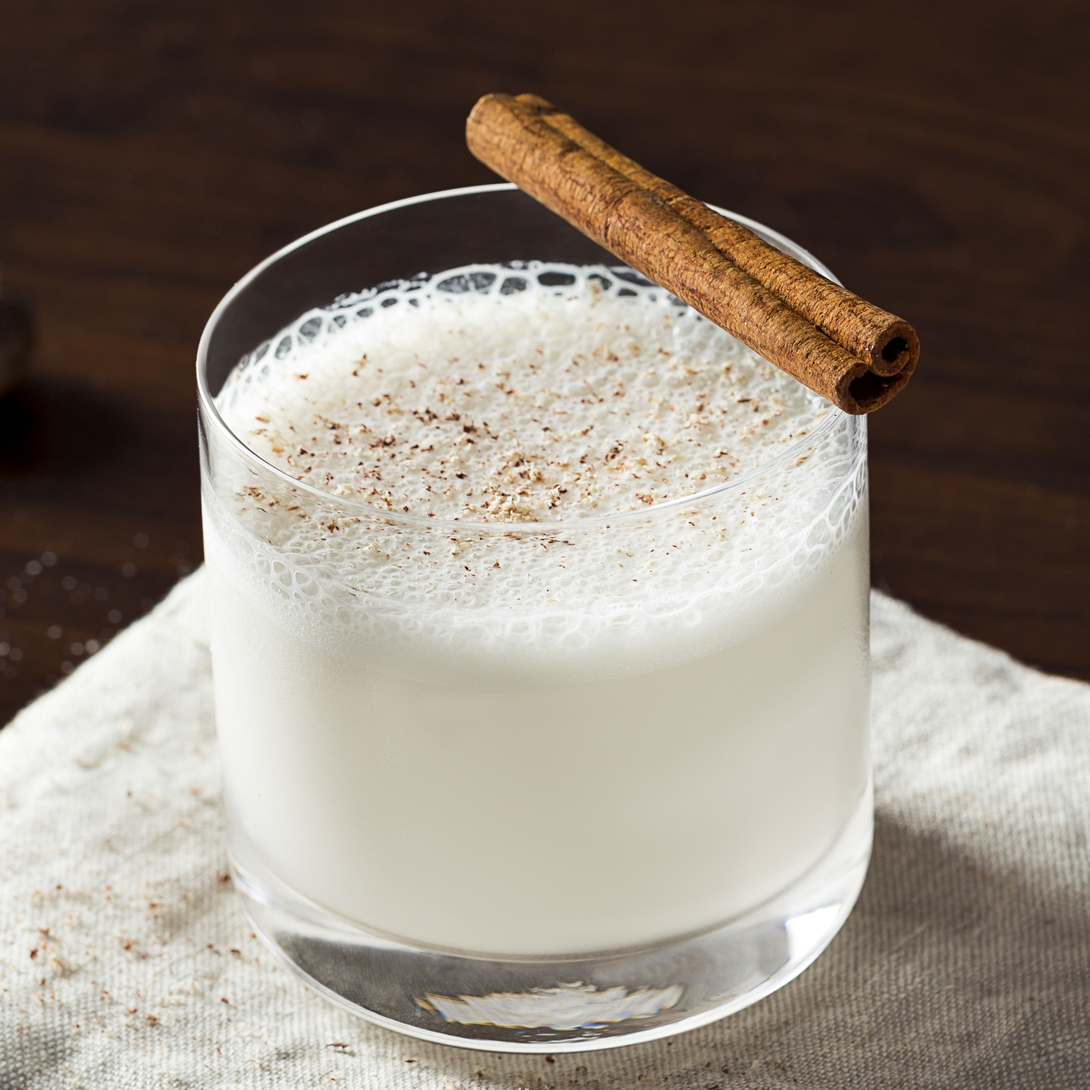 We're heading for a Whiteout, one week removed from facing a New Orleans team. As is the case with every possible circumstance life tosses onto the path in your long, sad march to dementia - there's a bourbon for that.
A few years ago after consuming - this is a loose estimate - seven thousand oysters at the Bourbon House I was treated to a drinkable dessert created by its bartenders. The Bourbon Milk Punch (a copycat is pictured to the right) is basically what would come out of a cow if the cow went on a weekend-long bender in the French Quarter.
Last week in our Old Crow review we mentioned Old Fo, which happens to be what the Bourbon House bartenders use for BMPs - but really, you can pour whatever you have on hand to make your own. Most of the edge and character is going to get swallowed up by the cow's contribution.
Recipe-wise the ratio is 4:1. So whether you're making Bourbon Milk Punches for yourself or for all your rowdy friends, the rationing is Milk to Bourbon to Vanilla Extract and Simple Syrup. Math is hard so a sample has been provided. Is that a single serving? Sure.
BOURBON MILK PUNCH

| | |
| --- | --- |
| WHOLE MILK | 4 CUPS |
| BOURBON | 1 CUP |
| VANILLA EXTRACT | 1/4 CUP |
| SIMPLE SYRUP | 1/4 CUP |
| VANILLA ICE CREAM | PINT |
| NUTMEG | GARNISH |
Pour your milk, bourbon, vanilla and simple syrup into a blender on the lowest speed. Slowly add the ice cream making sure to not splash it on your pristine game-worn lucky jersey. Once it's the consistency of something you can take through a straw, you're done. Pour it into a glass or glasses and enjoy until your pancreas begs for mercy.
By the way, if you can replace the ice cream in the recipe with whole cream, and then toss the whole concoction into an ice cream maker for homemade Vanilla Bourbon Ice Cream (add a pinch of salt if you do that). Will this help the Buckeyes overcome Penn State's Whiteout? Probably. Don't leave anything to chance.
---
THE WALKUP: WEEK 5
5. Penn State is not the same team when its house is dressed in all-white under a dark sky. The energy that goes into both this annual event and especially its meetings with Ohio State cannot be overstated. Consider the witchcraft that took place in 2016:
The Buckeyes outgained Penn State 413 to 276, led at the half and by double digits in the fourth quarter, didn't turn the ball over, held the Nittany Lions to -7 yards in the third quarter and just 74 yards in the second-half, blocked a field goal, forced a safety, and held Penn State to an abysmal 2-for-13 on third down.

Given all of that, Ohio State probably should have won that game by about 20.
One play. One stupid play.
And yes, that is blatant defensive holding on PSU no.52 but officials are going to call that exactly zero times out of infinity on a field goal attempt. It's a really well-designed FG block.
We'll get back to Special Teams in a moment. No one is getting off easy.
4. That 2OT win in 2014 win propelled the Buckeyes to the CFP. They were not the same team after that evening. Similarly, Penn State's 2016 win became a Rose Bowl launching pad. The Nittany Lions did not lose a conference game after that night until they rematched the Buckeyes in Columbus the following season.
This tension has been steadily building since both programs hit the reset button after 2011. Last season both teams were so emotionally spent after their meeting they both lost conference games - as double-digit favorites - the following week. Do you know how often OSU and PSU both lose conference games on the same Saturday? Take a moment.
Three times in 14 seasons. Letdown alert for both teams begins at 1am Sunday.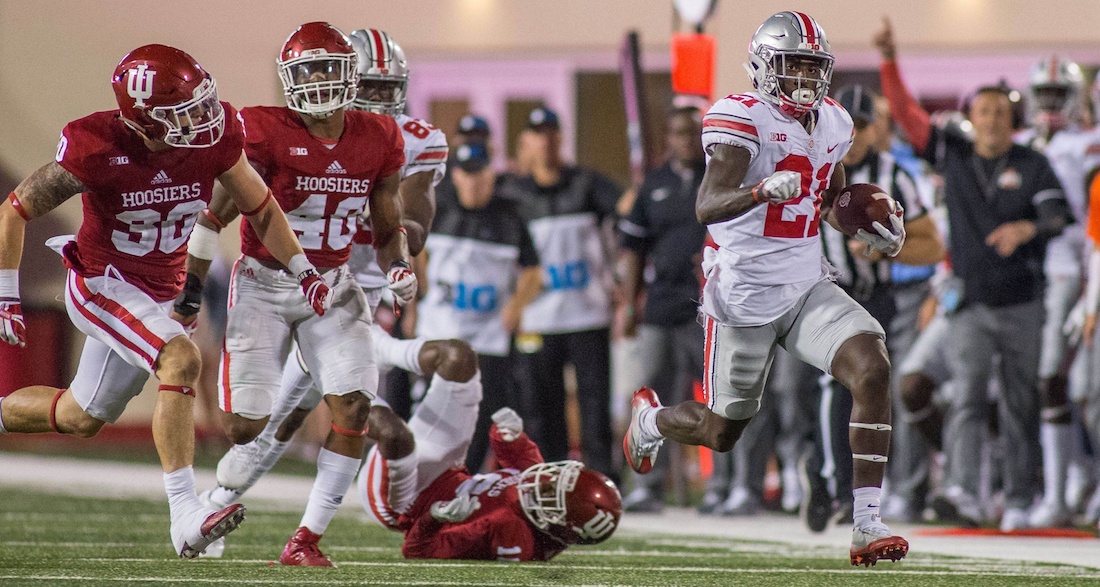 3. Fortunately the Buckeyes aren't heading anywhere spooky after State College, but they are hosting the Big Ten's chaos team which means the threat level is elevated, especially if Saturday night's game is as draining as the two that preceded it. Indiana has kept these games competitive from two to all four quarters since Meyer's arrival, which means whatever dizzying high Ohio State rode to Iowa City last year has the potential to be almost as fatal.
2. Seriously, look at what happened in that 2016 game. 
...PENN STATE WON

| STATISTIC | OHIO STATE | PENN STATE |
| --- | --- | --- |
| 1st DOWNS | 19 | 13 |
| COMP/ATT | 28/43 | 8/23 |
| PASSING YARDS | 245 | 154 |
| RUSHING YARDS | 168 | 122 |
| TOTAL YARDS | 413 | 276 |
| TIME OF POSSESSION | 37:19 | 22:41 |
| TURNOVERS | 0 | 1 |
| MISSED FIELD GOALS | 1 | 1 |
| SACKS | 1 | 6 |
| PENALTIES | 8-45 | 1-5 |
By the way, last year's box score isn't terribly different. Penalties, special teams, officiating. Control two of those things and things get a lot more comfortable.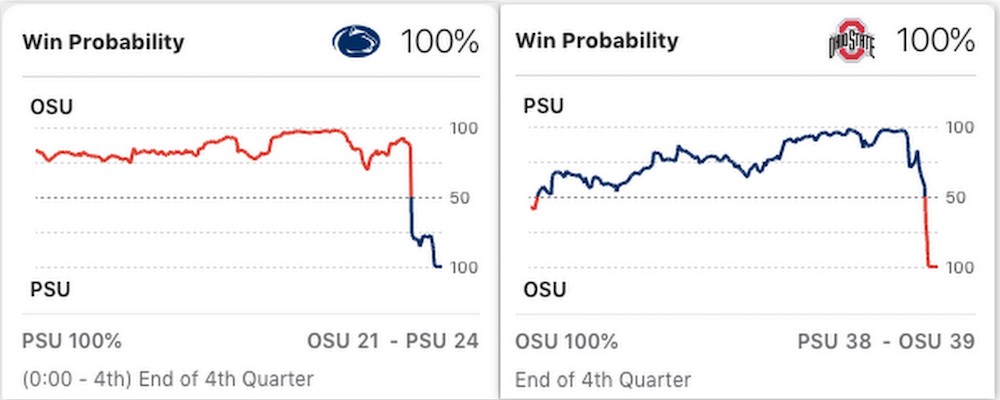 Ohio State's missed field goal was obviously catastrophic, but the elements that caused the Buckeyes to lose that night have not gone away, two years later. They had 10 penalties for 85 yards against Tulane on Saturday and drew flags seemingly every time Special Teams took the field. 
They drew 10 penalties against Penn State in 2017 as well. So much talent. So little discipline.
1. There was a beautiful stretch in this series when Ohio State's defense was good for a pick-six or two every time it faced the Nittany Lions. Fast-forward to the current era and Penn State has scored special teams touchdowns in each of the past two meetings. The 2014 game swung in its direction on a pick-six, when the Buckeyes had a 17-0 lead and the ball.
Ohio State's defense and special teams have not broken big scoring plays in this series since Ryan Shazier housed a Christian Hackenberg Matt McGloin pass six seasons ago (which countered a Penn State touchdown scored off a punt block).
They've commanded the stat sheet but mistakes and allowing big plays have kept these games closer than they should be. Convert that blocked field goal from 2016 into points and Ohio State is riding a six-game winning streak in this series. As the team has been campaigning all season, win the moment. Special Teams has moments too. Win those.
Thanks for getting Situational today. Go Bucks, beat Penn State.