You're not prepared for a one-and-done Ohio State quarterback.
This is a program whose starting QB carries power, privilege and influence on par with the governor's. It's a position that only vacates the office on account of term limits. If NCAA eligibility rules were abolished, J.T. Barrett would start for the Buckeyes until Urban Meyer retires (if exploded shoulders were also abolished, Braxton Miller would still be the starter).
You're not prepared because Ohio State stocks NFL cupboards with literally every position except the governor on the field, and yet Dwayne Haskins already has one-and-done whispers around him prior to starting a single collegiate game - he of the NFL-build, precision arm, prescient/adorable childhood video, clutch 3rd down pass to Austin Mack in Ann Arbor, all of those things.
Yes, Haskins also served up as many defensive touchdowns last season as Barrett did in a fraction of the playing time and against backups, but bringing that up is rude and uncalled for.
We aren't sure if he is going to set the world on fire; we only know he's got torches for arms and spits kerosene. It's mysterious, enchanting and for the first time in the Urban era (except for the final three games of the 2014 season, oooohhh foreshadowing maybe) the whole world doesn't already know what Ohio State is going to run on 4th and 1. It used to be QB power, with just enough hesitation for Barrett to identify the hole, allowing him to gain exactly two yards to move the chains. If against Michigan, 1.05 yards just to be cruel.
You're more likely to see a unicorn galloping down High Street than a one-and-done quarterback at Ohio State.
Urb has been in love with the extra blocker that appears when the QB is the ball carrier since Tim Tebow was performing summertime circumcisions in the Phillipines. But that play is decidedly outside of Haskins' skill set (the QB run, not circumcisions. We think). It's in Tate Martell's, though (in reverse. We think). Maybe Urban won't have to quit his deliciously telegraphed short-yardage plays after all.
We digress. We're talking one-and-dones today, not 4th and ones.
The tyranny of the Three-Time B1G Quarterback of the Year Era is now behind us, so we can ride the Dwayne Train to Vertical Passing Game Town without having to use GPS. This is where our hero steps in to Tee Martin his team all the way to trophy town after Peyton Manning-ing around No Cigarville for what felt like a decade (note to self - this is a terrible comparison; Peyton went 0-4 vs. Florida while Barrett has five Gold Pants) (follow-up note - keep it, your readership is old enough to remember and appreciate the reference).
What kind of monster team could you build out of one-and-dones? Let's get Situational.
---
THE ONES
Malik Hooker had six tackles his sophomore year. He had seven interceptions his junior year.
And then he was gone. Hooker treated every opponent the same. Even hapless Nebraska, down 45 points, was treated with hurtful intentions. That video above shows his third pick-six of the season (he was robbed of a fourth) and...that was all, folks. One season, and he took Marshon Lattimore with him.
In 2016 the stratospheric ascension of Buckeye defensive backs into enviable tax brackets was contagious. Lattimore had four tackles his sophomore year. He had four interceptions his junior season, and Ohio State's defensive backfield went from filling gaping holes left by NFL departures after 2015 to right back where it started the season when both Hooker and Lattimore decided to become millionaires instead of attending study tables.
You could put together quite a team of guys who registered just one legendary season of production with no runway. Maurice Clarett is an easy one; he didn't even spend a year on campus. Former walk-on Terry Glenn brought 15 career receptions for 266 yards into the 1995 season, which he practically matched in one game at Pitt that year (plus four touchdowns, suck it Mark May).
We live in an era where everyone makes it onto a Preseason Watch List. Glenn was on none of them in 1995, became a 1st team All American, won the Biletnikoff and then he left school.
You could mine Ohio State's rosters for other examples (like Chris did last summer) and find an example of a one-hit wonder at every position, except the most conspicuous one. You're more likely to see a unicorn galloping down High Street than a one-and-done quarterback at Ohio State.
If Haskins becomes that unicorn, the 2018 season will have been full of rainbows.
---
THE BOURBON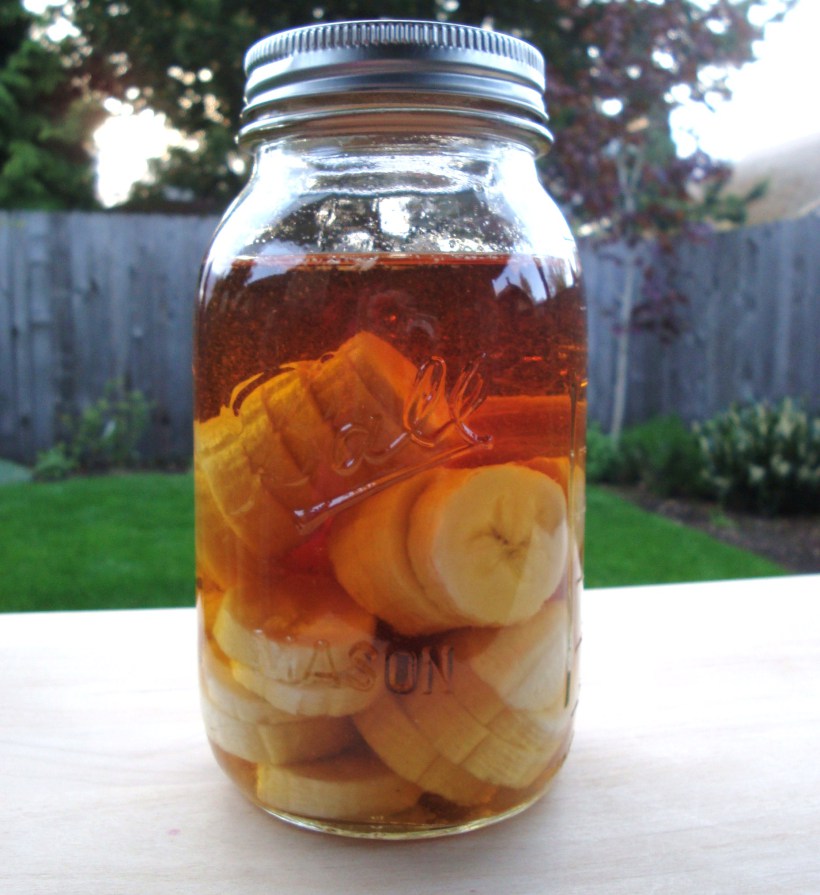 There is a bourbon for every situation. Sometimes the spirits and the events overlap, which means that where bourbon is concerned there can be more than one worthy choice.
Liquor bottles show up in bars on purpose, by accident, through gifting and by total mystery. Wait, when the hell did I buy Blue Caracao, and why? It happens. I've got bottles of Lillehammer, Amarula, Créme de Noyaux, Hpnotiq among others taking up real estate below my first shelf. What are those? They're squatters. I should call the police.
Among the ranks of the sub-shelf is a bottle of something called Pisang Ambon, and I have no idea how it got there but it tastes like the banana apocalypse. Banana is a divisive flavor; people generally love or loathe it. If you're the latter, skip the rest of this section.
Personally, banana pudding, caramelized bananas, banana split sundaes, banana's cousin plantain fried up and chipped - gimme gimme gimme. But banana liqueur? How dare you. How dare anyone.
There's no good reason to salvage bar squatters, but in the case of the Pisang Ambon there's a path to citizenship, and like most flawed things - it's through bourbon. The Captain's Breakfast is 3:1 mixture of Pisang Ambon (or any squatting banana liqueur, probably) and a sweet bourbon in your bar that just doesn't pull at your heartstrings, which in my case was Black Fly. Mix them together, drop in an ice cube, enjoy. Fin.
THE CAPTAIN'S BREAKFAST

| | |
| --- | --- |
| BANANA LIQUEUR | 1oz |
| BOURBON | 3oz |
| NILA WAFERS | Entire box |
If that flavor sounds good to you, don't go out and buy banana liqueur. Infusing bourbon is good and fun, as you probably remember from such Situational episodes as Apple Pie Bourbon and Don't Buy Fireball, It's Bullshit, Make Your Own Instead. 
Get your hands on one large, ripe banana. Slice it and place it into a mason jar. Pour the bourbon around the banana pile until the jar is full. Forget about it for three weeks. Strain it through a cheesecloth back into the bottle. If you don't have a cheesecloth, a coffee filter works too.
Enjoy with some Nila wafers. Don't be late for work, captain.
---
THE PLAYOFF
When I think of one-hit wonders in sports, I don't think of Ohio State football players. I think of Armando Galarraga, and umpire Jim Joyce.
Galarraga finished his major league career with a 26-34 record, a 4.78 ERA and a career-defining outing stolen from him by one of the worst calls in the history of American sports by an otherwise decent umpire. That 28-out perfect game was Galarraga's one hit, which ironically featured one hit.
Thanks for getting Situational today. Go Bucks.