It was a rough stretch in a particularly rough year.
That week in October 2011 began with Steve Jobs dying after months of previously debunked rumors that he was, in fact, dying. Then closer to home, DeVier Posey's 5-game suspension was extended five more games following a lengthy and very important investigation that found he had been paid $3.07 too much for his summer job.
Marcus Hall, Boom Herron and Melvin Fellows (Melvin Fellows!) were ensnared by the NCAA's 21st century Elliott Ness and had to sit out that week too, as the seemingly inexhaustible cavity search on the Ohio State football program continued into its 11th straight month. College football has seen nothing like it since, and probably won't ever again.
But that rough week concluded with the Buckeyes going into Lincoln and gifting the Cornhuskers the biggest come-from-behind victory in school history.
It's Nebraska's only win in the series, which is now eligible for Medicare - and somehow has only featured one single-digit point spread:
THE HISTORY OF OHIO STATE VS NEBRASKA

| YEAR | SITE | SPREAD | SCORE | COVER |
| --- | --- | --- | --- | --- |
| 1955 | Columbus | OSU -26 | OSU 28, UNL 20 | UNL |
| 1956 | Columbus | OSU -26 | OSU 34, UNL 7 | OSU |
| 2011 | Lincoln | UNL -10 | UNL 34, OSU 27 | OSU |
| 2012 | Columbus | OSU -3 | OSU 63, UNL 38 | OSU |
| 2016 | Columbus | OSU -17 | OSU 62, UNL 3 | OSU |
| 2017 | Lincoln | OSU -24 | Saturday | TBD |
Before we move on to Saturday, let's remember the historic shitshow the last trip there was:
Ohio State led Nebraska 27-6 and forced a 3-and-out to get the ball back. Braxton Miller got hurt and fumbled three plays later, leading to a quick Nebraska touchdown.

...

The Buckeyes had multiple drives where they burned less time off the clock than they would have had they simply taken a knee. Coaches repeatedly allowed Joe Bauserman to airmail clock-stopping passes into the stands with a lead on the road and Carlos Hyde in the backfield. That's not bad luck or being outplayed. That's a self-inflicted hate crime.
Self-inflicted hate crime is a fair description for the entire 2011 calendar year up until Urban Meyer was hired. It's easy to say that level of in-game implosion is of a bygone era, except that just a year ago next week Meyer suffered his only blown double-digit 4th quarter lead as Ohio State's coach, in Happy Valley. Those ignorant of history are doomed to repeat it. Those who remember history end up repeating it anyway. Damn it, life is brutal.
It's now 2017, and Nebraska and Ohio State are following inverse trajectories. The Huskers haven't been a home underdog like this (+24) since 1957 (last week when they hosted Wisconsin they hadn't been a home underdog like that (+17) since 1974). This is a team that clinged to a 21-17 4th quarter home lead against Rutgers the week before the Buckeyes visited Piscataway. *Shaggy from Scooby Doo voice* ZOIKS
Meanwhile, it's starting to click for Meyer's sixth edition. Yes, the special teams are as bad as we've ever seen, and when just one note is off it brings down the whole damn symphony. But the rest of Ohio State's orchestra has nailed the rhythm, tempo and harmony for a full month now. We're getting close. Nebraska is not close.
Second half of the schedule is now underway! Let's get Situational.
---
THE LARCENY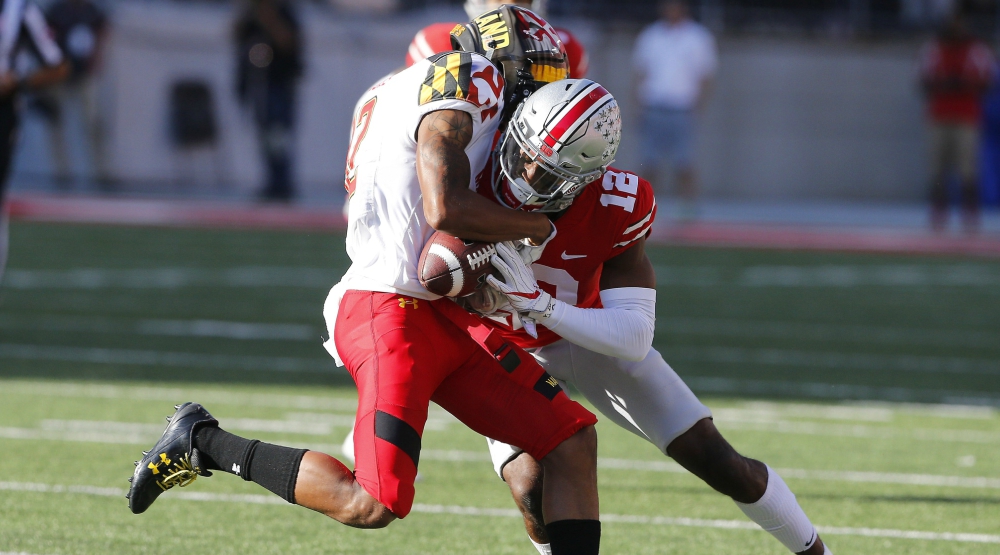 Maryland's Taivon Jacobs was an Ohio State verbal commitment all the way back in 2012 before changing his mind and staying home. Five years later he finally has his first Buckeye highlight of note.
Denzel Ward separated Jacobs from the football on Saturday with velocity that without gravity would have sent him into orbit - all that was missing was Jacobs cartoonishly losing all of his clothing and pads, revealing a large pair of loud polka-dot boxer shorts.
Ward picked up the ball and should have had six points, but instead he was escorted out of the stadium having been charged and found guilty of targeting. Here are the two pieces that comprise the NCAA's rule designed more to punish players than protect them:
1. Target—to take aim at an opponent for purposes of attacking with an apparent intent that goes beyond making a legal tackle or a legal block or playing the ball. Crown of the Helmet—the top portion of the helmet. Contact to the head or neck area—not only with the helmet, but also with the forearm, fist, elbow, or shoulder—these can all lead to a foul.

2. Defenseless player—a player not in position to defend himself. Examples (Rule 2-27-14): A player in the act of or just after throwing a pass. A receiver attempting to catch a pass, or one who has completed a catch and has not had time to protect himself or has not clearly become a ball carrier.
Let's stop there. Ward did not violate the first part, as evidenced in the photo above - he actually led with his arms and followed through with that arm motion, demonstrating a clear push to the chest without launching himself. He also lowered himself to avoid a high hit.
That means Ward was ejected for violating Jacobs' right to protect himself within the [mumbling sounds] seconds allowed or the [grunting] steps after possession as detailed in the rulebook:
Ward was ejected for being good at football while demonstrating textbook targeting avoidance.
Maryland's 3rd-string quarterback hung Jacobs out to dry and officials - after a stoppage in play to review the hit - determined the two full steps he took with the ball in his possession were not enough time to protect himself. 
This decision removed points and a starting player from a game. It wasn't unintentional targeting, either - it wasn't targeting at all. The Big Ten even admitted this on Tuesday. This won't be the last targeting call they botch. It won't be the second-to-last one either. I'm so sorry to be the one to break this to you: Your hatred of officiating is justified.
The NCAA will continue to massage this rule under the auspices of player safety during every offseason, but it's hard to see how Ward's vicious and legal hit on Saturday could ever be formally ruled illegal without dramatically changing how football is played.
The most reasonable penalty Ward could be levied for being good at football would be a cosmetic 5-yarder for rough play (similar to how hitting a punter is delineated by intent) but that would mark an equally dramatic change in how football is played: NCAA being reasonable.
---
THE NIGHTMARE FUEL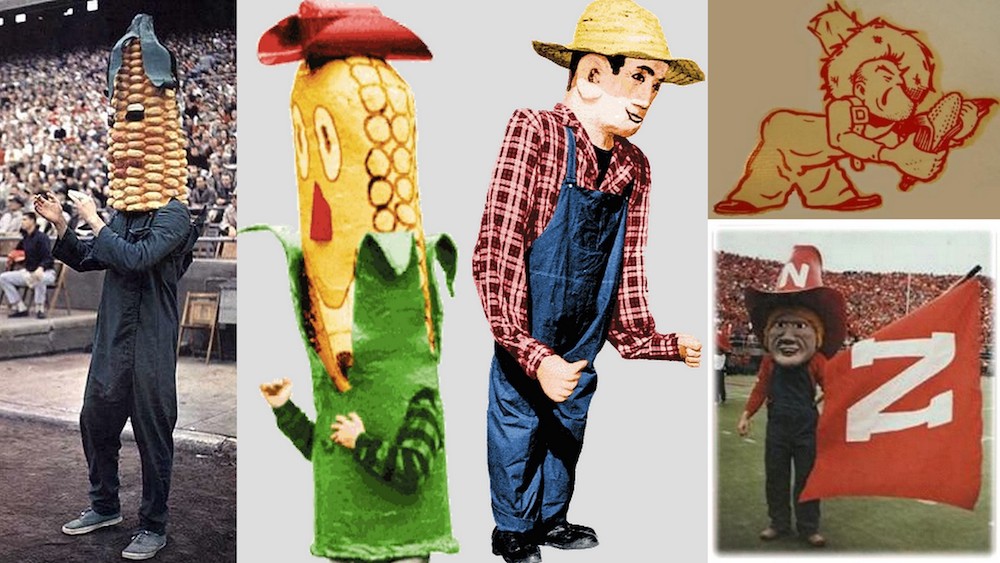 Holy God, what is that. Left to right:
Bond villain Earjob
Gumby's lesser-known cousin Colonel Fructose
Something stitched together from actual human skin
A disenfranchised cartoon vagrant intent on killing you in your sleep
Imagine opening your hall closet and seeing that head staring back at you from a shelf. Wait, don't pee. Ah too late.
Nebraska's mascot history is terrifying. Fortunately, on Saturday we'll only be subjected to Lil' Red (adorable!) and Herbie (he seems friendly and helpful!)
---
THE BOURBON
There is a bourbon for every situation. Sometimes the spirits and the events overlap, which means that where bourbon is concerned there can be more than one worthy choice.
The Bloody Mary is an American breakfast institution, rooted in our patriotic belief that it's only possible to drink all day if you start in the morning. The Bloody is believed to have been created by Fernand Petiot, who among other things personally dispensed spirits for Ernest Hemingway and Sinclair Lewis at Harry's New York Bar in Paris. He passed away in Canton. Everything always comes back to Ohio.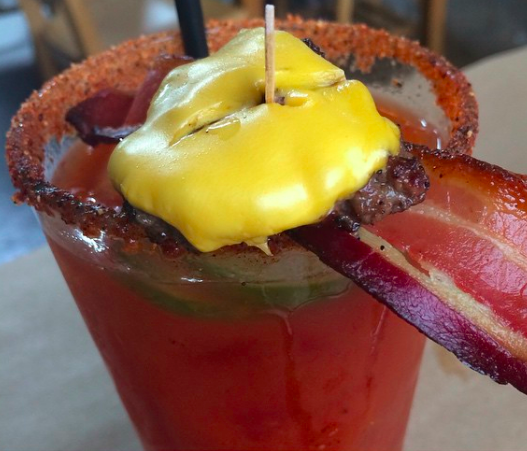 It's vodka, tomato juice, Tabasco and really, who cares what else - the point is that vodka is the sugar cookie of the alcohol world. It always needs extra help. The bad stuff is virtually indistinguishable from the good stuff. Vodka is alcohol without any humanity or soul whatsoever - that's precisely why icy Russian mob bosses use it to dull their consciences before wiping out an entire neighborhood because one guy snitched. Vodka is a cry for help. Bourbon is a celebration of life.
As Gary Gulman deftly points out when discussing the hierarchy of cookies, a sugar cookie without sugar is just a cracker. You can do so much better than the sugar cookie of booze, and with libations that includes whenever you're making or ordering a Bloody Mary. Give it more spice. Give it soul and humanity. Give it a heartbeat. Give it whiskey instead!
Pictured above is a Bloody Mary I ordered at the Vinsetta Garage in Detroit. The rim of the glass is dipped in house-made burger rub. They use Sriracha Bloody mix and Valentine Woodward whiskey, then garnish it with a bacon cheeseburger and pickle slices. This isn't science. It's art.
Your vodka-tomato juice with a wilting celery stick seems so sad now. Don't be sad. Be better.
---
THE PLAYOFF
Click play and keep your volume high because this song absolutely bangs. Pay no attention to the invisible horn section, the blatant lipsyncing or the gigantic Casio keyboard synthesizer - those are all intended to distract you from what's important.
Apply your focus to the guitar player in the blue shirt.
Midnight Confessions is being performed here by the third iteration of The Grass Roots, which has cycled through several changes in member composition since being founded in 1965. Blue Shirt Guy was performing street music in Israel one day and he was in the band in Los Angeles shortly thereafter. Life moves fast.
The medicated faces and upbeat melody are a stark contrast from the covetous and devasting lyrics, and after a few hits (like this one) the inevitable creative differences settled in, resulting in Blue Shirt Guy leaving the band and being replaced by Red Shirt Guy.
The guy in the blue shirt is a young Creed Bratton. If that name that sounds familiar, it's because you remember Creed Bratton, Dunder Mifflin's Quality Assurance Director and resident psychopath from the American version of The Office. This is the same guy as the rhythm guitar player from The Grass Roots, before he grew up and played a fictional version of himself on television. May your resumé someday be half as interesting as his.
Thanks for getting Situational today. Go Bucks. Beat Nebraska.