A lot of the people in my life know I write this article every week.
I don't know if they read it. I kind of hope they don't; it's much easier to make a joke in reference to some random cereal jingle I heard when I was six when I don't have to envision explaining it to someone in real life.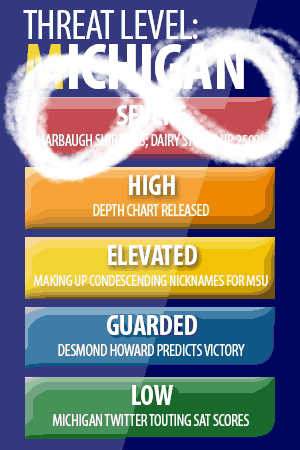 Anyway, every conversation I've had with someone who knows what I do with Eleven Warriors since Ohio State got blown out by Michigan for the second year running has started with some variation of "How mad are you?"
And I don't love having these conversations, because the answer is "Pretty mad, actually!" and then I have to restrain myself from a ten minute rant. So instead of scaring my friends, family, and coworkers with a grimace and furrowed brow, let this week's Threat Level serve as some kind of enraged Mood Board that'll comprise the substance of what I'd otherwise normally be saying in an ever-increasingly loud voice that turns into a concerning shout.
A YEAR WASTED
How many hundreds of thousands of words were written between the announcement of Jim Knowles' hiring and last Friday about Ohio State's revamped, ready-for-primetime defense? How many hours of podcasts were devoted to breaking down the changes that Ohio State made with the specific intent to take Michigan seriously and ultimately beat them? How many interviews, news reports, and social media posts all asked us to believe that this year was different and Ohio State was going to kick Michigan's ass?
It wasn't different. It wasn't even "maybe I can see some similarities if I squint at this apple and orange and pretend I'm colorblind." Even more infuriating to the loss is that Ohio State once again failed to contain Michigan's running game in the second half, failed to generate any kind of offensive momentum, failed to take advantage of obvious talent disparities, and failed to match the Wolverine's intensity.
It was the exact same result, except now we're all one year closer to death. 
THIS IS HAS BEEN A LONG TIME COMING
It took two decades for Michigan to pull it off, but they've finally flipped the script on both the rivalry and their place in the Big Ten. Jim Harbaugh's record against top 10 opponents, in rivalry games, and in bowls remains pretty terrible, the last couple of years notwithstanding. Which I don't point out to imply that this year and the last is a fluke; instead, I want to emphasize just how much Harbaugh has had to change the philosophy of his football program and his approach to The Game. He has built a team specifically constructed to take down the Buckeyes, and that is exactly what he has done.
Jim Harbaugh with one hell of a grin in his postgame press conference: pic.twitter.com/0JGnOETnFM

— Alejandro Ziga (@ByAZuniga) November 26, 2022
Which, frankly, I didn't think was ever going to happen. Most people didn't. If there are Michigan fans who say that they were true believers in Harbaugh before 2021, they're almost certainly lying out of their asses. But the rivalry has officially shifted, and now it's up to Ryan Day and Ohio State to wrench the ship's wheel away from the Wolverines.
THE BUCKEYES GAVE UP
I generally really hate lazy analysis about "toughness" and "grit" and other intangibles that seem to be really easily applied after the fact to an event that probably deserves a more detailed explanation. But after the game I kept thinking about how, for all the heat he took about his lack of quarterbacking ability, J.T. Barrett was always seemingly able to elevate the play of the other players around him. He was the undisputed leader of those Ohio State teams, and you always got the sense that if anyone ever quit on a game with him on the field, he or one of his consiglieres would flay them alive.
I don't know who that person is on the 2022 Ohio State football team. But I do know that if that person exists, they were sleeping on the job as the Buckeyes treated a Michigan lead early in the 4th quarter like a death sentence. No passion, no drive, just mental miscues and a shrug at the end.
November 27, 2022
THINGS ARE NOT GOING TO GET ANY EASIER
Since we have to mark the passage in time in 12 month increments now, it's probably significant to point out that a trip next November to Ann Arbor will be a much more difficult row to hoe without a number of matriculating seniors/horrible traitors wanting to be compensated for playing a sport that might give them brain damage. In Ohio State lore, that's got 'em exactly where we want 'em, but in the real world (which includes the Buckeyes losing back to back games to Michigan) that's a recipe for me having to write this dumb article again in a year.
WHAT DID WE LEARN?
I dunno, nothing? If there's any silver lining here, it's that Ohio State as an institution has very little tolerance for dicking around, in large part because 200 million dollars in revenue doesn't magically appear for mediocre football teams.
And that's not what this is, not really. The Buckeyes under Ryan Day are good, occasionally very good, but the reason why The Game means so much (aside from the latent hatred that gives our lives meaning) is that Michigan is the gatekeeper to the postseason. Lose to them, and you can kiss all hopes of a national championship goodbye.
Or can you? Because right now it looks like the Buckeyes are one USC upset away from getting in anyway (not that's something I actually want right now), and once the College Football Playoff expands, as long as the Buckeyes win 10 or more games they're good to go. So who knows what this conversation looks like when that happens?
I'll still be pissed, is what it'll look like! Michigan sucks, screw them, Ryan Day better figure this crap out. The Threat Level is INFINITE.