A regular-season college football game doesn't get any bigger than this.
The Game is always the biggest game of the year at Ohio State as the Buckeyes look to finish off their regular season with a win over their bitter rivals from the state up north. This year, however, the stakes are as high as they've ever been.
Ohio State and Michigan both bring 11-0 records into The Game, marking the first time the Buckeyes and Wolverines have met as unbeaten teams since 2006. That game was so big it was dubbed the "Game of the Century," and this one feels at least that big.
The winner of Saturday's game will win the Big Ten East, advance to next week's Big Ten Championship Game and remain in prime position to make the College Football Playoff. The loser will spend next week watching from home and hoping enough falls its way to still have a shot to make the CFP.
This week, however, isn't about what could happen next for the Buckeyes. It's about avenging the loss they've been living with for the past 12 months and beating Michigan for the first time in three years.
Everything Ohio State has done all year long, from winter workouts at the beginning of the offseason to its quest for improvement throughout the regular season, has been focused toward the goal of winning The Game. On Saturday, those efforts will finally be tested as the Buckeyes look to regain bragging rights over the Wolverines and earn a new set of Gold Pants.
"I think you're shaped by whatever's happened in your past. And we have scars. And it motivated us all offseason," Day said. "We've worked very hard to get to this moment right here. And now it's time to go prepare the best we can, and that's what we're gonna focus on, physically, mentally and emotionally, to go play the hardest game we've ever played. And we'll find out where we're at on Saturday."
The Headlines
A battle of two elite teams
Advertisement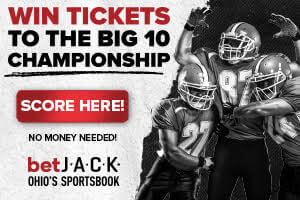 Only two teams in college football rank in the top 10 nationally in both scoring offense and scoring defense. Those two teams will meet on the field in Ohio Stadium on Saturday.
Second-ranked Ohio State leads the nation with 68 touchdowns scored this season and just one point behind Tennessee with 511 total points scored. Third-ranked Michigan ranks second nationally in points allowed with only 11.7 points given up per game. Ohio State ranks 10th in that category with 16.9 points allowed per game, while Michigan ranks ninth in scoring offense with 39.4 points scored per game. Ohio State's 29.5-point average margin of victory is the best in the FBS this year, while Michigan's 27.6-point average margin of victory is the second-best.
On paper, the Wolverines have the best defense in the country, leading the nation with 241.3 yards allowed per game while ranking second nationally in both yards allowed per run (2.8) and yards allowed per pass (5.3). Ohio State's offense has been the most explosive in college football, leading the FBS with 7.4 yards per play.
The weakest unit among both teams is Michigan's passing offense, which ranks just 99th in passing yards per game (208.8). Yet the Wolverines still rank 23rd in total offense because of their running game, which ranks fourth in the nation with 243.8 rushing yards per game.
While Ohio State's defense was its clear weakness in last year's matchup, the Buckeyes have been much better defensively this year, entering The Game ranked seventh in yards allowed per play (4.54) and ninth in yards allowed per game (283.4).
The numbers on both sides may be inflated a bit by the competition they've faced; Ohio State has played just two ranked teams this season (Notre Dame and Penn State), while Michigan has faced just one (Penn State). Their unblemished records, though, prove Ohio State and Michigan are two of the best teams in college football this year, turning Saturday's game into a de facto quarterfinal for a CFP berth.
The Game returns to The Shoe
Saturday's game will be the first time Ohio State hosts Michigan at Ohio Stadium since Ryan Day became the Buckeyes' head coach.
That feels weird to write, considering Day is now in his fourth year as Ohio State's head coach, but it's true. Because the 2020 edition of The Game was canceled due to a COVID-19 outbreak at Michigan, The Game hasn't been played in Columbus since 2018, when the Buckeyes beat the Wolverines 62-39.
As Ohio State looks to avenge last year's loss in Ann Arbor, home-field advantage could make a difference for the Buckeyes. Ohio State hasn't lost a home game to Michigan since 2000, winning nine straight games against the Wolverines in Columbus. And the Buckeyes have been more dominant at home than they've been on the road this season, winning all of their last six games by at least 29 points while winning by only 13 or 14 points in each of their last three road games.
Ohio Stadium is sure to draw a massive crowd on Saturday, given the stakes of this year's game, and Ryan Day says the home crowd can play a role in helping propel the Buckeyes to victory.
"We need to be as loud as we possibly can. We gotta make it a hostile environment," Day said. "Any time they have the ball, we gotta be as loud as we possibly can. This game has been going on for a lot longer than I've been here, but I know how much it means to so many people. And for all the people that are going to be in the stadium, if their presence can be felt, that helps the Buckeyes."
Day has experienced one home game against Michigan as an Ohio State coach, as he was the Buckeyes' offensive coordinator in 2018. For many of Ohio State's players, though, Saturday's game will be both their first and last home game against the Wolverines as a member of the team, giving them extra motivation to want to celebrate a rivalry win with the Buckeye fans who will surely storm the field if the home team is victorious.
"To have Buckeye Nation at our backs and being behind us and being there for us, that's definitely gonna help a lot," Ohio State defensive end Zach Harrison said.
Two injury-plagued backfields
When healthy, Michigan's Blake Corum and Donovan Edwards and Ohio State's Miyan Williams and TreVeyon Henderson are arguably the two best running back tandems in college football. However, all four are dealing with injuries entering The Game.
Corum could make a run at the Heisman Trophy if he's able to play on Saturday, as he ranks in the top four nationally this season in rushing yards (1,457) and rushing touchdowns (18) and has been the biggest star of the Wolverines' 11-0 start to the season. It's uncertain whether he'll be able to play at all against Ohio State after he suffered a knee injury in Michigan's most recent game against Illinois, though the Buckeyes are preparing as if he will.
"He's a big-time running back," Ohio State defensive coordinator Jim Knowles said. "He has the vision. He has the burst, short-space quickness and he's tough and hard to bring down. So he's a guy that you have to keep your angles on … guys have to be disciplined, not only tough but disciplined, to hold your gap."
Edwards is also a dynamic weapon out of the Wolverines' backfield, running for 471 yards and four touchdowns on just 70 carries and catching 14 passes for 179 yards and two touchdowns this season. That said, he was also sidelined for Michigan's most recent game due to a hand injury.
Ohio State enters the game with similar question marks at running back. Williams missed the Buckeyes' most recent game against Maryland due to an ankle injury, while Henderson was in a walking boot after aggravating the foot injury he's battled for most of the year. Henderson's effectiveness was clearly limited by his health against Maryland, as he ran for only 19 yards on 11 carries. Still, Day said after that game that Williams was "trending" toward being able to return against Michigan.
Fortunately for the Buckeyes, they've found an effective third option in true freshman Dallan Hayden, who's rushed for more than 100 yards in each of Ohio State's last two games with four combined touchdowns. That gives Ohio State reason to keep Hayden in the rotation even if Williams and Henderson are both available, especially if they're not fully healthy.
"I think it's definitely worth a conversation," Day said of the possibility of Hayden playing more than Williams and Henderson this week. "I think when you put on the film, and the film speaks for itself, you've gotta make that decision of who's the best guy in this moment to go put on the field."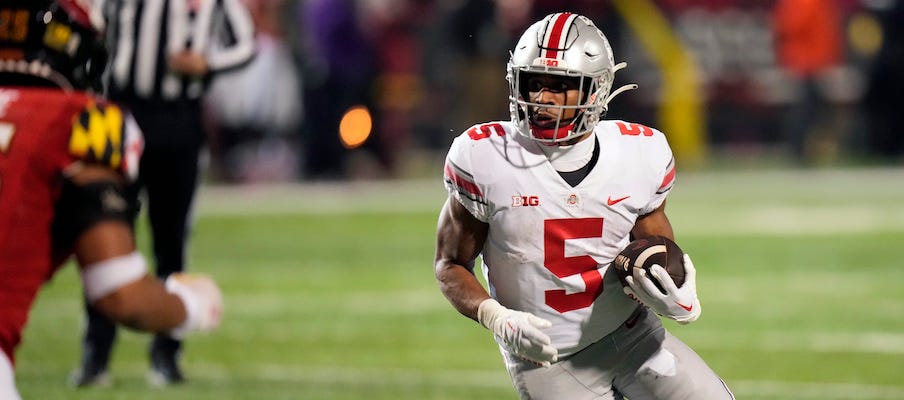 With Corum and Edwards banged up, true freshman running backs could play prominent roles for both teams in The Game, as true freshman CJ Stokes is Michigan's third-leading rusher this year with 268 yards and one touchdown on 53 carries.
Running back is far from the only position where Michigan is dealing with key injuries, as starting tight end Luke Schoonmaker, left guard Trevor Keegan and top pass-rusher Mike Morris was also among the Wolverines who missed their game against Illinois last weekend. Ohio State may be without starting right guard Matt Jones after he left Maryland on crutches last weekend. At the same time, there's been no indication of a return for star receiver Jaxon Smith-Njigba from the hamstring injury that's sidelined him nearly all year.
Keep An Eye on These Guys
QB J.J. McCarthy
If the Wolverines don't have Corum and/or Edwards at full strength on Saturday, the Wolverines' chances of beating Ohio State could hinge on how well McCarthy plays.
A five-star recruit, McCarthy has shown playmaking ability as both a passer and a runner, completing 66.8 percent of his passes this year for 1,952 yards and 14 touchdowns with only two interceptions while rushing for 213 yards and three touchdowns. He was better as a passer against weaker competition early in the season than he's been down the stretch, however, as he's thrown for 208 yards or fewer in six of Michigan's last seven games.
That's partially because of how effective Michigan's running game has been with a healthy Corum, as the Wolverines have attempted nearly 18 more runs than passes per game. McCarthy's recent performance hasn't inspired a lot of confidence in Michigan's ability to pass the ball more when needed, however, as he's completed only 50 percent of his passing attempts (39-of-78) in the Wolverines' last three contests.
Still, McCarthy ranks right alongside Maryland's Taulia Tagovailoa – who threw for 293 yards against Ohio State last week – as one of the most talented quarterbacks the Buckeyes will face in the regular season, and the quarterbacks who have given Ohio State the most trouble are QBs like McCarthy who have the athleticism to extend plays outside of the pocket and make plays themselves as runners.
"He's definitely dynamic," Harrison said. "We got to keep in mind that he has the ability to pull the ball at any moment and run for a big gain. So we've just got to be aware of that and know that that's a possibility."
Michigan offensive line
While Corum has garnered most of the headlines, the other big reason why Michigan's rushing offense has been one of the best in the country is that its offensive line has once again been among college football's best.
Led by a pair of multi-year starters in left tackle Ryan Hayes and right guard Zak Zinter and one of the nation's best centers in Virginia transfer Olusegun Oluwatimi, the Wolverines' offensive line has shown capable of dominating opponents in the run game – as it did against Ohio State last year – while only allowing 12 sacks in the pass game.
For Ohio State to turn the tables on Michigan this year, there's no more important factor than a better performance by the Buckeyes' run defense, which allowed Michigan to run for 297 yards and six touchdowns a year ago. This year's defense looks like it should be up to the task of slowing the Wolverines, as the Buckeyes rank eighth in the nation with only 3.08 yards allowed per carry, but the true test of how Ohio State's defensive front will hold up against an elite offensive line will come Saturday.
"They're strong, and they get their hands on you and try to steer you, try to push you. The splits are tight. They really play it the old school way," Knowles said of Michigan's offensive line. "So we got to fight back. It is a toughness game. And I know Coach Day and (director of sports performance Mickey Marotti), that's what they've preached since I've been around the program. So it's up to us really on defense to hold that line."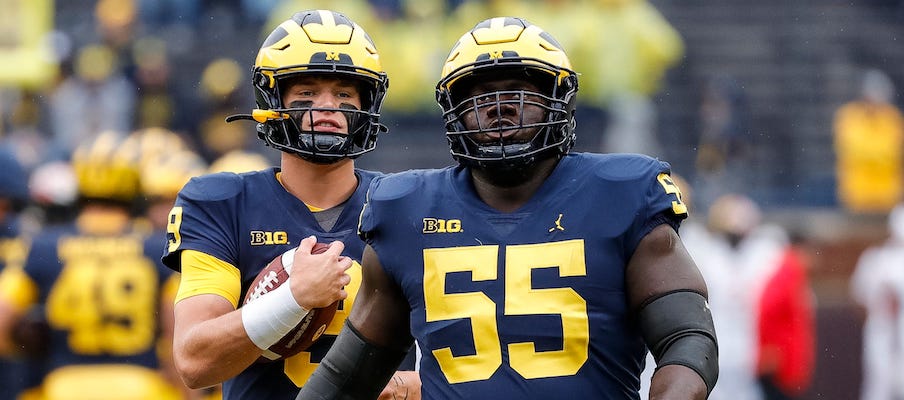 DT Mazi Smith and Kris Jenkins
Michigan's other dominant unit against Ohio State last year was its defensive line, which has also continued to be one of its biggest strengths this year. The Wolverines don't have quite as much star power on the edge as they did with Aidan Hutchinson and David Ojabo a year ago – though Morris has been one of the nation's best edge rushers – but remain stout on the interior defensive line with Smith and Jenkins leading the way.
Jenkins has recorded 43 total tackles this season, while Smith, the only returning starter from last year's defensive line, has 39 tackles. Their contributions go well beyond the box score, though, as both DTs do an excellent job of holding their gaps and disrupting plays up front to allow the linebackers behind them to make stops.
Together, they'll give Ohio State's interior offensive line its biggest test of the year, making it a less-than-ideal time for the Buckeyes to potentially have to break in a new starter at right guard (likely Enokk Vimahi or Josh Fryar) if Jones is sidelined. Michigan will need Smith and Jenkins to be at their best if Morris can't play, but the same will be true for Ohio State's offensive line – particularly Donovan Jackson, Luke Wypler and whoever starts at right guard – if the Buckeyes are going to have success running the ball against the Wolverines.
Game Week Talk
"We've been licking our wounds for 365 days, hearing all the laughing and everything that everybody's been saying."– C.J. Stroud
In what will likely be his last chance to get a pair of Gold Pants, assuming he enters the 2023 NFL draft, Ohio State's starting quarterback will be as motivated as anyone to beat Michigan on Saturday. He's heard the criticism that has been levied Ohio State's way for the past year – including Desmond Howard's shot at Ohio State's offensive line during last year's Heisman Trophy ceremony – and all of that serves as fuel for the fire for Stroud in a game that could make or break his chances of winning this year's Heisman.
"To be honest with you, I really could give a shit what anybody else says about our toughness. I know what we've got here, what we got going on with us and what other people say outside this program doesn't matter. We know what we've got. We know what we pride ourselves on."– Cade Stover
Ohio State's toughness has repeatedly been questioned since last year's loss to Michigan, and numerous Buckeyes have acknowledged they weren't as tough as they needed to be last year. Building more toughness has been a point of emphasis for Ohio State all year long, though, making the Buckeyes – especially Stover – adamant they have the toughness they need for this year's game.
"At the end of the day, it's really all just noise, and all just a bunch of fans that like to boo you and don't like you very much. And you just do whatever you can to transmute that and use it against them."– J.J. McCarthy on playing at Ohio Stadium
McCarthy is about to step into a hostile environment he's never played in before as he plays his first road game against Ohio State on Saturday, but he expressed no concern about the challenge that could present when asked about it this week.
Projected Starters
Ohio State
Pos
Michigan
OFFENSE
C.J. STROUD
QB
J.J. MCCARTHY
MIYAN WILLIAMS
RB
BLAKE CORUM
MARVIN HARRISON JR.
WR
CORNELIUS JOHNSON
JULIAN FLEMING
WR
RONNIE BELL
EMEKA EGBUKA
WR
ROMAN WILSON
CADE STOVER
TE
LUKE SCHOONMAKER
PARIS JOHNSON JR.
LT
RYAN HAYES
DONOVAN JACKSON
LG
GIOVANNI EL-HADI
LUKE WYPLER
C
OLUSEGUN OLUWATIMI
ENOKK VIMAHI
RG
ZAK ZINTER
DAWAND JONES
RT
KARSEN BARNHART
DEFENSE
ZACH HARRISON
DE
MIKE MORRIS
TARON VINCENT
DT
KRIS JENKINS
TY HAMILTON
DT
MAZI SMITH
J.T. TUIMOLOAU
DE
JAYLEN HARRELL
STEELE CHAMBERS
WLB
MICHAEL BARRETT
TOMMY EICHENBERG
MLB
JUNIOR COLSON
TANNER MCCALISTER
NB
MIKE SAINRISTIL
DENZEL BURKE
CB
DJ TURNER
CAMERON BROWN
CB
WILL JOHNSON
RONNIE HICKMAN
S
ROD MOORE
LATHAN RANSOM
S
R.J. MOTEN
Get Smart
Michigan leads the all-time series with Ohio State 59-52-6, but Ohio State is 17-3 in the last 20 meetings.
Ohio State has not lost back-to-back games to Michigan since dropping consecutive meetings in 1999 and 2000.
Ryan Day has a 1-1 record against Michigan as Ohio State's head coach. Jim Harbaugh is 1-5 against Ohio State as Michigan's head coach.
Ohio State has won its last 29 consecutive Big Ten home games – a conference record – starting with its home opener against Rutgers in 2016.
Ohio State's roster includes five players from Michigan: safety Cameron Martinez, long snapper Bradley Robinson, offensive lineman Grant Toutant and walk-ons Cayden and Kai Saunders.
Michigan's roster includes six players from Ohio: safeties Rod Moore and Caden Kolesar, punter Brad Robbins, linebacker Joey Velazquez and tight ends Erick All and Joel Honigford. Moore and Robbins are both starters, while All and Kolesar are both out for the season.
23 Ohio State players will be recognized during the pregame Senior Day ceremony: Lloyd McFarquhar, Ryan Smith, Tanner McCalister, Palaie Gaoteote, Michael O'Shaughnessy, Harry Miller, Marcus Crowley, Noah Ruggles, Jerron Cage, Josh Proctor, Javontae Jean-Baptiste, Cameron Brown, Dawand Jones, Matt Jones, Taron Vincent, Xavier Johnson, Bradley Robinson, Teradja Mitchell, Ronnie Hickman, Mitch Rossi, Zach Harrison, Tyler Friday and Kamryn Babb.
ESPN's College GameDay and FOX's Big Noon Kickoff will both air live pregame shows from Ohio State's campus before Saturday's game. Both shows will begin at 9 a.m.
Saturday's game will be Ohio State's fifth game on FOX this season and its fourth Big Noon game on FOX in the second half of the regular season. Gus Johnson and Joel Klatt will commentate the game with Tom Rinaldi reporting from the sideline.
How It Plays Out
Line: Ohio State -8, O/U 56.5
Despite Michigan's win over Ohio State last season and its undefeated record this year, the Buckeyes are favored to win this year's edition of The Game by more than a touchdown. It's still the first time Ohio State has been favored by only single digits all year, as oddsmakers expect the regular-season finale to be the most competitive game of the regular season for the Buckeyes, who have won every game they've played this year by at least 11 points.
Based on how both teams have played this year and how previous rivalry matchups between top-five teams have gone, all signs point toward a four-quarter war in Ohio Stadium on Saturday. While the Buckeyes may have been able to get away with uneven play and still dominate most of their opponents this season, they have to be at their best just to win this week.
It's hard to imagine the Buckeyes bringing anything but their A-game to this year's rivalry game, though, considering what happened last year – though it's likely both teams will have new wrinkles in their game plans this week that they've put in specifically for this game.
Home-field advantage is surely a factor in Ohio State being favored to win Saturday's game. So is the uncertainty surrounding the availability of Corum, as Michigan is less equipped to overcome running back injuries than Ohio State. Unlike last year, the weather also appears likely to favor the Buckeyes this year; while early forecasts called for potentially rainy and windy conditions, the forecast as of Thursday night called for temperatures in the mid-50s with only a low chance of rain and light wind.
Saturday's game is likely to be one that features ebbs and flows on both sides, and it could easily be a game that comes down to the final drive. Michigan's defense is far more capable of making life difficult on Ohio State's offense than most teams are, and the Wolverines will give Ohio State's defense one of its toughest tests so far, too, even with an inconsistent passing game and an injury-plagued group of runners.
In the end, though, the consensus among the Eleven Warriors staff is the Buckeyes will outduel the Wolverines and complete a 12-0 regular season with the most meaningful win of all.
Eleven Warriors Staff Prediction
34
 
23