The Game was canceled in a year when it felt like everything was dying.
Businesses, global events like the Olympics, hundreds of thousands of people - every day felt grim, so outsiders may have viewed the loss of a single midwest football game as a petty grievance with society in turmoil and morgues at full occupancy.
Except that Ohio State-Michigan transcended sports long before the current population was born. That annual event resides right on the edge of religion and spiritual sustenance.
The Game has been an indelible cultural phenomenon for over a century, going so far as to shape Ohio's identity. The nucleotides forming the state's DNA today barely resemble their original pre-rivalry form.
Ohio Stadium would have been a different building had the university not spent two decades punching up to Ann Arbor. Carmen Ohio is a completely different song in a world with no rivalry.
Ohio State used the Wolverines as a muse to build a monster over a century ago, and Michigan has fought for the better part of the past 50 years to reclaim its ancient empire. Every year as fall turns to winter, the elderly and terminally ill find the willpower to stay with us just long enough to see both teams play one final time before letting go.
So no, this is not just a single midwest football game. Its cancelation in 2020 felt jarring and unnatural, despite eight months of practice in accepting jarring and unnatural as daily occurrences.
But that's how life was in 2020, and The Game was just one more casualty of that horrible year. That Saturday came and went without our indelible cultural phenomenon. But then, on Sunday:
In a Zoom call with reporters, Jim Harbaugh says Michigan had a spirited practice Sunday. The Wolverines were supposed to play Saturday at Ohio State, a game UM canceled because of COVID-19 concerns.

— Kyle Rowland (@KyleRowland) December 14, 2020
Suddenly, this didn't feel like yet another pandemic casualty. Bookmakers had made the 2-4 Wolverines a 30-point underdog. They were scheduled to play Maryland the previous week, but had already paused football activities due to increasing infection rates and positive tests.
Which meant Michigan would not be able to practice for Ohio State until Monday of game week. Here is what conference protocol for altering or halting practice looked like in 2020: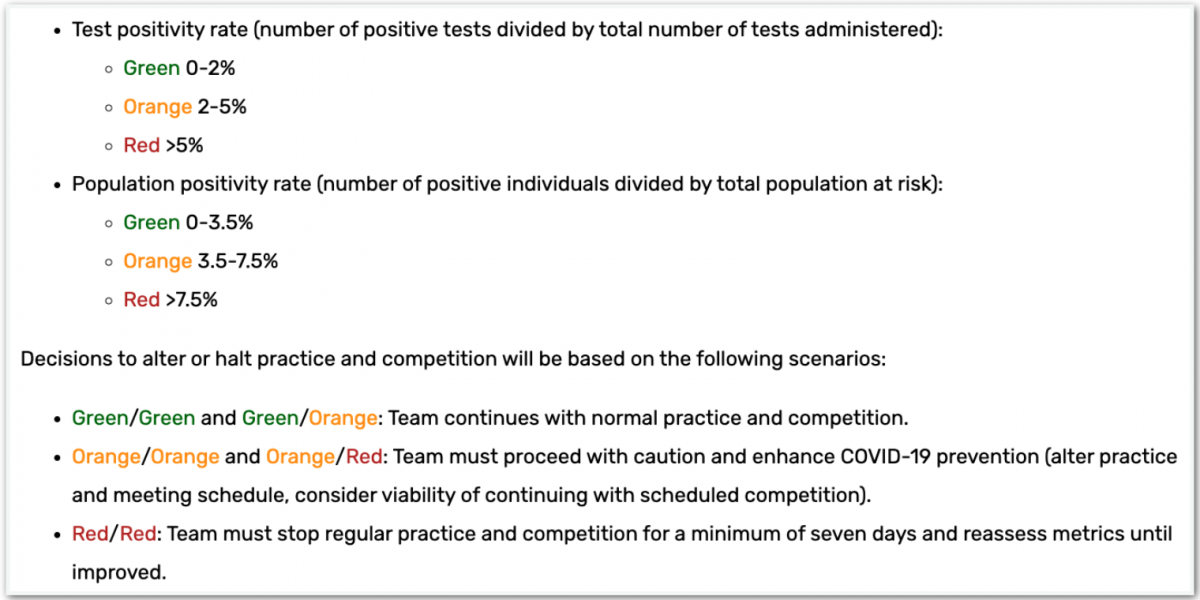 That final bullet is where the program was when it canceled its game with Maryland on Dec 2.
Team must stop regular practice and competition for a minimum of seven days and reassess metrics until improved.
Michigan's trip to Columbus was scheduled for Dec 12. That spirited practice took place a day later on the 13th, which meant it must have canceled the Ohio State game no earlier than Dec 6, per B1G protocol. Except that's not what happened.
ANN ARBOR, Mich. -- The University of Michigan Athletic Department announced Tuesday (Dec. 8) that an increasing number of positive COVID-19 cases and student-athletes in quarantine over the past week will result in the cancellation of Saturday's (Dec. 12) scheduled game at Ohio State.

This decision was made after conversations with medical experts, health department officials and university administration.
Canceling on Dec 8 meant football activities in Ann Arbor should have paused until Dec 15 at the earliest. So one of the following statements must be true, and the other must be false:
Michigan ignored guidance from medical experts, health department officials, university administration and broke conference pandemic protocol, putting its players, coaches and football staffers at risk.
A 30-point underdog used COVID as a cover to avoid being embarrassed again by its arch rival.
The forfeit left Ohio State a game short of Indy eligibility, which the conference swiftly rectified.
This Saturday is not revenge for what happened last year in Ann Arbor. It's not revenge for what didn't happen in 2020 in Columbus, either. Revenge has no real value in The Game; what happened once in the past is merely a blemish in blood feud that predates all of us.
But this rivalry is about the stories, the triumphs, the heroes and the villains. It is our indelible cultural phenomenon which will be hosted in Columbus for the first time in four years. An Olympic gap. One last event for those in the twilight of their lives to enjoy before passing.
And for the sake of those telling these stories long after we're all gone, we should archive what actually took place in 2020 before history paints over what a 30-point underdog did in 2020 to avoid participating in an event that transcends sports.
Here come the Wolverines, finally. Michigan, welcome back to hell. Let's get Situational.
OPENER | SPIES, LIES AND ALGORITHMS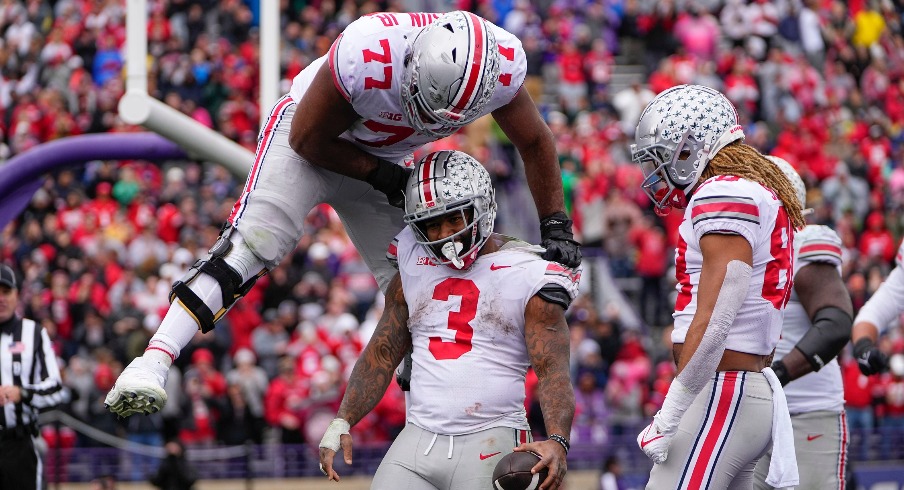 Anyone attempting to use track record and common opponents to piece together some sort of logical forecast for how Ohio State-Michigan transpires is guilty of gross naivety.
It's bad enough to use common opponents to make judgements in a sport as illogical as college football - but with these two? This rivalry is as emotional as it is deeply paranoid. Neither side knows what it doesn't know. Analytics cannot account for willful deception.
We don't know who or what is going to happen, and that's by design in both Columbus and Ann Arbor. Both programs have been engaged in rivalry subterfuge since October, when the respective staffs concluded, correctly, they could make it to Saturday without having to reveal their best cards.
Still, analytics are all we have to hold us over. So let's feast on some junk food.
MICHIGAN'S ROAD TO COLUMBUS, 2022

| OPPONENT | RECORD | SP+ | O SP+ | D SP+ |
| --- | --- | --- | --- | --- |
| COLORADO STATE | 2-9 | 126 | 128 | 91 |
| HAWAI'I | 3-9 | 127 | 116 | 121 |
| CONNECTICUT | 6-6 | 122 | 125 | 88 |
| MARYLAND | 6-5 | 40 | 33 | 67 |
| @ IOWA | 7-4 | 19 | 112 | 2 |
| @ INDIANA | 4-7 | 87 | 49 | 112 |
| PENN STATE | 9-2 | 6 | 21 | 17 |
| MICHIGAN STATE | 5-6 | 66 | 47 | 80 |
| @ RUTGERS | 4-7 | 96 | 114 | 43 |
| NEBRASKA | 3-8 | 77 | 78 | 72 |
| ILLINOIS | 7-4 | 23 | 101 | 3 |
| @ OHIO STATE | 11-0 | 2 | 4 | 10 |
The best defense Michigan faced on the road this season resides in Iowa City, where the Wolverines were held to what had been their season low prior to Saturday's four-quarter filibuster with Illinois.
The only offense the Wolverines faced on the road in the SP+ top 111 lives in Bloomington.
So what, there's no comfort you can take from a tepid road résumé in this rivalry. Michigan's head coach has known exactly what this Saturday means since he was 12 years old, which is why his program has played with its food through halftime most of the season before quickly swallowing it in the 2nd half.
Hey, you know who else did that with regularity? Of course you do, you watched their games.
OHIO STATE'S PATH TO 11-0, 2022

| OPPONENT | RECORD | SP+ | O SP+ | D SP+ |
| --- | --- | --- | --- | --- |
| notre dame | 8-3 | 38 | 64 | 32 |
| arkansas state | 3-8 | 102 | 79 | 113 |
| toledo | 7-4 | 73 | 58 | 74 |
| wisconsin | 6-5 | 43 | 69 | 24 |
| rutgers | 4-7 | 96 | 114 | 43 |
| @ michigan state | 5-6 | 66 | 47 | 80 |
| iowa | 7-4 | 19 | 112 | 2 |
| @ penn state | 9-3 | 6 | 21 | 17 |
| @ northwestern | 1-10 | 111 | 121 | 69 |
| indiana | 4-7 | 87 | 49 | 112 |
| @ maryland | 6-5 | 40 | 33 | 67 |
| michigan | 11-0 | 3 | 28 | 4 |
The home team dealt with a mysterious season-opening opponent while abruptly finding Itself without its top two slot receivers, sending a vaunted passing attack into an impromptu game of musical chairs. Offense has since only looked clunky in the Horseshoe for a single half, when Iowa's defense - specialists in clunkiness - came to town.
The Buckeyes haven't allowed any scores at home into the 20s until garbage time. Even in its mildest form, Ohio Stadium presents a formidable home field advantage. Saturday will see its spiciest condition.
But Michigan is engineered to mute hostile environments via plodding, grinding, smothering, forceful suffocation. The winning team on Saturday will demonstrably be the best version of itself.
And that - identity - is why the weather forecast garners greater concern for the Buckeyes than possibly missing their top three tailbacks from the beginning of the season, as well as their starting right guard. The best version of Ohio State features an aerial assault. The most effective defense it saw all season was in Evanston - and it wasn't wearing purple.
It's the same reason there's such strong interest in Blake Corum's knee. It's because both teams are dealing with the potential for identity theft at the least opportune time of their seasons. On top of that, they've been twisting themselves into maddening predictability streaks in the run-up to Saturday to reveal as little of their true selves as possible.
All the cloak and dagger paranoia ends on Saturday. Okay fine, common opponents. More junk.
OHIO STATE & MICHIGAN: COMBINED 2022 RÉSUMÉ (22-0)

| OPPONENT | OSU/UM | HOME/ROAD | SP+ | O | D |
| --- | --- | --- | --- | --- | --- |
| penn state | BOTH | UM (HOME) OSU (ROAD) | 6 | 21 | 17 |
| IOWA | BOTH | UM (ROAD) OSU (HOME) | 19 | 112 | 2 |
| ILLINOIS | UM | HOME | 23 | 101 | 3 |
| NOTRE DAME | OSU | HOME | 38 | 64 | 32 |
| MARYLAND | BOTH | UM (HOME) OSU (ROAD) | 40 | 33 | 67 |
| WISCONSIN | OSU | HOME | 43 | 69 | 24 |
| MICHIGAN STATE | BOTH | UM (HOME) OSU (ROAD) | 66 | 47 | 80 |
| TOLEDO | OSU | HOME | 73 | 58 | 74 |
| NEBRASKA | UM | HOME | 77 | 78 | 72 |
| INDIANA | BOTH | UM (ROAD) OSU (HOME) | 87 | 49 | 112 |
| RUTGERS | BOTH | UM (ROAD) OSU (HOME) | 96 | 114 | 43 |
| ARKANSAS STATE | OSU | HOME | 102 | 79 | 113 |
| NORTHWESTERN | OSU | ROAD | 111 | 121 | 69 |
| CONNECTICUT | UM | HOME | 122 | 125 | 88 |
| COLORADO STATE | UM | HOME | 126 | 128 | 91 |
| HAWAI'I | UM | HOME | 127 | 116 | 121 |
No gauntlets traversed by either side of the rivalry in 2022. Neither team forced to break its emergency glass and reveal too much of what it's been working on and saving for Saturday.
So sure, try and crystal ball that which cannot be crystal balled. It's one way to pass the time.
INTERMISSION
The Solo
The first time I heard The Promise by When in Rome on the radio I thought it was by New Order. I loved it immediately, and in 1988 I had to buy the whole-ass album so I could binge one song.
So one day at lunch I walked from Upper Arlington High School to the Lane Ave Mall to procure what I thought would be a new New Order album from the record store (which also sold cassette tapes and was beginning to stock compact discs too, wowee wow wow).
I came up empty and was too shy to ask the clerk why The Promise wasn't contained on any New Order albums. Unfortunately, google was just a large number back then. My error went unsolved until college, when my second roommate owned the When in Rome CD.
The Promise features a piano solo. Let's answer our two questions.
Is the soloist in this video actually playing the piano?
Michael Floreale plays the piano on the album and in the video, however during the solo he drops his hands two octaves on the keys, which doesn't fly with what you're hearing. If you've had even just one piano lesson, you see and hear this discrepancy and become a Leo DiCaprio meme. VERDICT: Inconclusive.
Does this piano solo slap?
Lyrically, The Promise tells a prequel story which concludes in Mr. Brightside, the beloved cuckoldry anthem shouted by the student body at Michigan home games. In Part One, our protagonist is begging a girl he loves to stay with him instead of leaving with some rando. In Part Two, she has departed with the rando and left him alone with his broken feelings.
Musically, sit at a piano, place your thumb on middle C and just improvise. Eventually you'll play The Promise hook by accident. It's that simple, and there's beauty in simplicity VERDICT: Slaps.
The Bourbon
There is a bourbon for every situation. Sometimes the spirits and the events overlap, which means that where bourbon is concerned there can be more than one worthy choice.
We don't get undefeated Ohio State playing undefeated Michigan very often. When we do, it's a big deal with highest stakes and even higher drama. Yes, there's a bourbon for that. This isn't it.
Feel free to peruse the past decade-plus of Situationals if you need Pappy bourbon takes and reviews - today we're celebrating (if you can call it this with a straight face) the most underrated entry in the PVW catalog, its 13 year-old rye.
It hits the palate like a high-rye bourbon, suggesting significant corn content in the mash bill - that's as hard to locate as the whiskey itself. PVW bourbons are famously wheated, making its rye entry almost passive-aggressive, like look how easy this would be for us if we wanted to kick your ass. It's basically an unwheated Pappy.
Thirteen years of aging delivers a fascinating journey from nose through finish, while also being far too cost-prohibitive to enjoy without a conscience. This is the Pappy dilemma, kind of like undefeated Ohio State-Michigan tickets on the secondary market. It is what makes PVWR situationally appropriate this week.
As I've said in this column and to every stranger who emails or asks me, yes Pappy whiskey hype is justified. But if you haven't explored ~50 different whiskies and solved what makes them good, great or interesting - to your palate - then spending any money on PVW is an adventure in stroking your vanity.
And that is fine too. A rare trip down vanity lane is a nice vacation from being too humble. If you can afford it.

CLOSER | DEN OF THIEVES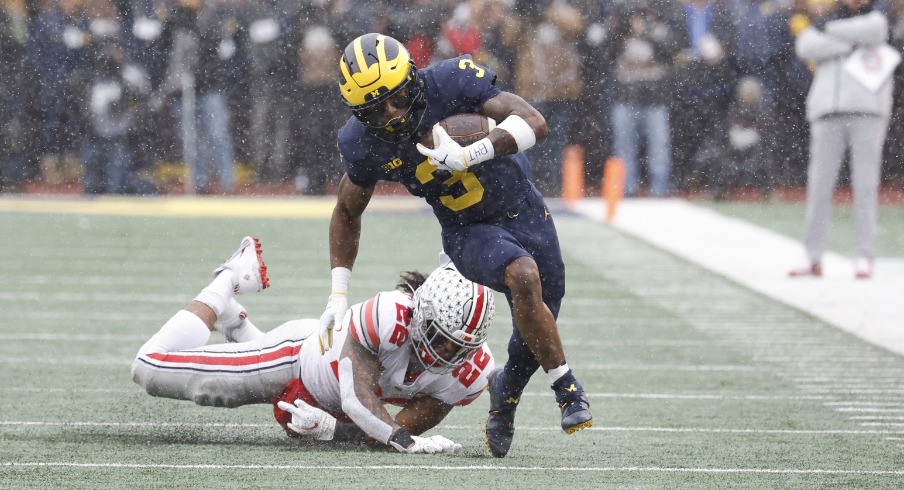 Over the summer I was invited to a private event on Lane Ave featuring shrimp cocktail, chicken wings, Tony Alford and Ryan Day. I accepted the invitation. I love a good shrimp cocktail.
I spent time with Coach Alford and asked him about chemistry up and down the roster, like if the guys who weren't getting on the field had accepted their depth chart positions, and if the program had effectively installed the proper expectations as they worked to further their chances for playing time. Competitive excellence, as ancient philosophers called it.
Can't remember how I worded the question, but that was the gist - no one actually talks like that. Hey coach who's the next K'Vaughn Pope felt too abrupt. I'm not a journalist but I have journalistic integrity.
"Are you going to publish this?" Alford deadpanned. I said I would not. He then spent a good deal of time talking through the journey program culture had taken from the pandemic season right up until that plate of chicken wings.
Shortly thereafter, Coach Day began talking about the only thing anyone wanted to hear, which was the game taking place this weekend. He discussed what happened in 2021, what's being done to correct it and how that outcome had affected him every day since.
He talked about how his son took some flack on the school bus the Monday after the team returned from losing in Ann Arbor, and someone made a noise which sounded like a muffled laugh. "It's not funny," he said with a cold stare, which was followed by an uncomfortable silence. "It's not funny at all."
I don't think Ohio State has stopped preparing for this game since the Rose Bowl ended. What happened last year at Michigan was the consequence of a number of factors, including diminished urgency that comes with the domination the Buckeyes have enjoyed since Jim Tressel's arrival.
And this is why I believe Ohio State has been engaged in subterfuge all season long, which aligns Day's focus on Michigan with Woody's famous paranoia. And why shouldn't he be paranoid?
Ohio State defense couldnt get a single stop since mid 2nd quarter

Michigans final 5 drives:

82 yards, TD
81 yards, TD
78 yards, TD
66 yards, TD
63 yards, TD

— Pick Six Previews (@PickSixPreviews) November 27, 2021
As dire as the Glendale Massacre. Jim Knowles was hired that day and didn't even know it.
If you don't believe Michigan is capable of bullying Ohio State like that again, despite the Buckeyes spending a full year preparing for it, or because Day hasn't stopped obsessing about it, or because Knowles was brought in specifically to make sure this type of humiliation never happened again - you are kidding yourself. That's not how this rivalry works.
Nothing in this game has ever been promised or guaranteed. I was a college student during the 1990s, and it's been painted over by history since but at the time it was widely believed John Cooper deserved his moment of triumph.
Scroll up to the Pappy GIF above and notice the Dispatch edition in the frame near the top. It's from November 1994, my senior year. Coop was 1-5-1 at that glorious moment. Nobody would have believed it with the machine he was building, but he still had another 1-5 stretch ahead of him against the Wolverines. So much for that Michigan monkey.
Do you know who is currently 1-5 in the rivalry? You do. He'll be on the east sideline Saturday.
And that's the other side of the point. Michigan doesn't deserve sustained emancipation from the dark hole where it's spent the better part of two decades, either. Neither team is promised a damn thing at the end of November, even though it might have felt like Ohio State was eternally entitled to beat Michigan forever for awhile.
Entitlement is not the reason OSU lost in 2021. But it was on the list. It's been removed.
Thanks for getting Situational today. Go Bucks, beat Michigan.