At some point, it became hard for Ohio State to tune out the noise.
The team's offensive linemen heard all about the dominant Michigan front seven led by Chase Winovich and Rashan Gary. Critics imagined it would be tough for the Buckeyes' inconsistent line to hold off the defensive linemen and linebackers that make up the top run and pass defense in the country.
The Buckeyes' defense, which gave up 51 points to Maryland just a week prior, couldn't avoid the fatalistic takes. Shea Patterson, Karan Higdon, Donovan Peoples-Jones and the rest of Michigan's offense possessed enough playmakers to concern a defense that had been continuously torn apart for months by mostly inferior talent.
"We all carry the burden of hearing about people say we're not good," Dre'Mont Jones said.
Both Ohio State's offensive line and defense overheard enough to get an idea of what many people thought the Wolverines were about to do to them, and they didn't appreciate the slights. In the Buckeyes' 62-39 victory on Saturday, both units, fueled by the negativity, rebuffed all doubters.
"It definitely feels good to just end all the criticism, to show people that it's not what it was." – Isaiah Prince
On Dwayne Haskins' 30 throws, he wasn't touched. Not even once. Michigan didn't even record a single quarterback hurry.
Every single time Haskins dropped back in the pocket, he had a perfectly clean pocket, which makes an especially significant difference for him. According to Pro Football Focus, his passer rating without getting pressured is more than two times higher than his passer rating when hurried.
"We don't want to get congratulated or have a pat on our back for doing our job," Isaiah Prince said. "That's our job. Our job is to keep the quarterback and the running backs clean, and we did our job today. It should be a normal feeling for doing your job."
For a while this season, it hadn't felt normal. Prince and his fellow linemen picked up penalties and struggled blocking with physicality at times this fall. Those issues certainly didn't arise on Saturday.
Michigan entered the game 22nd in the nation with 31 sacks in 11 games, averaging a sack every nine pass attempts. But the Wolverines couldn't find anything resembling a pass rush against Ohio State's typically inconsistent offensive line. Winovich and Gary each had a tackle for loss, but not even a single hurry. Josh Uche, the team's leading sack artist, couldn't even record a tackle, let alone drag Haskins to the ground.
Haskins said he will have to take the line out for dinner and called the performance an "A-plus job."
"I think he'd be the first one to tell you that the quarterback's a product of those in front of him," Urban Meyer said. "And I take a peek down here against that defense. Under sacks, it says zero. So I think the first thing that he would say, and I'd be disappointed and shocked – as a matter of fact, I'm going to tell him to make sure he says that – thank the big guys up front because they won the game for us. Zero sacks."
Prince, who played his final home game on Saturday along with fellow starting linemen Malcolm Pridgeon and Demetrius Knox, said he thought the performance made a "statement."
"It definitely feels good to just end all the criticism, to show people that it's not what it was," Isaiah Prince said. "But still credit to that defense. That's still a really good defense. They played hard in the first half. We just played hard."
Ohio State's defense certainly didn't play flawlessly, like the offensive line did in pass protection, but it minimized damage and gave the team's explosive offense enough opportunities to pull ahead and continue adding to its lead.
Michigan went three-and-out in its first chance with the ball, then had a pair of drives that each took at least 10 plays. But they resulted in two field goals, which allowed the Buckeyes to hold onto their early lead. What was once a break-the-continue-breaking defense turned into a bend-but-don't-break defense.
"We just had a chip on our shoulder. We just had to show the world who we really are."– Malik Harrison
By the time the Wolverines scored their first touchdown of the game, Ohio State had already reached the end zone three times.
"We watched film. We studied it. We dissected it," Jones said. "We saw weaknesses, and we tried to capitalize as best we can. Hearing the outside noise talk about we can't do this, we can't stop that. That definitely fueled us 10 times more than what you guys even know."
Though Michigan scored 39 points, Malik Harrison called the defensive performance "great" because Ohio State shut the Wolverines down multiple times when their drives seemed to have momentum that would lead to touchdowns.
The Buckeyes forced a pair of three-and-outs to open the second half, with the second drive ending in a blocked punt by Chris Olave that Sevyn Banks returned for a touchdown. Then, Jordan Fuller picked off a pass on the third drive of the half to set up another touchdown. Brendon White intercepted another pass late in the fourth quarter.
"I don't think we were surprised," Harrison said. "We showed some flashes throughout the whole year, so I don't think – it wasn't a surprise. It was just people just doing their job."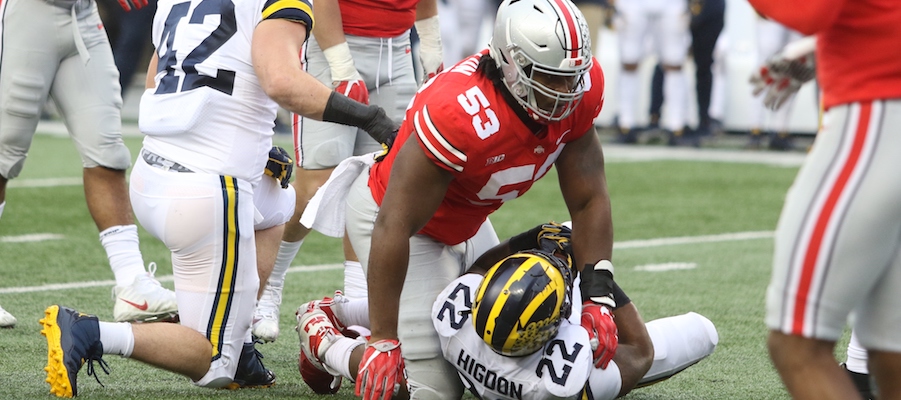 Harrison had a few standout plays, including a tone-setting sack on Michigan's first drive of the game and a tackle for loss later in the opening quarter. He had seven tackles, including two tackles for loss.
Tuf Borland, who's built to defend Michigan-like offenses, led the team with 10 tackles. Both Jonathon Cooper and Robert Landers picked up sacks.
The defense was "pissed off" at Higdon responding affirmatively when asked whether he would be willing to guarantee a win against Ohio State, Harrison said. Higdon had 72 yards on 15 carries.
"We just had a chip on our shoulder," Harrison said. "We just had to show the world who we really are."
Ohio State had no shortage of doubters about both the offense line and defense after weeks – or months – of struggles.
But in the most important game of the season, the Buckeyes did more than silence the critics. They played their most complete game and came out victorious with everything on the line.