Everything that both teams have played for all season will be on the line when Ohio State and Michigan meet in Ohio Stadium on Saturday.
With the Buckeyes and Wolverines each bringing 10-1 records into Saturday's regular-season finale, this year's edition of The Game will decide who will win the Big Ten East, who will face Northwestern in next week's Big Ten Championship Game, which team will remain alive in the College Football Playoff race and as important as anything else, which team will have bragging rights for the next year in one of sports' most storied rivalries.
Michigan enters Saturday's game with as much momentum as it has had in a long time, and as a favorite to beat Ohio State for the first time since 2011, which was the last time the Wolverines beat the Buckeyes. The Wolverines have been on a self-described "Revenge Tour," but that tour will be all for naught if they can't snap Ohio State's six-year rivalry game winning streak on Saturday.
Ohio State, meanwhile, will be looking to win its seventh straight game against the maize and blue since Urban Meyer became the Buckeyes' head coach in 2012. If the Buckeyes fail to beat the Wolverines in their home stadium this weekend, however, it would go down as an ugly end to what could be remembered as the most tumultuous regular season of Meyer's tenure in Columbus.
It's all on the line for both teams entering Saturday's game. But that's the way they like it.
"We prepare all year for this game and all the way back in winter, so this is not just a week-long process that we're preparing for The Team Up North – it starts all the way back in the winter," said Ohio State wide receiver Terry McLaurin. "That's why I feel like this is so much more than just another game this week."
Buckeye Breakdown
Ohio State put up 688 yards of total offense, a school record for a Big Ten game, and scored 52 points at Maryland last week. Even as the Buckeyes prepare to face the nation's top-ranked defense in yards allowed per game, they have reason to be confident about their offense.
Dwayne Haskins set Ohio State's single-season school records for passing yards and passing touchdowns last week, in a game in which he also showed significant ability to make plays as a runner for the first time this season. He had shown that ability last season, though, when he took over in the second half for injured starting quarterback J.T. Barrett and led Ohio State to a 31-20 comeback win over Michigan in Ann Arbor.
After struggling for most of the season in the running game, Ohio State has shown an improved ability and a renewed commitment to moving the ball on the ground during the month of November, too. Even without Mike Weber last week, the Buckeyes ran for 283 yards and four touchdowns on a season-high 56 rushing attempts, with J.K. Dobbins (203 yards, one touchdown) and Haskins (59 yards, three touchdowns) leading the way.
After the Buckeyes' 49-20 loss in their eighth game of the season at Purdue, in which the Buckeyes had just 76 rushing yards on 25 attempts and scored zero touchdowns on five trips to the red zone, Ohio State head coach Urban Meyer challenged his offensive coaches and players to establish a better balance on offense. And he believes they've been able to do that over their last three games.
"You're seeing our guys work tremendously hard at that," Meyer said. "I think our offensive staff has done a pretty good job, and the offensive players have done a very good job."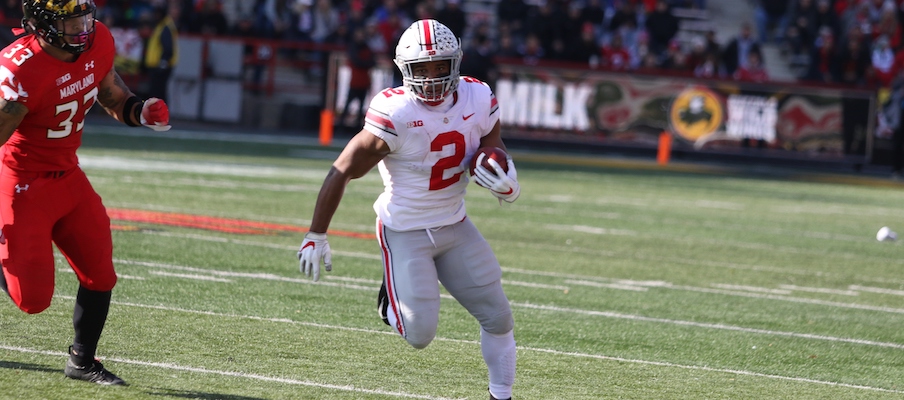 Defensively, however, Ohio State has struggled all season, and never moreso than last week, when they gave up 51 points and 535 yards to Maryland, which allowed the Terrapins to take the game to overtime and come just a two-point conversion away from upsetting the Buckeyes.
Meyer, who said he had "uncomfortable and direct" conversations with Ohio State's defensive coaches this week about the improvements the Buckeyes absolutely must make on that side of the ball, was blunt in his assessment of how the defense played in College Park.
"We'll have to play better than we did on defense, or we won't win the game," Meyer said in reference to this week's game.
Ohio State's defense has been plagued by big plays all season – the Buckeyes have allowed 35 plays of 30-plus yards, including 11 plays of 50-plus yards – and currently rank 70th in the Football Bowl Subdivision in yards allowed per game (398.6) and 52nd in points allowed per game (24.6). While Michigan enters this week's game having never allowed more than 24 points in a game this season, Ohio State has done so seven times.
With everything on the line this week, though, defensive tackle Davon Hamilton is among the Buckeyes defenders who are confident they will elevate their play this week.
"I don't think we're going to play like that against Michigan," Hamilton said after the Maryland game. "They're different. We know what we're walking into.
"Our best game is yet to come," Hamilton added this week. "Really, we can shut out teams if we put our minds to it. We've just got to put it all together."
That best game might have to come this week, though, for the Buckeyes to have a chance to beat the Wolverines.
"It's got to be damn near close, because they are a really good team," Hamilton said. "The stuff we've been doing all year, working hard, that's the real message this week."
Ohio State wide receiver Parris Campbell, one of 12 seniors who will be playing their final home games at Ohio Stadium on Saturday, said that applies to the offense, too.
"We're going to have to do everything at a high level, whether it's running the ball, throwing the ball, blocking up front, blocking on the perimeter," Campbell said. "They're a huge blitz team. We'll have to pick those up. But I think the run game will be very important. I think we'll prepare the right way and come Saturday, we'll be ready."
The importance of this week's game has certainly been emphasized at the Woody Hayes Athletic Center this week, with the LL Cool J song "It's Time For War" blaring through the practice facility all week long. Meyer's motivational tactics have worked in his first six years leading the Buckeyes into The Game, and this week, they have the added motivation of being underdogs – the first time the Buckeyes have been home underdogs against the Wolverines since 2004.
"To hear some of the outside noise, to be able to prove somebody wrong, it's great," said Ohio State right guard Demetrius Knox. "We've got a little saying around here – you know a couple of those flags that go around with the saying, 'Ohio State Against the World' – that's what it feels like at times. But we're excited."
Realistically, though, the Buckeyes shouldn't need any extra motivation to be prepared to play at their best in their final game of the regular season on Saturday.
"I think if you need an extra gear this week, there's a problem," said Ohio State linebacker Tuf Borland. "You're going to get our best this week. The rivalry itself should fuel you."
"This is so much more than just another game this week."– Ohio State wide receiver Terry McLaurin
The Buckeyes are expected to be mostly healthy for Saturday's game: Weber and linebacker Baron Browning are expected to be back in the rotation after missing last week's game with injuries, wide receiver Terry McLaurin is good to go after leaving last week's game early after getting banged up and left tackle Thayer Munford is probable after leaving last week's game with a right leg injury.
Michigan Breakdown
Since losing a season-opening 24-17 loss to still-undefeated Notre Dame, Michigan has been on a roll. The Wolverines have won 10 games in a row, and have made easy work of most of them – winning nine of those games by double-digits – to emerge as one of the best teams in college football, currently sitting at No. 4 in the College Football Playoff standings.
After coming into the season with a reputation of falling short in big games, Jim Harbaugh's team has delivered in the national spotlight this year, including a three-game stretch in which it earned a 38-13 win over Wisconsin, a 21-7 win at Michigan State and a 42-7 win over Penn State.
2018 Statistical Comparison
 
OFFENSE
41.6
8th
POINTS FOR
36.6
24th
182.4
54th
RUSHING OFFENSE
219.2
23rd
359.5
4th
PASSING OFFENSE
210.5
86th
541.8
2nd
TOTAL OFFENSE
429.6
47th
.475
15th
3rd DOWNS
.500
9th
.759
119th
RED ZONE
.860
52nd
DEFENSE
24.6
52nd
POINTS ALLOWED
13.5
4th
161.3
63rd
RUSH DEFENSE
111.6
14th
237.4
77th
PASS DEFENSE
123.2
1st
123.4
46th
PASS EFFICIENCY DEFENSE
88.7
1st
398.6
69th
TOTAL DEFENSE
234.8
1st
.301
9th
3rd DOWNS
.311
11th
.871
95th
RED ZONE
.947
127th
SPECIAL TEAMS
6.5
92nd
PUNT RETURN
10.4
51st
18.1
109th
KICKOFF RETURN
20.7
57th
41.7
7th
NET PUNTING
40.0
23rd
MISCELLANEOUS
+0.4
37th
TURNOVER MARGIN
+0.7
14th
7.8
112th
PENALTIES
7.0
94th
6
EDGE
12
None of those teams, however, are at the same level as Ohio State, and if the Wolverines are going to finish this season among college football's elite, they have to snap their six-year losing streak against the Buckeyes on Saturday.
Michigan is led by its defense, which not only leads the nation in yards allowed per game (234.8) and passing yards allowed per game (123.2) but is also tied for fourth in the FBS in points allowed per game (13.5).
Don Brown's defense has stars at all three levels, including Rashan Gary and Chase Winovich on the defensive end, Devin Bush at linebacker and Lavert Hill and David Long at cornerback, though Winovich's status for Saturday's game remains uncertain after he left Michigan's 31-20 win over Indiana last week with an injury.
Ohio State can counter that with one of college football's best offenses, ranking second in the nation in yards gained per game (545.8) and eighth in points scored per game (41.6), but the Buckeyes know Michigan's defense will put them to the test on Saturday.
"They play hard and they all fly to the ball," Ohio State right tackle Isaiah Prince said. "Whenever somebody is making a tackle, there are at least eight Michigan jerseys over there on the tackle. They play hard on defense."
Michigan's offense is no slouch, either, and significantly improved from last year. The big reason for that: Shea Patterson, who has been a big upgrade at quarterback, completing 65.9 percent of his passes for 2,177 yards and 18 touchdowns with only four interceptions, while also making some plays with his feet as a runner (60 carries for 255 yards and two touchdowns).
Lead running back Karan Higdon has been consistent for the Wolverines in the running game, rushing for more than 100 yards in eight of his 10 games played this season. Donovan Peoples-Jones and Nico Collins give them a pair of big-play threats at wide receiver, while Zach Gentry, Sean McKeon and Nick Eubanks give them a trio of tight ends who can make plays in the passing game, too.
The Wolverines' offensive line, meanwhile, has made huge strides this season under first-year offensive line coach Ed Warinner – a former Ohio State assistant – allowing just 15 sacks in 11 games after giving up 36 sacks in 13 games in 2017.
"I see a very huge offensive line that plays aggressive," Ohio State defensive tackle Dre'Mont Jones said when scouting Michigan this week. "They're not looking to finish us, they're looking to get us out of position so they can open up holes for that back. We have to just be scouting the run, be super disciplined. Even more disciplined than last week."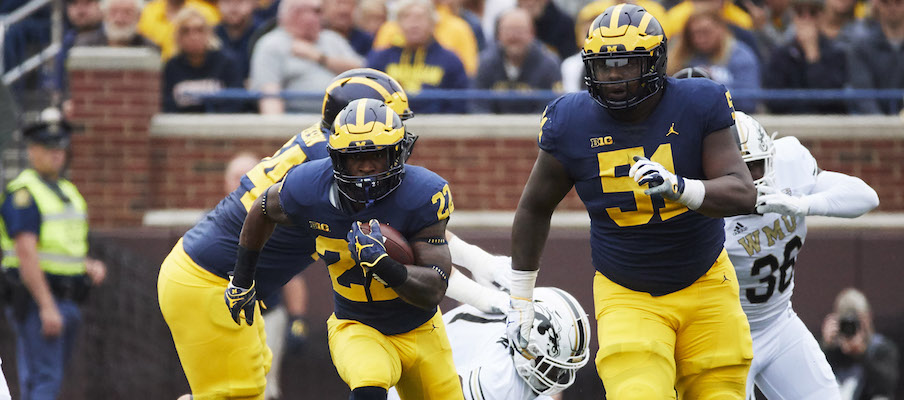 While Meyer has yet to lose to Michigan, the Wolverines have given the Buckeyes some tough games, including the 2013 game – when Tyvis Powell intercepted a game-deciding two-point conversion pass attempt – and the 2016 game, when Ohio State earned a 30-27 win in a double-overtime thriller.
Michigan could be poised this year, though, to give Meyer's Buckeyes their toughest rivalry game test yet.
How It Plays Out
The recent history of the rivalry game has certainly been on Ohio State's side, and so will be the vast majority of the fans that will pack Ohio Stadium on Saturday. With the Buckeyes and Wolverines both having identical records, the winning streak and home-field advantage would presumably tilt the odds in Ohio State's favor, especially considering that the Buckeyes have not lost to the Wolverines at Ohio Stadium since 2000, John Cooper's final season as the Buckeyes' coach.
That's not the case, however, as Michigan is projected as a 4.5-point favorite to win Saturday's game as of Friday morning, according to Vegas Insider. And there's a reason for that: while both teams have won all but one of their games, the Wolverines have simply looked better this year.
Ohio State vs. Michigan Under Urban Meyer

| Year | Location | Result |
| --- | --- | --- |
| 2017 | Ann Arbor | Ohio State 31, Michigan 20 |
| 2016 | Columbus | Ohio State 30, Michigan 27 (2OT) |
| 2015 | Ann Arbor | Ohio State 42, Michigan 13 |
| 2014 | Columbus | Ohio State 42, Michigan 28 |
| 2013 | Ann Arbor | Ohio State 42, Michigan 41 |
| 2012 | Columbus | Ohio State 26, Michigan 21 |
While Michigan's defense has been dominant, Ohio State's defense has been porous, and the Buckeyes might not have enough of an edge on offense to make up for it. While the Wolverines have dominated most of their games, and suffered their only loss to a team that is one win away from the College Football Playoff, the Buckeyes have limped to wins against mediocre teams like Maryland, Nebraska, Minnesota and Indiana, while losing to another mediocre team at Purdue.
You can toss all that history to the side once foot meets ball on Saturday, because the rivalry game is a different animal. It's typically a close and highly competitive game regardless of what the two teams' records are, and with both teams having identical records entering this game, Saturday's contest fits the blueprint to potentially be another instant classic between Ohio State and Michigan.
That said, the Buckeyes are going to have to play their best game of the season to win their seventh straight game against Michigan. Simply put, the way the Buckeyes played last week against the Terrapins – and truly, the way they have played for the past two months – isn't going to be good enough to beat the Wolverines on Saturday. If the Buckeyes give up big plays and put themselves in another early hole this weekend, Michigan's top-ranked defense will make it tough to recover.
Given the stakes of Saturday's game, Ohio State should be expected to play its best game of the year on Saturday. The same can be said for Michigan, though, and the Wolverines have their most complete team in years. With the struggles that the Buckeyes have had this season, particularly on defense, Jim Harbaugh's squad has its best chance yet to turn the tables.
---
ELEVEN WARRIORS STAFF PREDICTION: Michigan 31, Ohio State 28