The last pass J.T. Barrett threw in spring practice was caught by the opposing team.
It was unceremonious end to an otherwise solid set of practices for Ohio State's starting quarterback. Sam Hubbard drove Matt Burrell into Barrett as he readied to fire a pass deep down the left sideline, and it fluttered into the waiting arms of Damon Arnette. 
"I was a little hot but I'm not about to go in there for another series and get hurt," Barrett said after the pick. "Because when those young guys get in, especially the D-line, they get jacked up. Mom's in town, grandma's in town, they gotta make plays. I don't want them to take it out on me."
Barrett only played three series on Saturday, connecting with tight end A.J. Alexander on a short touchdown pass to put the Gray team out front early. He yielded to Joe Burrow and Dwayne Haskins a little later (and finally, Tate Martell). When all was said and done, Scarlet took the annual scrimmage at Ohio Stadium 38-31.
With Kevin Wilson barking out signals and calling plays on the Scarlet sideline, the first public look at Urban Meyer's enhanced offense began to round into shape. In all, 74 passes were thrown with more called that ended in quarterback scrambles. Word throughout the month and a half of spring practice revolved around an emphasis on the deep ball, finishing plays and pass protection. It looked like it on Saturday.
"I think before we weren't necessarily making them at first but with Coach Wilson and Coach [Ryan] Day, each finding landmarks for those throws, keeping them from the boundaries," Barrett said. "So the receivers understand where it's going to hit at and then also those guys run hard and beating those guys downfield. Because our defense plays man across the board. As it got towards the end I think we did a really good job of completing the deep ball."

"Just seeing that side throwing the ball around. You're starting to see the guys really begin to break out," starting center Billy Price said. "You see Demario McCall running down the sideline, Johnnie Dixon running down the sideline. Seeing big time things. See Joe Burrow dropping dimes. To see that, and be able to have an offensive scheme that is set with players and be able to see those players grow, I feel very, very confident."
Dixon was arguably the biggest surprise of the day, with a pair of touchdown catches and 108 receiving yards. He showed no ill effects from his ongoing battle with tendonitis in his knees — "Grandpa knees" as Price calls them — instead being fast in and out of cuts and down the field.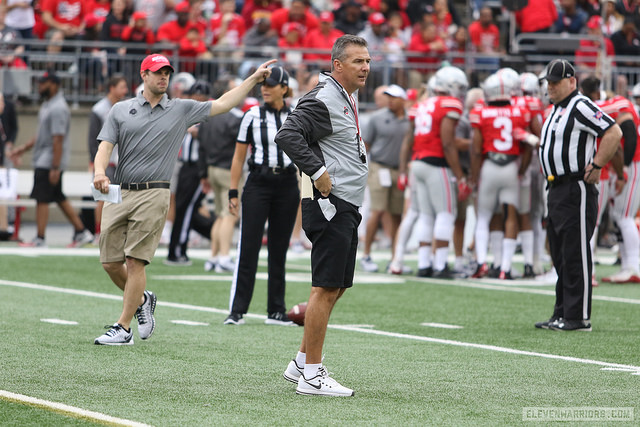 It was a long time coming for a player that is now in his fourth year in the program.
"It was very frustrating for me because it was like you couldn't really do nothing about it, you know?" Dixon said. "I just cheered my teammates on and did the best I could from the sideline or whatever. The worst part for me was consistently it happening time after time. I'm over it now."

"Johnnie's a beast," redshirt freshman quarterback Dwayne Haskins said. "I got a lot of reps with him during the last couple practices and I'm just happy for him and he caught that touchdown today. I'm excited and he's a really good player.

"He does that every practice. He's just a really fast guy, really good at getting open and I'm glad he got to show it today."

"Yeah, he's been playing really well all spring and it's great to have him healthy," redshirt sophomore Joe Burrow, another quarterback, said. "His knees have been obviously bothering him his whole career and he really showed out today for sure."

"Johnnie is an enigma," Meyer added. "I didn't think, I didn't know — he probably shouldn't have come back. If you had a career like he's had. But his teammates, his position coach, Zach Smith, I talked to him, and wanted one last swing. And he had the best spring — he didn't miss a practice.

"I was so happy to see him have great success today, because we really need him. And he just has to have a great summer. So he stayed healthy. That's the most important thing."
When Barrett came out of the game after the first quarter, the contest became the Haskins-Burrow show. The battle to be Ohio State's backup quarterback will continue through summer and into fall camp, carrying great importance with not only Barrett's injury history but that of signal callers under Meyer.
Even if both players claim it isn't weighing on their minds.
"I want to watch the film and have conversations with our coaches. We haven't had that yet. I know it is very close," Meyer said. "But I'm not prepared to say who is 2, who is 3, etc., yet."

"I just try to get better every day and focus on what I have to do and just keep doing that every day through spring and summer and then in the fall," Burrow said.

"Despite the throwing or whatever, I think I do a really good job of managing the team. Not getting too high, not getting too low," Haskins said. "There's a lot of times during the game where you just have to chill out and complete the ball so I just feel I did a great job all spring of being one of the guys who keeps improving each practice."
The embarrassment of riches at the most important position on the field continues with Martell, who took his first snap and ran into the end zone from the 5-yard line for a touchdown. He didn't get to play until the very end of the scrimmage, but along with the other members of the quarterback room put a bright bow on the end of spring.
"Outstanding. They started, the first week was kind of, oh, not real productive, and then they just — all four quarterbacks in the last three weeks have been exceptional," Meyer said. "They've done a very good job. I thought Dwayne and Joe Burrow played well. J.T. was just, I think with three series we went, and it was more — he threw a pick when he got hit.

But I thought once again his accuracy was right on target, like it's been most of the spring. So very good spring for our quarterbacks."

"I think one of the main things that we talk about now is just make sure when you're in there that you control what you can," Barrett added. "Just be poised when things tend to break down. We didn't have any meltdowns out there because I think each quarterback did a good job of being poised in the time that they had. Just made great decisions."
Martell's touchdown scamper was the decisive score in the game, but he wasn't the last person to find the end zone in the game. Friend of the program Jacob Jarvis — who suffers from muscular dystrophy — took a handoff from Barrett on the final play of the game and weaved his way to pay dirt as time expired.
The entire team mobbed Jarvis in the end zone. Afterward, Meyer said the play and idea were concocted solely by the elder statesmen of his team.
"This is one of the best groups of older players I've ever been around. And Tyquan Lewis and Jalyn Holmes came to me yesterday and we love Jacob. Jacob's part of our family," Meyer said. "He's been that way for about four or five — four years now. And they asked if we could do that.

"And I wasn't sure how you would do it. So we worked it out. But that was the players' idea. And that shows you what kind of character we have in those upperclassmen."

"It's incredible. You have to be truly, truly grateful for things like being able to walk. Those little things that we take for granted," Price said. "To see those kinds of things and see those kinds of things that we can bring as a program, it's an opportunity for those less fortunate than we are to kind of get a taste of what we can do on Saturday. To be able to do something like that for him is really, really cool."
Meyer's sixth spring practice at Ohio State is officially in the books, and now the long wait for Aug. 31 and a trip to Indiana awaits for the Buckeyes. Obvious steps were made offensively in the passing game and young talent in the defensive backfield showed it has room to grow but massive potential.
Moving forward into summer workouts and shoring up the finer points of the game are now the focus. For everyone.
"For the offensive line, it's continue that education aspect," Price said. "You've got to be able to as an offensive line blow people off the ball. That's what we want to see here at Ohio State. Those things, the education, the film."

"We talk about competitive excellence, so just keep pushing that so when it comes to game time we have everybody on the same page. I think we're on the right path," Barrett said. "Are we game ready? Not yet but we don't have to be. We have time. I think I'm comfortable saying that we definitely got better in those areas."
And, Meyer knows what remains the most important thing as he closes the book on the Spring Game.
"It was a beautiful day. Got a lot of work done. The best thing was we're injury-free."