It has long been believed that carrying around a buckeye in your pocket will bring good luck, similar to a rabbit's foot or clover. In 1954, an Ohio State booster wanted to make sure the football team had luck on their side when they headed to West Lafayette for the matchup against Purdue.
The buckeyes, both the team and the mildly toxic nuts, would make their way to Boilermaker territory in the hopes of preserving a perfect season. 
From the November 12, 1954 issue of The Lantern: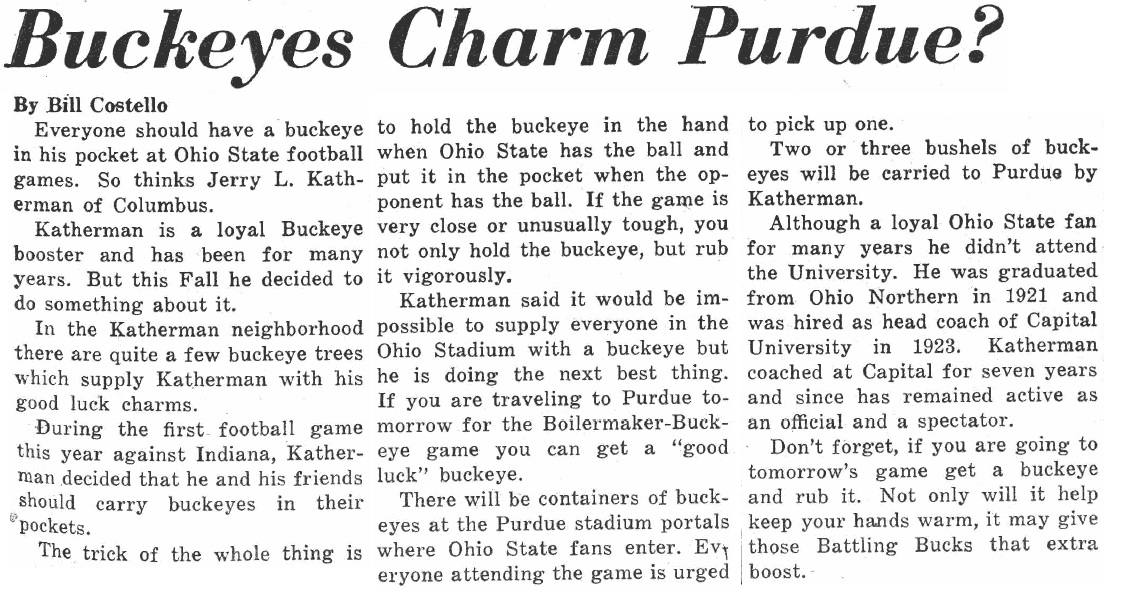 Ridiculous as it may seem, Katherman may have been on to something. Not only did the 1954 Buckeyes win their game against Purdue, but they also finished with an undefeated season and a national championship. I'm not saying the two are related, but I'm also not saying they aren't.
But, 50 years later the buckeye resurfaced as a good luck charm for the football team.
When former defensive coordinator Luke Fickell was without his lucky pocket buckeye before Ohio State's matchup against Texas in 2005, redcoat Ronald Malone came to the rescue and started a tradition of his own.
His son Doug Malone now continues the tradition of handing out buckeyes to players before every home game.
Whether you believe in it or not, superstition has its place in the glorified tradition that has encompassed sports, whether in 1954 or now.