"The bottom line is we gotta go out there and run the football."

Last Saturday's contest along the windy shores of Lake Michigan is one that many on the Ohio State offense would surely like to forget. Like many things, however, that's easier said than done.
On a day with wind speeds reaching as high as 55 mph and Ryan Field officials providing evacuation instructions, the Buckeyes' vaunted passing attack was effectively muted. Northwestern head coach Pat Fitzgerald noted as much in his postgame press conference, praising the effort of his defense for holding OSU to just 21 points while acknowledging the role the wind played in it.
As a result, the Buckeyes were forced to earn every one of their 212 yards gained on the ground that afternoon. But while the box score ultimately showed a decent performance in this area, finishing the day with an average of 5.9 yards-per-carry, those who watched the game saw a team struggle to run the ball for long periods of time.
"I think we all need to do better," OSU head coach and offensive play-caller Ryan Day said afterward. "Going back and watching the film, we gotta block better, we gotta run better, we gotta do a better job equating the numbers. ... We know we can do a better job."
Day has drawn heat from some quarters of the fanbase, as this is the third straight game in which the Buckeyes have struggled in this department. Iowa features a top-ten rush defense, and Penn State had the benefit of playing in front of a raucous home crowd that forced the visitors to use a silent count that makes it hard to fire off the ball and win the line of scrimmage.
The Wildcats came in with a solid plan, given the elements, and they deserve some credit for doing so. Despite facing one of the best passing attacks in the nation, Fitzgerald's defense employed man-coverage outside, allowing the safety to insert quickly in the run fit and give the defense an extra player.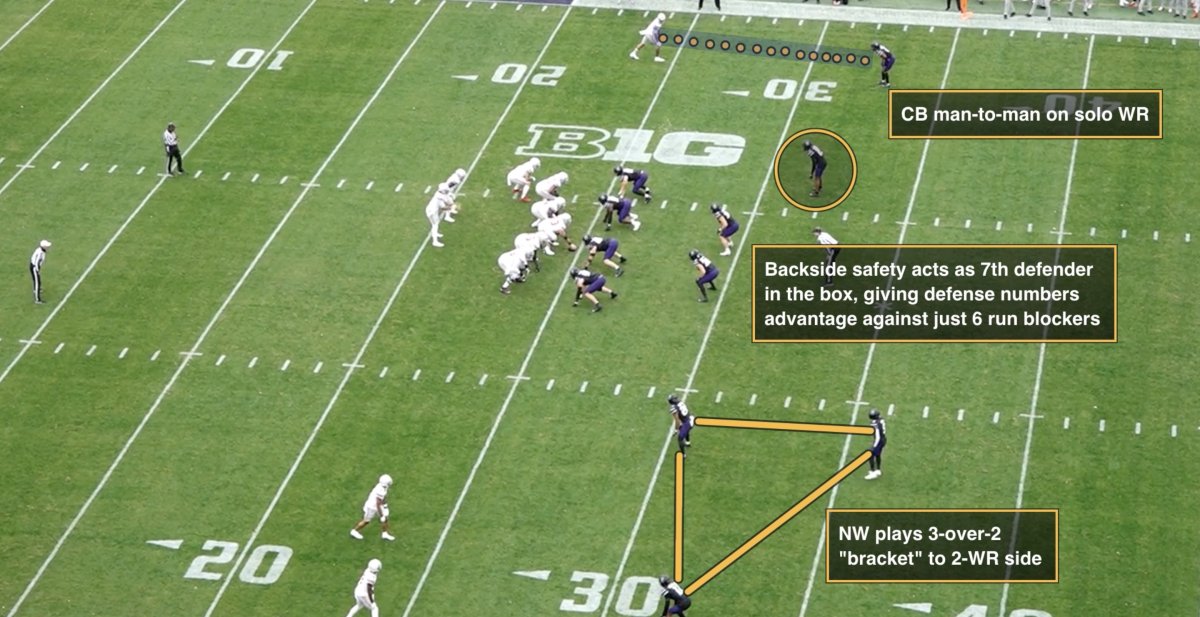 The two starting Wildcat safeties, Devin Turner (#23) and Rod Heard II (#24) combined for 11 tackles on the day as they constantly found clear paths to Miyan Williams. But many of those paths were created not from the scheme, but via a lack of execution along the Buckeye offensive line.
The Buckeyes attempted to gain a numeric advantage to one side on multiple occasions, inserting backup OL Josh Fryar as a tight end (#41) and pulling a guard to lead around that side. But because the left guard and tackle can't execute a combo block on the 3-technique tackle in the clip above, the linebacker is allowed to run free, putting that pulling guard in a no-win situation.
Failures in execution were evident and can't be pinned on just one player, despite facing a Northwestern team that is ranked 113th nationally in run defense and in a stadium featuring more Scarlet than Purple in the stands. The Buckeyes continually saw efforts like this:
"Overall, it was just they were down in there and we weren't getting enough movement," Day said this week when asked about what needs to improve. "We gotta get our pads down lower. We gotta fit those blocks a little bit better, and then there were a couple of times we could get them in better plays. Again, it's not just one person that made a mistake because there were multiple ones we didn't convert on. … it's a little bit of everybody, and that's not a good sign when it's kind of one guy here and one guy there. But that's what happened."
Some of the issues are easy to miss, especially given the sideline TV angles. But the end zone views show a consistent failure in technique that had previously been stressed within the WHAC, as OSU blockers consistently failed to strike their opponent first, and win the battle to get their hands inside. 
Rather, it was often the Northwestern defenders who consistently won this battle, gaining superior leverage over their bigger and more touted opponents.
The specific offender shown above, RG Matt Jones, has struggled since getting hurt last month, something Day noted this week when meeting with the press.
"He's like a lot of our guys. There's a lot of things that this time of year, guys are fighting through. And he's a tough player, and we think he gives us our best chance to go be successful," Day said. "But he's like a lot of our guys that have these bumps and bruises right now that he's fighting through. It's that time of year, I guess."
But despite all this, there is still reason for optimism among Buckeye fans. While the offense looked downright stagnant at times, Day and his staff showed a few elements that took the pressure off the O-line and helped equate the numbers more favorably.
While they didn't run them much, due to the wind, the Buckeyes did try to incorporate some true, post-snap RPOs that took advantage of their superior talent at wideout and the extra soft cushions being given by the Wildcat corners:
And, of course, there was the decision to #FreeCJ and allow him to absorb hits as a runner. Thanks to his time as Justin Fields' backup, Stroud looked comfortable making reads in the option game and has enough athletic ability to at least pose a threat to run and keep defenses honest.
But some of the solutions are more subtle. The Buckeyes had become predictable in some of their play-calling, with many focusing on their tendency to run the ball from the pistol and under center while throwing from the shotgun. However, the real tell came from the alignment of the tight ends.
When Cade Stover and/or Mitch Rossi line up as either an attached Tight End in a three-point stance next to the tackle or in an 'off' alignment as a wing in the backfield, the Buckeyes have been much more likely to run the ball. When they're lined up outside in the slot, creating a '4-open' look, the Buckeyes have almost always thrown the ball, meaning defenses make a different call before the snap.
Late in the game against Northwestern, the Buckeyes lined up in such an alignment and saw a light box with both safeties deep and just one linebacker near the line of scrimmage, giving the offense an advantage if they executed the Power-O scheme properly.
"There were definitely changes that were made," wide receiver Emeka Egbuka said after the game. "But you know, that comes with any game on Saturday because your opponent throws stuff at you that you haven't worked the entire week. So just changing the things we need to be changing, just executing in ways that we needed to."
While Day and his staff continue to face criticism from within their own fanbase, the answers many seek aren't difficult to find. If opponents continue to key on plugging the run game by adding extra bodies near the line of scrimmage, the examples above can easily be employed more often.
But none of those scheme changes will matter if the Buckeye blockers don't clean up their technique.
"The bottom line is we gotta go out there and run the football," Day said. "And there's gonna be conditions. There's gonna be injuries, bumps and bruises. At the end of the day, we gotta go out there and produce, and that's the bottom line."