Once upon a time, we wrote about Greg Schiano's defenses quite a bit here at Film Study...

When Urban Meyer hired him to be Ohio State's defensive coordinator in 2016, it surprised many, given his most recent gig. Though he was best known for making Rutgers football relevant for the first time in decades, he eventually moved on to the NFL, where he was the head coach of the Tampa Bay Buccaneers. 
That experience at the next level led many to believe he'd bring a complex defensive scheme few had seen at the college level with him to Columbus. But we largely saw the opposite during his three seasons in Scarlet & Gray. Instead, his defenses turned out to be pretty vanilla, relying on outstanding talent at defensive back and employing simple, man-free coverage most of the time.
After this approach led to embarrassing losses in Iowa City and West Lafayette (and nearly College Park, MD) which kept the Buckeyes out of the College Football Playoff in consecutive seasons, Schiano was not retained after Ryan Day took over for Meyer in the winter of 2019. Two years later, though, Schiano was back in the Garden State as the head coach of the state's flagship football program for a second stint, but this time as a divisional foe of his former employer.
During his first trip back to the Horseshoe in 2020, he brought a seemingly never-ending variety of trick plays on offense and special teams in hopes of tripping up the Buckeyes. After a 52-13 shellacking in Piscataway last fall, Schiano damned the torpedoes once again in Ohio Stadium last weekend, sending a message to his team that he wanted to be aggressive.
While his offense has been a mess all season due mainly to injuries throughout the QB room, it wasn't the Wildcat formations that ultimately gave the Buckeyes some issues in what turned into a 49-10 blowout. Just days after C.J. Stroud ascended to the top of the Heisman race, he had his worst game of the season against Schiano's Scarlet Knights, completing just 13 of 22 attempts for 154 yards and achieving a QB rating of only 138.8. 
Slowing down Stroud was the focal point of Schiano's defensive game plan, as he told reporters following the game.
"Well, I'll tell you the thing that had me the most fearful was their passing game," he said during his post-game press conference. "So we were going to make sure that we defended the pass, because if we don't, the game gets out of hand. We've seen that happen to many people. They are just explosive. They have a Heisman candidate quarterback and stable receivers."
Early on, this plan included a variety of zone defenses meant to confuse the sophomore quarterback, showing one look pre-snap before dropping into something different once play had begun. But thanks to outstanding protection from his offensive line and an assembly line of polished products coming out of Brian Hartline's meeting room, Stroud was able to diagnose these coverages and move the ball with relative ease during the Buckeyes' first three drives.
After this initial barrage gave Ohio State a 21-7 lead, Schiano didn't just throw up his hands and surrender, though.
Instead, he began blitzing. A lot. Like, almost every play during the second quarter.
These pressures weren't complex zone blitzes or simulated pressures, but rather, simple 'Man-Blitzes' that sent one or two additional rushers from the second level while employing man-coverage with a free safety in the middle of the field behind it. Few teams are willing to man up on Ohio State's explosive receiving corps in this manner, but with his team already down two scores at this point, Schiano was willing to take the risk.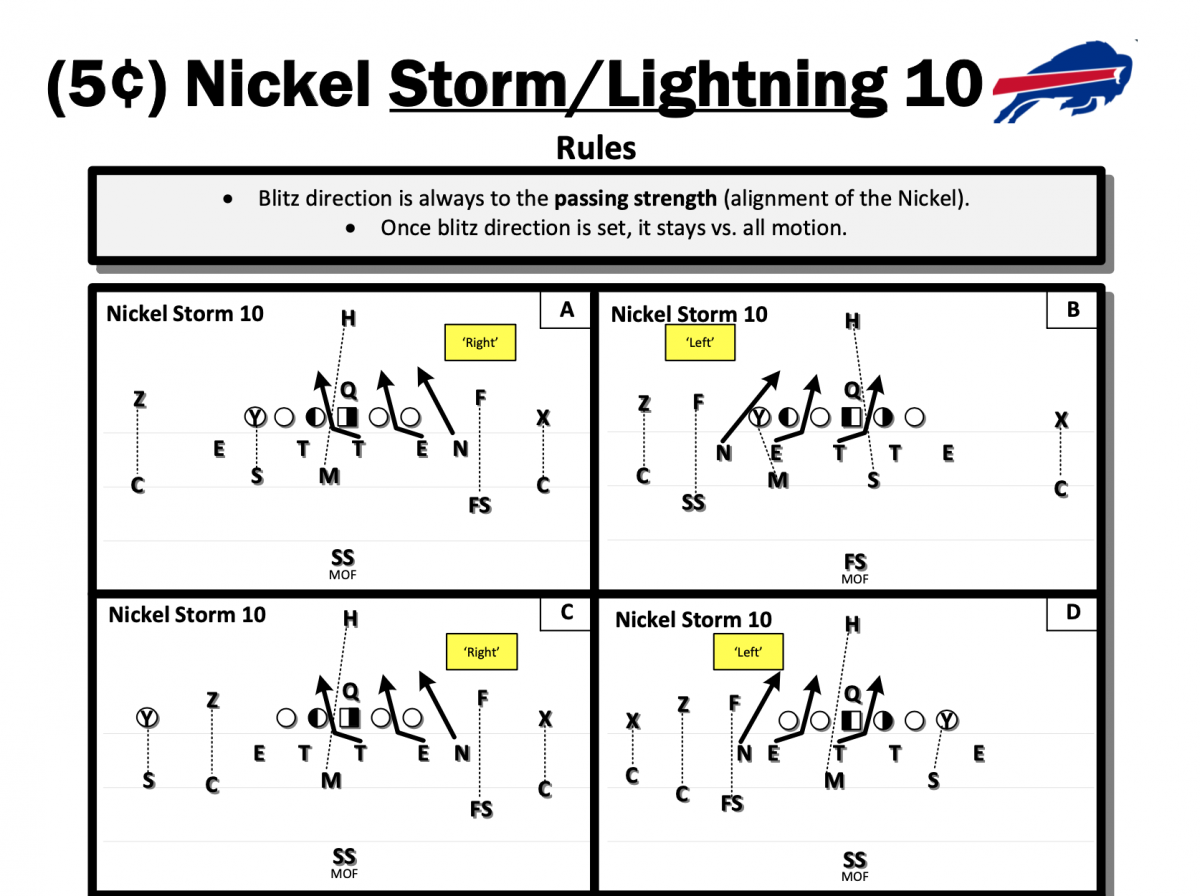 "I think we got to [C.J. Stroud] a little bit," Schiano said. "When you watch, getting ready for him, it literally looked like 7-on-7 sometimes. No one was touching him. So, it's different playing quarterback when you're not touched. ... That's a very good offensive line."
While his receivers were able to get open on a number of occasions against this coverage, Stroud was forced out of his rhythm and lacked the pinpoint accuracy we've grown accustomed to seeing from him. 
As the game progressed, it was evident that Stroud was affected by the pressure.
During the first quarter, in which Rutgers sat back in zone coverage far more often, Stroud was 6 of 8 for 69 yards. But in the second and third quarters combined, his stat line was just 7 of 14 for only 85 yards. While he did have a pair of touchdown tosses during that time, he also had an ugly interception on the first snap of the second half.
Perhaps expecting Rutgers to employ yet another man-blitz on first down, Day dialed up a deep shot downfield. The concept, known as '989' is great at attacking man-coverage, especially when the offense has a talent advantage at the receiver position (hence why it's been a favorite of Joe Burrow's ever since he met Ja'Marr Chase). 
But instead of getting a traditional first-down defense, Stroud threw into triple coverage thanks to a conservative, two-deep zone typically only employed on 3rd & very long situations (known as Green 2). While Stroud should have recognized that Emeka Egbuka was not open as he ran down the middle of the field, surely, the young QB didn't anticipate that the Scarlet Knights would completely abandon the underneath zones on first down.
But despite this rare change-up, Schiano's men continued to blitz throughout the second half, sending pressure on 56% of Stroud's dropbacks last Saturday, easily the highest-such mark of the season. However, its effectiveness waned as time went on.
Rather than expose a weakness that future opponents can easily exploit, the Buckeyes shored up their pass protection by leaning heavily on that talented receiver corps. No longer did Stroud try to read full-field concepts with four or five targets spread across the field, leaning instead on max protection with as many as eight blockers staying in to keep him upright while Egbuka, Marvin Harrison Jr., and Julian Fleming left opposing DBs in the dust.
"From my perspective, we won; I don't really care," Stroud said after the game. "I think their goal as a defense was to not let our pass game win, so we ran the ball. It's not just about me; it's about getting wins and other people eating. When it's time for me to shine and do my thing, we'll do that."
Run the ball they did. Much as Trey Sermon shattered the single-game rushing record in the 2020 Big Ten title game while Northwestern sold out to stop Justin Fields and the OSU passing game, Miyan Williams wrote his name in the record books while the opposition focused on his QB.
Even before the Scarlet Knights began blitzing so heavily, the Buckeyes found ways to create running lanes behind their massive O-line. Rutgers continually lined up in an 'Under' front to the field and didn't adjust when the Buckeyes sent players in motion, which created natural gaps for Williams to exploit in OSU's mid and wide zone runs.
"I thought, all in all, we did a pretty good job against the pass," Schiano said of his team's effort in Ohio Stadium. "But it was the run that beat us. Again, you kind of have to pick what you are going to try and cover. But Ohio State is the third-ranked team in the country for a reason."
In theory, those man-blitzes are also a good hedge against the run as the slanting defensive line and additional defender at the line of scrimmage can throw off run-blocking schemes.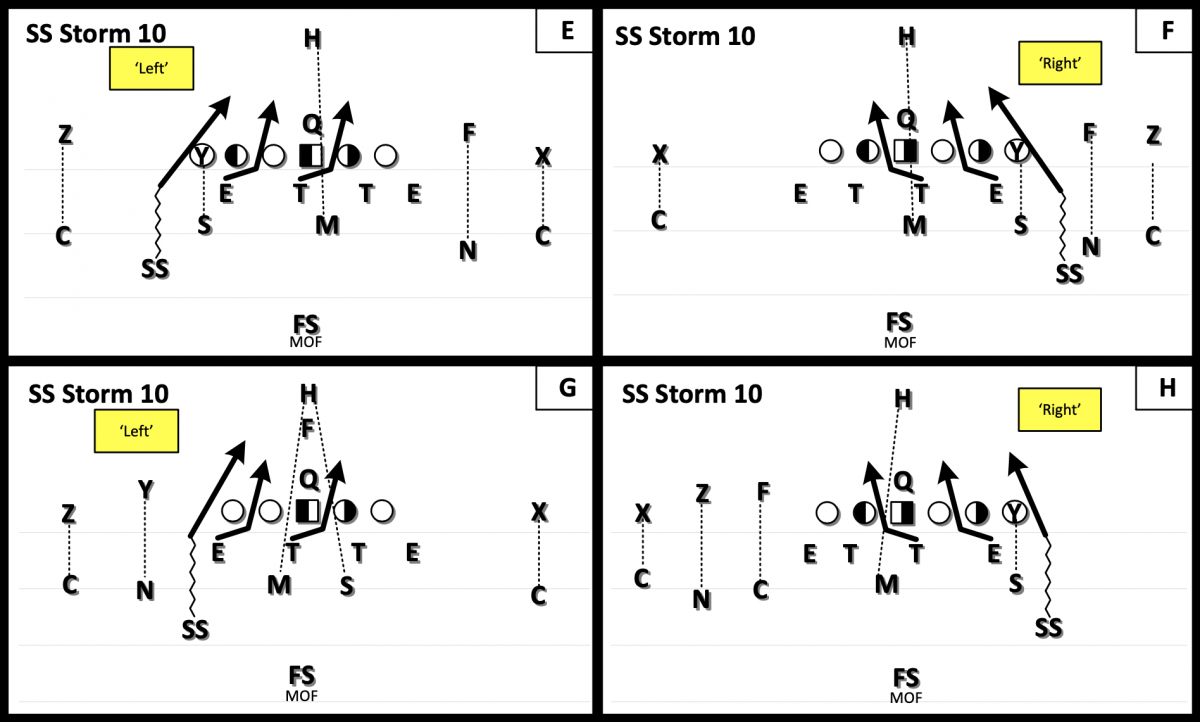 But they can also leave the second level of the defense exposed if the runner breaks through the initial wave of tacklers. That is exactly what happened when Williams broke loose for a 70-yard touchdown on a Duo run, as the blitzing safety and Will linebacker both filled the D-gap allowing the bruising back to explode through to the next level.
"When I got the ball, I knew the safety blitzed," Williams said of his long TD run. "So, when I made him miss, I knew there was nobody behind him. When I broke, I just was seeing green grass and telling myself, 'Don't get caught.'"
Even without the services of TreVeyon Henderson, Ohio State still mustered 252 rushing yards that afternoon en route to an easy victory. The Scarlet Knights' focus on stymying the Buckeyes' aerial attack was always a high-risk/high-reward proposition, but one Schiano can be commended for taking.
While the final tally didn't favor his team, the former Buckeye assistant deserves credit for trying something few others have against such a potent offense.