Ohio State began the 2021 season by lighting up scoreboards and re-writing the record books. Through seven games, the Buckeyes appeared to feature the most effective attack in school history, leading the nation in virtually every statistical category and looking almost unstoppable.
Now, however, after two straight outings in which the unit has looked downright human, many are wondering how OSU has slipped all the way to second in scoring offense, yards-per-game, and yards-per-play. While the Buckeyes still appear capable of knifing through opposing defenses in ways Jim Tressel would never dream of, there is no question that the otherwordly output seen through much of the season's first half has come back down to earth.
Opponent
Result
Rush Yards
Pass Yards
Plays
Total Yards
Yards/Play
@ Minnesota
W 45-31
201
294
48
495
10.31
7 Oregon
L 28-35
128
484
85
612
7.20
Tulsa
W 41-20
323
185
66
508
7.70
Akron
W 59-7
237
385
61
622
10.20
@ Rutgers
W 52-13
208
333
64
541
8.45
Maryland
W 66-17
166
432
71
598
8.42
@ Indiana
W 54-7
187
352
69
539
7.81
22 Penn St.
W 33-24
161
305
68
466
6.85
@ Nebraska
W 26-17
90
405
84
495
5.89
Totals
1701
3175
616
4876
7.92
This is not an autopsy, however. The purpose of today's Film Study is to highlight what is different about this year's offense in comparison to years past and to identify what, exactly, is keeping it among the nation's elite.
First and foremost, it's worth recognizing just how the OSU offense has changed with C.J. Stroud under center compared to his predecessors.
With Justin Fields calling signals, the Buckeyes focused on establishing a dominant ground game with J.K. Dobbins and Trey Sermon looking for open lanes in mid-zone and duo blocking schemes. Once the defense began creeping extra players into the box to stop those runs, Fields would take shots downfield, looking to throw over the heads of the deepest defenders as Chris Olave, Garrett Wilson, or K.J. Hill raced downfield on well-designed play-action concepts.
Fields was the best deep-ball thrower in Ohio State history and proved capable of dropping a pass right into his receivers' hands from 50 yards away. But while Fields completed 59.4% of passes that traveled 20 yards or more downfield last fall, Stroud has completed just 45% on such throws this season and hit just 2 out of 9 such attempts against Penn State and Nebraska.
Despite throwing to many of the same receivers and working from the same playbook, Stroud's strengths have forced the Buckeyes to attack defenses differently, looking to keep defenses honest with the threat of the deep ball far less potent. Luckily, the redshirt freshman from California can deliver intermediate throws with pinpoint accuracy when allowed to throw in rhythm.
Specifically, he can make throws few college quarterbacks will even attempt, such as this 15-yard in-breaker from Olave. The receiver slid into the seam between the underneath linebackers and safeties playing deep in a Cover 3 zone, and Stroud threaded it perfectly into a small window as soon as the linebacker vacated the throwing lane. 
Perhaps more impressively, the throw was Stroud's third option on the play. The young QB worked back from the wide side of the field after recognizing the defensive scheme, hitched twice, and fired a perfect pass just as his receiver settled down into an open space.
Rarely did Stroud take as much time to get the ball out in Lincoln, however. Much as they did against Oregon earlier in the season, the Buckeyes employed a game plan that looked more like the old West Coast offense, using short, quick passes outside to replace the running game on early downs.
The Cornhuskers relied heavily on zone coverages, meaning Stroud could simply key on a single defender (such as #9 below), and read his movements to determine where to throw the ball on simple concepts like double hitches, double slants, or curl/flat. Stroud would take a quick, three-step drop and fire the ball out quickly before any pressure could arrive, getting the ball into the hands of playmakers like Jaxon Smith-Njigba.
Short, timing-based passes like these have become Ohio State's bread and butter, rather than the zone running game. While Stroud has struggled to connect down the field in the past two weeks, the opposite is true underneath, as he was 44 of 52 on passes that traveled less than 10 yards downfield.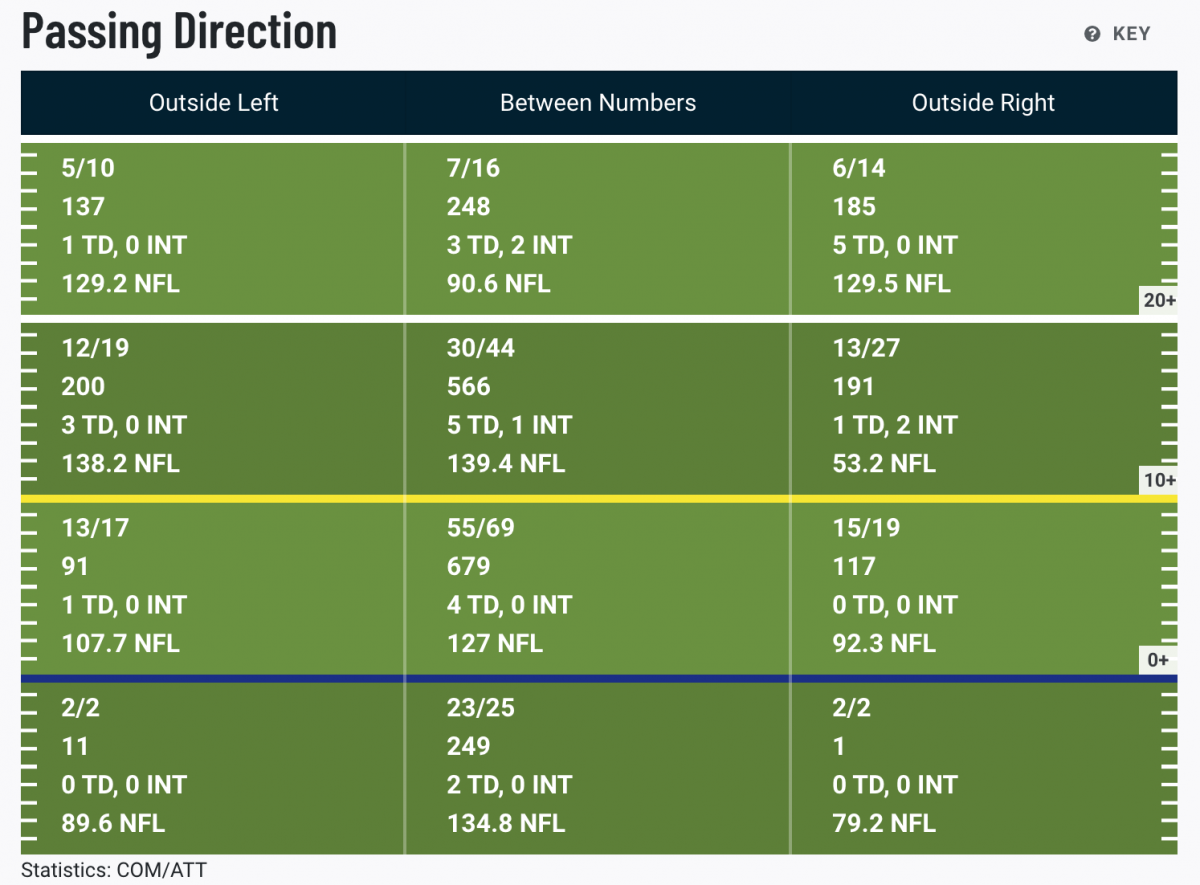 As such, the offense may seem more reminiscent of 2018 on the surface, as 64% of Dwayne Haskins' throws came within 10 yards of the line of scrimmage. But while Haskins' numbers were buoyed by a heavy dose of screen passes (20% of his attempts), Stroud throws nearly as many intermediate passes 10-19 yards downfield (32.8%) as he does from 1-9 yards (38.3%).
To take advantage of this talent, Day often calls pass plays with a route concept to one side of the field meant to attack one type of coverage and a completely different concept to the opposite side. While such a plan should work against any look the defense presents, that's only the case if the QB properly diagnoses the coverage first. 
In the first half, Stroud looked the wrong way on such a play-call during a critical third down in the red zone. The QB forced the ball to his check-down in a three-receiver Snag concept despite the presence of four Nebraska defenders in coverage to that side. Meanwhile, Smith-Njigba had shaken free from man-coverage with a quick out route along the opposite sideline.
For as good as Stroud has been when he's given a clear picture of the defense, he's also struggled when that view is clouded, especially when he senses pressure.
Nebraska sent a variety of Simulated Pressures that appeared to send an extra defender on a blitz, only to drop a lineman into coverage and maintain a typical, seven-man zone. Not only did this confuse the Buckeye offensive line at times, it clearly rattled Stroud, as he began drifting all over the pocket. 
While he had found Olave open downfield on the pass that would become his second interception of the afternoon, Stroud never set his feet and underthrew a ball that should have come down around the goal line. Instead, it landed 10 yards short and in a defender's hands.
It's understandable why Stroud was so rattled by the pressure at this point in the game, as the Ohio State offensive line had not lived up to expectations. The Buckeyes were forced to rely on the quick passing game because the line struggled to execute basic zone runs against a well-coached Nebraska front. 
To be clear, the issues with the OSU running game had nothing to do with scheme on Saturday, but lie entirely with its execution. Though it may seem a blessing that six players have earned playing time, there are only five spots, and the constant shuffling of players in and out of the lineup or from one side to the other appears to be leading to these breakdowns.
For instance, the Buckeyes were stopped for a loss when both Husker defensive tackles penetrated the backfield and corraled TreVeyon Henderson before he ever reached the line of scrimmage. Although the play is a wide zone run meant to hit the D-gap outside the tight end, both players could have been stopped with proper communication and cohesion. 
First, the nose tackle is shaded too far inside for right guard Paris Johnson to reach block him on his own, and it's on the center, Luke Wypler, to chip the nose just long enough for Johnson to get around the defender. That doesn't happen, though, as Wypler goes straight for the other defensive tackle, leaving Johnson all alone to try and cut off the penetrating nose.
On the left side, guard Thayer Munford doesn't work very hard to cut off that 3-technique defender, handing him off quickly to Wypler, despite the center having no chance to get his head around in front. 
"I'll have to go back and look at it and see exactly what it was. I think we can do a better job with the runs, right now we're not getting as much as we'd like on it," Day said. "We'll go back and figure that out."
With Jones rotating in at both spots, it was apparent that the communication along the interior needed work, and the Buckeyes must settle on their best five players sooner rather than later. But it's also not as if each member of the offensive line exhibited flawless technique, either. 
As we see in this example, Johnson is late to get his hands up and onto the defender, allowing the nose to bottle up Henderson on a draw play that, otherwise, appeared to have plenty of room. But Johnson was far from the only one to commit such sins, as all six players that saw time on the line made similar errors throughout the afternoon.
After seven illegal procedure penalties put Ohio State behind the chains a week earlier, the offensive line drew multiple flags after the snap against Nebraska. There was a crucial holding penalty on Dawand Jones that negated a first down, as well as an illegal man downfield call on Wypler during a screen pass that appeared to have moved the chains.
"Certainly too many penalties on offense, just shooting ourselves in the foot across the board," Day said afterward.
To make things simpler for the line, Day called for more gap schemes like GY-Counter and Buck Sweep. With the line down-blocking their opponents inside and two pullers leading Henderson around the edge, the Buckeyes seemed more capable of moving the ball on the ground with these plays.
But these runs also opened the door to more passing, though not with the deep, play-action shots we saw with Fields under center. Rather, Day would package these gap runs into the boundary with a quick passing concept to the wide side of the field.
Upon catching the snap, Stroud would read the outside linebacker to the field (#13 in the example above and #42 below) to see if he chased the handoff or dropped in coverage. If he chased the run, Stroud would pull the ball out and hit his slot receiver on a slant route right in the area the linebacker had just vacated.
Following the game, many bemoaned the lack of balance in the offense, as OSU threw the ball 54 times compared to just 30 runs. This came just days after Day had declared that he hoped to avoid such imbalance and get back to a more even split as we saw earlier in the year. 
But despite the calls from Joel Klatt and Gus Johnson late in the game to run the ball as they tried to run the clock out, it was evident that Day has the most faith in this team when Stroud is asked to deliver quick passes to his game-breaking receivers.
"We're gonna watch it and think, 'Boy, we could've won it by three touchdowns or more if cleaned some things up,'" Day said. "But this is a good team, they're a good defense. We knew that coming in. I said that, and I believe it."
Surely, the Buckeyes would love to average nine yards every time they hand the ball to Henderson, as they did against teams like Akron and Rutgers, but Nebraska's front seven is far too talented to simply get pushed around like that. Indeed, Husker middle linebacker Luke Reimer may be the best player at his position in the entire Big Ten, and simply expecting to run him over on every play would be a mistake.
Instead, the Buckeyes relied on what they do best, which is asking the best receiver group in the country to get open and let a talented, albeit young and still learning, quarterback fire the ball to them with confidence.