"Jimmies and Joes beat Xs and Os"

If you've followed college football for any decent amount of time, you've undoubtedly heard some version of that phrase echoed by everyone from TV commentators to recruiting analysts to message board warriors. While the argument goes back generations, it remains as heated as ever today, with online feuds making their way to social media any time a 16-year-old "ends" his recruitment by committing to one school or another.
At the same time, the most successful coaches are also lauded for their creativity in scheme and play-calling. Be it Ryan Day and Lincoln Riley attacking defenses or Nick Saban and Brent Venables finding ways to stop them, all four programs that made last year's college football playoff seem to have it both ways - annually attracting a top-10 recruiting class while still drawing praise for weekly game plans.
However, if you're one of those who believe talent to be the most important factor in determining a winner, Day may have tipped the scales in your favor. Upon his hiring and the implementation of Pete Carroll's "vision-and-break" three-deep defense, Day put his faith in the overwhelming talent already found inside the Woody Hayes Athletic Facility.
"This is a defense that I had a vision for, and Jeff came in and did a great job of putting that defense on the field this year but recruited to that system, and it was a team effort," Day said after 24 commits formally signed with his program in December. "It was everybody just communicating with that. It was Mark Pantoni, it was Matt Barnes, and I obviously had a big hand in it."
Rarely is a recruiting coordinator given direct credit for success on-the-field, but Pantoni played as big a part as anyone in developing the nation's top defense in 2019. The silver bullets were absolutely loaded with talent, featuring three first-round picks (including two of the first three picks overall), and saw seven players selected in last month's NFL draft. 
"Based on the experiences I've had as an offensive coordinator, calling plays, I think that gives us the biggest struggle, that kind of defense," Day added. "You mix that in with the guys we're recruiting, the guys we have now, it's a great fit."
As we've discussed before, the system itself is a relatively straightforward one. The Buckeyes almost always lined up with one deep safety in the middle of the field and either employed man-coverage (Cover 1):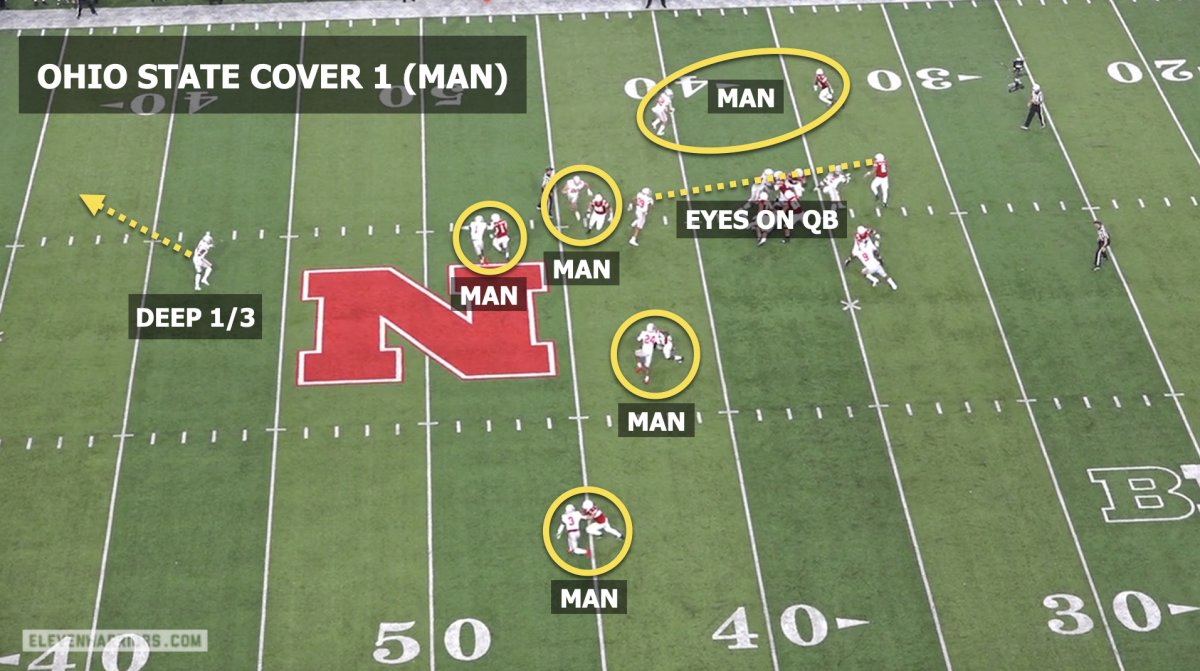 ...or a three-deep spot-drop zone coverage (Cover 3):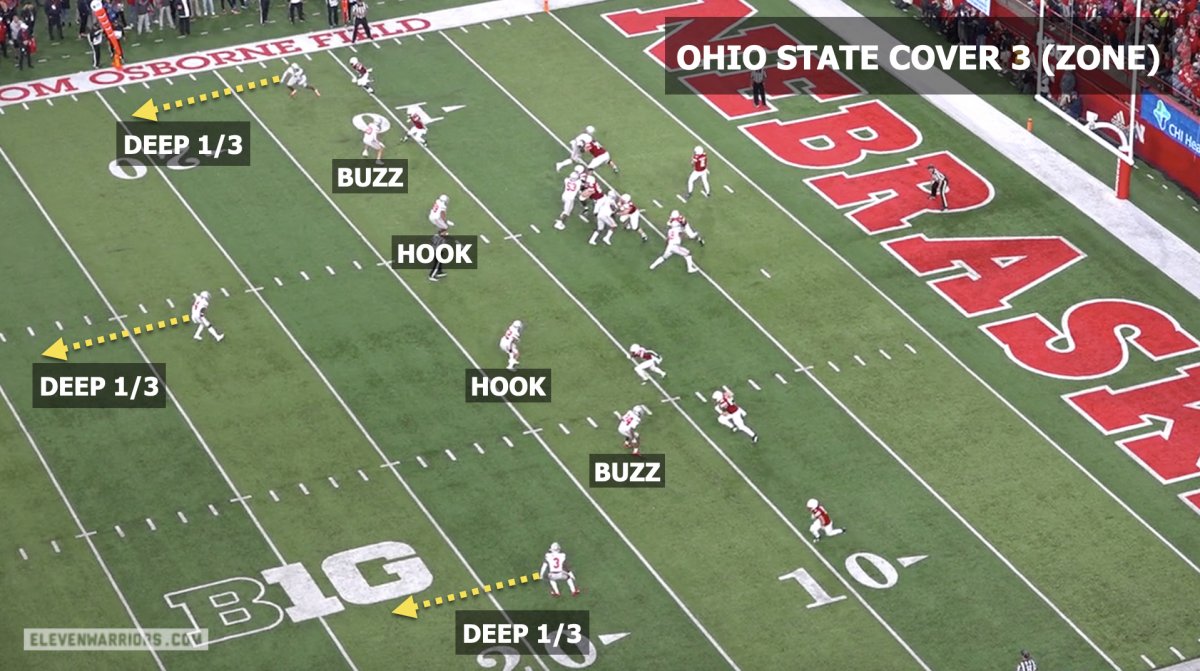 Unlike most zones seen today, which are pattern-match zones that apply zone principles with man-coverage techniques, OSU defenders had eyes on the ball nearly all of the time.
"How do we play zone defense? We play it with 99.9% of our vision on the quarterback," Barnes noted in a February coaching clinic. "He's the only guy that throws the picks, so we look at him."
There are many subtle tweaks in alignment and technique that accompany both coverages, but by simply mixing up man and zone, offenses oftentimes struggled to identify what they'd see after the snap. The reason for the relative simplicity is a desire to let the players do their jobs without hesitation.
"We're very cognizant of having too much volume that we slow our players down," Barnes noted at the clinic. "I know that's happened at other places I've been in the past. You want to play every single coverage there is; every single front. Next thing you know, this guy can't get lined up, this guy missed a tackle. He's missed the tackle because he's unsure. I really feel strongly about that. So, you cannot carry too much defense. Make sure what you're carrying fits your players, so you can play it fast. Emphasis on effort and technique."
Barnes isn't the only coach who feels this way. While the rest of the coaching world was focusing on the latest pattern-match coverage buried on page 400 of Saban's playbook, there were still those like David Mastroianni, a high school defensive coordinator in Connecticut who wrote the following for XandOLabs.com in 2017:
In the age of man coverage and cover 4 (Quarters), the concept of spot dropping has gone by the wayside in favor of pattern reading.  While pattern reading has its merits; we have found that it has slowed our players' ability to react quickly and break on thrown balls, thus defeating the purpose of playing zone coverage. We have experimented with coaching Cover 4 more than once but, have found that it just doesn't suit our skill or our defensive philosophy. Our head coach summed up our pass coverage philosophy best by saying, "We need to be willing to trade a catch for a headache."  Meaning, we are willing to give up a completion and then deliver a blow that will deter the receiver from wanting to catch a ball later in the game. By coaching eyes, body placement, and drop zones, we aim to create a player who is clear on his assignment thus allowing us to play multiple coverages without having to teach new concepts and allow for quicker reactions to the thrown ball. 
The results speak for themselves. Ohio State went from allowing 403 yards-per-game in 2018 to 259 the following season. Though the biggest change seemed to be in pass coverage, the simplified responsibilities allowed the run defense to improve from allowing 4.52 yards-per-carry in 2018 to 2.98 in 2019. 
It's no wonder, then, that Ryan Day plans on keeping the system in place even though its architect, Jeff Hafley, has already moved on to become the head man at Boston College. But maintaining that success will take more than simply copying the pages from the playbook and replicating the same drills in practice.
The aforementioned draft picks certainly benefitted from the simplified scheme, as it allowed them to show off their superior athleticism and natural instincts. But with seven starters now training to play on Sundays, history has shown that the concept of finding the 'next man up' is much easier said than done.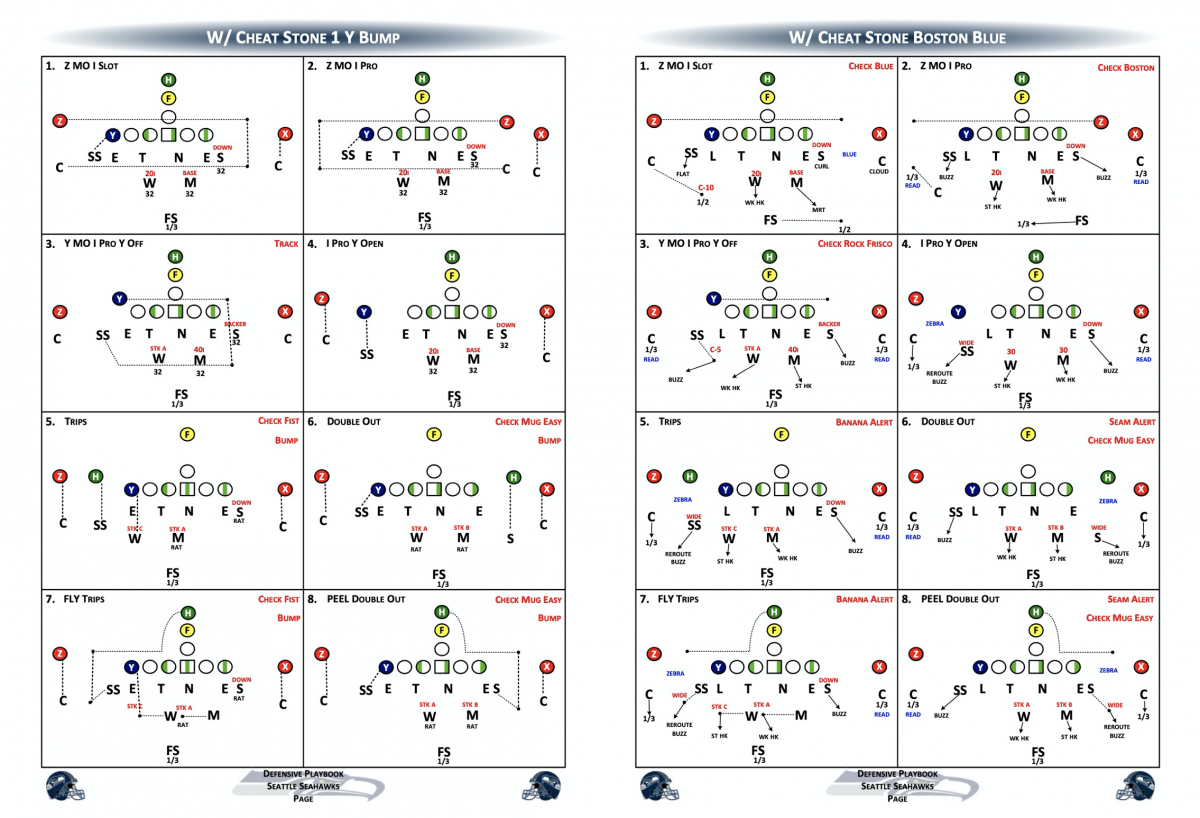 Seattle Seahawks Defense by Year

| Year | Yds/Game | NFL Rank |
| --- | --- | --- |
| 2013 | 273.6 | 1 |
| 2014 | 267.1 | 1 |
| 2015 | 291.8 | 2 |
| 2016 | 318.7 | 5 |
| 2017 | 323.2 | 11 |
| 2018 | 353.3 | 16 |
| 2019 | 385.1 | 26 |
In this system, the most critical positions are the free safety, the cornerbacks, the "buzz" defenders who man the alleys, and the defensive ends. The Seahawks came one play away from back-to-back Super Bowl titles thanks in large part to this defensive scheme, which just so happened to feature all-pros at free safety (Earl Thomas III), corner (Richard Scherman), buzz (Kam Chancellor), and a deep pool of edge rushers led by Michael Bennett, who alone registered 15.5 sacks and 45 QB hits in those two seasons despite only playing in clear passing situations.
One by one, those players left the franchise while Carroll and management tried to replace them with lesser talent and build around all-pro middle linebacker Bobby Wagner instead. But despite Wagner's presence, the Seahawks have steadily dropped in the NFL team defensive rankings despite employing the same system throughout.
Those who might believe that the league simply "figured out" Carroll's scheme need only head south along the pacific coast, where his former assistant, Robert Saleh, implemented the system (and where Hafley learned it while on the staff in 2017 and 2018). But while their division rivals spent the past half-decade divesting talent, the 49ers spent that time accumulating it on their defense.
In Saleh's first two years, the Niners finished 24th and 32nd (last) in the league in yards allowed, but management wasn't deterred. With a former first-round pick in Jimmy Ward already at free safety and Sherman manning one of the corners, the 49ers signed former pro bowlers Kwon Alexander to man a "buzz" role and Dee Ford to rush the passer opposite their first-round draft pick, Nick Bosa. 
In one season, while running much the same scheme as the year prior (with some additional wrinkles thrown in), the 49ers defense went from #32 to #2 in total defense.
As Ryan Day's squad looks to replace the like of Chase Young, Jeff Okudah, Damon Arnette, and Jordan Fuller, there are a few answers at hand. Shaun Wade hopes to be the next great Buckeye corner and a potential first-round pick himself after manning a buzz role last fall in the slot. Free safety may be the most interesting battle in fall camp, with Josh Proctor and Marcus Hooker vying for time.
Along the defensive line, Tyreke Smith and Zach Harrison will do their best impressions of Young alongside a collection of talented but largely unproven pass rushers. While pass rushers have long been valued at both the college and pro levels, Young's productivity may have been the ultimate key to the Buckeyes' defensive success last fall.  
Compared to Clemson or Alabama, Ohio State rarely sends a blitz, preferring instead to send four and drop seven. While they did showcase a collection of pressures in 3rd and long situations, the Buckeyes rushed only four defenders most of the time, yet still led the nation in sacks. With Young either causing havoc himself or drawing enough attention to free up the other three rushers, those defenders sitting back in zone coverage looked far more capable with opposing quarterbacks often running for their lives instead of looking to find the seams in between them.
Similarly, the cornerbacks are largely put on islands regardless of a man or zone call, tasked with maintaining leverage on top of receivers at all times and not getting beat deep, always funneling the ball underneath instead.
It should come as no surprise, then, that the three highest-ranking members of Ohio State's 2021 defensive recruiting class are rush ends Jack Sawyer and Tunmise Adeleye and cornerback Jakailin Johnson, as Pantoni has undoubtedly identified players at these positions of need as primary targets. The coaching staff still plays a major role in preparing these players to see the field, drilling techniques until near perfection with relatively few changes in responsibility to teach from play-to-play.
But by committing to this scheme for the long haul, Day has made this search for talent even more critical to his defense's success than any other program competing for CFP titles. Saban famously features a defensive playbook over 700 pages long to ensure his players have the perfect call for any possible look thrown their way, while Venables showed in the Fiesta Bowl that he has a never-ending barrage of blitzes meant to confuse quarterbacks and make up for the lack of depth and talent along his defensive line last season compared to years prior.
The Buckeyes won't have either approach at their disposal, however. For better or worse, the players tasked with simply lining up and playing ball will truly determine their own success moving forward.