"This kid has come a long way this year. When you watch him play, he is all about what today's linebackers are all about. He is one of the fastest linebackers to come out of college football." -- Mike Mayock

How does a coach replace someone like that? Luckily, if you're Ohio State linebackers coach Luke Fickell, you may have an idea, given that the quote above was in reference to Ryan Shazier prior to the 2014 NFL draft. After a dominant Junior season, the Buckeyes' star linebacker left early for the league, wowing scouts with an ability to do just about anything at the position. Few players in his role have ever displayed such athleticism and physicality in the college game, and finding someone to fill the gap he left behind seemed nearly impossible at the time.
Yet, only mere months after Shazier left Columbus for Pittsburgh, his former team went on to win a national title, anchored by a defense that was led by another athletic linebacker that re-defined what both fans and coaches expected from someone at that spot. Darron Lee didn't just replace the All-American, he nearly made fans forget Shazier's role the year prior entirely.
Lee's journey is now well known, transitioning from a relatively unknown high school quarterback to the 20th pick in the first round as a linebacker. But some have wondered how much of that success was due to the efforts of Lee's coaches and the scheme in place, or simply due to his natural abilities.
As Lee entered the starting lineup in 2014, the Buckeyes were also breaking in a new defensive philosophy thanks to the addition of Chris Ash to the coaching staff. In Ash's system, Lee would be an 'alley' player, lining up in the space between the interior linemen and the wide receivers against increasingly common three and four-receiver formations; a virtual no man's land in which he was expected to make plays anywhere on his side of the field.
Previously, the Buckeyes had often trotted out a fifth defensive back against these looks but failed to find a defensive back physical enough to occupy this space against the run. At the same time, few linebackers seemed capable of playing 'in space' against screens and sweeps on the outside, as the big, bruising players Fickell had recruited seemed far more comfortable playing between the tackles than outside them.
But after awhile, it became clear that Lee was more than just an alley player, but rather a jack-of-all-trade defender that could fill nearly any gap Fickell and Ash identified. Lee showed an ability to make plays in pass coverage:
He quickly became one of the best pass-rushers on the team; tallying 12 sacks over two seasons and regularly lining up as a defensive end opposite Joey Bosa in passing situations: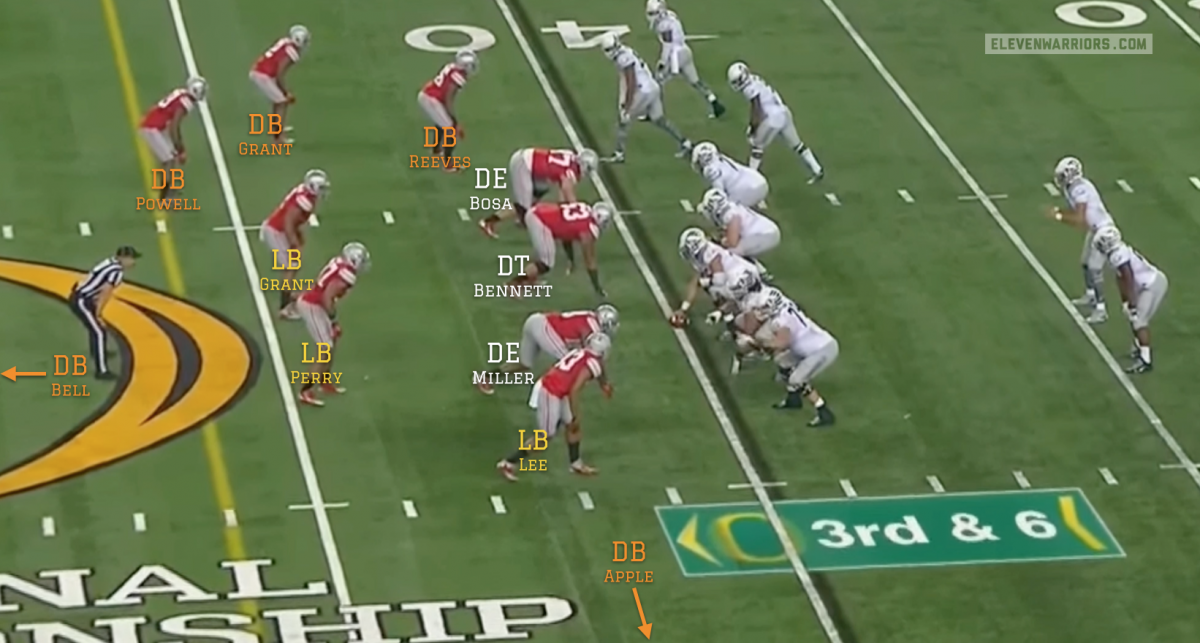 But most importantly, perhaps more than any other player on the Ohio State defense, Lee was an 'every-down player,' meaning he never came off the field despite the situation. Against straight-ahead running teams like Michigan, who often featured multiple tight ends and a fullback, Lee lined up inside like a traditional linebacker and showed a desire to stick his nose into the most physical situations.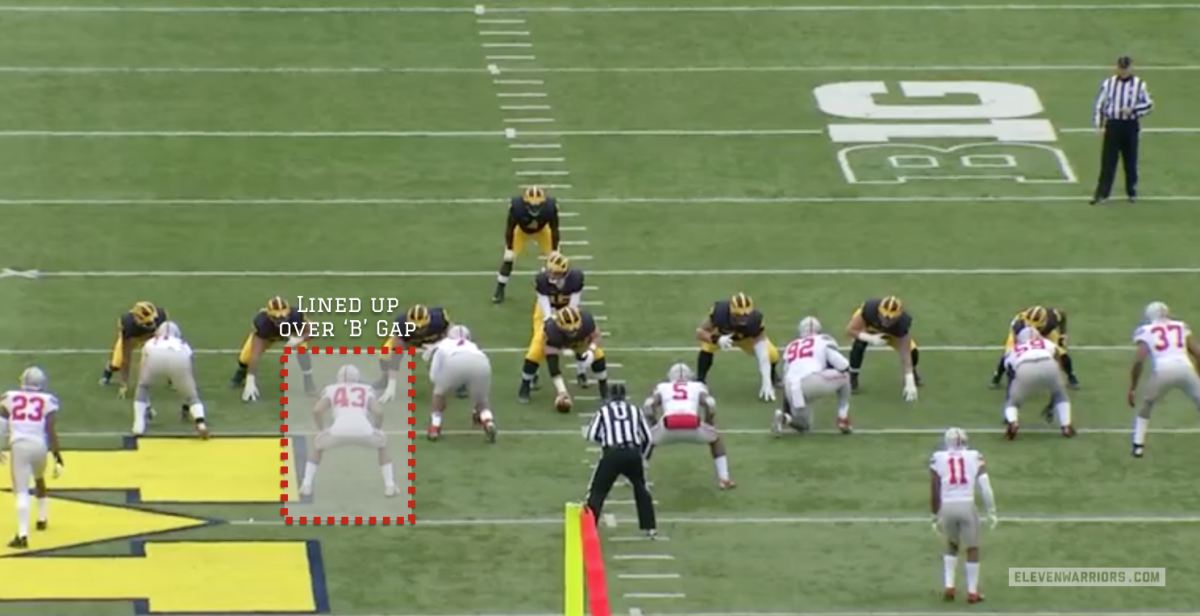 With a knack for blitzing and a nose for the ball, Lee became the top choice to act as the additional rusher when the defense sent five bodies to attack the run, a job usually saved for the biggest and most physical linebacker. In a 'Zone Dog' scheme, five players fill the roles reserved for the typical four down lineman, each plugging a gap to allow the other linebackers to stay free and make a tackle unblocked.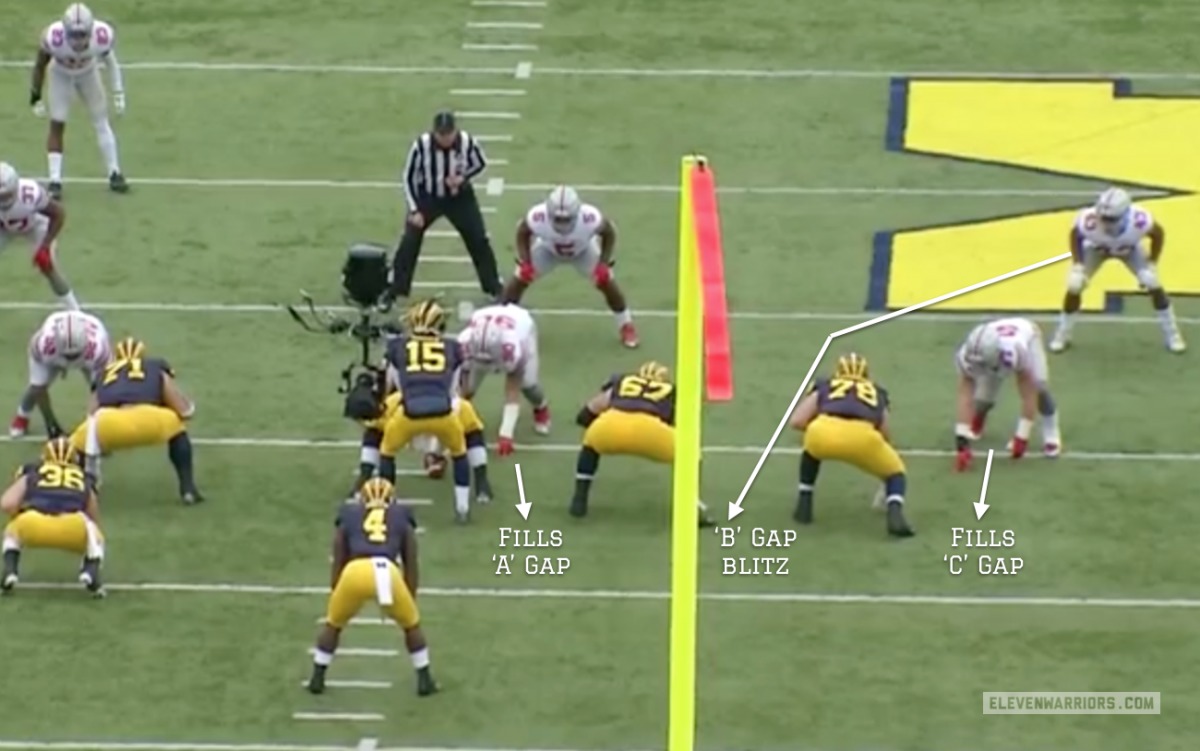 Yet with such quickness, Lee regularly beat his blocker and made the plays himself:
Such seemingly simple schemes helped lead to 27.5 tackles-for-loss during Lee's two seasons. But with the star linebacker now reenacting these scenes in New Jersey, can Fickell strike gold yet again?
---
This time around, Ash will also be in the Garden State, though as the new head coach at Rutgers. In his place, however, Greg Schiano brings over two decades of experience to replace him as co-defensive coordinator.
Yet Schiano's focus will likely be on the secondary, and coaching Lee's replacement will fall on the shoulders of Fickell. Perhaps nothing sums up the evolution of football more than the thought of a linebacker coach teaching his charges how to jam an 180lb wide receiver 20 yards away from the ball.
Perhaps that's why the recruitment of players like Lee and Chris Worley seemed so unclear at the time of their commitments, as the overlooked members of the great recruiting haul of 2013 that brought players like Ezekiel Elliott, Vonn Bell, and Bosa to Columbus. Worley was also unheralded by typical Buckeye standards, a 190lb three-star recruit without a true position and only the 28th best Ohioan in the class of 2013 (Lee was ranked 36th, however).
Had he not played at Glenville under the legendary Ted Ginn Sr., many suspected that Worley would've never even been on OSU's radar. But Worley was exactly the kind of player Fickell was looking for, an athlete with a long frame at 6'2" just waiting to be filled out in the weight room.
Now, three seasons and an additional 35lbs later, Worley is expected to fill the shoes of a departed star. Like Lee, Worley's greatest ability appears to be playing in space, closing quickly on ball-carriers in the open field.
Also like Lee, Worley was a high school defensive back, meaning he should have no problem playing in pass coverage, often in the same curl/flat zone he occupied as a high school strong safety.
But Worley's biggest adjustment will be in the area where Lee surprised people the most. Even as recently as last fall, teams still wanted to see if the Buckeyes' SAM linebacker play between the tackles on every play, able to withstand the violence of an inside running game for four full quarters.
While Lee obviously passed that test, the same questions will be asked of Worley. Though he has recorded 21 tackles in his career, the majority have come on special teams, once again showing that knack for tackling in space. But absent from much of his film are examples of him attacking upfield and stuffing run plays in the backfield.
For this reason, we shouldn't expect Worley to wear as many hats as we saw from Lee, at least not right away. He's not as well-suited to act as the additional rusher against the run in a Zone Dog, nor does he appear to be a better pass rusher than any of the young talents at defensive end.
Worley will also be pushed for playing time by fellow Cleveland native Jerome Baker, one of the few true sophomores on the team having earned playing time in his first year on campus. Baker, like Lee and Worley, did everything for his high school team, playing running back, quarterback, and some defensive end.
But unlike the duo from 2013, it was clear that Baker was a linebacker first and athlete second. His highlight film is filled with examples (against competition far below what he'll see in the Big Ten, of course) of the Benedictine middle linebacker clogging up running lanes over and over.
Competition for one's spot isn't necessarily a bad thing, as we saw from Curtis Grant in 2014. After three underwhelming years on campus, the former five-star linebacker only seemed to rise to his potential once another stud at his position, Raekwon McMillan, arrived on campus.
But Worley's situation may have further reaching implications than simply this year's depth chart. Unlike Ezekiel Elliott's ability to do virtually anything asked of a running back, he had the benefit of playing on offense, the side that knows exactly what all 11 players will do before the ball is ever snapped. Substitution packages are far more common on that side of the ball, making it easier to control what player's skill set is in the game at any time.
Defensive players do not have the same luxury. Having a player like Lee that could not only stay on the field for any situation but also excel, is extremely difficult to find. Luckily, Fickell has tried to deflect any pressure that may be placed on his newest starter.
"Obviously, Darron is unique in his own right. Chris will have his strengths that aren't the same and every guy has a little bit different. The reality for Chris is he's gotta focus on being the best version of himself when focused on his strengths." 
But if Worley is able to fill a role similar to Lee's this fall, playing both outside against the 'spread' and inside against 'pro-style' teams, it will likely signal a shift in philosophy for both the Buckeyes and their opponents on the recruiting trail. Fickell will have then shown that it's possible to teach the skills necessary for one player to stay on the field in both scenarios, and his contemporaries will certainly try to follow suit. Additionally, the desire to identify 'athletes' that are often considered position-less coming out of high school will increase greatly, raising the profile of previously unheralded players in the mold of Lee and Worley while devaluing the capabilities of 'traditional' linebackers.
But Worley isn't concerned with any of that. He's simply trying to be the best player he can be.
"I pushed Darron every day to try to get on the field. Coach Fick can vouch for that," Worley said last March during Spring drills. "My biggest thing was I was never competing against Darron. I was competing against myself. I was just trying to get myself better every day. If I take care of myself, then I'll put myself in a good position to play."