As the only quarterback that can claim a national championship on his resume, Cardale Jones already has a career unlike his peers at the position in this year's NFL draft. However, that's not all that makes his body of work unique.
Though starting 11 games in a career is a similar body of work to that of a typical one-year starter, few such players split time with another quarterback for most of those contests. Truly, Jones only acted as the Buckeyes' primary signal-caller in seven games during his career: the infamous final three games of the 2014 season that culminated in that national title, and the Western Michigan, Indiana, Maryland, and Minnesota games in 2015.
Jones was often spelled by J.T. Barrett, who had initially been named the starter in 2014 after Braxton Miller's injury, but wouldn't regain the job from Jones until the second half of 2015. As this season went on, it became clear that Barrett possessed a running threat that Jones simply couldn't replicate, thus giving the team a better chance for victory.
But NFL scouts don't value that running threat, instead finding Jones' specific physical attributes so appealing. With a massive frame and one of the strongest arms seen in years, it's easy to understand why many could see him standing up to NFL pass rushes much like he did when facing Alabama's A'Shawn Robinson and Oregon's DeForest Buckner, two defensive linemen expected to potentially go in the top ten of this year's draft.
With so little game tape to dissect, scouts had hoped to get a better idea of his true value at this year's combine, which was unfortunately cut short after pulling a hamstring while running the 40-yard dash. Instead, that small sample will become even more important, as scouts, coaches, and executives will have to decide whether or not he may be a fit in their systems.
While Jones will undoubtedly be in an NFL training camp this summer, the route he'll take to get there is still very much in doubt. Though there are questions about his ability to consistently deliver the ball accurately, necessitating a great deal of development and patience from his future coaches, Jones could still hear his name called in the mid rounds of the draft if a team believes he could flourish in their existing system.
Compared to what he'll see in an NFL playbook, the Buckeye passing game under Urban Meyer will seem elementary in comparison for Jones. However, there are a number of concepts that will very much translate to the next level.
All quarterbacks must be able to hit short, three-step throws in the NFL, and while he must work on his mechanics to hit them more consistently, Jones certainly showed he was capable of doing so. On this 'double-slants' concept against man coverage, Jones was able to identify the receiver just as he was coming open, and throw a strike to Michael Thomas on the outside:
But he was equally comfortable making the same throw when facing zone coverage as well.
With such a big arm, Jones possesses the ability to stretch the defense for the entire width of the field. When given the time and space to set his feet, he also shows a nice touch on the ball, making it catchable for his receivers without drilling a hole through their chest.
These underneath throws often come open for him due to his ability to easily beat defenses deep, as he does here on one of the prettiest throws of his career, a 40-yard toss between both safeties for an easy touchdown. The 'Mills' concept is a staple of 'play-action' passing games, in which the outside receiver runs a post while the inside man runs a deep crossing route.
With such ability to distribute the ball anywhere at his disposal, Jones seemed most dangerous when attacking defenses deep and along the sidelines.
Jones seems to excel when given the task of reading a single, deep defender, making 'switch' concepts so enticing. In these scenarios, two receivers cross at the line of scrimmage before running complementary routes, such as a post and wheel, which force the lone defender to choose whom to cover.

With his ability to fire the ball downfield so quickly, Jones can pick apart the defense, exposing that defender's vulnerable situation like few others can. For instance, after faking a quick screen, Jones finds his outside receiver running the wheel route route in the 'switch-fade' combination, as the inside receiver has dragged the deep defender with him and opened up the sideline throw.
Perhaps his most famous (and most important) pass came in last year's national championship game, in which he found Corey Smith on a deep out while the offense was backed up inside their own 5-yard line. The throw came on a simple 'sail' concept, in which Smith was the middle of three receivers along the right sideline, flooding the Oregon zone.
Another concept that attacks a defense both vertically and horizontally is the 'snag' concept, which can be found in every single NFL playbook. This play not only gives the QB a deep corner route, it gives a short, horizontal stretch with the two underneath routes.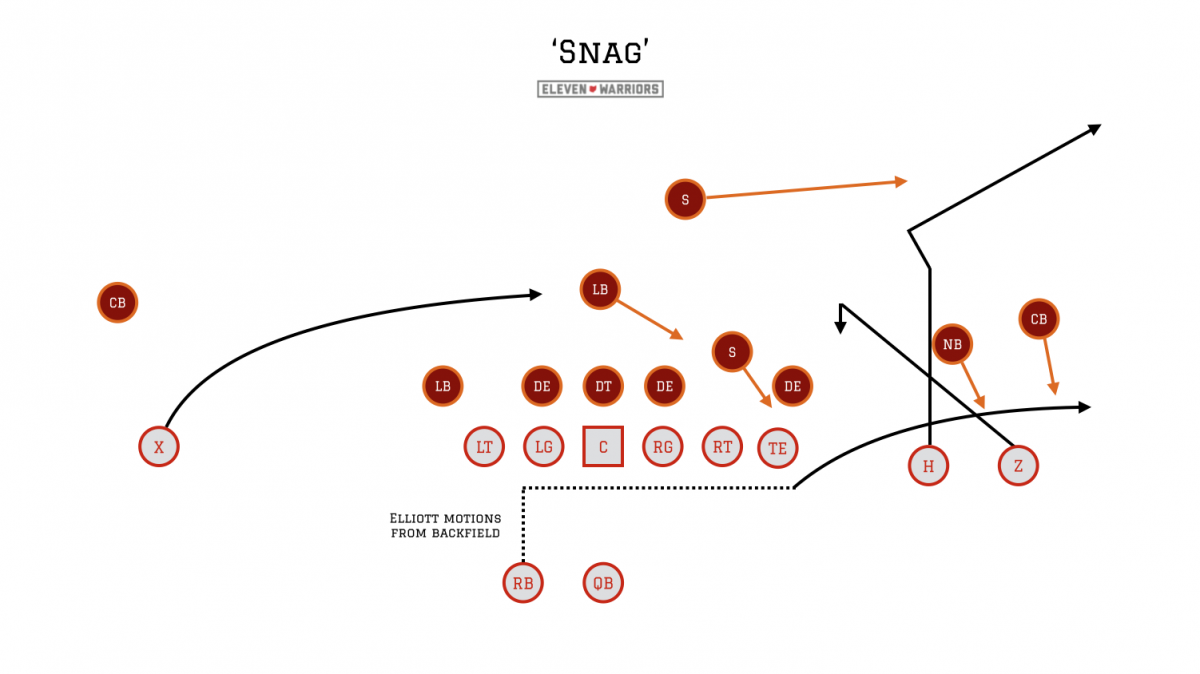 Most quarterbacks use the deep route as bait to remove the safety before finding one of the underneath routs, but Jones' arm strength allows him to attack such looks. 
These concepts often include a short throw to the back as an outlet, a major part of NFL passing games. Although he has the ability to throw it a mile, Jones often seemed content with dumping it off on such routes, letting his play-makers work in space.
However, Jones often became too reliant on that releasing back, forcing the ball to him instead of looking downfield for an open receiver on intermediate routes. When facing pressure, this process was exacerbated, leading to poor decisions and equally poor throws.
Although he has a massive frame that can stand up to hits and shrug off arm tackles from oncoming pass rushers, Jones often tried to escape from the pocket. To his credit, Jones had a habit of turning broken plays into something more, but far too often this was thanks in large part to the efforts of his wide receivers.
This kind of behavior won't fly in the NFL. As we saw in this year's Super Bowl, pro teams have placed a premium on the ability to rush the passer, meaning that Jones will never have the time to sit and evaluate a defense for five seconds before breaking the pocket. Instead, he must be able to make a decision and quickly get the ball out on 8-12 yard routes in the middle of the field that keep the chains moving. 
For those that watched the combine over the weekend, you may have heard analysts talking about how college quarterback simply aren't prepared for the pro game because of spread offenses. For Jones, that couldn't be more true.
The Ohio State playbook has done him no favors, as it rarely asked him to read more than a third of the field at a time, often with the additional knowledge of which third he'll be reading before the ball is even snapped. In the NFL, he'll have usually have a route combination on either side of the field, and be tasked with determining which side to look to based on the defense's reaction after the snap.
While nearly every NFL playbook contains the same concepts, many coaches favor particular philosophies over another. Those that favor 'west coast' concepts that rely on timing and horizontal throws (like Andy Reid in Kansas City or Doug Pederson in Philadelphia) probably won't have much interest in taking the time to develop a player like Jones, as they'll rarely try to maximize his physical gifts. However, there are a number of teams that feature more vertical concepts, letting their QB read the deep defenders as Jones has shown an ability to do.
With one of the league's stronger arms, Carson Palmer's career has turned around in Arizona with Bruce Arians' deep attack that stretches the full width and length of the field. However, they're a legitimate Super Bowl contender and may be less willing to take on a developmental project like Jones.
The New Orleans Saints have long been one of the league's best at attacking vertically since Drew Brees and Sean Payton came to town. But Payton has come under fire after missing the playoffs recently, and may also be less interested in taking the time to build Jones into a starter down the road.
Ironically, the best fit for the Cleveland native may be with the long-time rival of his hometown Browns, the Pittsburgh Steelers. More than any other player, Jones physically resembles Ben Roethlisberger, with a massive frame that can extend plays and a strong arm that can attack downfield at any time.
Though Big Ben may still have a few years left, he's clearly on the backside of his career, meaning the Steelers are likely thinking about his future replacement. Should he have the proper time and coaching attention needed to develop, Jones would be the perfect candidate to slot into their system, which has become more and more reliant on shotgun formations since Roethlisberger's mobility has declined.
Jones only needs to make one team fall in love with him during the evaluation process, which may have already happened during the combine interviews. But whether he'll succeed or not has as much to do with the organization that selects him as it does his ability to work and learn.