Unless something unforeseen happens, Ryan Day's first recruiting recruiting class as a head coach will rank lower than every group that Urban Meyer brought in as Ohio State's head coach. As of Thursday morning, the 2019 class was the 12th-best in the country and the third-ranked in the Big Ten. Meyer never had a group ranked below seventh overall, and every single class was the top group in the conference
That doesn't worry Day, though. Why? Numbers.
The Buckeyes signed just 15 players on Wednesday, and Day doesn't expect that number to grow much between now and National Signing Day on Feb. 6. Therefore, even though the class isn't – and won't be – as deep as they have in prior years, Ohio State still has many highly regarded prospects.
"I think this class would rank top five nationally when grading the individual player, not cumulatively," Day said on Wednesday. "We don't lose a lot of seniors this year, and so within the 85 scholarships, there's really not that many spots and limited room. So when you look at the quality of the player, and obviously we'll talk about the student-athlete, as well, how important it is, we think we're as good as we've ever been."
Ohio State has the third-highest average player rating among signees, per 247Sports rankings. Only Alabama and Georgia have better average ratings.
Three five-star prospects – Zach Harrison (No. 4 overall), Garrett Wilson (No. 16 overall) and Harry Miller (No. 31 overall) – signed National Letters of Intent to play for the Buckeyes on Wednesday. Seven four-star prospects and five three-star prospects also signed to play for Ohio State.
With two players flipping their commitments on Wednesday and signing with other schools – Jordan Battle to Alabama and Dwan Mathis to Georgia – the Buckeyes are left with just one unsigned commit, four-star offensive guard Doug Nester. Nester was expected to sign on the first day of the Early Signing Period, but due to Meyer's retirement, he decided he needed to take visits elsewhere while remaining committed before locking himself up with a university.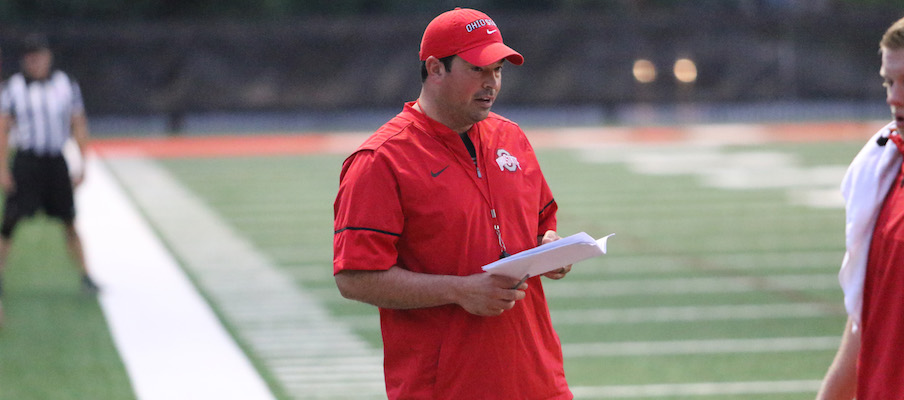 Ohio State hopes to retain the commitment of Nester. Beyond him, though, there might only be a few additions in the month and a half between the beginning of Early Signing Period and National Signing Day.
"We only have so many spots," Day said. "It was 14 today, and really don't have many more."
Ohio State's list of signees jumped from 14 to 15 when three-star defensive tackle Jaden McKenzie committed to the Buckeyes on Wednesday afternoon after Day spoke to the media, giving them their first defensive tackle in the class.
Ohio State never had a class of fewer than 21 prospects during Meyer's tenure as head coach. Day expects that trend to end this year. When a reporter asked about taking six or seven more players in the class, Day dismissed the notion.
"I don't think it'll be that high. Yeah, I don't think it'll be that high," Day said. "We have to stay under 85, and like I said, we're only graduating a small class of seniors, and three guys have declared. So there isn't going to be that much room. And we want to make sure that we sign the right guys moving forward. Don't just want to take a guy down the stretch just to say that we took a guy. This is Ohio State and we want to recruit the best players in the country."
Everything is a game of numbers, and that's made more difficult considering Day doesn't know how many scholarships Ohio State will be able to use.
The Buckeyes will lose just eight scholarship seniors. Nick Bosa, Dre'Mont Jones and Mike Weber will head to the draft, opening up 11 scholarships. A cadre of other players, including Dwayne Haskins, Jordan Fuller, K.J. Hill, Kendall Sheffield, Michael Jordan and others, have upcoming decisions of whether or not to leave early to the NFL draft. Each year, a small number of players typically also transfers out of the program.
Therefore, even though Ohio State surely has a better grasp of which players will leave early and who might consider transferring, it can only take educated guesses of how many players it will add to its 2019 recruiting class in February. And right now, based on the information he has gathered, Day views the class as nearly complete.