Soon-to-be Ohio State head coach Ryan Day said Wednesday that the Buckeyes "always want to have four" scholarship quarterbacks on their roster.
If the Buckeyes want to have four scholarship quarterbacks on their roster next season, they're probably still going to have to go out and get one.
With Tate Martell set to be a redshirt sophomore, Matthew Baldwin set to be a redshirt freshman and graduate transfer Chris Chugunov set for his fifth-year senior season, Ohio State would have already been in line to have at least four quarterbacks on its roster next year if Dwan Mathis had signed with the Buckeyes as expected on Wednesday morning.
Instead, however, Mathis flipped his commitment to Georgia on Wednesday, leaving unanswered questions about which new quarterback or quarterbacks – if any – will join Ohio State's roster in 2019.
With Mathis out of the picture, Day said the Buckeyes will not make a firm decision about how they will proceed forward in their quarterback recruitment until after the Rose Bowl, when current starting quarterback Dwayne Haskins decides whether to declare for the 2019 NFL draft or return to Ohio State for another year.
"It's going to start off with Dwayne and seeing what his decision is, and then we're going to go from there," Day said during his press conference recapping the Buckeyes' early signing period efforts.
Realistically, though, it would be a surprise if Haskins decides to return to Ohio State next season. While he has yet to say whether he plans to declare for the draft – and Day didn't give any indication on Wednesday, either – he's projected to be a high first-round pick after breaking the Big Ten's single-season records for passing yards and passing touchdowns this season.
If Haskins does leave, the Buckeyes won't only have questions about whether they will have enough quarterbacks on their roster next season, but who will be their starter next year.
That's one reason why it's been rumored that Georgia freshman quarterback Justin Fields, the No. 2 overall recruit in the class of 2018, could end up at Ohio State if he ends up deciding to transfer from the Bulldogs. Yahoo Sports' Pete Thamel wrote Tuesday that Alabama's Jalen Hurts and Notre Dame's Brandon Wimbush also "could be explored" by Ohio State as graduate transfer quarterback options.
Day did not want to comment or speculate on whether Ohio State would pursue a transfer quarterback on Wednesday, though he did say that in general, the Buckeyes would be open to bringing in transfers – which Meyer's Buckeyes rarely did – if they felt that would help their program.
"We'll always look at all the options," Day said. "Whatever we think can help our roster. The guys who are in our program, obviously they develop and work through our program, and so those guys obviously have priority. But if there is a need and there is someone that we need to plug in there, we'll look at all those options."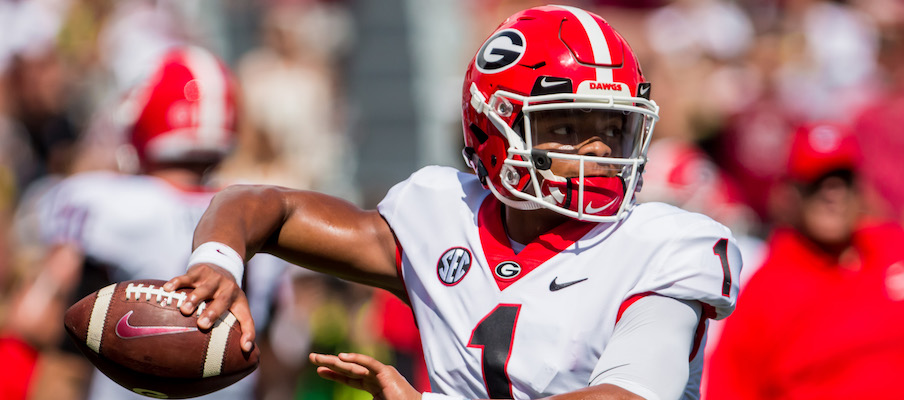 If the Buckeyes were to bring in a high-profile transfer such as Fields, Hurts or Wimbush, that quarterback would presumably be in line to be Ohio State's starting quarterback in 2019. Of course, that could potentially upset Martell and/or Baldwin, leaving one or both of them to look at their transfer options themselves. Day expressed Wednesday that he has confidence in both of their futures.
"Tate and Matthew have both done a nice job in the bowl practice, and this is a great opportunity for those guys to get work and get fundamental work and get better and get reps," Day said. "Even when Dwayne was in New York (at the Heisman Trophy ceremony), those guys had an opportunity to be with the first and second team and get really quality reps with the offense. And so they've done a good job of that. They're growing, and we're going to keep going through that in the spring."
Having been Ohio State's quarterbacks coach for the past two seasons – and previously a quarterbacks coach for Boston College and two NFL teams – Day understands there's a delicate balance that has to be managed at the position. While the Buckeyes want to have four scholarship quarterbacks on their roster, only one of them can play at once, which inevitably means at least some of the other three will feel like they should be on the field, too.
In a time in college football where quarterback transfers have become more common than ever before, managing that balance has become even tougher. Day made it clear on Wednesday, however, that he believes in developing quarterbacks over the course of their careers – and he wants to recruits to understand how they can benefit from allowing the developmental process to take place.
"I think that when recruits are being recruited, they need to understand that the best chance they have to go reach all their goals is to be at a place that can develop them," Day said. "It isn't about getting on the field right away.
"One of the best things that happened to Dwayne Haskins, in my opinion, and Dwayne will tell you the same thing because we agreed on it, is that when he had his opportunity to play, which was two years in – and he wasn't happy about that, he wanted to play last year – but he'll tell you that he wasn't ready last year. He was ready this year," Day continued. "When he stepped on the field, he was ready. He had two years of development, and he played his best football. And I think it's so important for young quarterbacks to get developed, not just go from place to place when things don't go well. That being said, one quarterback can play, and so it's sensitive, and it's a very unique situation."
One way or another, though, the Buckeyes are likely going to need to bring in another quarterback before next season. That could be another quarterback from the high school recruiting class of 2019, but with nearly all of the top quarterbacks already signed as of Wednesday, there aren't many options left. If the Buckeyes don't land a top transfer prospect like Fields, they could look to bring in another quarterback like Chugunov, who was brought in solely for depth purposes and not to compete for a future starting job.
"We'll always look at all the options. Whatever we think can help our roster."– Ryan Day on whether Ohio State will look at recruiting transfers
There's no clear-cut answer yet, but one can expect Day and the Buckeyes to explore a wide variety of options between now and the second National Signing Day on Feb. 6, especially if Haskins decides to go pro.
What will the Buckeyes be looking for as they continue to explore potential quarterback roster additions? Arm talent and accuracy will be near the top of the list for any quarterbacks, but most importantly, Day wants every quarterback they recruit to have at least one specific quality that can make them an asset.
"I think the number one thing you look for is some sort of extraordinary trait," Day said. "J.T. (Barrett) had one, and Dwayne had one, and I think one of our strengths on offense is the ability to adjust the offense to fit the quarterback and to fit our personnel. And I think in college that's really, really important. Because sometimes if you're looking for a specific style, there may not be one in that class, so let's go find somebody that has some sort of extraordinary talent and then build around it."