In a decade of success, Ohio State took advantage of their championship opportunities.

Getting there wasn't always easy, and Buckeye fans will no doubt wring their hands about some of the stumbles along the way, but when Ohio State found themselves with a chance to prove that they were at the top of either the Big Ten or the entire country, they delivered in spades. Sports were good and our existence was validated on a regular basis.
But.
Michigan State, man. Freaking Michigan State.
Unheralded, unloved, ignored and disdained, we curse your name, O Spartans! Why is it that Ohio State, which has seemingly conquered its greatest rival, has titanic struggles against the bluest of bloods, and emerged as a permanent, national force in both football and basketball, seems to semi-regularly fall victim to a tiny dagger plunged in their back from the unlikeliest of places: East Lansing, Michigan?
Everything else went great! Ohio State was a combined 8-2 across the Big Ten Men's Basketball Tournament Championship Game, Big Ten Football Championship Game, and the College Football Playoff Championship Game in the 2010's. It speaks to the success of both programs that our biggest gripe is the equivalent of our perfectly seared A5 Wagyu sirloin being served with a side of parsnips instead of potatoes. Let's eat that damn steak.
2010 - The Villain Conquers All
The 2010 Big Ten Men's Basketball Tournament victory for Ohio State was predictably led by Evan Turner, who dropped 31 points on the Minnesota Golden Gophers en route to being named tournament MVP. It wasn't just Turner kicking ass; the Buckeyes scored 57 points in the second half of a game that they led by just three at halftime, as David Lighty put up 20, Jon Diebler added 19, and William Buford scored 13. Perhaps most importantly, Zisis Sarikopoulos and Danny Peters both recorded a Trillion in the winning effort.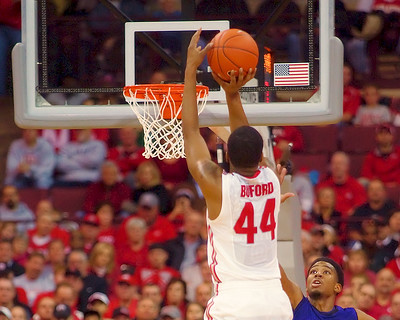 2011 - Fun For A Weekend
Ohio State won the 2011 Big Ten Men's Basketball Tournament, taking out Penn State 71-60 and cementing their No.1 seed in the March Madness. William Buford led the way with 18 points, and Jared Sullinger was dominant with 15 points and 11 rebounds. Sullinger ended up with the tournament MVP but the whole roster was loaded, with guys like Jon Diebler, Aaron Craft, David Lighty, and Deshaun Thomas all making contributions.
The selection committee felt that those Buckeyes were too cool and took its revenge a few weeks later by putting Ohio State in a Bracket of Death with Kentucky, North Carolina, and one team just called "Four Guys Plus LeBron James In A Fake Mustache."
2012 - Sparty No
Draymond Green is an enigma. He was the MVP of the 2012 Big Ten Men's Basketball Tournament, the star of Tom Izzo's Spartans, a clear NBA talent, and yet... everyone knew that he was destined to hit people in the junk. I knew it, you knew it, he knew it, Izzo knew it. His lifeforce, his aura, his je n'ais ce quoi is all about boppin' people in the nards.
"And me and Austin (Thornton) always say, when we leave here, we want [Izzo] to talk about the Green-Thornton era. We've been talking about our footprint."
Yeah, your footprint right in their groin. So whatever, fine! Green and company beat Ohio State in the 2010  68-64. Good for them. At least it won't get more annoying/worse than this. Right?
2013 - Surely This Won't Become A Pattern
Let's start with the good. 2013 Ohio State men's basketball won the 2013 Big Ten Men's Basketball Tournament, on the strength of tournament MVP Aaron Craft's performance which left every other team in the conference frothing at the mouth and doing a Ctrl-F search for "hand checking" in the NCAA rulebook. They took out Wisconsin in the final by a score of 50-43, which I promise you was exactly as painful to watch as you're guessing (the two teams were a combined 4-33 from distance). But a win is a win is a win, which is the opposite of what happened in the Big Ten Football Championship (and also what would happen to the Buckeyes in every subsequent Big Ten Men's Basketball Tournament, as the Buckeyes haven't won one since 2013).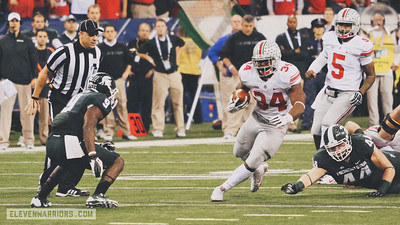 The 2013 Big Ten Football Championship Game can be summed up by walking out on a porch or stoop of your choosing, staring into the inky black of night and screaming "GIVE THE BALL TO HYDE" into the ether.
Maybe it never should've gotten to that point. After all, the whole Not Giving The Ball To Hyde incident took place with 5:45 left in the 4th quarter, after the Buckeyes had given up a touchdown lead in the 3rd to a Connor Cook-led Michigan State team but more specifically a Jim Bollman-led offense. Dantonio's Spartans scored the last 17 points of that game, which is stupid, but much worse when you consider that Ohio State spent the last 20 minutes or so forgetting how to score a single point with a roster that included Carlos Hyde, Braxton Miller, Michael Thomas, Devin Smith, and Evan Spencer.
On the bright side of that 24-34 loss, they'd go on to play Clemson in the Orange Bowl, lose by five, and watch Braxton Miller get an injury that would eventually get re-aggravated and force him to miss the 2014 season.
2014 - God's Team Prevails Again
So I told you that story to tell you this story.
To fully appreciate just how ridiculous and insane it was to experience the 2014 Ohio State Buckeye football team, you really need to understand just how snakebit every single fan felt they were.
Undefeated but banned from the postseason in 2012. Crushing loss in 2013 Big Ten title game, followed by the loss of your literal witch of a starting quarterback (after an offseason stewing about a loss in the bowl game), followed by an early-season loss to Virginia Tech that was a delicious Harry and David meat sampler of all the failings of the previous year-and-change combined.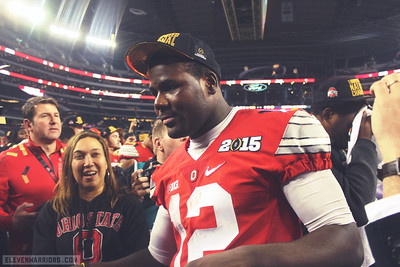 So it was absurd to think that J.T. Barrett would evolve into a Heisman-caliber quarterback over the course of roughly three and a half weeks. It was equally dumb to hope that his backup, some dude named either "Cordale" or "Cardale" (we weren't sure) could step into his shoes after Barrett got hurt against Michigan. And then, it would take an actual psychopath to even have a sliver of hope that Cordale/Cardale could destroy Wisconsin in the 2014 Big Ten Football Championship Game by fifty-nine freaking points, beat Alabama in the semifinal, and finally roll over Oregon in the College Football Playoff Championship Game.
But all of that really did happen, it ruled, and it's why I happily wrote six articles on a late Monday night in January after drinking an entire bottle of bubbly pink moscato in 10 minutes. It remains the coolest and best thing to happen in college football, ever, and will never be topped.
2017 - Pyrrhic Victory
Nothing happened in 2015 and 2016. Don't worry about it.
You probably don't remember the 2017 Big Ten Football Championship Game too well either, which is no sin; Ohio State beat Wisconsin 27-21 in a game that both teams agreed to reduce to a rock-paper-scissors contest after the Buckeyes jumped out to a 21-7 lead. The narrative after the game was mostly about J.T. Barrett, but the real star was some guy named J.K. Dobbins, who ran for 174 yards on just 17 carries.
After the game, Urban Meyer had this to say:
"We have two wins over two top-four team and another one over a team ranked 12th or 13th," said coach Urban Meyer, who included a win over Penn State in his rundown. "We're a conference champion and we deserve a shot."
They did not get a shot. Might've had something to do with losing to an unranked team by 31 earlier in the season, I'm not sure.
2018 - So Long, Farewell
In 2018 the Buckeyes got their prerequisite devastating multi-touchdown loss to an unranked opponent out of the way a week earlier, which allowed them to focus on kicking Northwestern's ass in the 2018 Big Ten Football Championship Game, and they mostly did, pulling away in the second half and handling Pat Fitzgerald's crew 45-24. The Wildcats made it almost interesting in the 3rd quarter by pulling within three, but the Buckeyes outscored them 21-3 the rest of the way. Dwayne Haskins had 499 yards of passing and five passing touchdowns, which is both amazing and infuriating for several different reasons.
After the game, Urban Meyer had this to say:
"I think all you have to do is look is at the body of work. We went on the road and won some tough games -- TCU, Penn State and Michigan State. The way we played against our rival (Michigan) and the way we played tonight, I think we deserve a shot."
They did not get a shot. The Urban Meyer Era ended with a Rose Bowl win over Washington, which was cool, but a little hollow.
2019 - Shine A Little Light
Ignore the loss to Clemson for a second. 2019 was fun as hell and watching Ryan Day and his staff mold his team into the image of pure rock fury both offensively and defensively gave the team an interitia they'd been lacking for years.
The 2019 Big Ten Football Championship Game made us sweat for a hot second. Wisconsin got their third shot against Ohio State in the championship and for a half it looked like they might pull it off. For 30 minutes, they pummeled the Buckeyes with running back Jonathan Taylor, quarterback Jack Coan, and years of accumulated anger and resentment. Then Ohio State outscored the Badgers 27-0 in the second half, winning 34-21. Dobbins ran for 172 yards, Justin Fields passed for nearly 300, and damn it felt good to watch them win that thing.
---
The success that Ohio State men's basketball and football has had in the past decade is astounding.
Sometimes Ohio State fans look to the likes of Alabama or Clemson in football or even a program like Michigan or Michigan State in basketball as the standard that we believe the football and basketball programs should be held to, but it's also important to step back and make one really critical point: there are few, if any, athletic departments nationally that can have such lofty expectations for both sports simultaneously and see them deliver so much.
And hey, failing that, there's always wrestling.